Printing passport photos in 4×6 inch format can be a tricky thing. Different governments require different sizes of photographs, so what qualifies as a passport-size photo is different from country to country.
You can use an online passport photo maker to help you, but many free passport photo tools are inaccurate. They may not offer high-quality passport photos in the appropriate dimensions, or simply fail to adjust the pictures to the appropriate passport photo size.
In the United States, passport photos must measure 2×2 inches square. A nice thing about this size passport photo is that it is possible to print two copies of your photograph as a single photo using 4×6 photo paper. And printing pictures on 4×6 paper can be over 95% cheaper than buying or printing passport photos as 2x2s!
If you want to save money and print your own passport photo from your own digital file, your best bet is to take your perfect passport photo with Passport Photo Online. We will email you a perfectly sized and cropped photo as a JPEG photo template, which you can then get printed for pennies. If this sounds good to you, keep reading for more!
Do you want to learn more about passport photos? Check these out:
Why print your passport or visa photo on 4×6 paper?
One advantage of using our 4×6 photo template is that you get 2 (two) 2×2 inch passport photos for the price of a single 4×6 photograph. Use one photo for your passport application, and save the other one for future use—for example, in case your passport gets lost, stolen or damaged while traveling overseas.
Another advantage of our passport photo maker is the price. Prices at the stores mentioned above can be as high as $15. We don't think you should pay so much for a US passport photo, which is why we want to teach you how to print inexpensive passport-size photos on 4×6 paper.
Finally, there is convenience. Taking your own passport photos (or any ID photos, for that matter) in the comfort and privacy of your own home can be simple and easy. No need to go to a photography studio in a big store like Target or Walmart.
Avoid long lines at the photo services department at pharmacies like CVS and Walgreens. And you don't need to make an appointment months in advance at the US Post Office. There's no waiting in line if you choose to save money and take the photo yourself.
Learn more about how to save money when printing your own photo by reading more about our passport photo maker!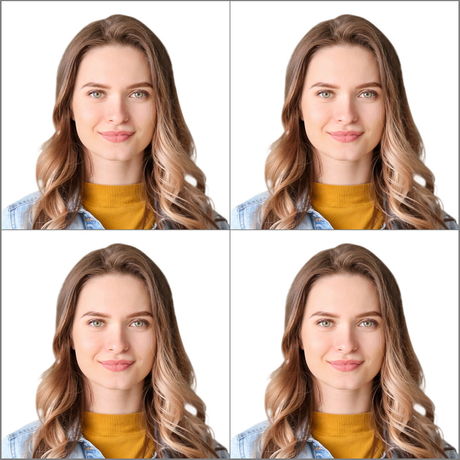 Passport photo template generator
Our photo template generator offers many different photo templates for you to choose from: various official documents including, for example, the US passport photo, UK passport photo, US driver's license, US Green Card photo, and many more.
Whichever template you choose, our passport photo app (and the editing and cropping tools on our website) will help you prepare the perfect passport photo—and the printable 4×6 photo template—in only a few seconds.
All you need to do is snap your photo, upload it (or upload an existing picture), and let our photo lab work its magic. Whether you're using our app or the website, our very precise AI system will scan your images to make sure that your photos meet all the official requirements and will be approved by the authorities. Keep retaking the photos until you get that perfect one!
We then adjust the picture, crop it and resize it, and within a few seconds, you receive a ready-to-print digital template via email. The printed paper size is 4×6 inches. Depending on the template you choose, the print could include 2 to 8 photos. Print the downloaded image at your favorite printing store.
Read our blog post to learn where you can get a 4×6 passport photo printed for less than 30¢! This article includes a report on the passport photo prices in different stores so you can compare prices and see why our method is the cheapest. You will learn more about the Walmart photo center, how much is a Costco passport photo, the cost of Rite Aid passport photo printing, and much more.
If you don't have a favorite printing store, you can always go for the delivery option: have your photos delivered right at your door using our Passport Photo Premium Mail Service. It only costs a few dollars more, and it's extremely convenient.
Our passport photo maker also includes very helpful guidelines to walk you through the process of taking your passport size photos. Keep going to find out and learn more about this topic.
Important things to remember when taking your passport photo
If you've decided to take your own passport-size photo, you'll need to keep some important criteria in mind. Here are some great tips on how to take acceptable passport photos. Stick to these few simple rules, and your photos should be good to go!
No selfies! Have someone else take the picture from about four or five feet away from your nose, at eye level. Use your smartphone, or a digital camera if you have one.
The photo must be taken against a plain, blank white background. If for some reason you don't have a white background in, our photo app can remove your background and replace it with a white one.
Have good lighting that's evenly distributed and doesn't leave any shadows in your passport photo. Natural light works best. Avoid using the flash, which can cause the red-eye effect. Read more: Are Passport Photo Shadows Acceptable?
Maintain a natural look: no heavy makeup in passport photos, no excessive jewelry, and no unnatural facial expressions.
You can't wear any head covering in your photo, unless it's for religious reasons.
Don't wear sunglasses or even prescription eyeglasses, unless they are absolutely required for medical purposes.)
You can't wear any accessories or jewelry that obscure or alter your face.
Do not alter the photos in Photoshop or any other editing tool; your face must look like your face. This includes color correction filters.
Your head must be between 1" to 1-3/8" inches tall (25–35 mm), measured from the bottom of your chin to the top of your head.
You don't have to know how to resize or crop photos yourself, because our online U.S. passport photo cropping tool will adjust the photo size for you to make sure it meets the required standards. However, you can learn more about dressing up for passport photos in our blog post.
RELATED READING:
Print passport size photos on 4×6 inch photo paper: closing thoughts
Remember that your passport photos must be printed on high-quality photographic paper, such as Kodak paper. They also need to be printed by photographic quality printers.
Unless you are a serious photographer with all of the right gear, you cannot print an acceptable passport photo on a home office inkjet printer. You will need to take your digital template to a professional print shop such as Office Depot, FedEx Office, Staples, or Target for printing. You may print the photos on a 4×6 picture on either glossy paper or matte paper.
When applying for a new ID or passport, the photo may seem like a pretty simple thing to take care of… until you actually have to get ready, leave your house, and then wait in line to have your mugshot taken. We here at Passport Photo Online believe that if something can be done from the comfort of your home, then it probably should be!
You can now take passport photos from home at your own preferred time and at your own pace, without being rushed and without waiting in line. Passport Photo Online is a user-friendly print option that's also time-saving and easy on your wallet.
READ MORE: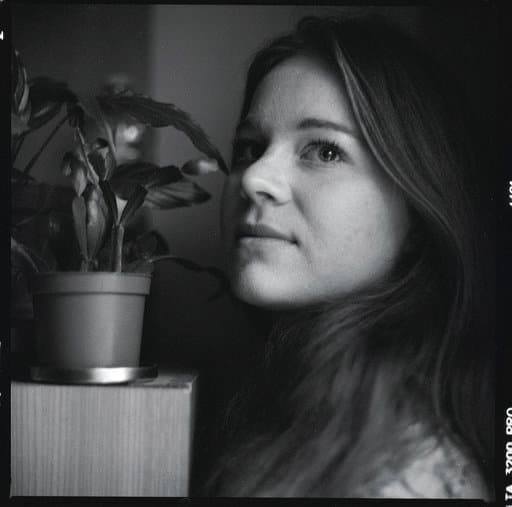 Karolina Turowska, a biometric photography expert and travel enthusiast at Passport-Photo.Online. When it comes to writing, she loves bringing dry facts to life. When it comes to traveling, she just loves bikes.