In the United States, passport photos generally cost between $12 and $16, depending on the service that takes them. However, it's possible to print pictures on larger templates at retail stores and pharmacies all over the country.
Printing passport photos in 4×6 inch format can be a tricky thing. Different governments require different sizes of photographs. Still, with the right editor, applicants can get multiple copies effortlessly. If this sounds good to you, keep reading for more!
How does a 4×6 passport photo template work?
U.S. passport photos must measure 2×2 inches in size. A nice thing about these dimensions is that it is possible to print two passport photos on each 4×6" template. Additionally, printing pictures on 4×6" sheets can be over 95% cheaper than buying or printing passport photos as 2x2s!
Applicants can use an online passport photo maker, however, not all of them are up to standards.They may not offer high-quality passport photos in the appropriate dimensions, or simply fail to adjust the pictures to the appropriate passport photo size.
Do you want to learn more about passport photos? Check these out:
Why print your passport or visa photo on 4×6" paper?
One advantage of using a 4×6 photo template is that you get 2 (two) 2×2 inch passport photos for the price of a single 4x 6 photograph. Use one photo for the passport application, and save the other one for future use—for example, in case your passport gets lost, stolen, or damaged while traveling overseas.
Finally, taking passport photos (or any ID photos, for that matter) from the comfort and privacy of our own home can be a great plus. No need to go to a photography studio in a big-box store like Target or Walmart.
Unless you are a professional photographer with all of the right gear, it's not possible to print an acceptable passport photo on a home office inkjet printer.
Applicants have to take the digital template to a professional print shop such as Office Depot, FedEx Office, Staples, or Target for printing. The photos on a 4×6 inches sheet can be printed on either glossy paper or matte paper.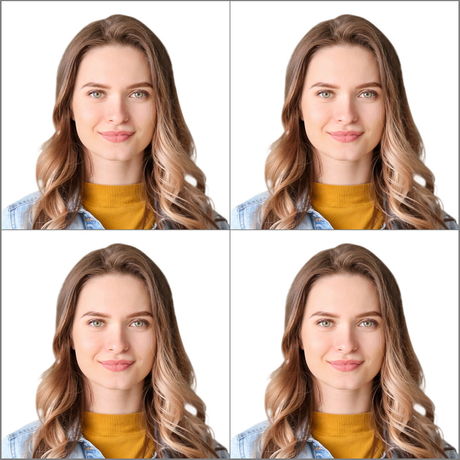 9 things to remember when taking a U.S. passport photo
If you've decided to take your own passport-size photo, you'll need to keep some important criteria in mind.
Here are some great tips for taking acceptable passport photos at home. Stick to these few simple rules, and your photos should be good to go!
Rule #1: No selfies! Have someone else take the picture from about 4 (four) or 5 (five) feet away from you, at eye level. Use a smartphone, or a digital camera if you have one.
Rule #2: The passport-style must be taken against a plain, uniform white background.
Rule #3: Have good lighting that's evenly distributed and doesn't leave any shadows in your passport photo. Natural light works best. Avoid using the flash, which can cause the red-eye effect.
Rule #4: Maintain a natural look: no heavy makeup in passport photos, no excessive jewelry, and no unnatural facial expressions.
Rule #5: You can't wear any head covering in your photo unless it's for religious reasons.
Rule #6: Don't wear sunglasses or even prescription eyeglasses, unless they are absolutely required for medical purposes.
Rule #7: You can't wear any accessories or jewelry that obscure or alter your face.
Rule #8: Do not alter the photos in Photoshop or any other editing tool. This includes color correction filters, they are not allowed.
Rule #9: In the photo, your head must be between 1" to 1-3/8" inches in height (25–35 mm), measured from the bottom of your chin to the top of your head.
Passport Photo Online — a passport photo template generator
Passport Photo Online is an app that more than a million people use to create passport photos at home. Our photo template generator can be used for various official documents such as:
Whichever template you choose, our passport photo app (and the editing and cropping tools on our website) will help you prepare the perfect passport photo—and the printable 4×6 inches photo template—in only a few seconds.
All you need to do is snap your passport photo, upload it (or upload an existing picture), and let our photo lab work its magic:
Whether you're using our app or the website, the very precise AI system will scan the images to make sure that your photos meet all the official requirements and will be approved by the authorities.
Our customers get unlimited tries. Keep retaking the photos until you get that perfect one!
We then adjust, crop, and resize the picture. Within a few seconds, you receive a ready-to-print digital template via email.
Depending on the selected template, the 4×6" print could hold between 2 to 8 photos. All that's left is to print the downloaded image at your favorite printing store or pharmacy.
If you don't have access to printing services nearby, you can always go for the delivery option by having your photos delivered right to your door using our Passport Photo Premium Mail Service. It only costs a few dollars more and is extremely convenient.
Passport Photo Online also includes very helpful guidelines to walk users through the process of taking passport-size photos.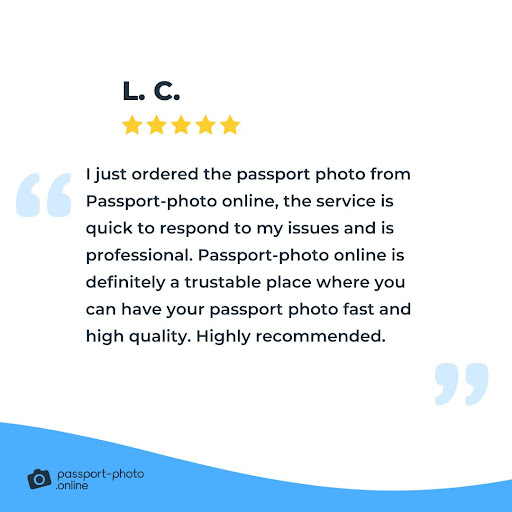 4×6 inches photo template: FAQ
To conclude, we'll address a few common questions about printing passport photos on 4×6" (i.e., standard postcard) prints.
How to set passport photos in a 4×6" format?
Use Passport Photo Online. Users can take their own passport photos and have them automatically transferred onto  4×6" templates for easy printing at any pharmacy or printing store. 
How many passport photos are on 4×6" paper?
2 (two) U.S. passport photos fit on a single 4×6 inch print.
Is 4×6 inches passport-size?
No, a U.S. passport photo has to measure 2 inches in height by 2 inches in width. A 4×6 inch template is used to print 2 (two) passport-sized pictures at once.
Print passport size photos on 4×6 inch photo paper: closing thoughts
Your passport photos must be printed on high-quality photographic paper, such as Kodak paper, by photo-quality printers—standard inkjet just won't cut it.
With Passport Photo Online, you can now take passport photos from the comfort of your own home at any time and at your own pace; without being rushed or having to wait in line. Users can also prepare 4×6 inches photo templates in just a few clicks, ready to be printed at a moment's notice.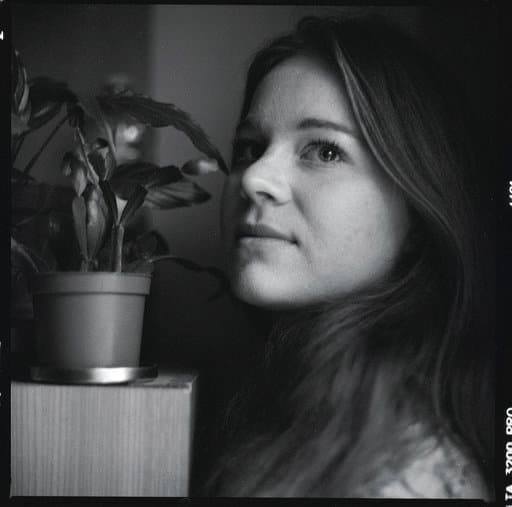 Karolina Turowska, a biometric photography expert and travel enthusiast at Passport-Photo.Online. When it comes to writing, she loves bringing dry facts to life. When it comes to traveling, she just loves bikes.