Why pay for retail passport photos when you can print them on 4×6 paper for a fraction of the price?
All you need is your own digital template!
We'll guide you through the best options to print your 4×6 passport photo template—or get physical copies without leaving your home.
Look through our simple and money-saving solutions to get high-quality, government-approved passport photos for traditional paper applications.
Whether you're tech-savvy or a complete beginner, we've got you covered!
What you'll learn in our guide:
Get your passport photo at a photo studio… or do it yourself in 3 minutes from your own home. Download the Passport Photo Booth App for iOS or Passport Photo Maker App for Android to get printed pictures in your mailbox.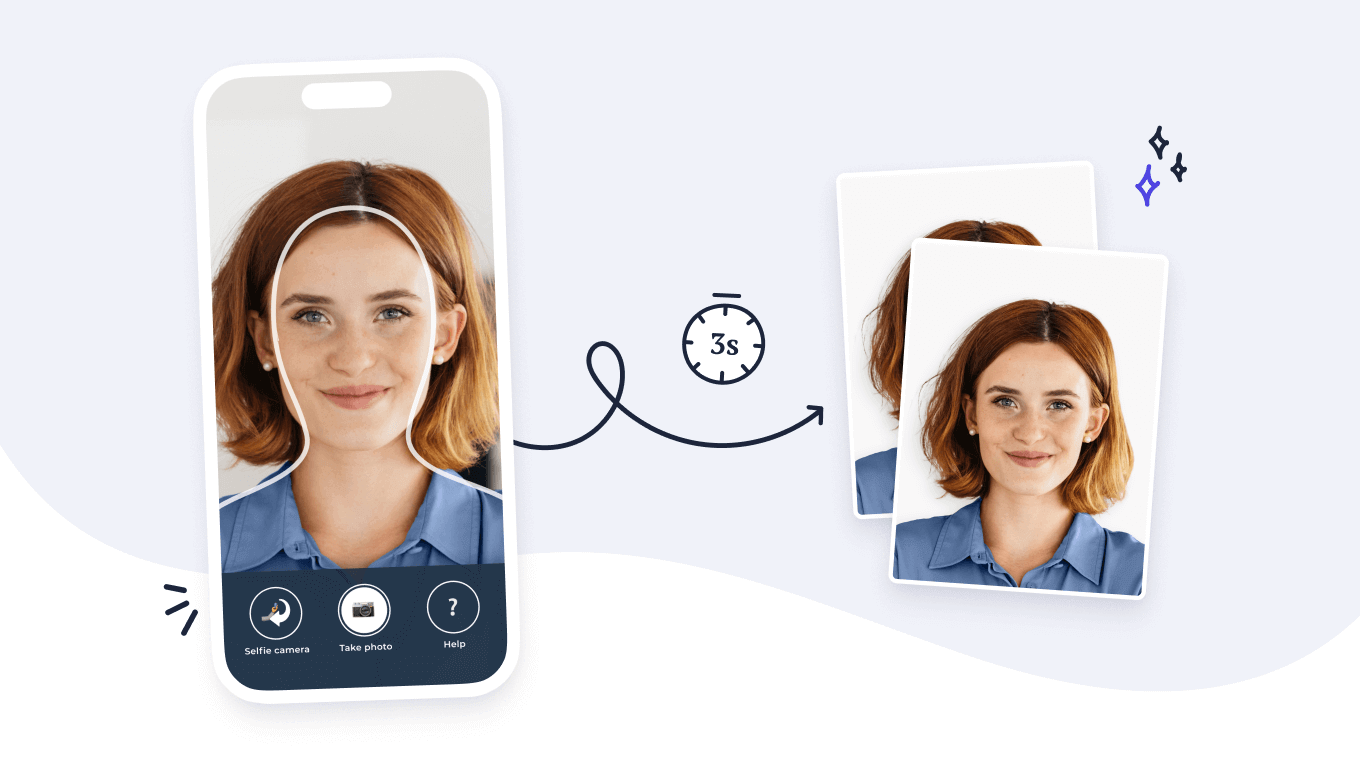 And if you're looking for more professional passport picture tips, read through these articles:
Why use a 4×6 template for passport photos?
US passport photos must measure 2×2 inches, according to the official specifications. Because of the square dimensions, it's possible to print two passport photos on a 4×6 template. Why even do it?
Because it's cheaper!
Printing passport pictures usually costs between $12–16. But here's the trick—a 4×6 template isn't a standard passport photo size. So, most copy shops will print it for a few cents (as you'll see further down).
And here's an example of how your digital image should look like. You can get this template for free through Passport Photo Online.
Example of an Acceptable 4×6 Passport Photo Template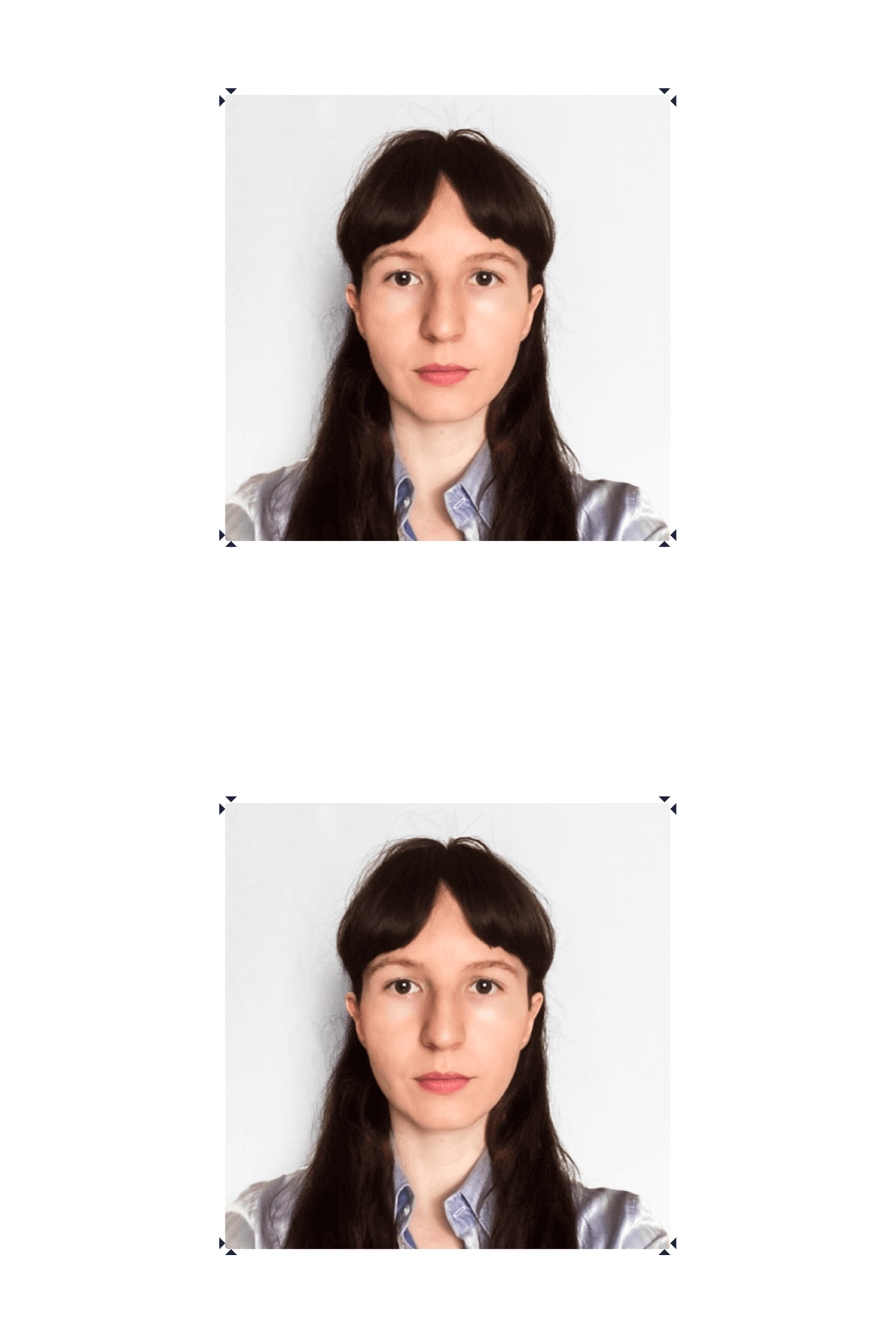 Remember there's more to passport photos than the right dimensions. Check these examples of rejected passport photos to ensure yours will turn out compliant.
How to print passport photos on 4×6 paper
Got your image ready?
So, without further ado, here's how to print your own passport photos on a 4×6 template.
Option 1: Print at a local store
Whether you want to use your DIY passport picture or use our free printable template, you can easily print passport pictures on a 4×6 photo template at many locations across the US.
Look at the stores and pharmacies below to see if any of them are nearby!
Where to Print Passport Photos on a 4×6 Template in the US
| | Price (for two photos) | Home delivery available |
| --- | --- | --- |
| CVS | $0.39 | ❌ |
| Walmart | $0.12 | ✅ |
| Walgreens | $0.38 | ✅ |
Note, however, that none of these stores offer any compliance guarantees or refunds if your photo was to get rejected.
If you're unsure whether your 4×6 passport photo template meets official requirements, don't risk delaying your passport application process by submitting a non-compliant photo.
With a dedicated app like Passport Photo Booth App for iOS or Passport Photo Maker App for Android, you can go from a selfie-like picture to a compliant passport photo template that's verified by biometric photo experts.
Here's how it works:
Take your own passport photo and upload the image. If you're in doubt, have a look at our tips on how to take passport photos with an iPhone.
We'll turn your picture into the perfect passport photo—compliant with all regulations.
Your photo is ready! Use the downloaded image to print it at one of the above locations or at home. Alternatively, you can save yourself the hassle and order printed passport photos to your address of choice.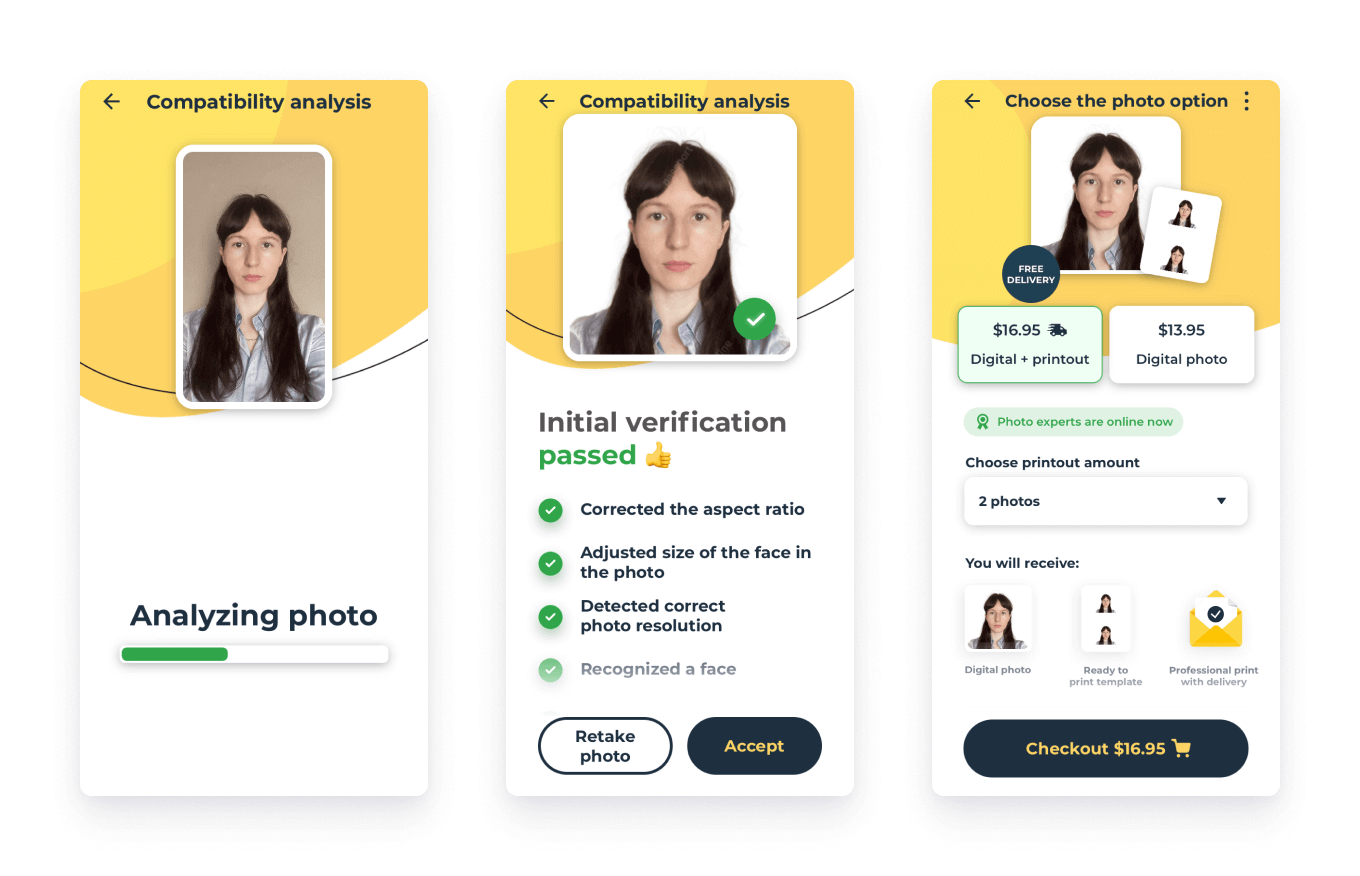 Option 2: Print at home
This option is for those who want to avoid wasting time in traffic (50+ hours yearly on average!) and get the job done at home.
Along with the printable 4×6 passport photo template, you'll also need:
Print the template and carefully cut out the photos — you're now ready to apply!
Pro tip: Remember that passport pictures must be in impeccable condition. Photo prints with any damage (e.g., ink smears, creases, or folding lines) will automatically be rejected by passport agents.
FAQs
Need quick answers? Check out these frequently asked questions about printing passport photos on a 4×6 template.
How to get a passport photo template for printing?
Can you use a 4×6 photo for a passport?
No, you can't. The required US passport photo size is 2×2'' (50×50 mm). You can print two passport-size photos on a 4×6 template and cut them out. 
Can I get a passport photo 4×6 template for free?
Yes, you can. Passport Photo Online offers a free 4×6 passport photo template with two passport photos that's ready to print. However, remember that the free service doesn't include an expert quality check. 
Print passport photos on a 4×6 template—closing thoughts
To recap, here are the steps you need to take to print a 2×2 photo on 4×6 paper yourself:
Make sure your photo meets official requirements
Prepare the template
Print it at a store nearby or at home
Although printing passport photos without additional help is possible, remember that submitting unacceptable photos is the number one reason applications get rejected or delayed by the US Department of State.
That's why you should let the biometric photography experts at Passport Photo Online handle everything for you—compliance is guaranteed or double your money back!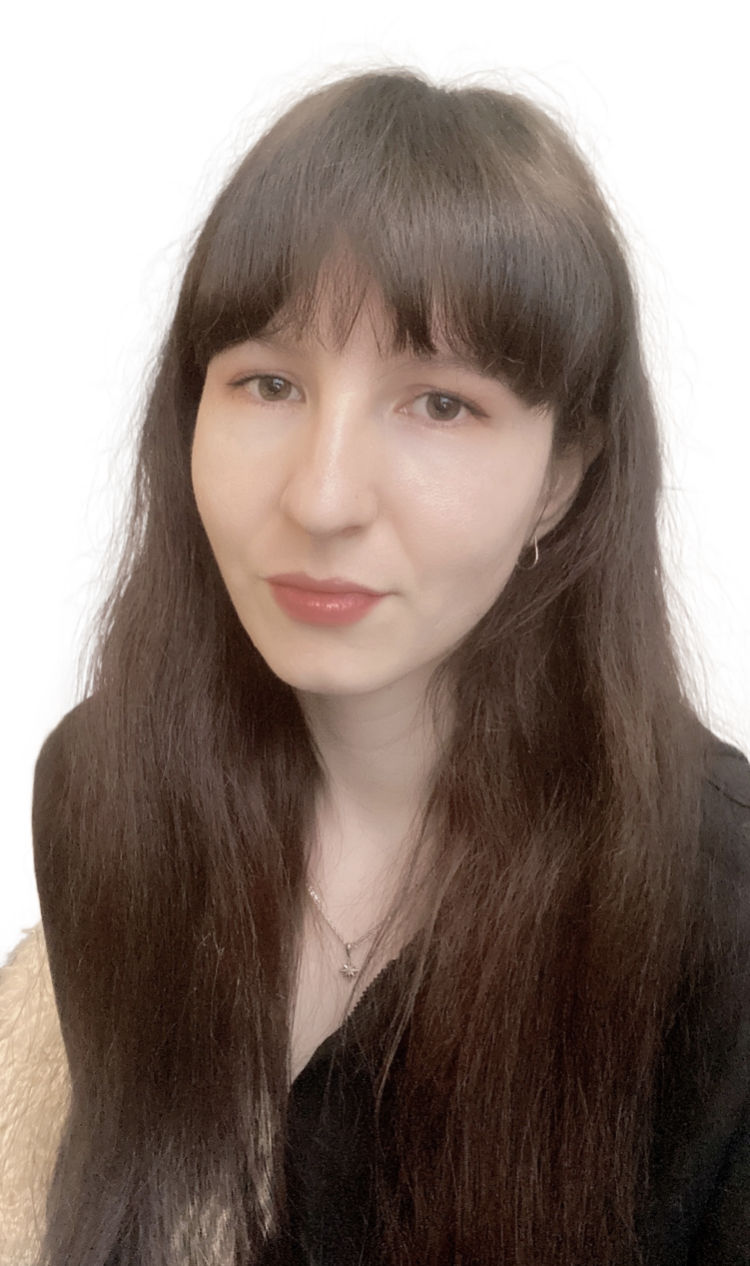 Sylwia Green specializes in biometric photography for identity documents. She leverages her content writing expertise to create articles that guide individuals through the nuances of biometric photography step by step. As an avid traveler, Sylwia recognizes the role of identity documents in enabling hassle-free travel, a theme that resonates in her writing.