There are at least 10 (ten) reasons why the National Passport Information Center (NPIC) may reject the U.S. passport application. One of such reasons—and quite common one—is submitting a passport photo that does not meet the official requirements. Thankfully, the rejection letter does not finish your journey to obtain the passport.
Why can the U.S. passport photo be denied? What further steps should the applicant take? Keep reading this article to find all the necessary answers and details about the rejected passport photo.
5 most common reasons a passport application is rejected
Before moving on to passport photos exclusively, let us start with the general overview of the most frequent reasons for the U.S. passport application denial.
Legal problems, such as:
– owing child support
– felony parole or probation
– arrest warrant.
Failing the payment, for example, putting a wrong amount on the check.
Crummy or two sided photocopies, and their poor quality.
Missing information or any mistakes appearing in the application form.
A bad photo. It happens when the attached photos are deemed unacceptable for some reason. The U.S. State Department's passport photo requirements are quite specific and very strict, and if you don't meet these requirements your application will be denied.
In the following sections, we are going to focus on the most common mistakes applicants tend to make while taking their passport pictures. Thankfully, the rejected passport photo does not mean the end of your passport application, which we will also discuss later on.
Looking for more tips to get that perfect passport photo? Try reading our other articles:
How can I know that my passport photo will be accepted?
Following all the requirements provided by the U.S. Department of State is enough to get the applicants' own passport photo accepted. Check the State Department's website for more information about the official rules and regulations governing passport photos.
Here are the top 5 (five) reasons your passport photo may be denied:
5. Wrong size and dimension. U.S. passport photos must be 2 x 2 inches (51 x 51 mm) square, and the image of your head has to be between 25 to 35 mm from the top of your head to the tip of the chin. There must be space between the top of your head and the upper edge of the photo, as well as space on the left and right edges of the print.
4. Poor contrast, exposure and saturation. The final prints on glossy or matte photo quality paper cannot be too dark or too light. Your face cannot be either over-lit or under-lit, and just as important it must be evenly lit. The light must fall smoothly and evenly upon your face, without creating any dramatic shadows. The colors (saturation) must be real and natural; do not use color enhancement filters or special effects. It is recommended that you shoot using natural lighting if you can.
3. Bad background. The required background is a uniform, plain white background. It cannot have any patterns on it, including wrinkles and shadows. You can use a plain white sheet, or a large piece of poster board. There cannot be any objects or other people visible in the passport photos.
2. Improper pose. Passport applicants must be standing (or sitting) up straight with their shoulders square and their eyes looking directly into the camera lens. Do not tilt your head at any angle. Your expression must be neutral and relaxed. Your nose should be in the center of the picture, with your eyes about two-thirds from the bottom edge of the print.
1. Hair, wardrobe and accessories. If you wear glasses, take them off: as of 2016, eyeglasses are no longer acceptable. However, if they serve particular medical purposes, applicants are allowed to leave them for their passport photo. A signed doctor's statement needs to be provided in such cases.
Big hair should not extend beyond the sides or the top of the frame; you might want to pull it back or wear it up. It is no longer necessary to have your ears completely visible, but make sure that your hair does not obscure any part of your face.
Wardrobe should be casual; uniforms and camouflage patterns are not acceptable. Accessories including facial piercings should be discreet and must not obscure your face; for example, big earrings which cross the oval of the face should not be worn. Hair accessories like headbands, hair ribbons, scarfs and bows are not allowed.
Head coverings like hats and caps are forbidden. If you wear a headgear such as a hijab, yarmulke or turban every day for religious purposes or cultural or medical reasons, you will need to provide a signed statement to that effect.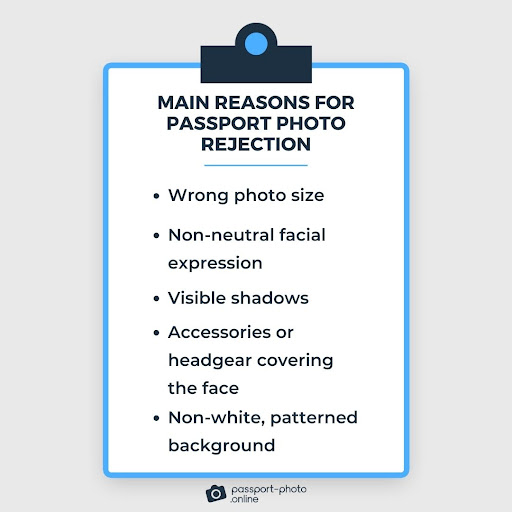 Can I retake my passport photo?
Yes! Most of the time, all you need to do to complete your passport application is to send in a new pair of photographs that meet all the government specifications. Follow the instructions in the letter. You typically have a maximum of 90 (ninety) days to get the new passport photo. You must submit 2 (two) recent color photographs of your head and shoulders, facing the camera. If you miss the 90-day deadline, you will have to re-apply and pay the fees again.
Passport Photo Online
You can take the guesswork out of your passport photo by using the online app from Passport Photo Online. Download the app to your smartphone, then drag and drop your picture into the app. A powerful Artificial Intelligence will then evaluate your picture for suitability to verify if your face is fully visible with a neutral expression. You can try as many times as necessary to get a usable shot.
Once you have an acceptable picture, the Passport Photo Online app does all the work to identify if your head is properly framed and that the picture is the right size by the app's cropping feature. It even removes your background and replaces it with the perfect U.S. Department of State-approved plain white background! It's really pretty remarkable, and super easy to use.
It's also fast and affordable. You save time and money by getting the final image via email as a JPEG file. Get it printed at your local drugstore, big box store or copy shop. Best of all, it comes with a guarantee: if the final product is not accepted by the passport office, they will replace it and refund your money.
Be careful and enjoy your travels!
Obtaining a passport is essential for anyone who wants to travel, but the application process might take up to 18 (eighteen) weeks and be expensive ($145 and up). To make your travel experience stress-free, make sure your passport photos are acceptable to the U.S. Department of State and the NPIC at the time of applying for a new passport
And to be 100% sure that your passport photo won't get rejected, try Passport Photo Online. As a helpful tool, this app will create your new passport pictures professionally with just one click. Get a clear image that meets the U.S. passport photo requirements completely hassle-free. Choose Passport Photo Online and find out for yourself!
What happens if my passport photo gets rejected: FAQ
In this section, applicants will find frequently asked questions about U.S. passport photos and the reasons for their rejection.
Can I wear my scout uniform?
No. No uniforms at all, including Scouts.
Can I wear my eyepatch, or do I have to take it off?
If you can take it off (but prefer not to because of scars) then you should remove it for the picture. If you must wear it (for example, if light aggravates your optic nerve and causes seizures), then you can wear it, just be sure to provide a letter from your doctor.
Do I need to shave off my beard?
If you normally wear a beard, you do not need to shave. The photo must reflect your current appearance. If you grow a beard after getting your passport, you should definitely consider updating your passport photos.
What happens if your passport photo is rejected?
Applicants receive a letter from NPIC stating that their passport application got rejected because it does not meet the requirements listed by the U.S. Department of State. After that, they have up to 90 (ninety) days to re-submit a new passport photo. Should they fail to meet the deadline, the passport application needs to be submitted again with the new fees paid.
How to check if your passport photo is acceptable?
Applicants can verify their passport photos by following the official U.S. passport photo requirements. However, by downloading the Passport Photo Online app you can avoid the hassle and let the advanced AI system verify the image for you.
What if your photo did not pass photo requirements?
If your passport photo did not pass the requirements and you received a rejection letter, you have 90 (ninety) days to improve the photograph. Try using a different passport service or check Passport Photo Online, a photo transformation tool that guarantees 100% compliance with all the official U.S. requirements.
What to do if my Walgreens passport photo was not accepted?
If the person photographed in Walgreens receives a rejection letter because of the passport photo, the store offers a full refund policy. You can either give the faulty pictures back or ask for a retake. However, if the photos were rejected, it would be better to try another option. What about the Passport Photo Online app? Thanks to it, you can take your photos comfortably at home and ensure they are compliant with the 24/7 experts' feedback.
Do you have to pay again if your passport photo is rejected?
After receiving a rejection letter because of an improper passport photo, applicants have 90 (ninety) days to change it and re-submit. However, if the deadline is missed, the applicant needs to submit the entire form once more with all the fees paid again.
How strict are passport photos?
The requirements for adult and children passport photos consist of relatively the same rules:
– proper size (2 x 2 inches) 
– good lighting that does not cast shadows
– high quality (the photo cannot be blurry or have any smudges)
– white or off-white background 
– visible face with eyes open, lips closed and teeth not showing (infants are allowed to have their eyes closed).
There are also a few rules concerning the clothing and accessories. Applicants photographed for passport photos should not wear sunglasses, headphones or casual head covering, such as a hat. Permanent tattoos or a beard is allowed if it reflects the applicant's current appearance.
What can I do if my photo booth passport photo was rejected?
Every photo booth has its own policy. It may happen that one of them offers a refund policy if your passport photo is rejected. In any case, applicants need to prepare a new passport photo that meets all the requirements for U.S. passport photos. Check Passport Photo Online for a 100% compliant passport picture.
Sources
Bryan is a writer and filmmaker originally from Texas who has sailed around the world. Thanks to his experience in the cruise industry and customer service, he understands what customers feel and needs, and as a result of numerous travels he has specialized in passport photography. Bryan is the author of FOG WATCH published on Amazon.