You only get one shot.

If your passport photo falls short of the requirements, the application process will stall.

The good news?

This complete guide lists examples of rejected passport photos to help you get the green light from the US Department of State.
Get your passport photo accepted! Use Passport Photo Online and have your image double-checked by AI and our passport photo experts. 100% compliance guaranteed!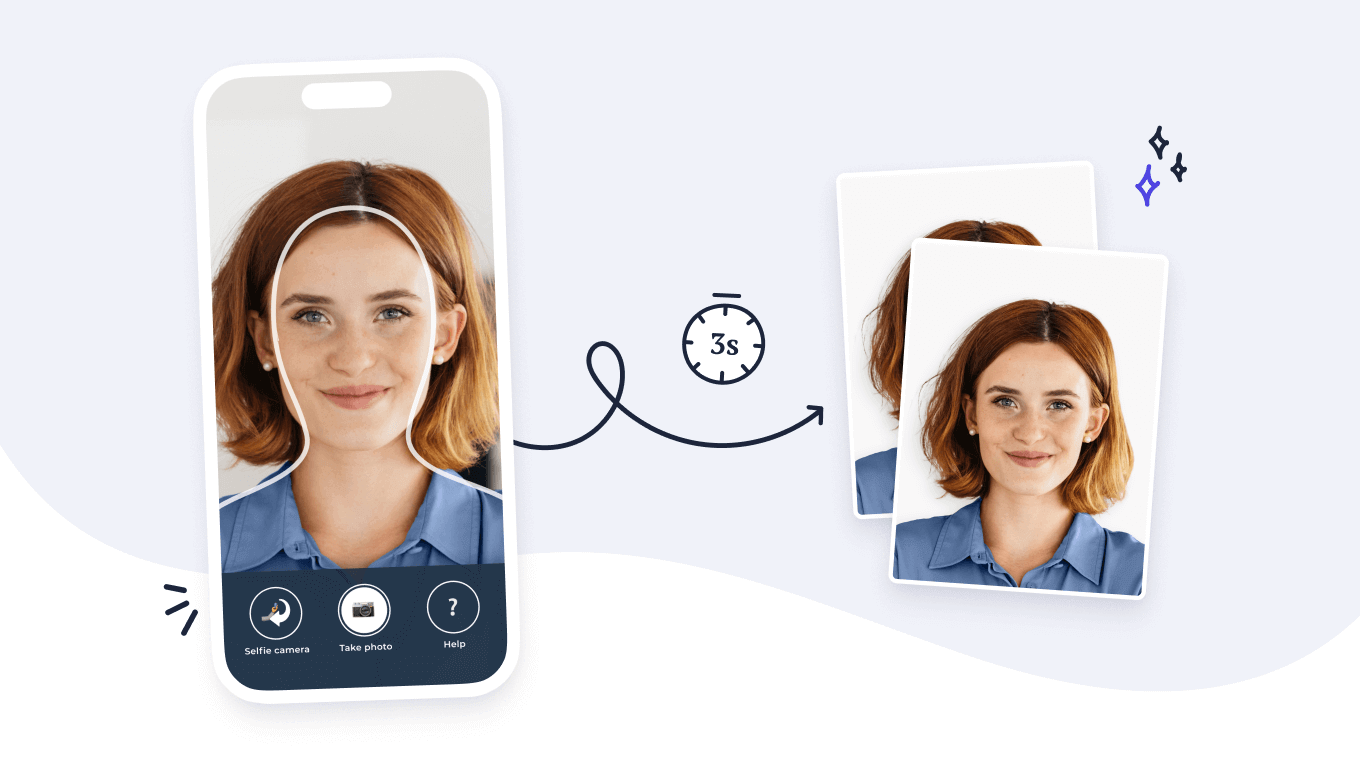 Dive into other detailed articles on passport photo regulations:
Why was my passport photo rejected?
There are numerous reasons for your passport pictures to be rejected.
We have divided them into seven groups—in all of them, we'll highlight the mistakes authorities find in US passport photos.
1. Wrong dimensions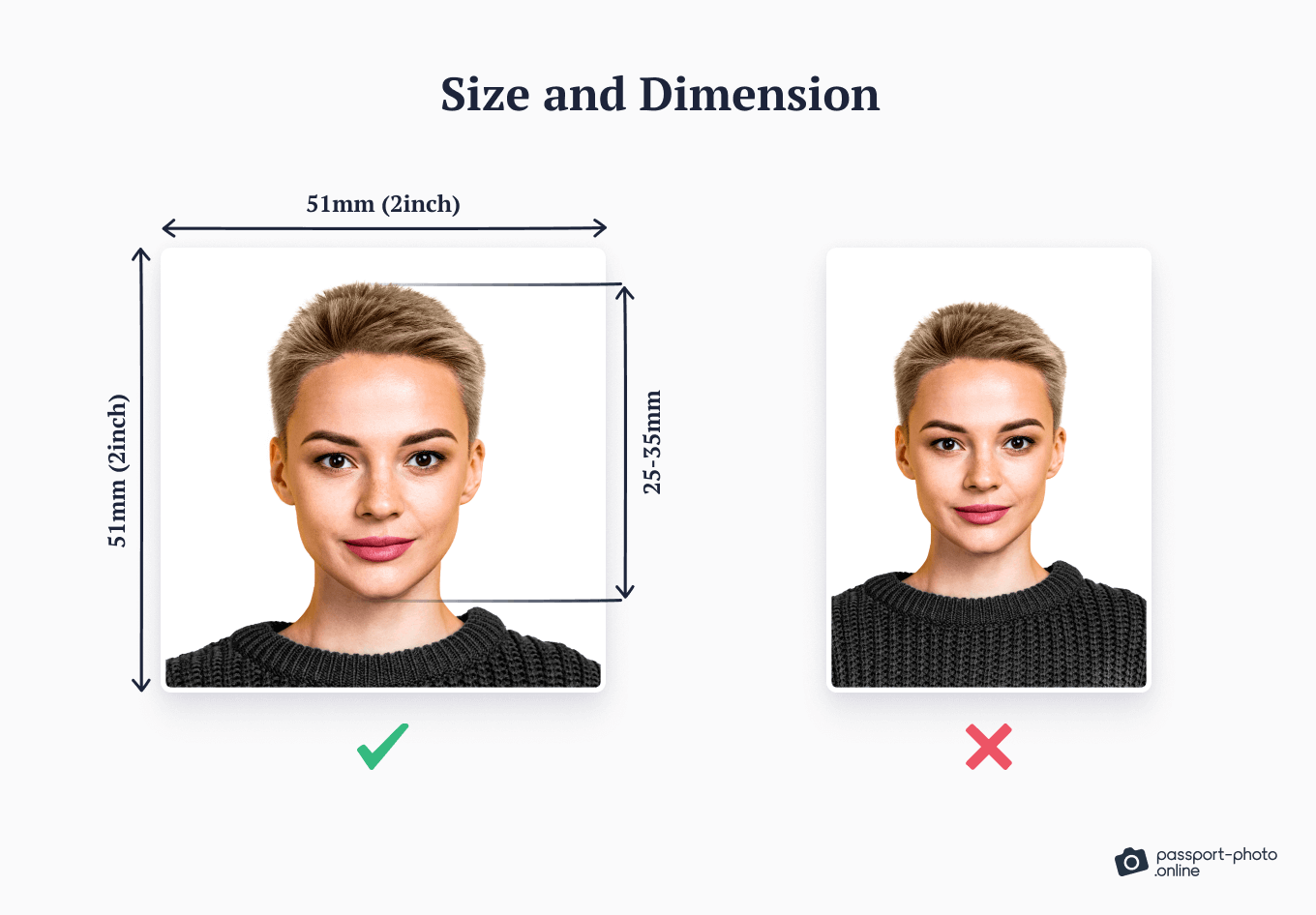 A 2×2-inch photo (or 51×51 mm) is the only acceptable dimension for a US passport photo.
Moreover, your head must measure between 25 to 35 mm from its top to the tip of the chin.
There must be space between the top of your head and the upper edge of the photo, as well as on the left and right edges of the print.
If you already have a passport-style photo (with a white background) but in a different size, see how you can resize your picture to US passport photo dimensions.
2. Inappropriate facial expression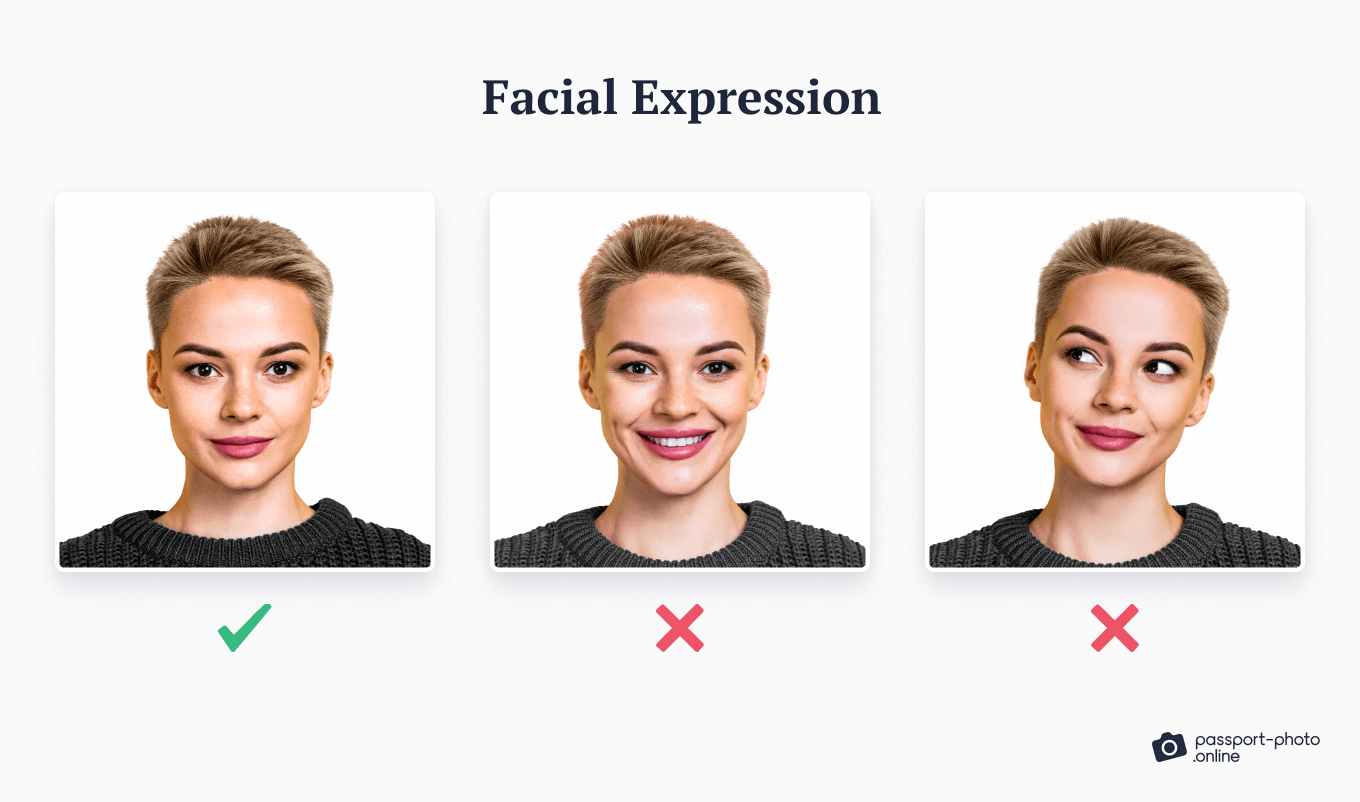 You should maintain a neutral facial expression for any identification document. Smiling in your passport photo can cause issues during the biometric recognition process.
Also, pay attention to your pose.
Passport applicants must be standing (or sitting) up straight with their shoulders square and their eyes looking directly into the camera lens. Do not tilt your head at any angle.
Wide smiles, frowning, or looking away are unacceptable in passport photos.
3. Bad picture quality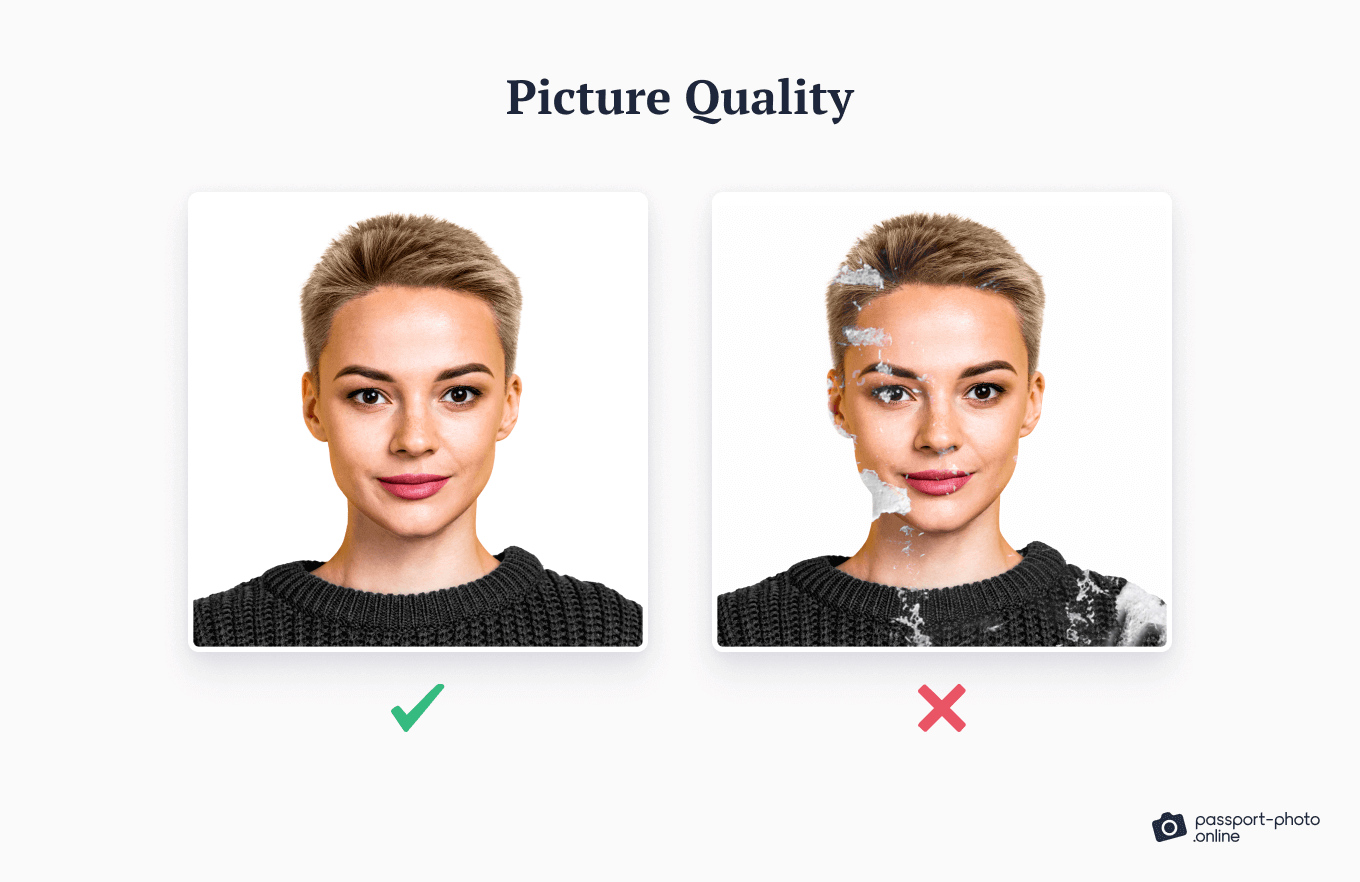 Applicants must submit their printed passport in perfect shape—there can't be any holes, tears, smudges, or other discrepancies visible.
Also, the picture itself must be taken with appropriate equipment to ensure its sharpness and clarity.
The same goes for digital passport photos. The authorities will reject pixelated images or ones with visible noise.
Important: The US Department of State will reject photos with any digital alterations, such as beauty filters, highlights or edge enhancements.
4. Lighting and shadows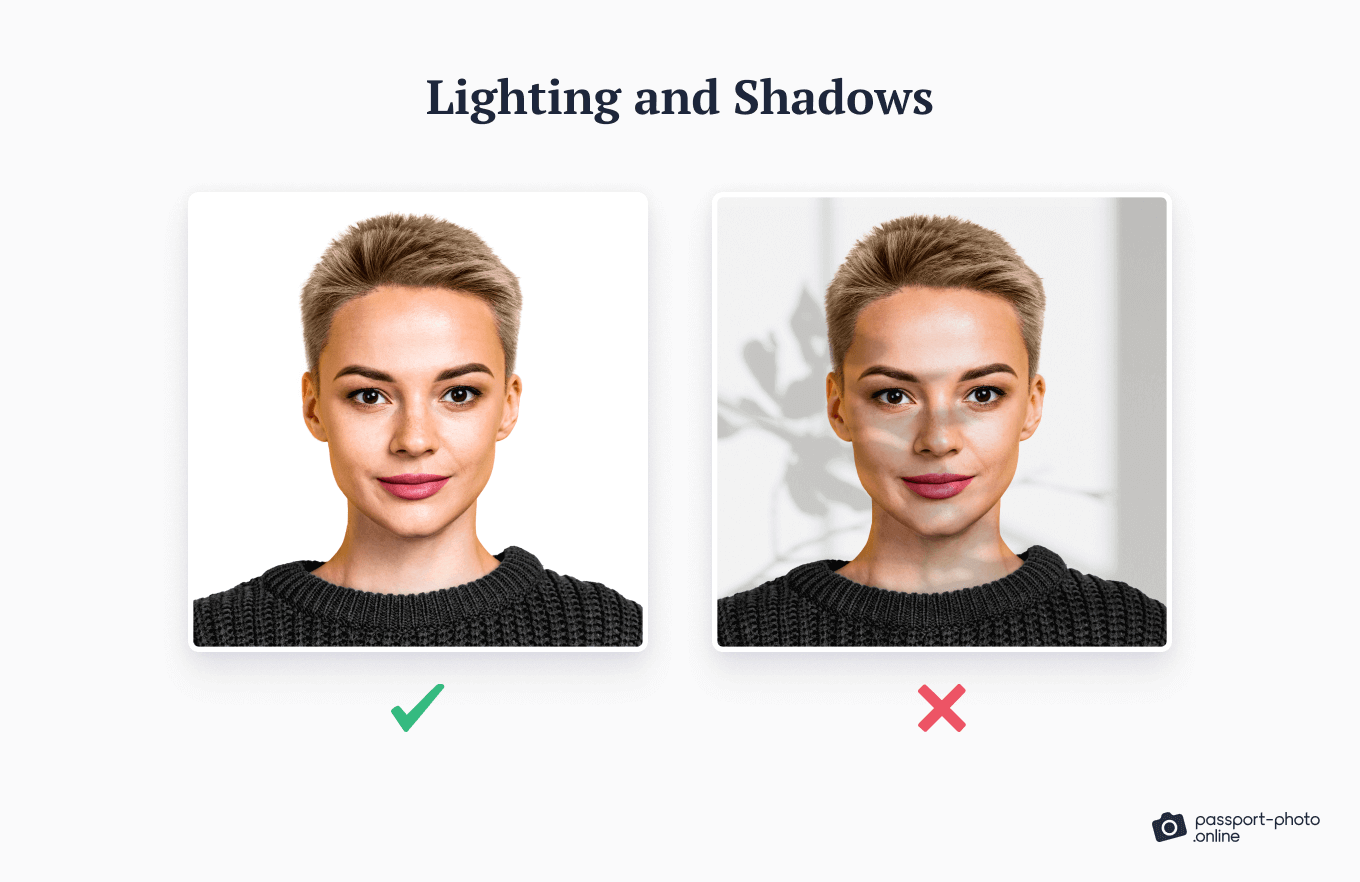 The final prints on glossy or matte photo-quality paper can't be too dark or light.
Your face can't be either over- or underexposed, and just as importantly, it must be evenly lit without creating any shadows.
The colors (saturation) must be natural—don't use color enhancement filters or special effects.
It's recommended that you shoot passport photos in natural light if you can.
5. Non-white background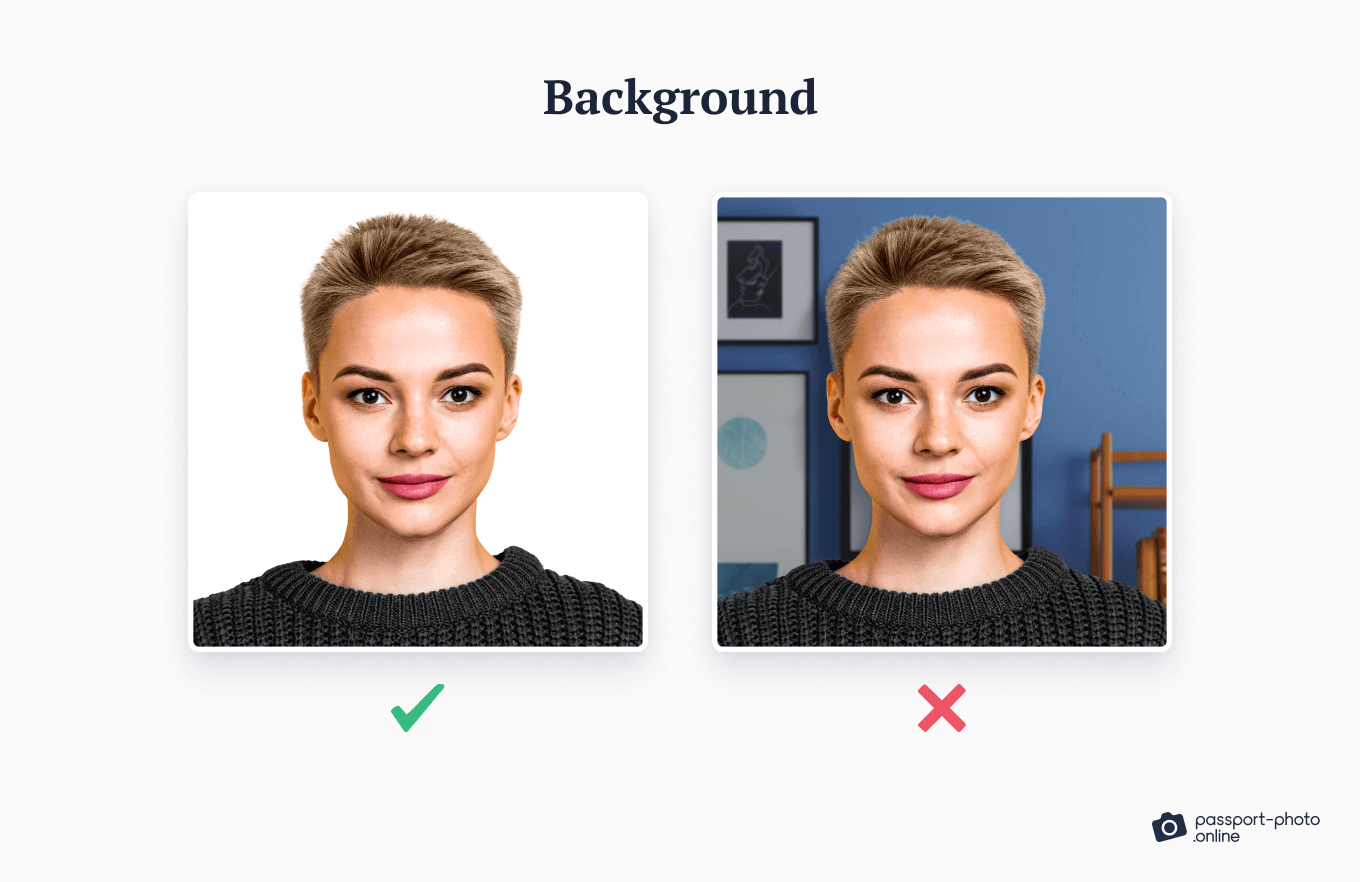 The required background is a uniform, plain white background. It can't have any patterns on it, this includes wrinkles and shadows.
You can use a plain white sheet or a large poster board. There can't be any objects or other people visible in the passport photos.
The good news?
You can skip looking for a perfectly white background.
Snap a picture with our passport photo app and have your background removed automatically. We guarantee the highest quality and adherence to official regulations.
Already have a good passport photo? Remove your background for free with an online photo background remover.
6. Excessive accessories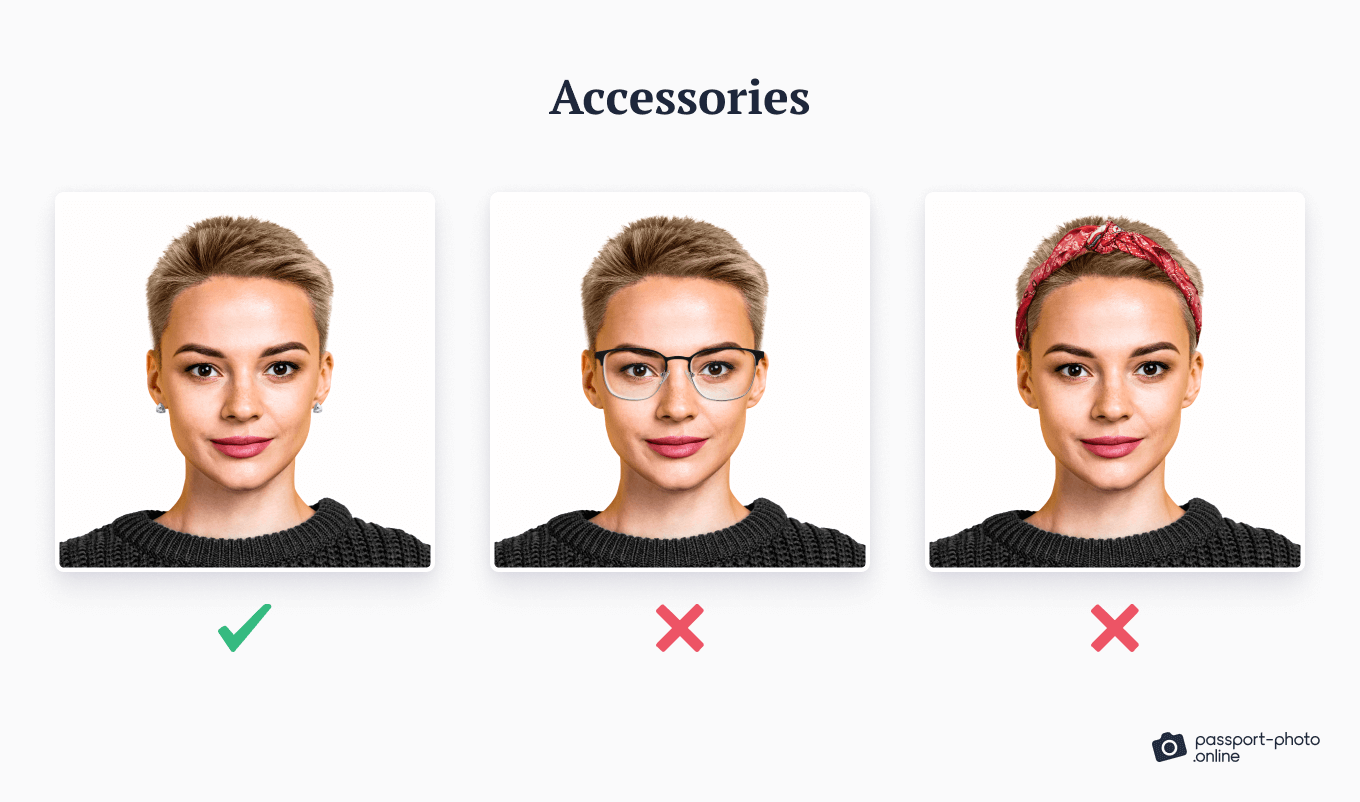 Accessories, including facial piercings, should be discreet and mustn't obscure your facial features.
For example, you shouldn't wear big earrings that cross your face's oval. Hair accessories like headbands, ribbons, scarves, and bows are prohibited.
If you wear glasses, take them off—as of 2016, eyeglasses are no longer acceptable.
However, if they serve particular medical purposes, you can leave them for your passport photo. You need to provide a signed doctor's statement in such cases.
Note: The passport agency will accept permanent tattoos in your passport photo as long as they don't cover significant parts of your face.
7. Unacceptable attire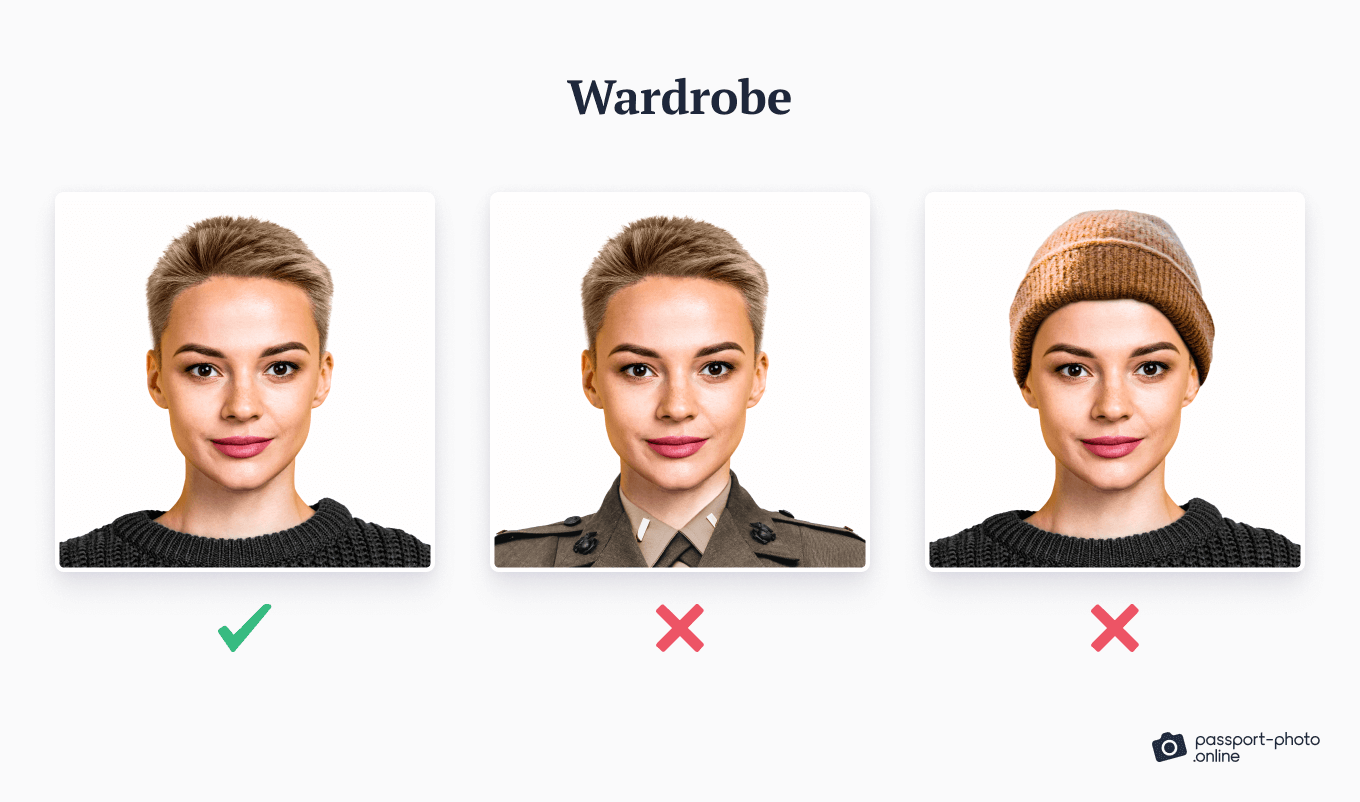 The wardrobe should be casual—uniforms and camouflage patterns are not acceptable. Opt for darker colors and avoid white outfits that may blend with the background.
You can choose any clothing you like but pay attention to your face and the neckline. Your outfit can't obscure any essential features like your chin, ears or shoulders.
Head coverings like hats and caps are forbidden.
However, wearing headgear such as hijabs for your passport photo is allowed if you wear them daily for religious purposes or cultural or medical reasons. As with the glasses, you'll need to provide a signed statement.
What happens if my US passport photo is rejected?
A rejected passport photo is—fortunately—not the end of your application process.
After the authorities find any mistake in your passport photo, you'll receive an official rejection letter with an explanation and proper instructions on how to fix your passport photo.
From this moment, you have 90 days to retake your picture and send a new passport photo to the Passport Office, along with additional documents if need be.
If you manage to send the photo within the 90-day period, you don't have to pay anything extra.
However, if you fail to meet the deadline, you'll need to start the process from scratch and pay all the fees again.
Don't worry! Ensure passport authorities will accept your photo with the help of Passport Photo Online. Our extensive feedback will help you create a perfect US passport photo.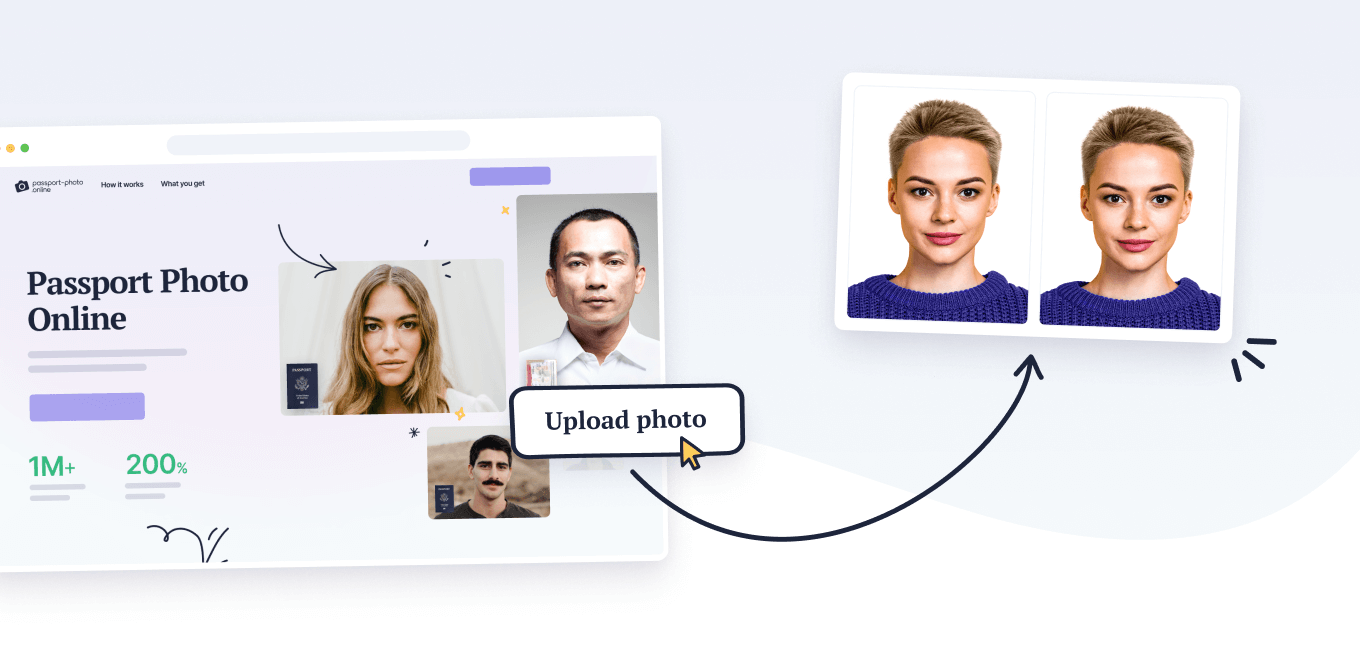 FAQs
Do you have to pay again if a passport photo is rejected?
If you manage to meet the 90-day deadline for retaking and sending your new photographs, you won't have to pay again. However, after this time, you must reapply for your passport and pay all the fees again.
What passport photos get rejected?
Passport photos that fail to meet the official US passport photo requirements will get rejected. This includes wrong dimensions, non-white background, bad photo quality, lack of neutral facial expression, and inappropriate attire.
Summary
Your US passport photo can be rejected because of multiple reasons. The most common ones are:
Photo size
Quality
Inappropriate facial expression
If your photo gets rejected you'll have 90 days to retake and send the new photo to authorities.
In this window of time, you don't have to pay any additional fees. However, failing to meet the deadline will require you to reapply for your passport and pay all the fees once again.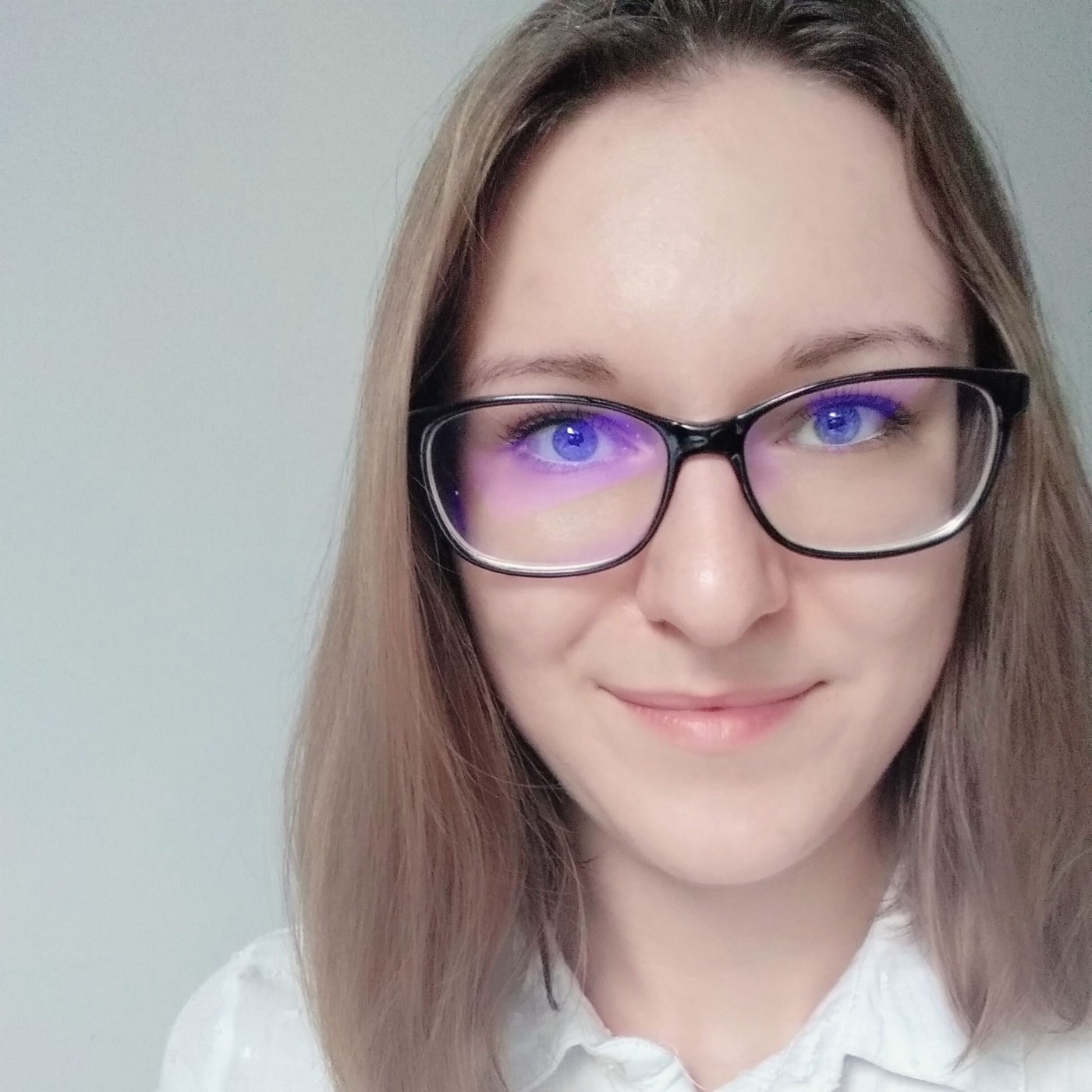 Roxana Grabowska combines her passion for language and biometric photography to craft reader-friendly content. Her work provides a clear guide to creating suitable photos for identity documents, making the process more accessible. Roxana's background in linguistics and love for travel have made her appreciate the importance of high-quality biometric photos in ensuring smooth travel experiences.