Passport photos are an enduring part of every British citizen's life. It comes out every holiday, so everyone wants to get a good one. As soon as a passport photo has been approved, it is locked in for 10 (ten) whole years or is it?
If a British citizen finds themselves cringing every time they look at their passport photo, or if they've just changed so much that they're no longer recognisable, it's possible to replace an existing passport photo with a new one.
To find out how to change the photo on your passport, read on. Passport Photo Online understands the need to get a good passport photo, so we've split the process into 4 simple steps to make sure you've got all the information you need to take on the application with confidence. Let's dive right in.
Click to see more about:
How to change a passport photo UK: step-by-step
In order to change their UK passport photo, British passport holders will need to get a new passport through the standard renewal process. No matter what the circumstances, this is how everyone will change their passport photos. We've done the research, and we know the system, let's break it down.
Step #1: take a new passport picture (3 seconds)
The first step, naturally, is to take a new photo.
Applicants should take time over this; it's important to get a photo they're happy with. It's also a good idea to read over the passport photo requirements again to make sure this new photo meets the rules set by the passport authorities.
Find a suitable spot to take it, with good lighting and a plain white or cream background. Get a friend to take the picture, as selfies will not be permitted.
Step #2: fill out a passport application form (10 minutes)
Once the new passport photo is ready, it's time to fill out the application form. The UK passport services have 2 (two) options for you to choose from:
Option #1: apply online, using the passport renewal portal on the Passport Office website. The online application form carries all the questions you need to answer, as well as a place where you can upload your new passport photo. It will cost £75.50 to apply online.
Option #2: apply using a paper application form, available from all participating Post Office branches. Get one from a local branch, fill it out at home, and put it in an envelope, along with a paper passport photo reel. Applicants will need to complete sections 1, 2, 3, and 9 to renew their passports. If their appearance has significantly changed, a countersignatory will need to fill out section 10. Using a paper form will cost £85.
If you'd like a bit of extra security, the Post Office Check and Send service will allow a Post Office worker to check your application over to make sure it's been filled out correctly. It costs a bit more (£91.50 for digital applications, £101 for paper applications), but the extra peace of mind can be worth it.
Step #3: if needed, find a suitable countersignatory (5 minutes)
This doesn't apply to everybody, but it is worth bearing in mind. If the applicant is no longer recognizable in their old photo, for example, if they've recently lost or gained a lot of weight, got a face tattoo, or even just aged a lot, they will need a countersignatory to verify the new picture.
Need a new passport photo soon? Learn the rules by checking out:
Step #4: submit the application (1 minute)
Once the new photo, application form, and countersignatory are ready, it's time to send everything off to the Passport Office. When that's done, all that's left is to wait for a new passport, with a shiny new digital photo to be delivered.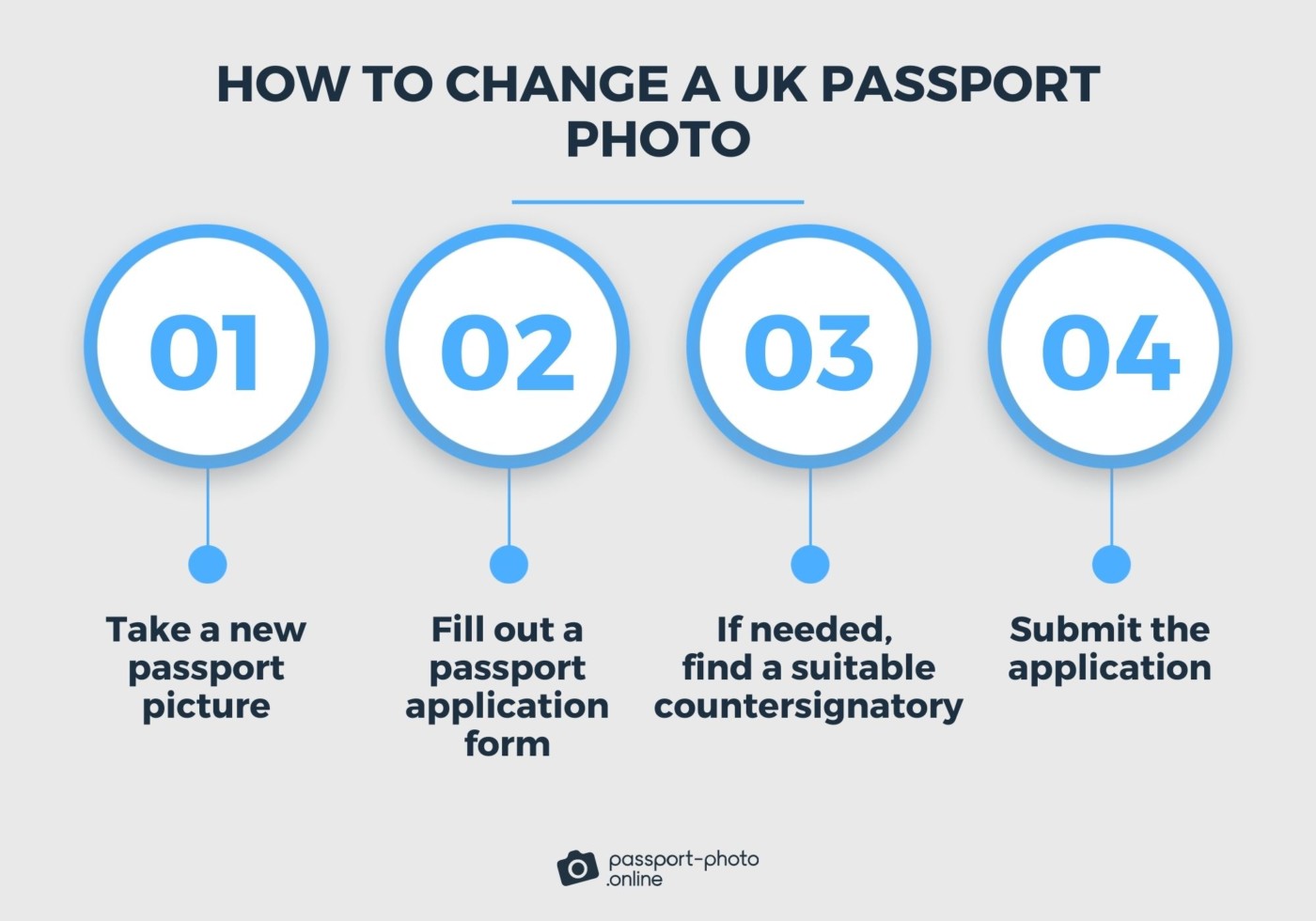 How to change my passport photo with Passport Photo Online
A passport photo will stay with you for 10 (ten) years. Getting one that you like is important, and no one understands that better than Passport Photo Online.
We have years of experience dealing with biometric photos of all types, and we are uniquely placed to help you get the digital passport photo you deserve. We can solve all the modern annoyances of getting a passport photo taken. For example:
As we've already seen, the biggest issue when taking a passport photo today is finding yourself with one that you don't like. We understand this pain, so our online photo booth gives you the opportunity to take as many shots as you need to get one you're happy with. It doesn't matter if it's 10, 100, or even 1000, we'll make sure you get a passport photo you'll be proud to keep around for the next decade.
Sometimes, finding a suitable setting can be challenging, which is why Passport Photo Online is proud of its background removal software. We can scan any photo and remove the background instantly, just leaving you and a plain white backdrop, perfect for the regulations.
You're not always going to be in a place where getting digital photos for your passports is convenient. Luckily, Passport Photo Online only needs an internet connection to work. As long as you have that, you can get pictures wherever you want!
We're proud of what we do, so we guarantee that, in the unlikely event that a photo we edited for you is rejected by the authorities, we'll refund you 200% of what you paid. A good deal, we know you'll agree. We give you the choice of a digital photo sent to your email address or a paper photo reel delivered to your door.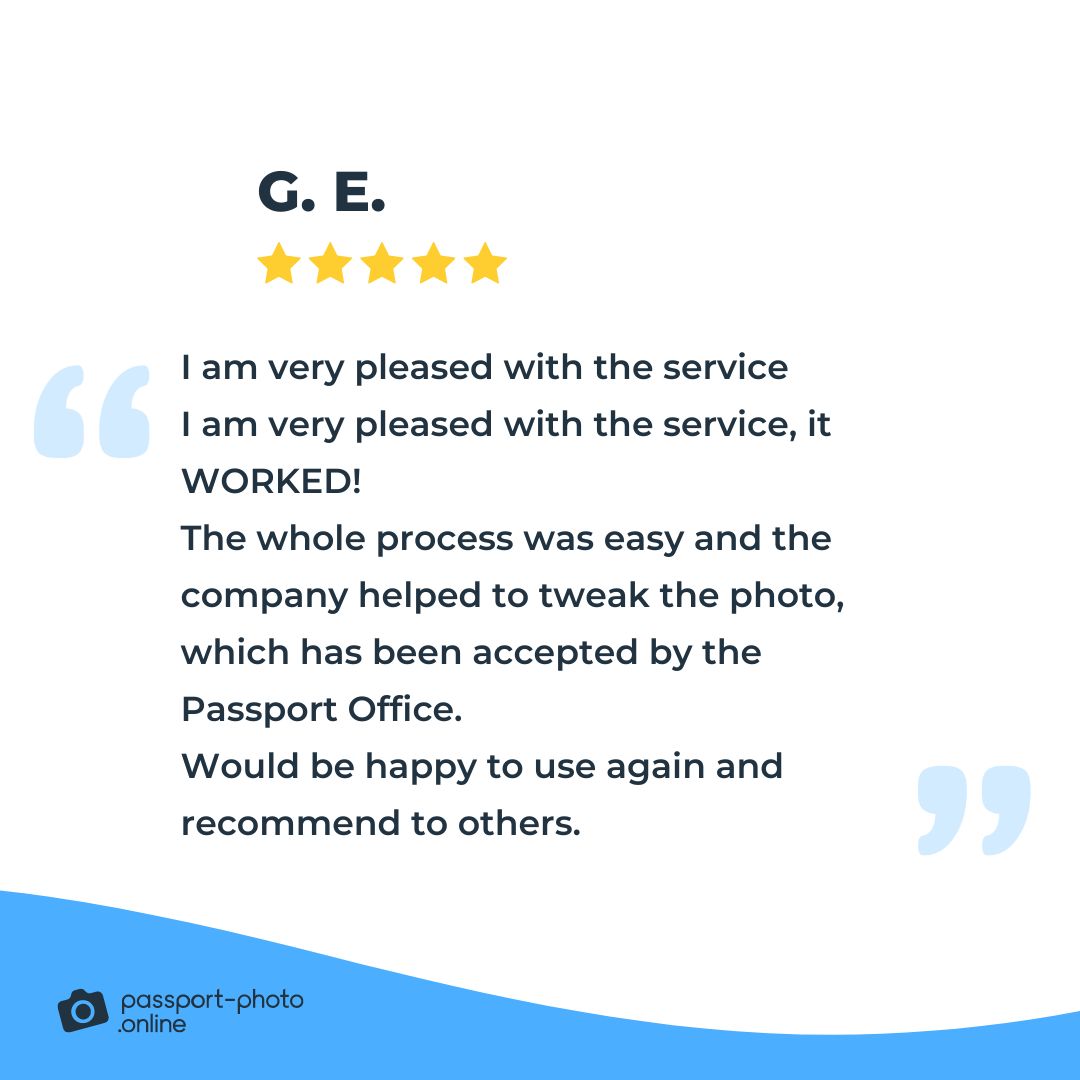 How to change a UK passport photo: FAQ
Now we've outlined the process, we'll finish up by answering some of the most important questions you may still have about changing your passport photo.
Can you change your passport photo before it expires?
Absolutely! It is, in theory, possible to change a passport photo at any time. Applicants will need to get a new passport to do it, but that's easily done. Fill out the relevant form and send it off with a replacement photo.
Can I change my passport photo online?
Yes, the UK Passport Office's online application portal means an applicant can upload a photo and complete an application form, all from their laptop, tablet or phone. It couldn't be simpler.
How can I change the photo on my passport?
In order to change the photo on a UK passport, British citizens will be required to apply for a complete passport renewal. This can be done either from the online application portal on the UK Government website or through a paper application form, which can be collected from any participating Post Office branch.
How often can you change your passport photo?
As mentioned above, British passport holders can change their photos anytime. Remember, though, the UK Government will charge for every renewal, and the remaining time on the old passport does not carry over to the new one.
Could I change my passport photo if I'm not happy with it?
Yes. If an applicant is unhappy with the photo they provided, then they can apply to renew the passport and include a new photo. To guarantee a good photo, Passport Photo Online is a good call, as they offer as many attempts as is needed, free of charge, perfect for getting an A-list quality passport picture.
How to change the photo on my passport in UK: summing up
There's nothing worse than not being happy with a passport photo, but it's actually really easy to get a new one. The process is no different from a basic renewal, so it comes down to taking the time to get a photo that works for you.
That's where Passport Photo Online really shines with our unlimited retakes offer, getting a perfect passport photo is a breeze. Once it's ready, the next time you travel abroad, you'll be more than happy to show your passport photo to the customs officers because you'll be looking your absolute best. Trust us, that's going to feel great. 📸
Sources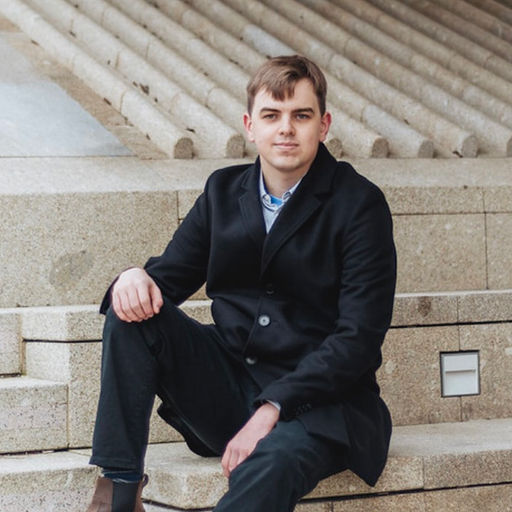 Having graduated with a History degree from the University of Birmingham, Sam has proven writing experience in biometric photography articles, marketing and events. Born in the UK, he has travelled extensively both nationally and internationally. In his spare time, he enjoys reading, cycling and skateboarding.