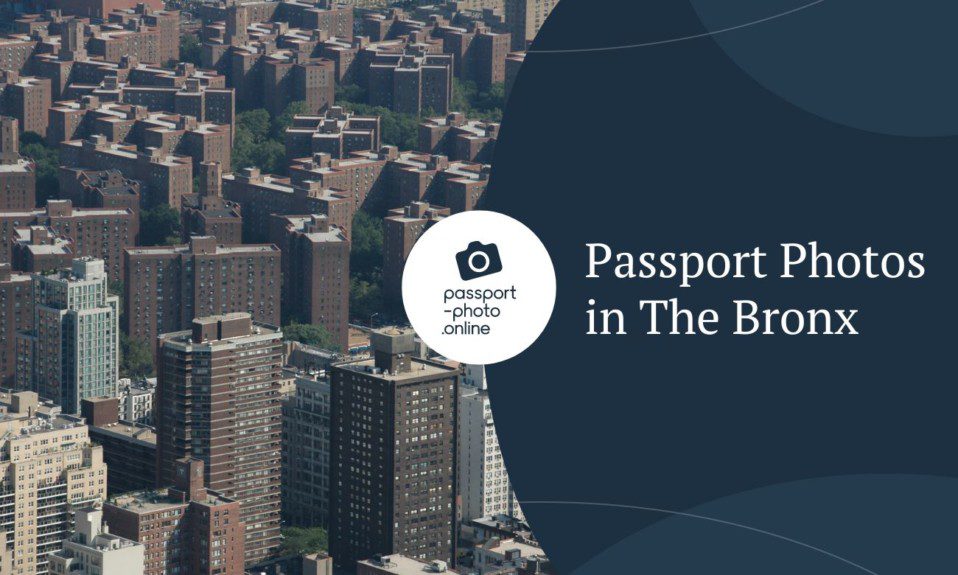 Roughly 1.5 million people live in the Bronx, making it the fourth most populated borough in New York City. Most of the largest passport photo providers in the country have locations in the neighborhood; however, only some districts are fully covered.
This post will guide you through the most convenient spots to get passport photos in the Bronx and explain how Passport Photo Online—an app with over a million users—can help you get the necessary pictures from home. Keep reading to know more.
In this post you will find:
Popular passport photo providers in the Bronx
There is a high concentration of stores that provide passport photo services in the Bronx, mostly large pharmacies and retailers popular all over the country. These locations usually either provide a photo booth or have the staff take passport photos in front of a white background.
Now, let's get into exactly which are the most popular providers in the Bronx.
Rite Aid
With 13 photo centers, Rite Aid covers most areas of the borough. To have a passport photo taken, customers don't need to make an appointment; it's enough to walk in and get in line if necessary. Users report that the service is not always operational and that the locations are often crowded.
They generally only provide 2 x 2 inch pictures. At Rite Aid, the price for a set of 2 passport photos is $8.99.
The location with the highest ratings on Google is at 537-539 E 138th Street.
For further information:
Cheap Rite Aid Passport Photo Print Using a 4×6 Inch Template
CVS
There are 11 CVS locations that take passport photos in the Bronx, evenly spread over most areas. The pharmacy accepts walk-ins for their passport photo service. Customer reviews on Google and Yelp complain about the service and point out that photo machines are not always operational.
At CVS, 2 U.S. passport photos are $16.99.
The highest-rated photo centers are at these addresses:
732 Allerton Avenue
50 56 E 167th Street.
Related reading:
CVS and a Passport Photo at the Price of a 4×6 inch Photo
UPS
There aren't as many UPS Store locations as other passport photo providers in the Bronx. However, there are multiple such stores in neighboring areas, so for some customers, the closest location could be outside the borough, most likely in Manhattan. Reviews on Yelp and Google are generally positive, with only a few complaints about lines.
The price for 2 (two) printed passport pictures at the UPS Store is $14.99.
The location with the highest customer ratings on Google is at 185 W 231st Street.
To know more:
3 highest rated stores for a passport photo in the Bronx
Other than large pharmacies, retailers, and shopping centers, residents of the Bronx can find professional studios that provide passport photo services. These businesses usually provide pictures of higher quality compared to chain stores.
Need help finding a location? Here's a list of the top 3 rated professional photography businesses in the Bronx:
Quality Photo Studio – 260 E 167th Street
Most customers describe the service as friendly and professional. They also report good-quality pictures. A set of 2 passport photos costs $10.88. Opening hours are from 9 am (11 am on Sundays) to 7 pm.
Maduro & Son – 2255 Grand Concourse
This law firm and notary also offers passport photo services. The majority of customers say that the staff is knowledgeable and professional. They are open from 10 am to 6 pm and closed on weekends.
Fancy Photo – 494 Main Street, New Rochelle
Located just outside the borough, in New Rochelle, this studio provides both 2 x 2 inch and 35 x 45 mm passport photos. Reviews are quite balanced, but most users report a fast and professional service. They are open from 9:30 am to 7 pm during the week, from 10 am to 6:30 pm on Saturdays, and closed on Sundays.
Passport photos in the Bronx with Passport Photo Online
Can't find a close service for passport pictures in the Bronx? With Passport Photo Online, you can prepare a passport application from home without traveling anywhere.
Here's what you get by using our app:
The photo gets instantly adapted to the required size and the background gets replaced. Our customers can take passport pictures anywhere they are; no need to set up in any way.
The image is examined by both an AI system and one of our experts. We can help you effortlessly avoid common mistakes. Our approval comes with a 100% guarantee of compliance with government guidelines.
Unlimited snaps. Users can try as many times as needed until the result is just perfect. Don't like the first one? Simply send another one; there will be no additional costs. Works especially great for stress-free baby passport photos.
Use our app to prepare for a travel visa or a passport application online; you'll get the digital photo immediately by mail, and the printouts can be shipped on demand.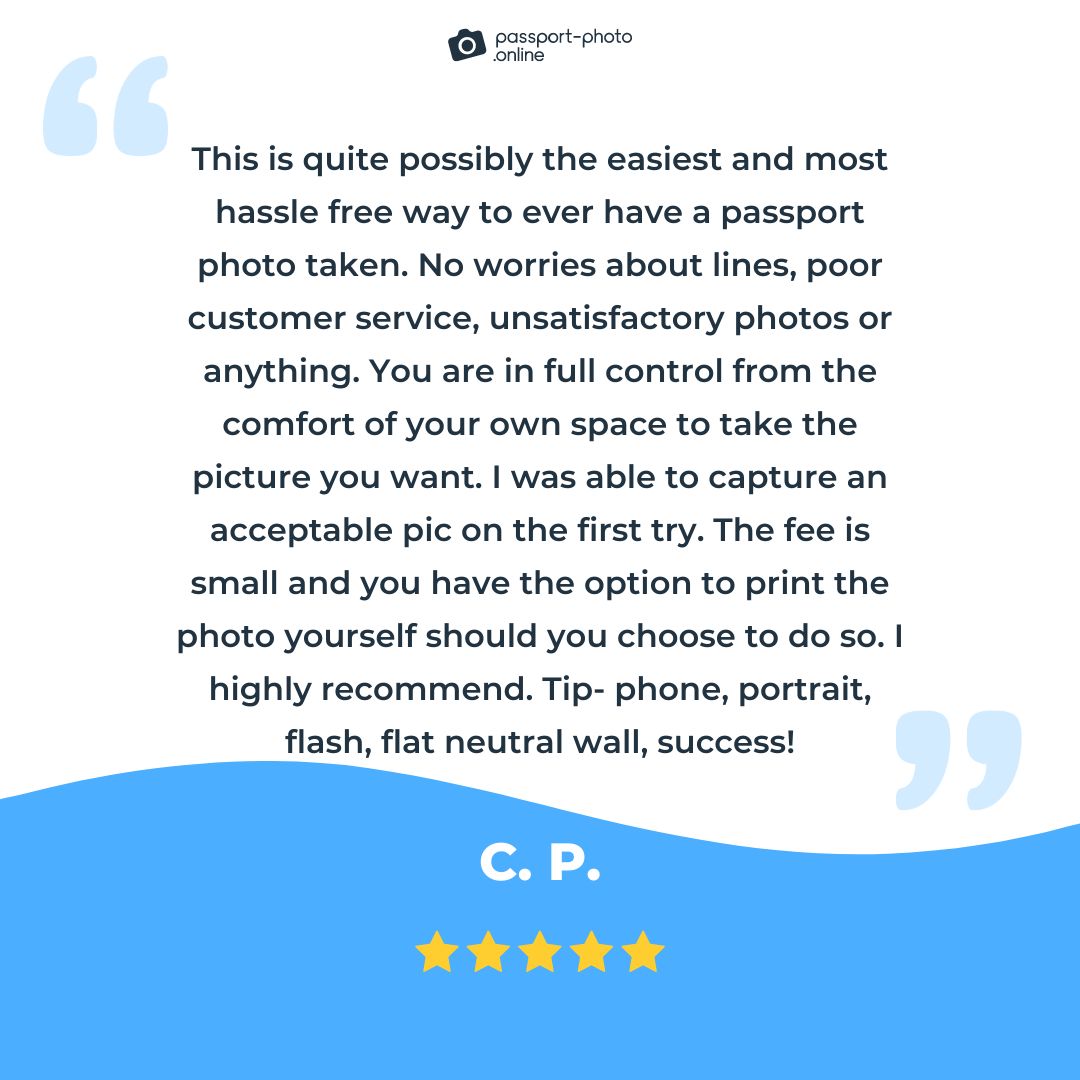 FAQ
In this section, we'll answer some frequent questions about getting passport photos in the Bronx, NY.
Where to get passport photos in the Bronx?
Rite Aid, CVS, and UPS are among the most widespread passport photo providers in the borough. You can also use the Passport Photo Online app to take the pictures you need directly from home.
Who does the cheapest passport photos in the Bronx?
Rite Aid has the lowest price, with 2 passport photos for $8.99.
Where to get passport photos on Tremont Ave, Bronx, NY?
There is Walgreens Photo at 3085 E Tremont Ave. Alternatively, with Passport Photo Online, users can take passport photos on the spot.
Where can I get a passport photo in Westchester Square, Bronx?
There is Walgreens Photo at 55 Westchester Square. You can also use Passport Photo Online to get a picture for the passport application process from home.
Does the Post Office in the Bronx, NY do passport photos?
Yes, some USPS branches in the Bronx do passport photos. To check if the local post office provides this service, it's advisable to contact them before going.
Summary
There are multiple options for passport photos in the Bronx. Retailers and chain pharmacies cover most of the borough's territory, but customers often report long lines or unavailable services. Those who choose to refer to professional photographers might have to travel outside of the Bronx since there are only a few such businesses in the borough.
To prepare for your upcoming trip conveniently from home, use Passport Photo Online on Iphone or Android. We are available anywhere 24/7.