Tired of spending time and money at a photo studio to get a perfect passport picture?
Good news!
You no longer need to leave your house to get the job done—2×2 passport photo apps are the solution.
But with so many available options, how can you tell which you should download? That's where we come to the rescue with our comprehensive reviews of the leading passport photo apps.
So, without further ado, let's dive in and discover which photo app is the ultimate solution to snap your 2×2 passport photos at home.
Here's the full list of the best 2×2 passport photo apps we've reviewed:
Looking for a specific Android or iPhone passport photo size maker? Click on one of the links above to get straight to the review. Or jump to the part where we cover:
Want to take the perfect 2×2 US passport photo? Download our app to get an expert-verified picture with an acceptance guarantee and a 200% refund policy.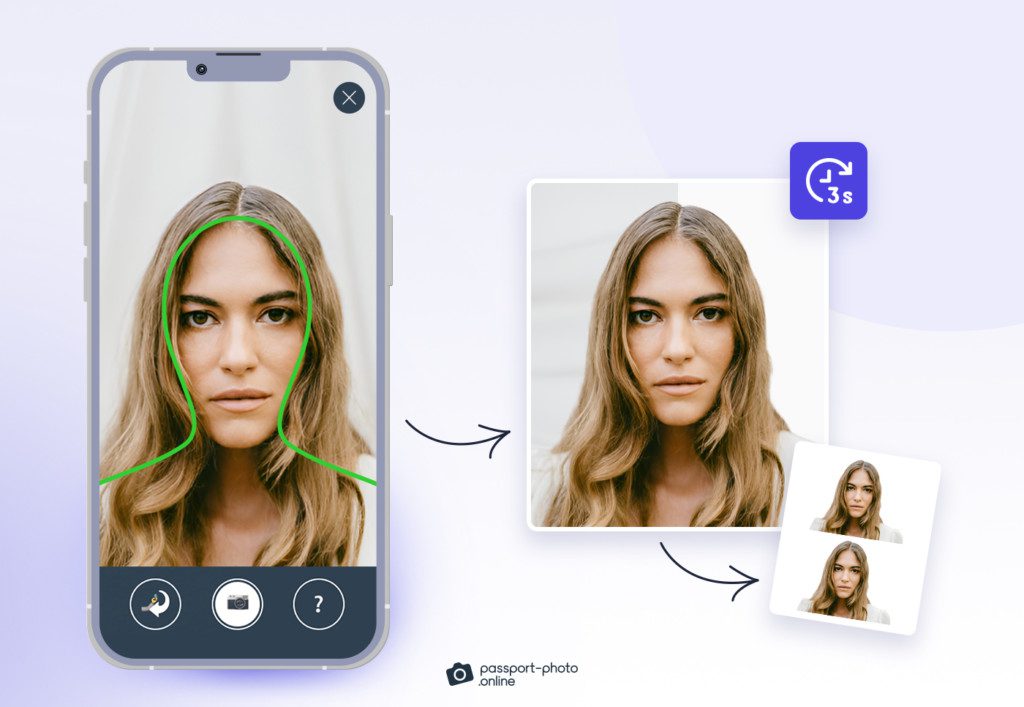 Didn't find the information you needed? These related articles may help:
What apps can make 2×2 pictures?
When applying for a passport, you'll need a long list of passport application documents. But firstly, you'll need a picture compliant with your country's guidelines. While the list of official passport photo requirements is lengthy, the most basic one is the size—you must provide a 2×2 inch photo.
Why is it important when talking about photo applications? Because not all of them are designed to create a proper passport photo. Luckily, the market of 2×2 passport photo apps is plentiful.
We highly recommend opting only for a passport size photo maker that ensures your photo is cropped to fit the required size. That way, you'll avoid having your passport application rejected.
Now, is every app for 2×2 pictures good for taking passport photos?
No. Let's address this issue in the following section.
Do passport photo apps work?
The short answer is—it depends.
With over 92 million selfies snapped every day, it's easy to think taking your own passport photo is the same. Yes, they are similar—but they must comply with strict requirements, and the photo's size is only one of them.
The best and most reliable photo maker needs to do more than create a 2×2-inch photo for you. It must be easy to use, include the necessary editing tools, and produce a biometric passport photo compliant with the US official passport photo requirements.
So, can a passport photo app for 2×2 pictures work? Yes. But you need to pick one that satisfies your needs and delivers the final product the authorities won't reject. You can see examples of unacceptable passport photos in this blog post.
How can you tell which app is reliable?
That's where our comprehensive review comes in. We've done the research and tested the best apps for 2×2 pictures to help you make an informed decision. Here's what we looked at:
Ease of use. Is the interface simple and intuitive? Does it allow you to quickly edit a passport picture without any hassle?
Editing features. Does the app have the necessary cropping, resizing, and background removal features?
Templates. How versatile is the app? Can you take pictures for other official documents (ID, Visa)? Does it support a large database of countries?
Compliance guarantee & refunds. Does the app ensure your passport picture will be accepted by the authorities? Do they offer refunds?
Printing services. Can you order hard photocopies of your passport picture?
Pricing transparency. Are all necessary features free? How transparent is the app about the prices?
Ready to discover the best solutions for creating a professional-looking passport photo from home?
2×2 passport photo app comparison table
Still not sure which app for making 2×2 passport photos is the best for you? Have a look at our detailed reviews.
User ratings: 4.7 (32.8k reviews)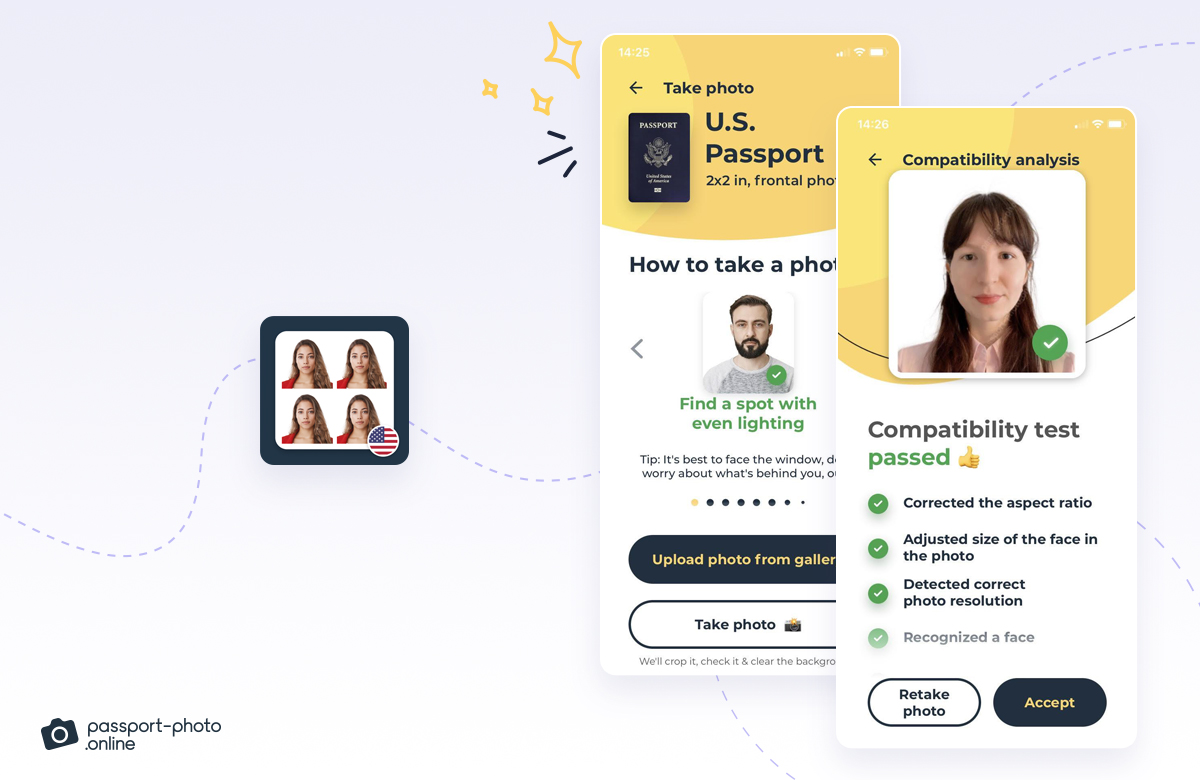 No, we can't review our own product and call it the best app for 2×2 photos, as we'd be biased. But what we can do is tell you about our top features that granted us one of the top scores among all passport photo apps. So, let's dive in!
Top features:
Automatic photo editing
Background removal (white background compliant with passport standards)
Compliance check (ensuring the photo meets all requirements)
Expert verification available 24/7
You get the preview of the final passport picture before making any purchase
High-quality digital photo straight in your inbox
Print 2×2 photos directly or order prints to your mailbox
Large database of countries and types of document photos (driver's license, ID photos, passport and visa photos)
Prices start at $13.95
PhotoAiD (download in App Store) is the world's largest biometric passport photo booth app powered by AI. With your user experience in mind, we made the process simple and intuitive. With our app, you don't need to know official photo sizes or requirements—we've got them all in our database.
Need a US passport photo? Or one for a visa? Choose your country, document type, and upload the image—we'll take over from there.
We'll automatically edit your photo to meet the requirements. Then our biometric photography experts (available 24/7) will double-check the photo for you.
What about an acceptance guarantee? We don't want your passport application rejected because of the picture. With over 1 million globally accepted verified photos using our app, it's an unlikely scenario. But if it does happen, we're here to sort it out for you. You can redo the process for free, or we'll refund double your purchase cost.
We don't want you to simply take our word for it. Read some of the reviews we got just this past month, or download our US passport photo app and test it yourself!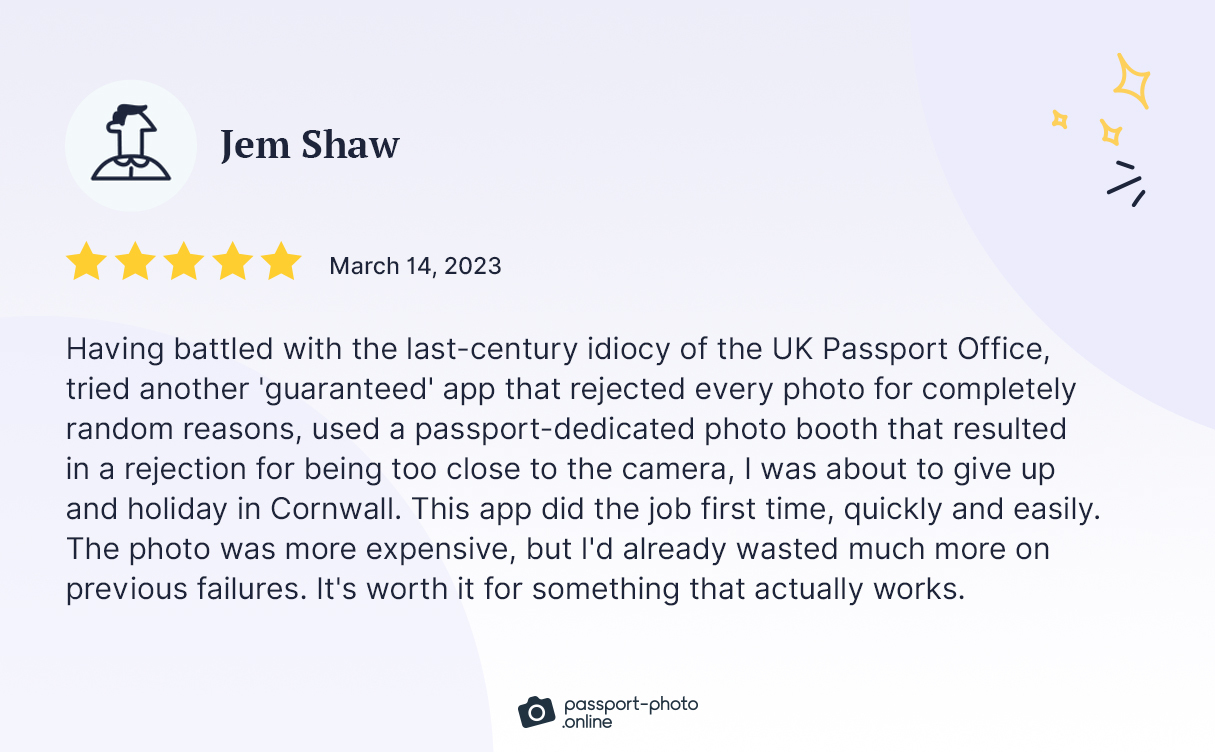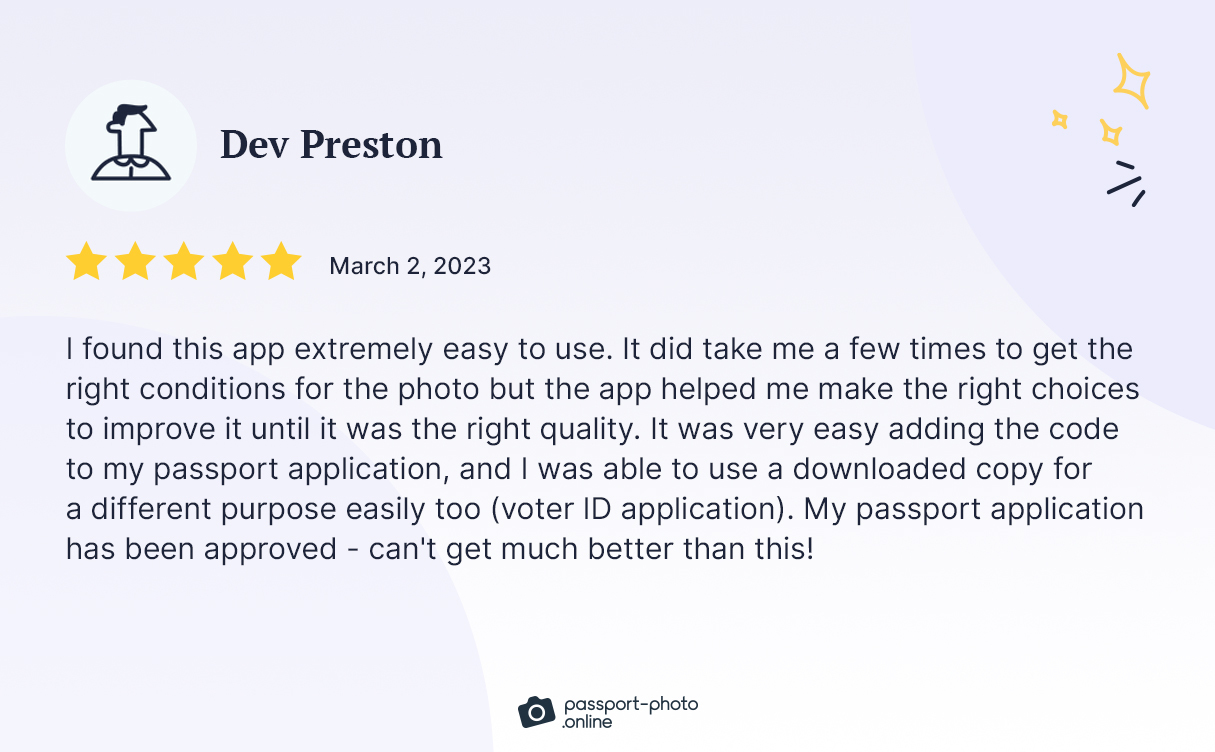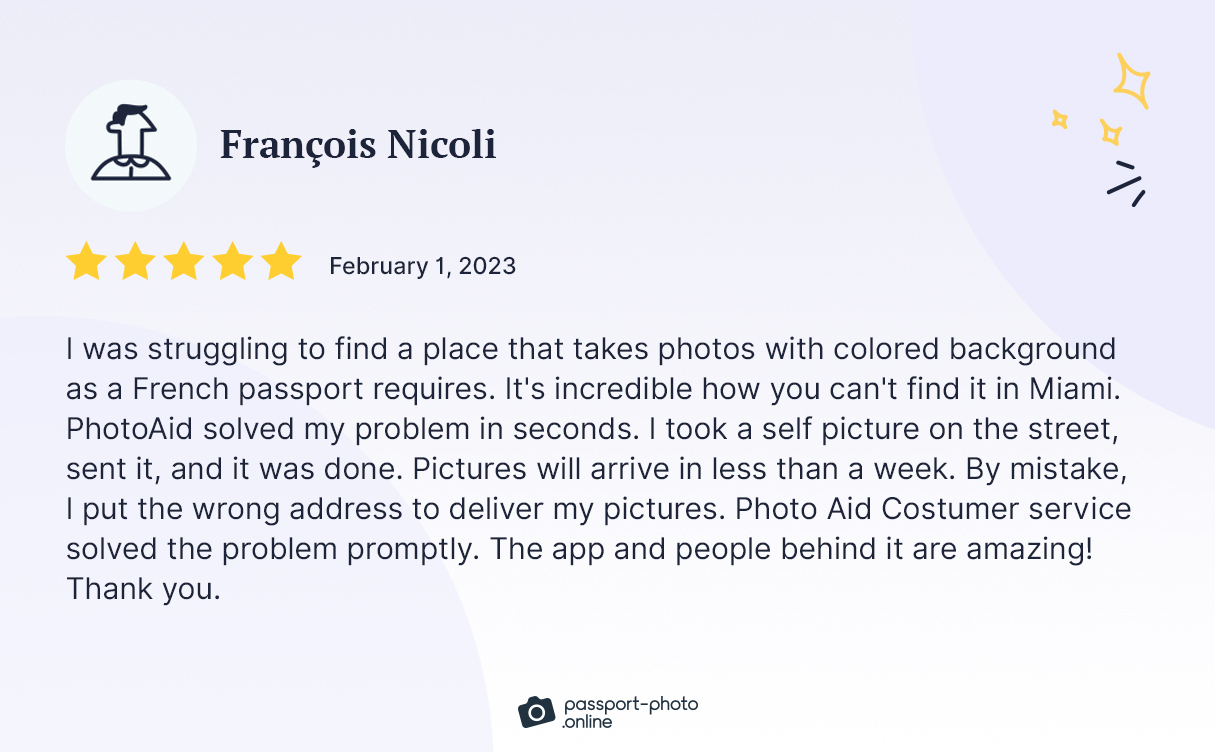 * Note that the software's name may differ depending on your location.
User ratings: 4.5 (427 reviews)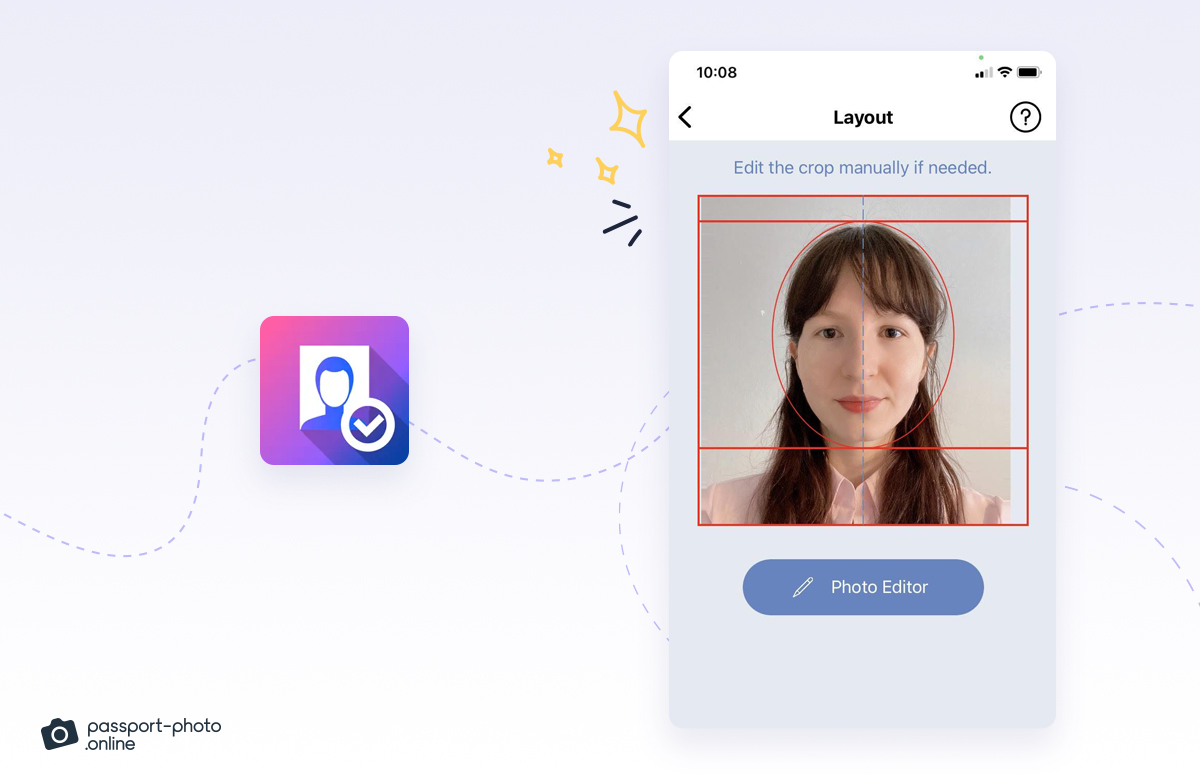 This passport photo size maker has an aesthetically appealing and user-friendly interface. We liked the large buttons catering to seniors and individuals with visual impairments. Similar to other tools, this iOS app supports photos for several document types for a long list of countries.
Note, however, that you may be unable to order hard copies for all passport photo templates.
The cropping tool makes transforming your image into a 2×2-inch passport photo simple. On the downside, you'll have to pay for a background removal feature-like with several other apps.
Pro tip: You can remove the background yourself using this free background remover. Powered by AI, it ensures you get an acceptable white or off-white background without glitches or patches.
One of the biggest concerns with this passport photo app is that it doesn't offer an acceptance guarantee, even in a paid version. If your photo gets rejected by the authorities, you won't get any refunds.
Pros:
User-friendly interface & easy navigation
Large database of countries and document types
No ads
Cons:
Background removal in a paid version for $6.99
No compliance check or acceptance guarantee
No printing service available
User ratings: 4.4 (10.4k reviews)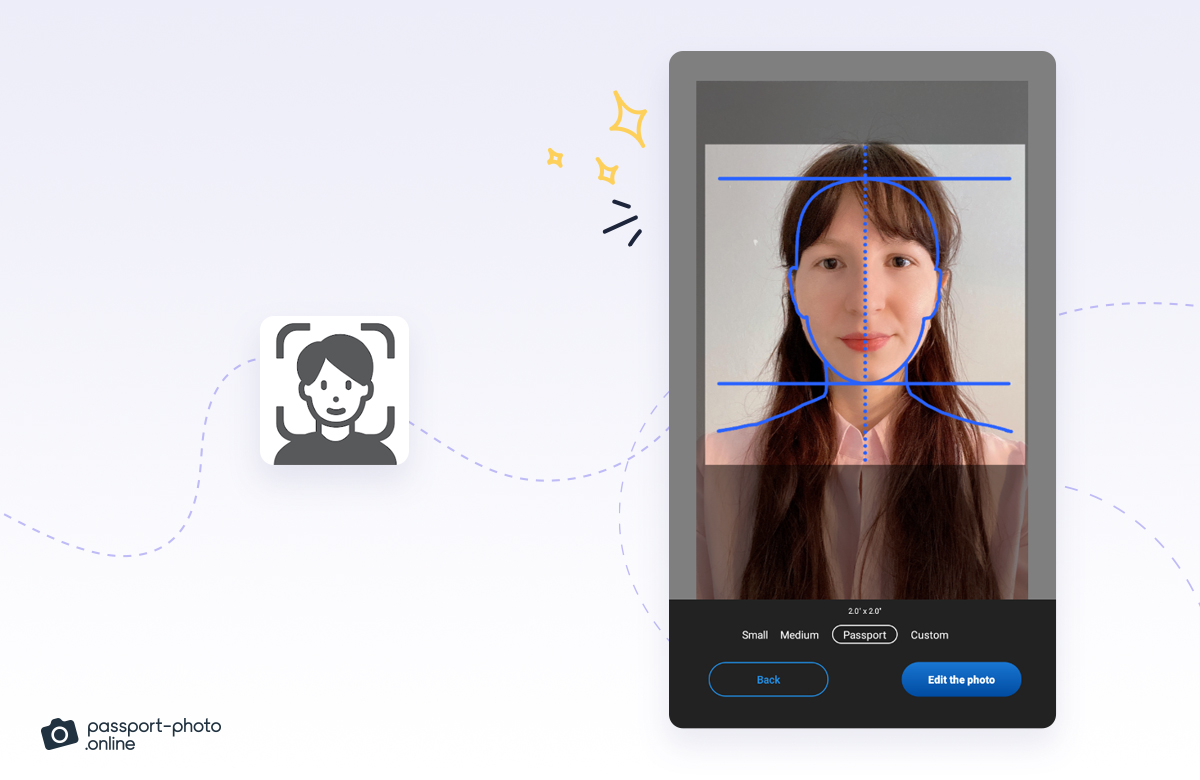 Looking for an Android app to take 2×2 pictures? If so, this option can be worth testing.
Once you download, install, and upload an image, this mobile photo generator lets you edit a passport photo to a 2×2 size. With the app's straightforward, step-by-step procedure, editing takes just a few minutes.
However, it can be annoying because of pop-up and banner ads you can't disable in the free version.
An even bigger issue is the available background remover. Although free, this passport photo app doesn't always work flawlessly (especially if you want to keep your hair loose). Pay close attention to the final result and double-check if the background doesn't contain any glitches. It may be why your image won't pass the quality check in the passport photo application.
Pros:
Simple navigation
Many editing options
Background remover
Large database of countries and document types
Cons:
Intrusive ads
No printing service available
No compliance check or acceptance guarantee
User ratings: 4.8 (1.5k reviews)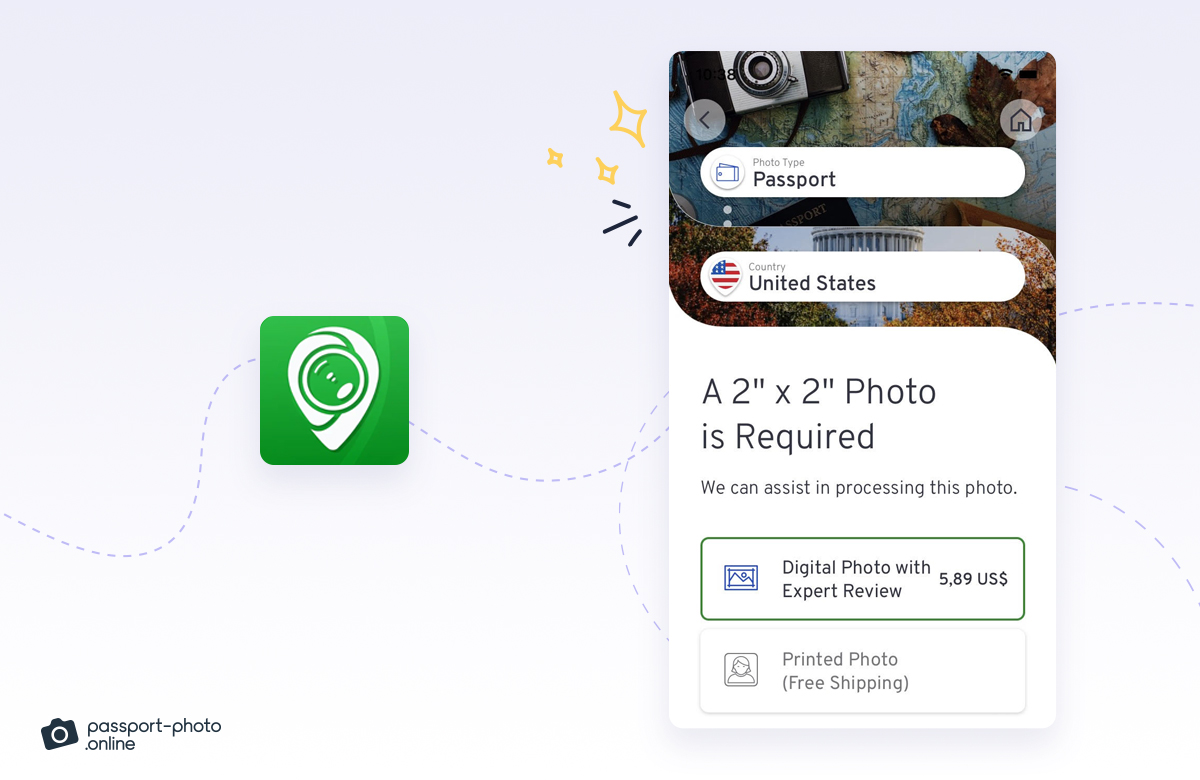 The developers of this passport photo editor guarantee 100% compliance with the official requirements. Upon reading the App Store description, we noticed they also offer a money-back guarantee. Unfortunately, there are no details on that.
A plus is a fully automatic editing process. You upload a selfie, and the experts do the rest. The app will crop the image to fit the 2×2-inch size and remove the background. But since the passport photo app is not free, we found it problematic that you can't preview the final photo before paying.
Other downsides? For one, you can only take selfies. While it's not an issue for most, it's not ideal for taking senior or baby passport photos. Additionally, you must provide your contact details (phone number, email, and name) before using this passport size photo maker.
To those concerned with privacy, it can be a deal-breaker. After testing, we received 2 emails the same day kindly reminding us to complete the purchase.
Pros:
Compliance guarantee
Expert reviews
Automatic editing process
Printing service available
Money-back policy (but no further details)
Large database of countries and document types
Cons:
Selfie-like pictures only
No details regarding payments
Need to provide contact details before using the app
Can't preview the final product before making a purchase
User ratings: 4.7 (3.7k reviews)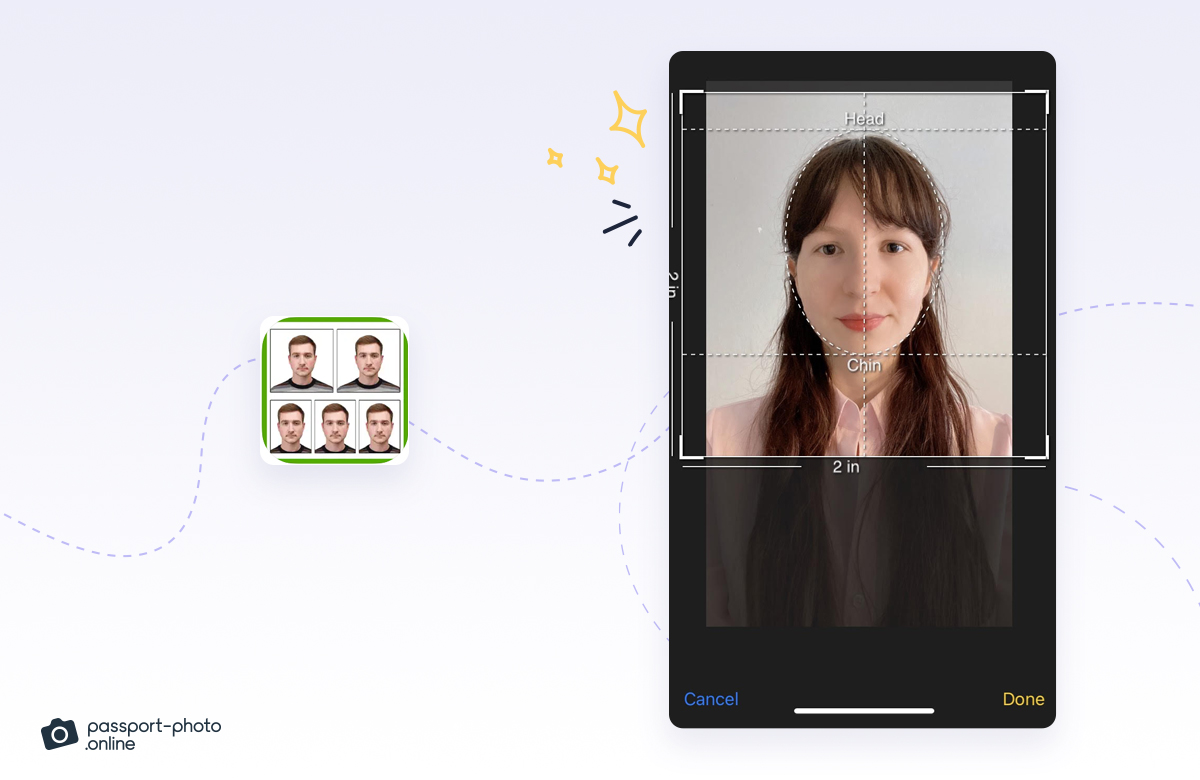 Do you like simple tools? This passport photo app certainly falls into this category. The available cropping feature makes fitting your image to the official passport photo size easy. Compared to many popular apps to take 2×2 pictures, Passport Photo—ID Photo lets you also adjust your picture's light exposure and contrast.
Pro tip: Altering your passport photos, even if such features are tempting, can be tricky. According to US passport photo requirements, edited or retouched images may be rejected.
Unfortunately, the app doesn't include the background remover in the free version. If you don't feel competent enough to do it yourself, perhaps other options are better for you.
Another big downside is that this app offers no compliance check or approval guarantee, even in a paid version.
Pros:
User-friendly navigation and simple editing process
Large database of countries and document types
Cons:
Intrusive ads
No background remover (only in paid version for $6.99)
No compliance check or acceptance guarantee
User ratings: 4.7 (126k reviews)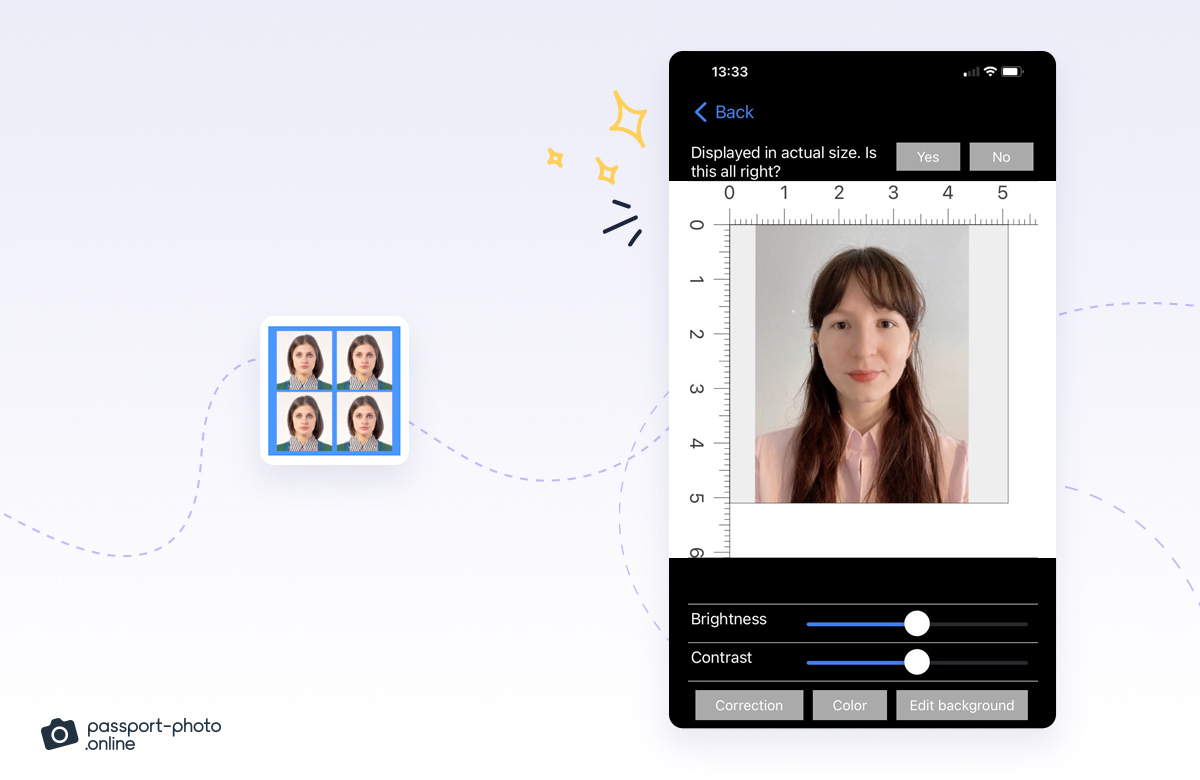 ID Photo Application allows users to create a passport photo in a perfect shape and size. The app has an extensive database of predefined sizes with the possibility to enter custom dimensions—a pro and a con at the same time. Why?
Because to take your passport photo, you need to know the official photo sizes upfront. Additionally, all measurements are in millimeters (mm), which can be a hassle if you're looking for a specific US passport photo app.
Want to know more about US passport photo requirements? Check this guide covering everything (and more) you need to know about passport photo requirements.
Although the interface seems slightly dated, the editor delivers on its promise—it's a fully free app. But because of that, you have to do everything manually. While cropping isn't an issue, removing the background with the magic tool can be. It's easy to mark an area that shouldn't be removed and then redo the process (after watching a 30-second ad).
What about the acceptance guarantee? There's none. Yet again, this 2×2 passport photo application is fully free, and no additional services are available.
Pros:
All necessary editing tools are free
You can define the photo size yourself which gives you more flexibility
Cons:
Intrusive ads
Manual background remover
You need to know the official requirements for photo sizes
No compliance check
User ratings: 4.8 (72.9k reviews)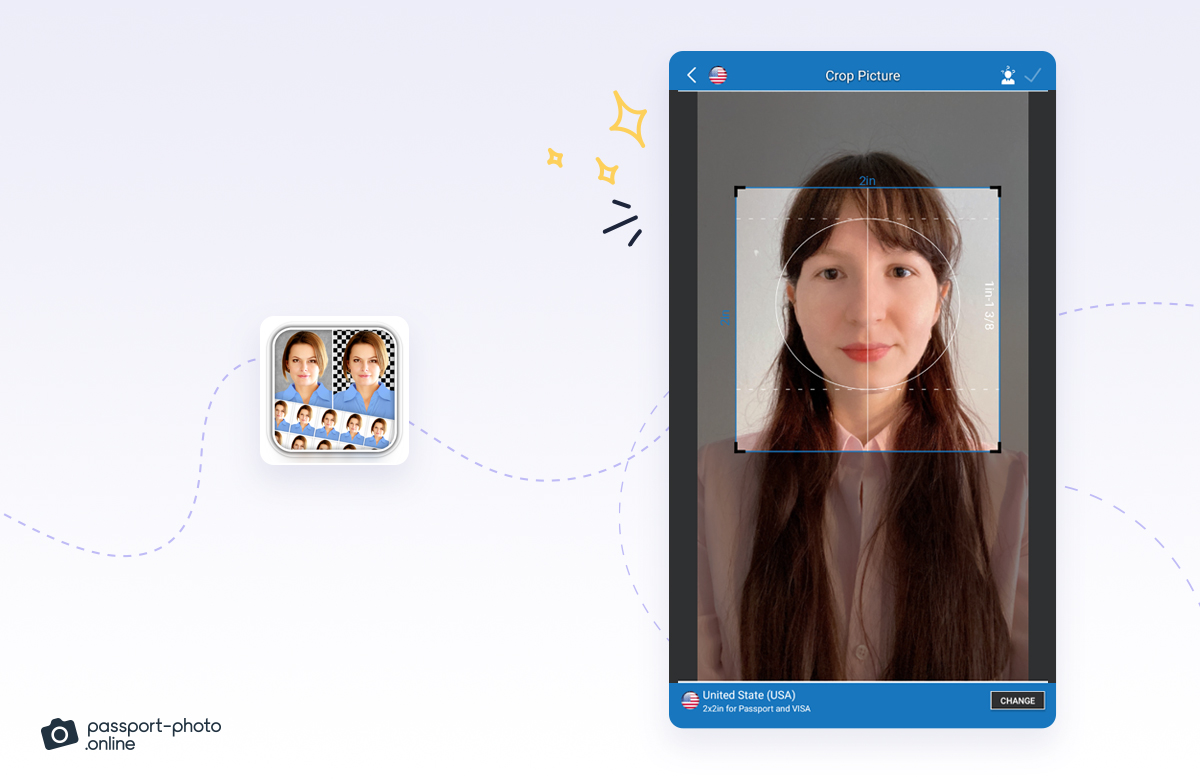 This Android passport photo maker, supporting more than 150 countries' photo size standards, provides the necessary tools to create acceptable passport photos.
The app offers editing tools such as resizing, cropping, adjusting brightness, and a background remover. What about in-app purchases? The developers state the price of $1.99 per "item," not specifying what they mean strictly by that.
While the 2×2 photo app offers tutorials on taking a perfect passport photo, user reviews hint that there should be more guidelines on using the background change feature—especially since no expert verification is available.
Pro tip: Don't know where to print a high-quality passport photo? This article will help you with a list of the best stores to print photos in the US.
Pros:
Large database of countries and document types
In-app tutorials
Variety of editing tools
Cons:
In-app purchases (not specified by developers) paid $1.99
Change background options are a bit unclear—users could use more guidelines
No compliance check or acceptance guarantee
No background removal
Ads
User ratings: 4.5 (3.8k reviews)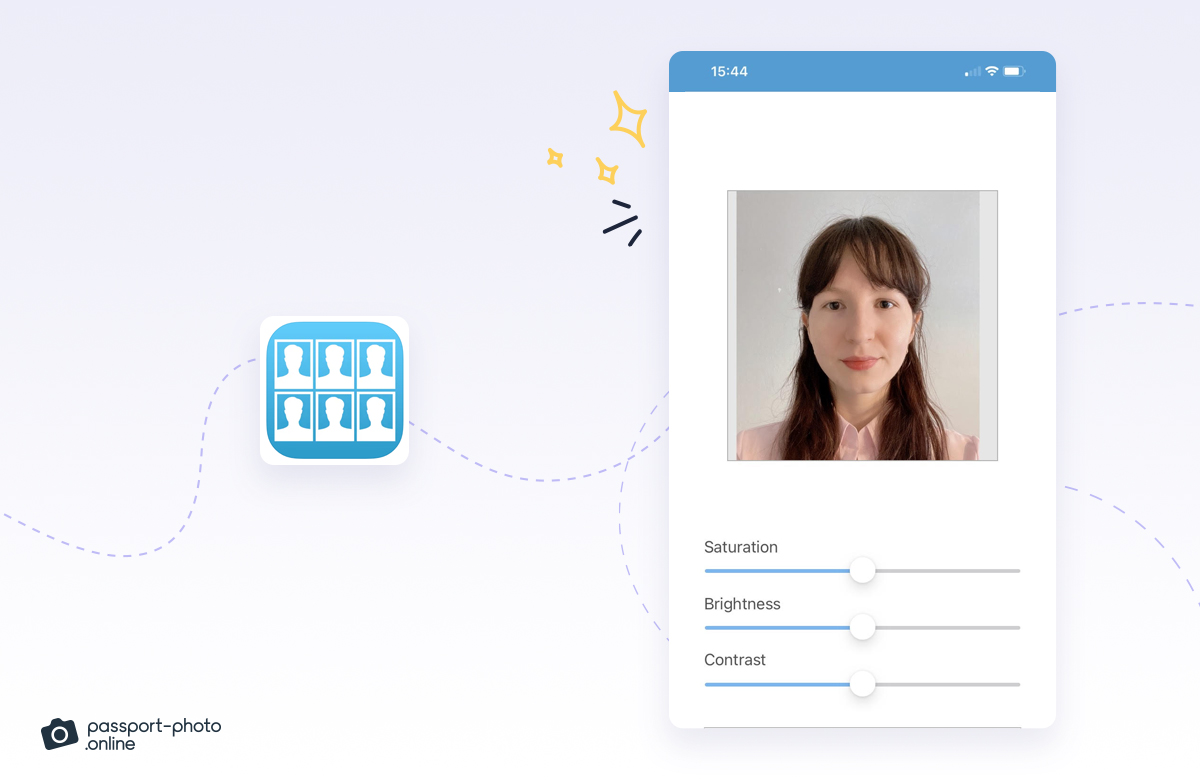 Here's another app that does the job for free. Resizing your image to fit the 2×2 passport photo size (the app has the official photo sizes for all countries in its database) is simple, thanks to the handy gridlines showing how to adjust the photo.
What about the interface? Because of limited features, navigation is easy. However, it could be better optimized for user experience. To find your country of choice, you have to scroll down a long list rather than type in what you're looking for.
This 2×2 picture size app additionally lacks one of the crucial features—background removal. It's also not possible to order hard photocopies, you can only print photos directly from your phone. So, if you're planning to apply on paper, you'll have to take care of printing yourself.
Pro tip: Would you like to print pictures yourself? Be sure to use high-quality printing paper, and not all printers can print your perfect passport photo just right. In this blog, we researched the best printers for passport photos. Perhaps you already have one at home!
Sadly, this passport photo editor also doesn't guarantee your picture won't be rejected. If you still want to give it a try, we suggest taking a look at this guide covering examples of unacceptable passport photos.
Pros:
Easy editing process
Required passport photo sizes stored in the database
Cons:
No printing service available
No background remover tool
No compliance check or acceptance guarantee
Can be used only for passport photos
9. Passport Photo-ID Photo (iOS)
User ratings: 4.8 (3.5k reviews)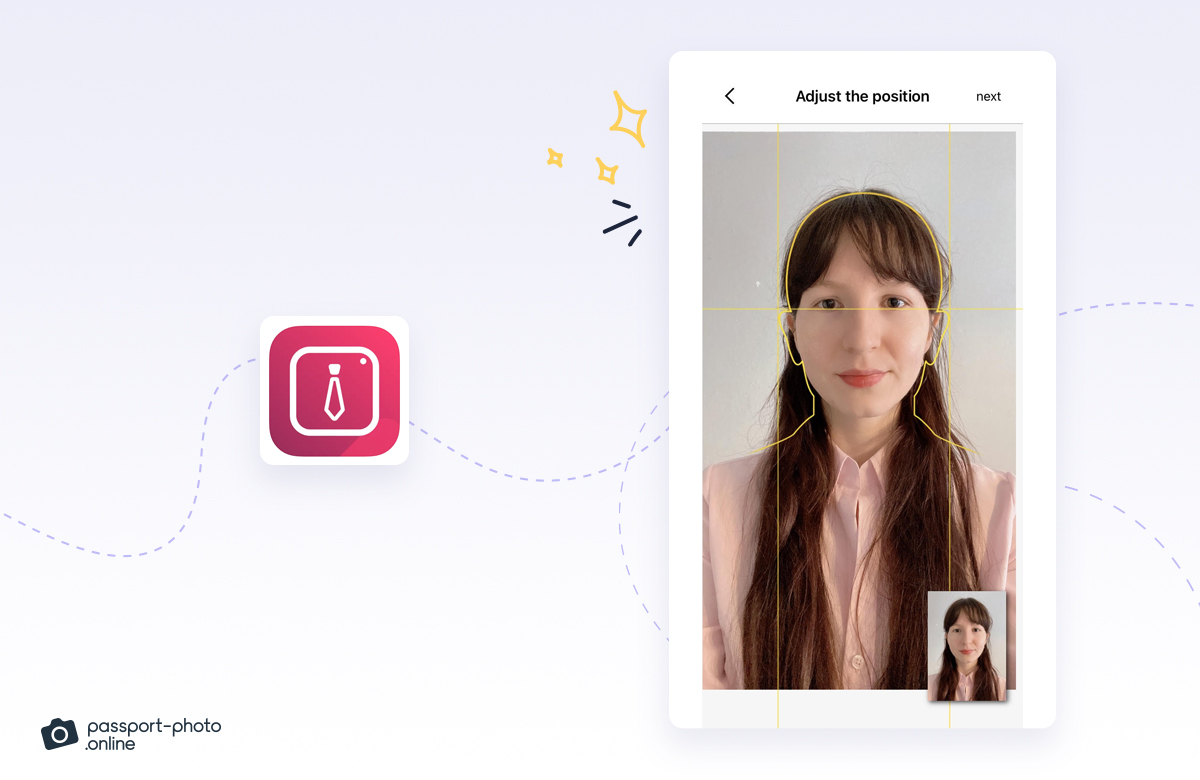 This 2×2 photo app's design is pleasant to the eye, and navigation was clearly designed with user experience in mind. Finding the right document for your country is simple and quick with its intuitive menu.
Once you choose the document type, the app automatically tells you which size your photo should have. How's the cropping tool? We're on the fence about this one.
Manual cropping is easy, as the 2×2 picture size app has an in-built mask with guidelines for positioning your face. However, it's not issue-free.
During the test, we followed the guidelines and adjusted the face correctly. Yet, the automatic background remover blurred the parts around the ears (like in the image above). Even trying to readjust the mask didn't help. The authorities could consider your photo non-compliant because of that. So, we suggest trying to take a photo with different hairstyles.
Not sure what you should wear for the picture or how to pose? This 5-step guide and a video with detailed tips may answer your questions on how to take a passport photo at home.
Now, what if the passport picture generated with this mobile photo booth doesn't pass the check? The app doesn't offer compliance checks or expert verification. Meaning you get no acceptance guarantee.
Pros:
Simple and intuitive interface
Easy cropping tool with guidelines
Large database of countries and document types
High quality photos
Cons:
Printing service is mentioned, but lacks details
No compliance check or acceptance guarantee
Automatic background removal tool seems to be flawed, as the picture looked blurred in the areas it shouldn't
User ratings: 4.4 (15.3k reviews)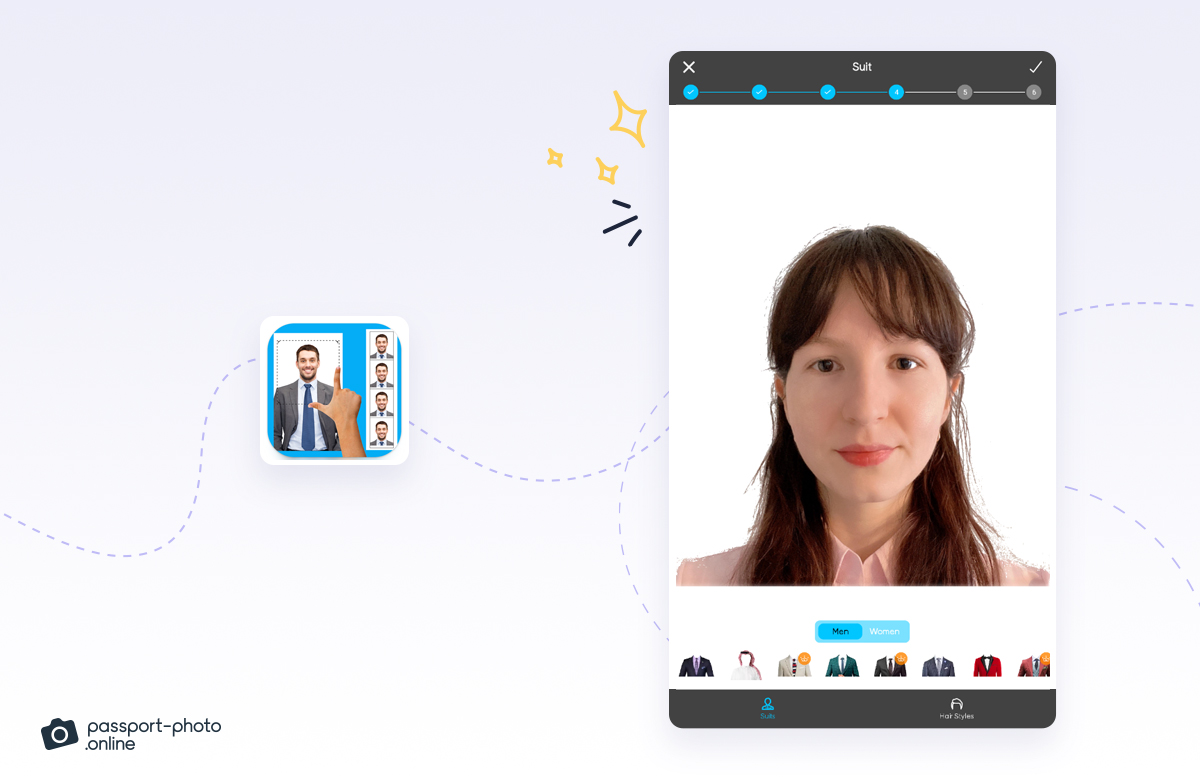 This passport size photo maker won't impress you with its old-fashioned interface. Still, it can help you get a 2×2 passport photo at no cost—there are no in-app purchases.
What features does the app offer?
You can crop the picture to fit the required size. However, the cropping tool could be better. It lacks guidelines on positioning your face, something most other apps on the market offer.
The upside is a free background removal tool. You get the option to auto-adjust the background or do it manually. Unfortunately, like any previous free app for 2×2 pictures, the tool may not edit your passport photo as expected.
As you can see in the image above, the background was changed to an acceptable white color. But the picture is patchy, and some places are clearly pixelated. The app also doesn't offer any compliance check or approval guarantee. So, risk the image won't meet the requirements.
Pros:
Clear steps
All features are free
Large database of countries and document types
Cons:
Lacking guidelines to adjust the image when cropping
No compliance check or acceptance guarantee
Background removal may leave patches and pixelated areas
No printing service available
FAQ—US passport photo apps
Need more information on mobile passport photo apps making 2×2 photos? Have a look through these frequently asked questions:
Would you rather create your US passport picture on your computer? Try the desktop version of our passport photo software!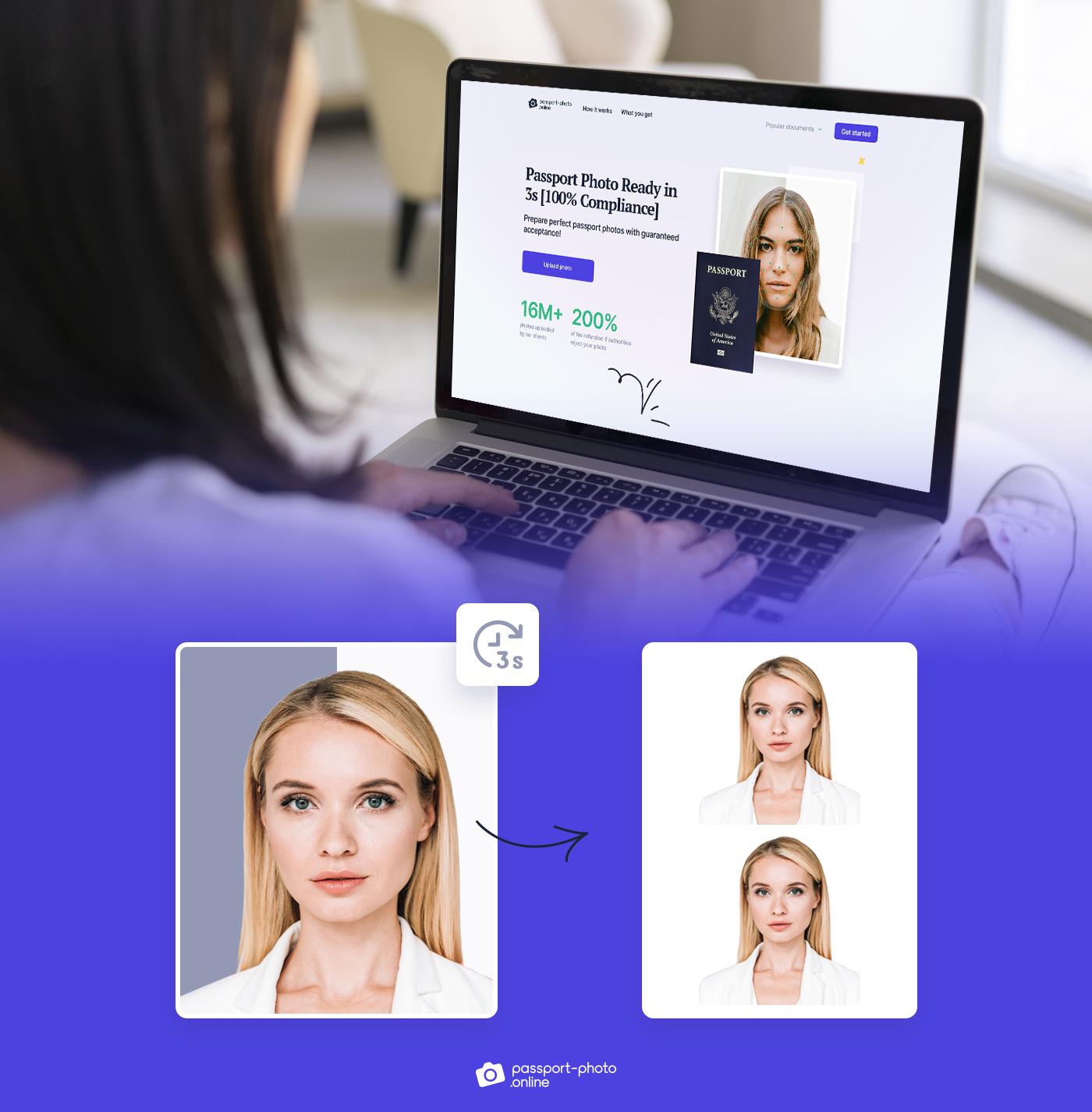 Best 2×2 photo apps for taking passport pictures: can you get the job done for free?
Taking passport pictures at home is convenient: you save time, money, and fully control the final product. However, you must be mindful of the end goal—a complaint photo that won't be rejected.
When choosing the best app for 2×2 photos, it's easy to get excited about the promise of creating your picture at zero cost. But free software often might result in the opposite—wasting even more of your time and money to redo the process.
That's because few 2×2 picture size apps offer an acceptance guarantee without additional costs. The created picture may not meet the official requirements, and you're the responsible one.
Analyze our top 10 mobile photo booths in 2023 we reviewed and decide which is the best passport photo app for your needs.
Here's a recap of the best apps for 2×2 pictures we tested:
PhotoAiD® (iOS & Android)
Passport Photo & ID Maker (iOS)
ID Photo for Passports and IDs (Android)
iVisa Passport Photo (iOS & Android)
Passport Photo-ID Photo (iOS & Android)
ID Photo Application (iOS & Android)
Passport Size Photo Maker (Android)
Biometric Passport Photo (iOS)
Passport Photo-ID Photo (iOS)
Passport Photo Maker App (Android)
You only have one shot to take the best passport image you'll enjoy for the next 10 years—so be sure you pick the best one. Do you have any experience using a US passport photo app to take 2×2 pictures? Or maybe you have more questions we could answer? Let us know!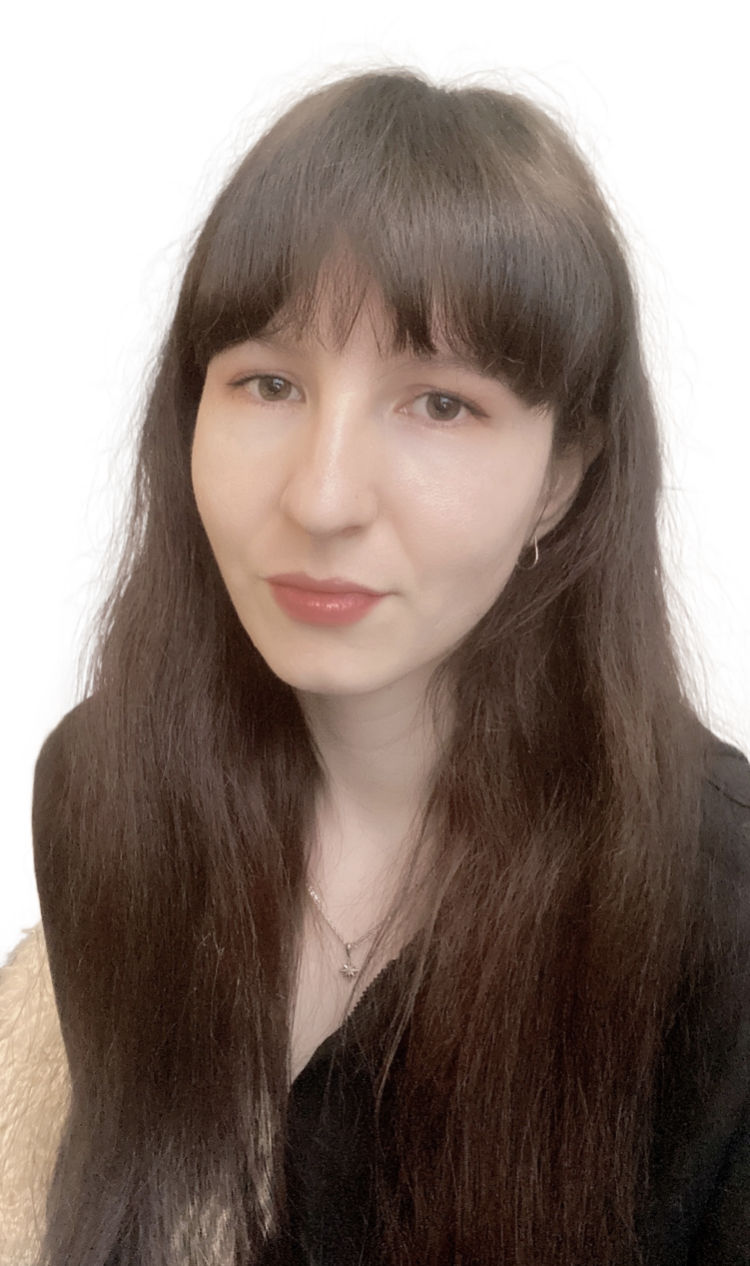 Sylwia Green specializes in biometric photography for identity documents. She leverages her content writing expertise to create articles that guide individuals through the nuances of biometric photography step by step. As an avid traveler, Sylwia recognizes the role of identity documents in enabling hassle-free travel, a theme that resonates in her writing.