Some of us have played with the idea of traveling alone but likely avoided it for one reason or another. Maybe because it'd be too expensive, or we'd just get lonely along the way.
But—
Solo travel is among the most delightful and eye-opening experiences. You get the freedom to do what you want, go wherever you want, and spend your budget however you like.
That's why at Passport Photo Online, we've decided to compile a data-driven roundup of the most surprising and up-to-date statistics and facts about solo travel.
Scroll on to see our picks.
In this article:
Top 10 Solo Travel Facts and Stats to Know in 2022

Most solo travelers are female (84%), with only 16% being male.
The starting price for a yearlong solo trip worldwide is $20,000 per person.
59% of female solo travelers said they'd do it again.
The hashtag #solotravel has over 7.5M posts on Instagram.
72% of women in the US have traveled alone.
Most people (61%) travel solo to relax and unwind.
The vast majority of independent travelers spend between $2,000 and $3,000 weekly on average, excluding airfares.
49% of solo travelers are worried about getting lonely.
Europe is a destination of choice for 50% of independent female travelers.
48% of solo travelers say safety is their top concern.
Related readings:
General Solo Travel Facts & Statistics
46% of people choose to travel on their own because they have the freedom to make their own travel itinerary.
Solo travel has increased by ~23% since the COVID-19 pandemic broke out.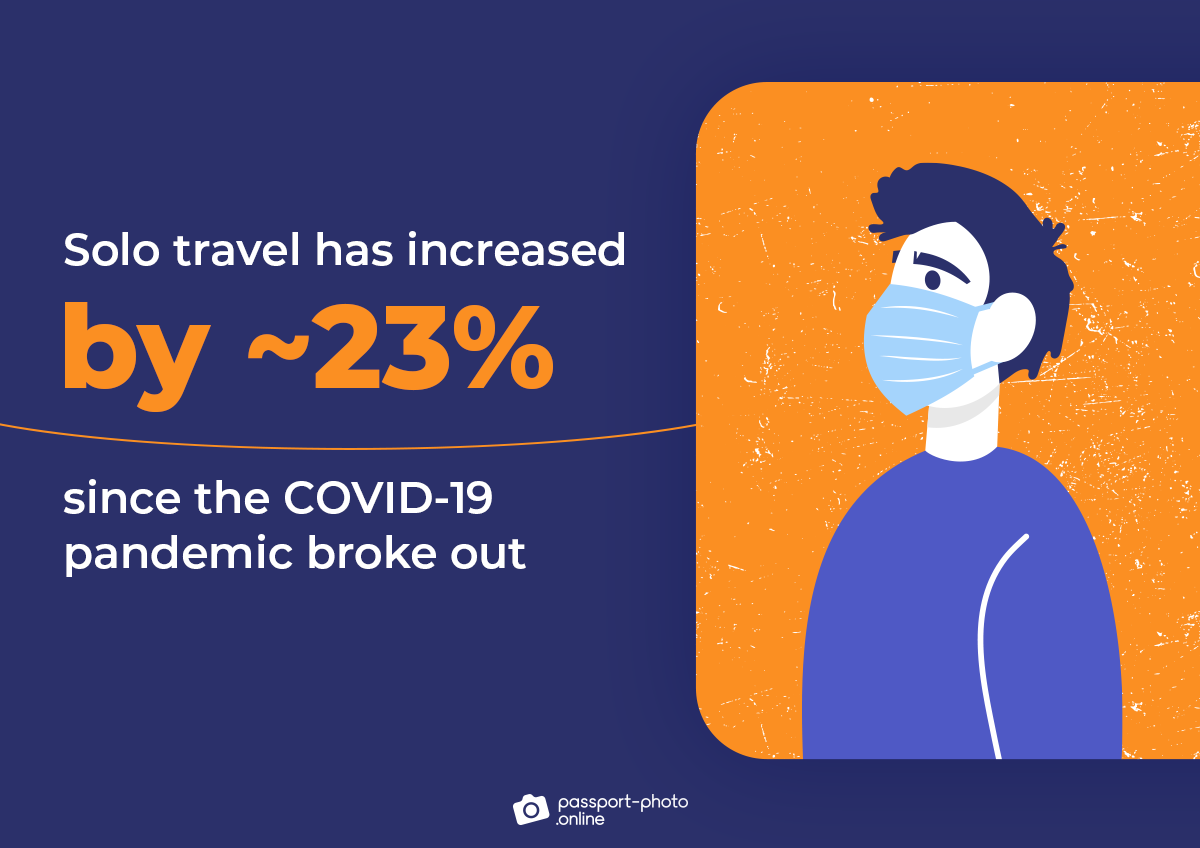 According to Google Trends, solo travel is up by 761.15%.
52% of independent travelers want to escape their daily routine.
47% of solo travelers want to acquire new cultural experiences.
11% of individual travelers engage in sporting events.
At least 21% of travelers prefer to travel solo to urban areas.
30% of people worry about having to arrange and pay for the whole vacation out of their own pocket if they want to travel alone.
45% of people are worried about getting lost when traveling independently.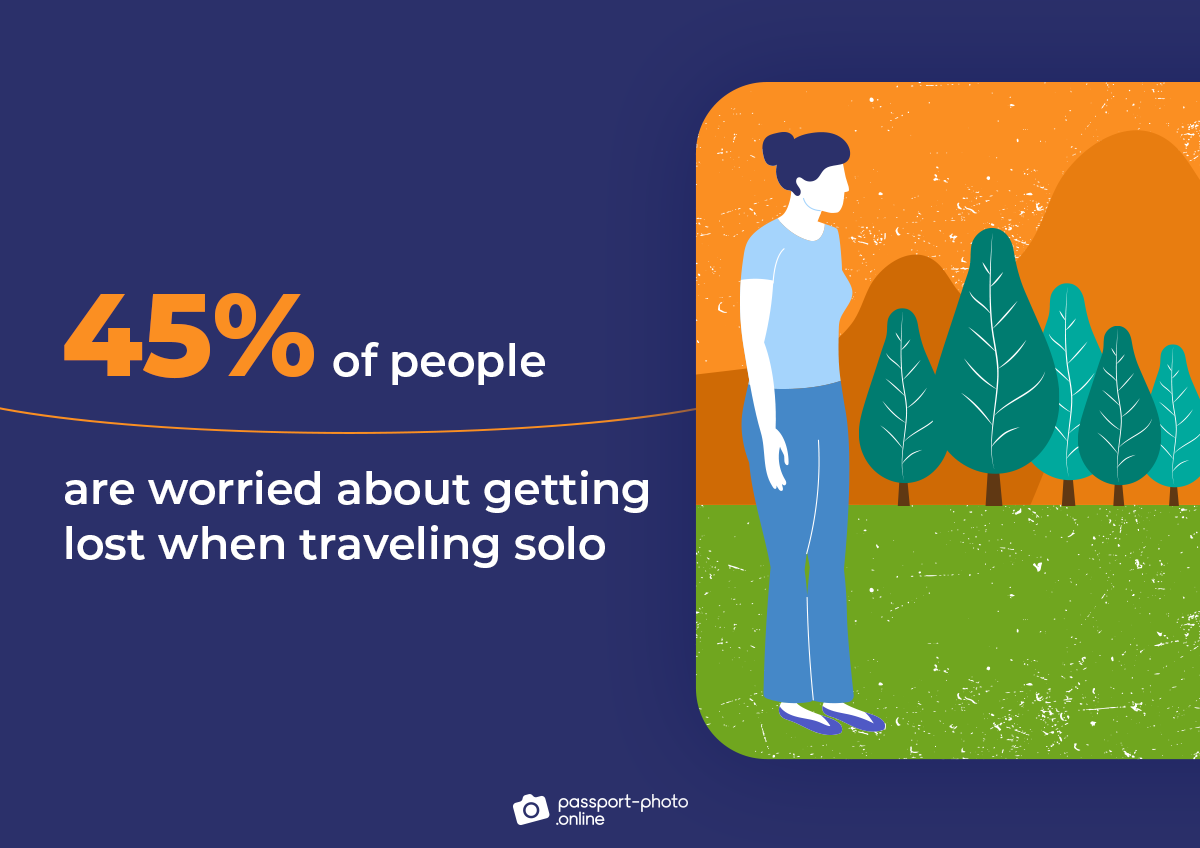 36% of female solo travelers are concerned about the language barrier when visiting foreign countries.
34% of female travelers aren't interested in solo travel because they have other obligations such as family or work.
Only 6% of solo travelers splurge over $4,000 per week.
45% of people who travel independently prefer to visit their dream destinations abroad.
18% of travelers want to go for a solo trip to reflect on themselves.
17% of people travel alone to pursue a new or existing hobby and/or explore their interests abroad. Another 8% want to explore their passion.
12% of solo travelers want to travel to learn something new.
While only 3% of solo travelers want to make new friends, 7% say they want to meet new people.
17% of independent travelers worldwide spend $1,000 or less weekly.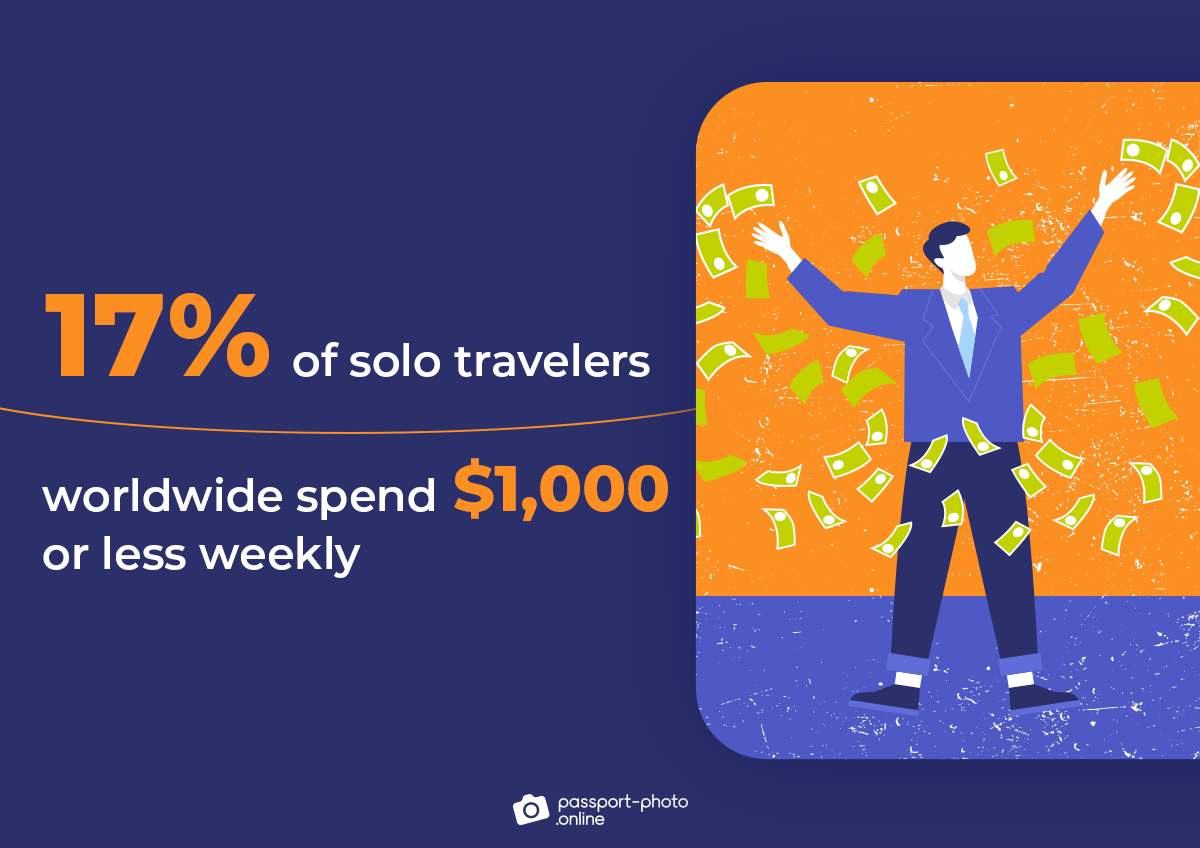 19% of solo travelers enjoy backpacking.
12% of independent travelers engage in extreme sports.
11% of people like to volunteer for nonprofit organizations when they travel on their own.
Stacking It All Up
That's it!
We hope our statistic roundup on solo travel will come in handy for your future adventures.
If there are more statistics or facts related to solo travel you would like to see, let us know in the comment section below!
Solo Travel: FAQ
Is solo travel difficult?
Some are perfectly fine traveling alone, whereas others find it difficult. Thus, 33% of solo travelers worry about getting lonely, and 27% are concerned they might get lost.
Can I solo travel to Europe? 
Europe is a popular destination for solo travelers. A full 50% of female travelers consider it their go-to choice.
How much does it cost for one person to travel in 2022?
It depends on how much you're willing to spend. Some opt for more lavish experiences, whereas others can travel on a budget. Thus, 38% of people spend between $1,000 and $2,000 on solo travel each week, and only 6% go over $4,000.
What destination is the most popular among solo travelers in 2022?
The most popular solo travel destination is Australia, according to 71% of people. ​​Maybe because it offers anything from incredible beaches and adventure activities to world-class dining and nightlife.
How many people travel solo in 2022?
In 2022, 25% of people will travel alone. Gen Zers and Millennials will lead the way, according to new research from MMGY.
Is solo travel trending up in 2022?
Solo travel is becoming increasingly popular. According to Booking.com, only 14% of people traveled by themselves pre-pandemic, whereas that number jumped to 23% by mid-2021. Plus, solo travel is up by 761.15%, based on Google Trends.
What gender travels solo the most in 2022?
Most solo travelers are female (84%). That said, 16% of men also venture out on their own.
Fair Use Statement
Did you like our infographics? If so, feel free to share them with your audience. Just remember to mention the source and link back to this page.
Sources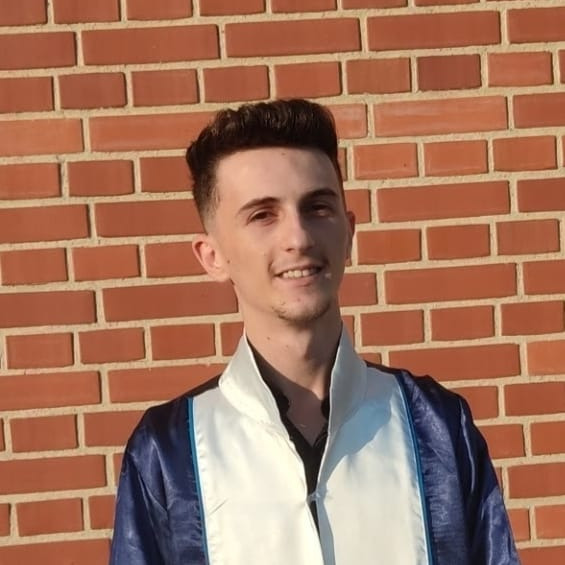 Ledjan is a graduate of Bachelor's degree in Business Management and Marketing at Epoka University, Albania. He is a biometric photography expert and travel enthusiast who loves spending his free time taking photos, painting, and travelling.