Traveling with newborns can be difficult. Yet, most US airlines are prepared for every passenger and offer various services to ease the young parents' nerves.
Thanks to this attitude, more and more families are willing to travel internationally. But that also means another thing: your newborn baby needs a passport.
At Passport Photo Online, we have skimmed through many tools to choose the best 5 apps that can help you take perfect passport photos for babies. Keep scrolling to discover how to create your newborn's passport photo comfortably at home in no time.
Free passport photo apps for newborn babies
Parents, breathe calmly; requirements for infant passport photos are not as strict as for regular passport images. Your baby can have closed eyes or an open mouth; the most important thing is to keep your baby's face completely visible.
To make the photography service easier for young parents, we have chosen 5 mobile apps that let them take passport photos for newborn babies without leaving home. Each app is free and available on the Android system.
More on baby passports:
Passport Photo Maker—Visa/ID
🕰️ Last update: January 1, 2020
🕵️ Data security: all collected and shared information can be deleted per the user's request.
Passport Photo Maker makes it really easy for parents to prepare their newborn passport pictures. It has a guided tutorial describing and explaining every step of the process. Additionally, the app contains features such as:
cropping
resizing
choosing a pre-defined size for a given country.
Thanks to it, there is no need to look for size requirements or change them manually. There is also a background removal tool for an extra charge.
One thing worth mentioning if you are interested in using Passport Photo Maker: when you want to take a picture, the app has a delay function. It seems great for selfies or photos of yourself that you want to take on your own; however, it might seem somewhat problematic for newborns' passport photos.
Pros:
guided tutorial
a wide range of features
Cons:
paid background removal
delay function might not be useful for newborn passport pictures.
Passport Size Photo Maker
🕰️ Last update: January 10, 2023
🕵️ Data security: all collected and shared information can be deleted per the user's request.
Passport Size Photo Maker is a free app to download with plenty of valuable features. Though it also includes ads in the free version, users report that it does not disturb the performance significantly. With its impressive database, this passport photo app offers government guidelines for about 150 different countries.
The image editing tools include cropping, resizing, and changing dimensions for a digital photo. There is also a background remover option; however, it seems to be a bit difficult to use without additional tips.
Pros:
free to download
large database of document types and countries
variety of tools
Cons:
users may need additional guidelines on how to use the app.
ID Photo application
🕰️ Last update: December 29, 2022
🕵️ Data security: all collected and shared information cannot be deleted.
It is not effortless to take a perfect passport photo on the first try. That is why the ID Photo application offers multiple free attempts to achieve the most satisfying result of your baby passport photo.
However, this passport picture editor does not automatically provide a photo size necessary for passports or other official document photos. While it can take a bit more time to adjust your newborn's passport photo, the app allows you to have your printed photos right at home if you have a good printer.
If you want to use this app for your newborn's US passport photos, it is essential to remember that the sizes are represented in millimeters (mm), not inches (in).
Pros:
unlimited free attempts to take a photo;
possible to print photos at home with a proper printer.
Cons:
photo size is not automatically adjusted;
collected info cannot be deleted.
Apowersoft Background Eraser
🕰️ Last update: December 15, 2022
🕵️ Data security: all collected and shared information can be deleted per the user's request.
Although not a passport picture editor per se—and not completely free—this application's main features include erasing, changing, or enhancing any existing photo setting. Moreover, Apowersoft Background Eraser has photo editing features. It is possible to choose a desired official document—a passport or ID—and adjust the photo to a proper size or dimension.
While it accurately erases the background and prepares your newborn passport photo, the app has many paid features. Users need to buy a subscription plan or pay for photos individually. Also, at the end of editing, the app will ask you for a charge to remove its watermark.
Pros:
advanced background removal tool
passport features available.
Cons:
subscription plan
paid watermark removal.
Passport Photo Online as your baby passport photo app
Taking a passport-size photo of a newborn baby might not be the easiest nut to crack. That is why we propose our AI-backed solution: Passport Photo Online, a photo transformation tool whose functionality has been appreciated by such magazines as Forbes or National Geographic.
3 seconds. That's how fast parents can get their baby passport photo thanks to a highly-developed AI system, automatic editing tools and human expert feedback.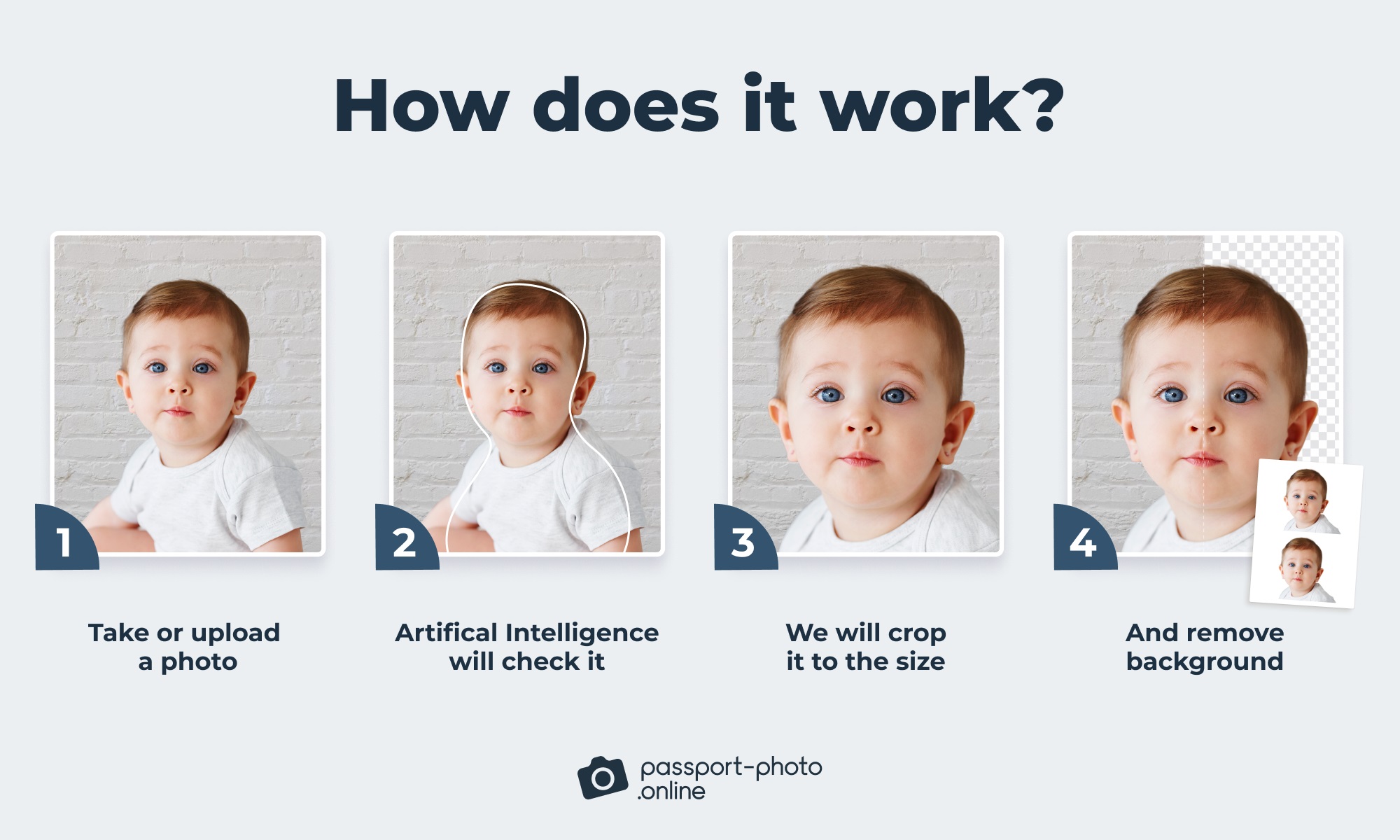 No more wandering around the town. With Passport Photo Online, parents do not even have to leave their homes. Moreover, you don't need to wait for your newborn to wake up—thanks to more flexible requirements, an infant's eyes don't have to be open for a passport photo.
No need to worry about putting your baby in an uncomfortable position either. Preparing a pleasant setting with your baby's head visible and supported will suffice. The Passport Photo Online system will take care of any elements and prepare a plain background for your infant's passport photo. Same goes for shadows or any disturbances in the picture.
User-friendly interface. The Passport Photo Online application is smooth and intuitive, saving you time and money on visiting other photography services. Receive your newborn's perfectly cropped photo in one of two versions.
Get your baby's digital images instantly with your passport application or order them as prints to be shipped directly to your door for a small fee. Prefer to have them printed somewhere near? You can get that done in many shops that offer printing services, such as Walgreens Passport Photo. Only for $0.38!
You might also want to look here:
Summary
Android users can choose from various mobile apps to take passport photos for babies at home. Suppose the data security policy is not a big deal for you. In that case, a good option might be the ID Photo application or Passport Size Photo Maker—they contain the necessary features to create your newborn's passport photo and are free of charge.
However, if you value your baby's privacy and expect the highest quality and compliance with government requirements, our choice would go to Passport Photo Online. Try our baby passport photo editor and join over one million satisfied customers who have created their passport photos at home.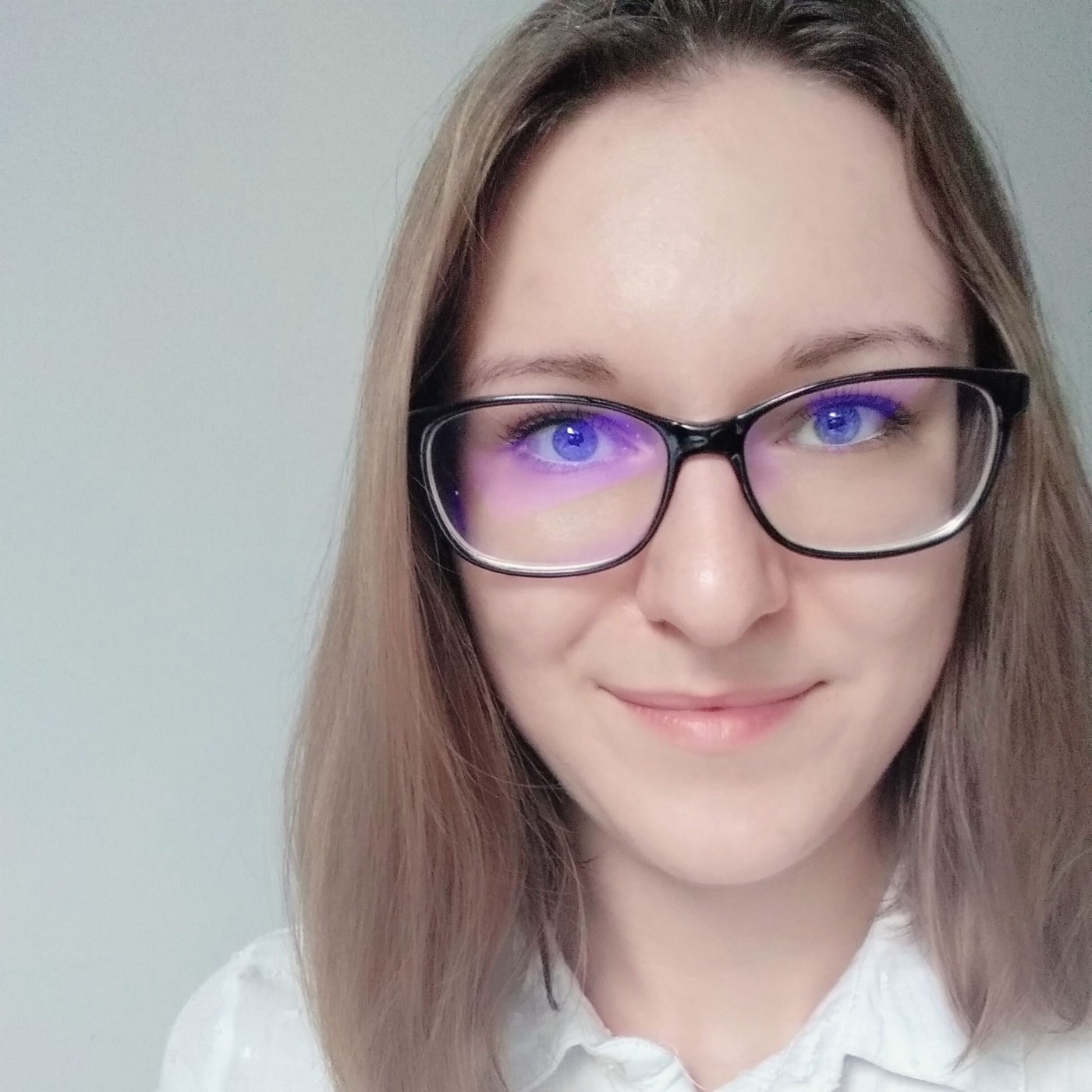 Roxana Grabowska combines her passion for language and biometric photography to craft reader-friendly content. Her work provides a clear guide to creating suitable photos for identity documents, making the process more accessible. Roxana's background in linguistics and love for travel have made her appreciate the importance of high-quality biometric photos in ensuring smooth travel experiences.