Can free passport photo tools save you from another disappointing picture in your travel document?
Yes! You're no longer doomed to pick "the best of the worst" your local photographer has to offer. With your smartphone or a computer, you can ace your new photo yourself—and finally take your perfect passport photo.
But how can you know which tool will deliver? We tested the available options to find the most reliable, free photo software on the market.
Here's everything you need to know about the best tools to take your own passport photo at home. Ready, set, snap!
Here's the full list of the best free passport photo tools we've reviewed:
Skip straight to the review by clicking on one of the links above. Scroll down to read the full article. Here's what we cover additionally:
Want to take compliant passport photos at home? With our software, you can do it in 3 easy steps! Check out our passport photo app to save time and money.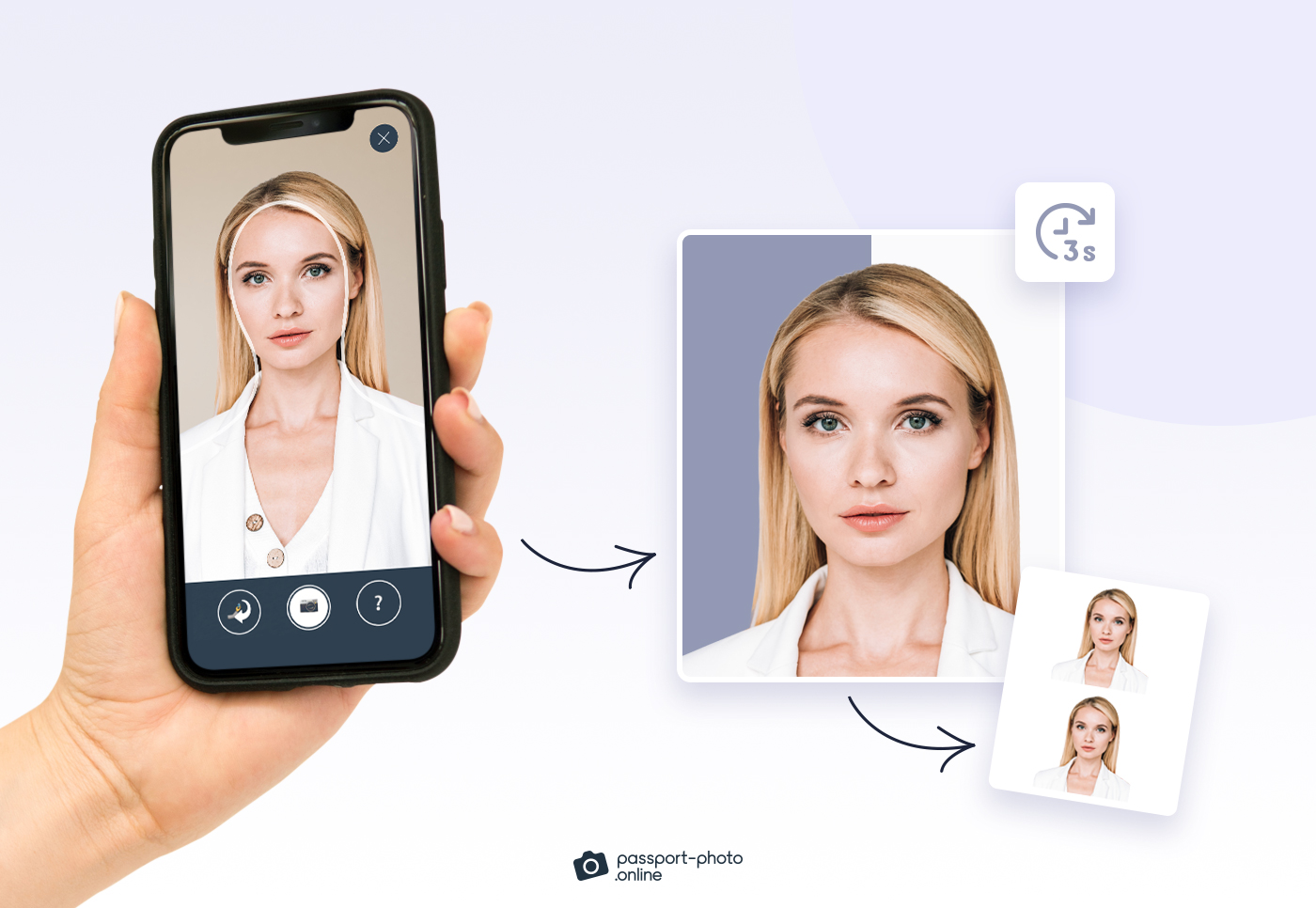 Not quite what you're looking for? These related articles may help:
Why should you use a free passport photo app to take your picture?
Over 22 million passport books and cards were issued by the US last year alone. With such high demand, it's no surprise that people seek alternatives to taking pictures at photo studios. That's why passport photo apps are a game changer when you want quick, professional results without leaving your home.
And the benefits don't end there. You can also:
Take as many pictures as you like until you find the best one (save money)
Speed up your application process
Snap photos of your children without the stress—in compliance with baby passport photo requirements
Now, how do you find which passport photo apps work?
What makes for a reliable passport photo app?
Not all passport photo editors will satisfy your needs—so we did all the legwork for you. With your user experience and expectations in mind, we researched how well the available tools fulfill the following criteria:
Reliability. Can the tool guarantee photo approval? Does it offer expert quality checks?
User experience. How easy is the tool to use?
Editing. Does the tool edit a passport photo to meet official requirements?
Help. Do you get guidelines for taking compliant passport photos?
Additional services. Can you order prints if needed?
Let's jump into the reviews! Here's a list of the best photo apps for future passport applications.
Free Passport Photo Software Comparison—Overview
Before we move on to a detailed review, here's a handy table comparing basic features offered by the best free passport photo apps we found.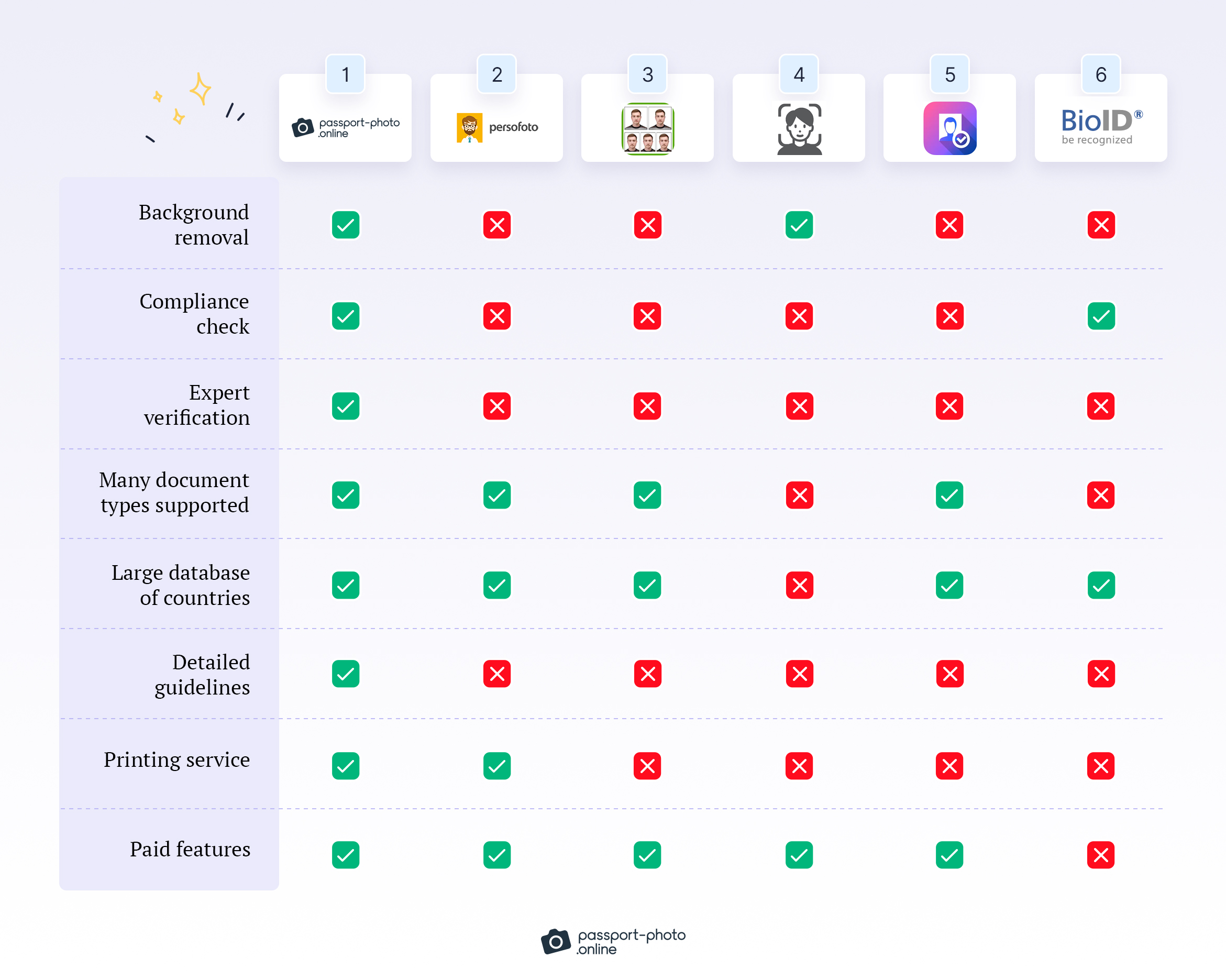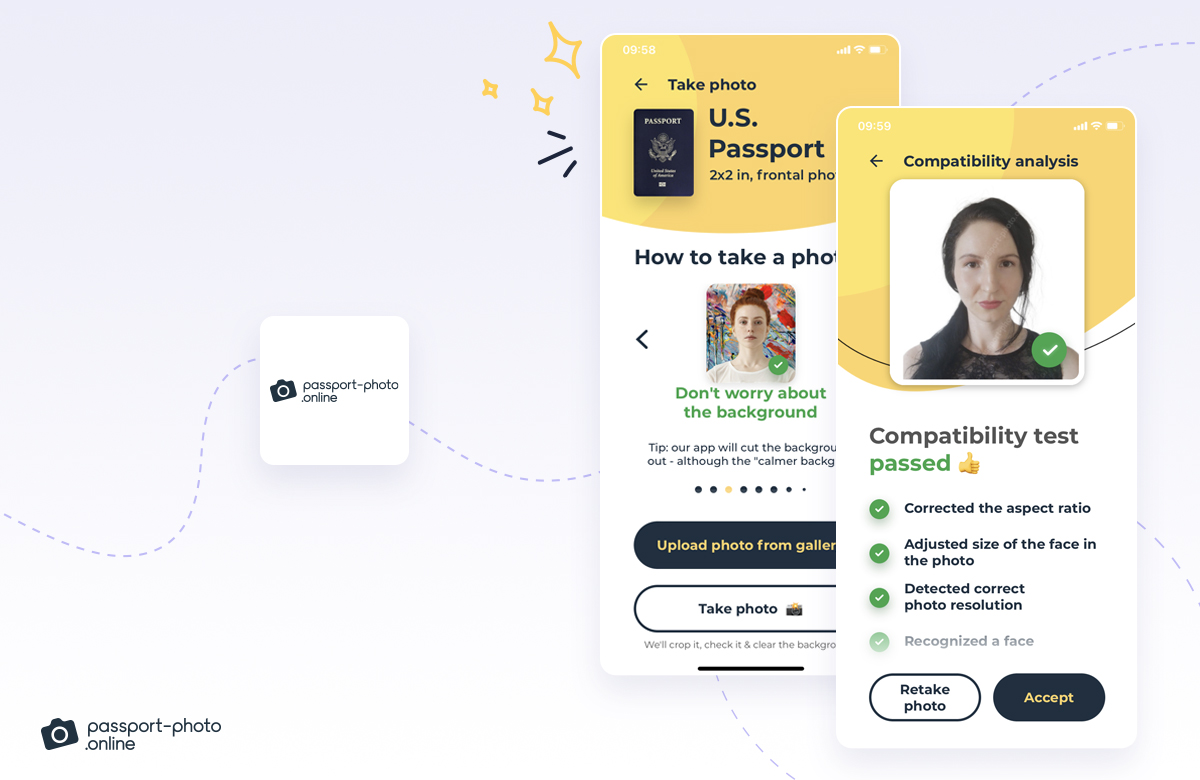 Ratings: 4.5 (5,649 reviews)
Yes, it's our product. But we promised to offer you the best passport photo apps, and the reviews speak for themselves.
Passport Photo Online is the world's largest biometric passport photo booth app where you can snap professional passport photos (and more!). You're the photographer, and we're here to ensure you do it right.
We know how tricky taking passport photos is, so we've got you covered. You'll find detailed information on how your face should look in a passport photo, and our biometric photography experts (available 24/7) will double-check the photo for you.
What makes us stand out? Our acceptance guarantee. Suppose your passport application gets rejected because of the photo. Now not only did you lose time, but maybe even money. We have the right solution—you can redo the process for free, or we'll refund double your purchase cost. With over 1 million globally accepted photos, it's unlikely to happen—but we've got your back (just in case).
Now, we don't expect you to simply take our word for it. Check out the reviews and the app to see for yourself.
Main features:
No registration needed
Automatic photo editing
Background removal (white background compliant with passport standards)
Compliance check (ensuring the photo meets all requirements)
Expert verification available 24/7
High-quality digital photo ready to print
Printing service available
Supports many official documents for various countries (driver's license, ID photos, visa photos)
Prices start at $13.95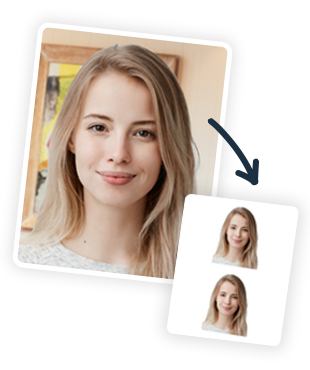 Looking for passport photos? Discover more information: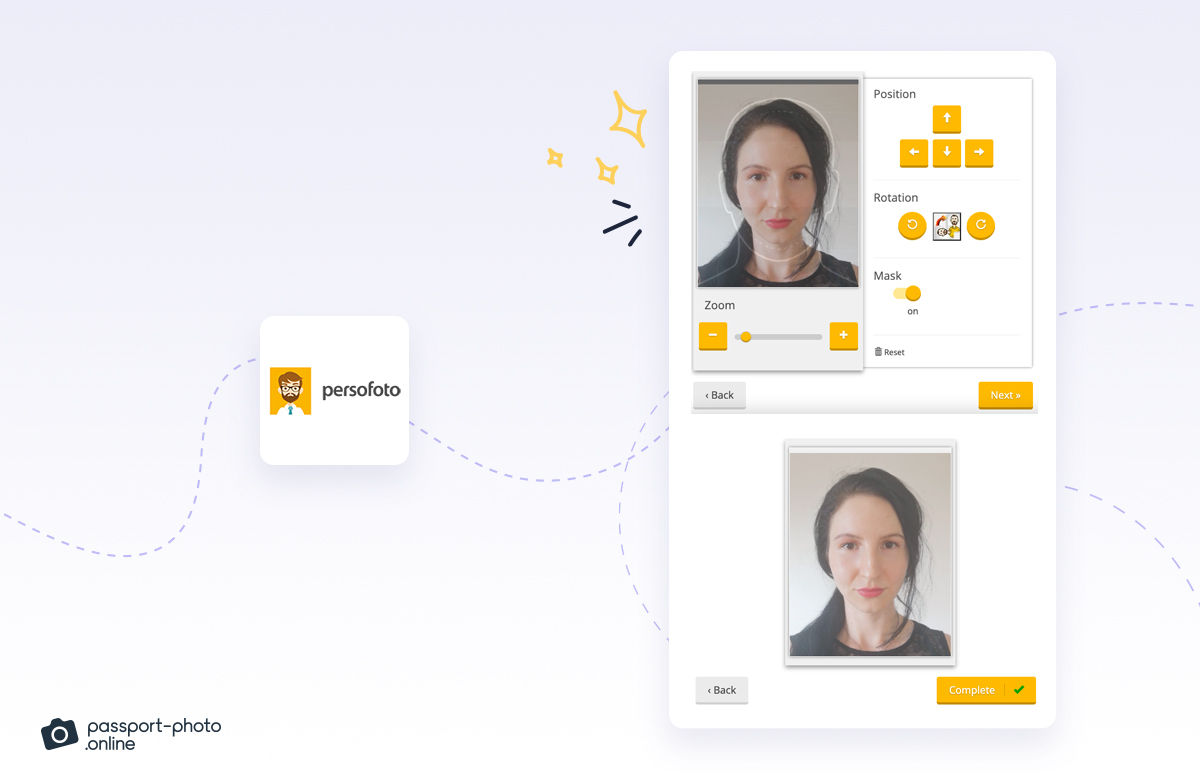 Ratings: 4.6 (35 reviews)
With PersoFoto you can create your free passport photo online. If you favor simplicity, the tool gets a thumbs-up from us for its straightforward process.
But with the tool's simplicity come limitations. All you can do in the editor is manually adjust a picture's size and orientation (like we did above). However, it won't check the crucial aspects, such as whether the quality is good enough for a passport.
One thing we found lacking in the tool is specific guidelines. It can be confusing if it's the first time you're DIY-ing your passport photo. The tips on the page aren't clear enough to ensure your image ends up compliant with official requirements, and zooming isn't very flexible (as the buttons are pre-set to zoom in/out a certain distance). Additionally, the free passport photo maker does not perform a verification check for you.
Not your first rodeo? This simple app should serve its purpose just fine.
Pros:
Simple interface & editing tools
Supports many document types
Large database of countries
Printing service available (only in paid version for £7.95 or around $9.75)
Cons:
Confusing drop-down menu to find the correct document
No guidelines
No compliance check (only in paid version)
No background removal
3. Passport Photo—ID Photo [iOS & Android]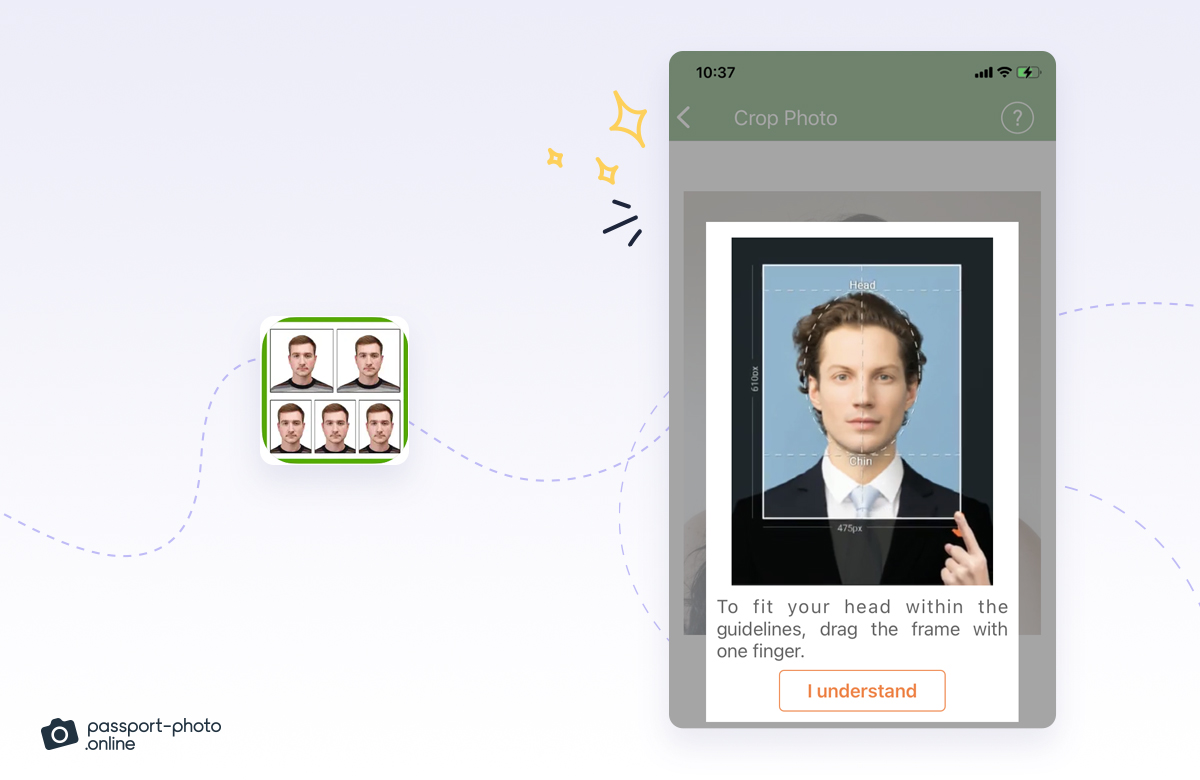 Ratings: 4.7 (3.6k reviews)
Do you like doing everything on your mobile phone? If so, this app is a good option for you.
This free passport photo app includes a basic cropping feature and easy-to-follow instructions on how to do that. Unlike many other top-rated apps, with Passport Photo—ID Photo you can also go a step further and adjust the light exposure and contrast of your picture.
However, be cautious with such advanced features, as some countries (like the US) are very strict about photo editing. If you're not a professional, it may result in your passport photo being rejected (and the tool won't run a compliance check for you).
The biggest downside? You can't remove the background in the free version. If you prefer an app that does it for you, you may consider trying other options (or use our pro tip below).
Pro photo tip: Are you a DIY-enthusiast? You can remove the background yourself with a free online background removal app. This AI-enhanced tool will fix the issue for you in seconds.
Pros:
Easy navigation and editing
Light exposure adjustment
Supports many document types
Large database of countries
Cons:
Annoying ads
No background removal (only in paid version for $6.99)
No compliance check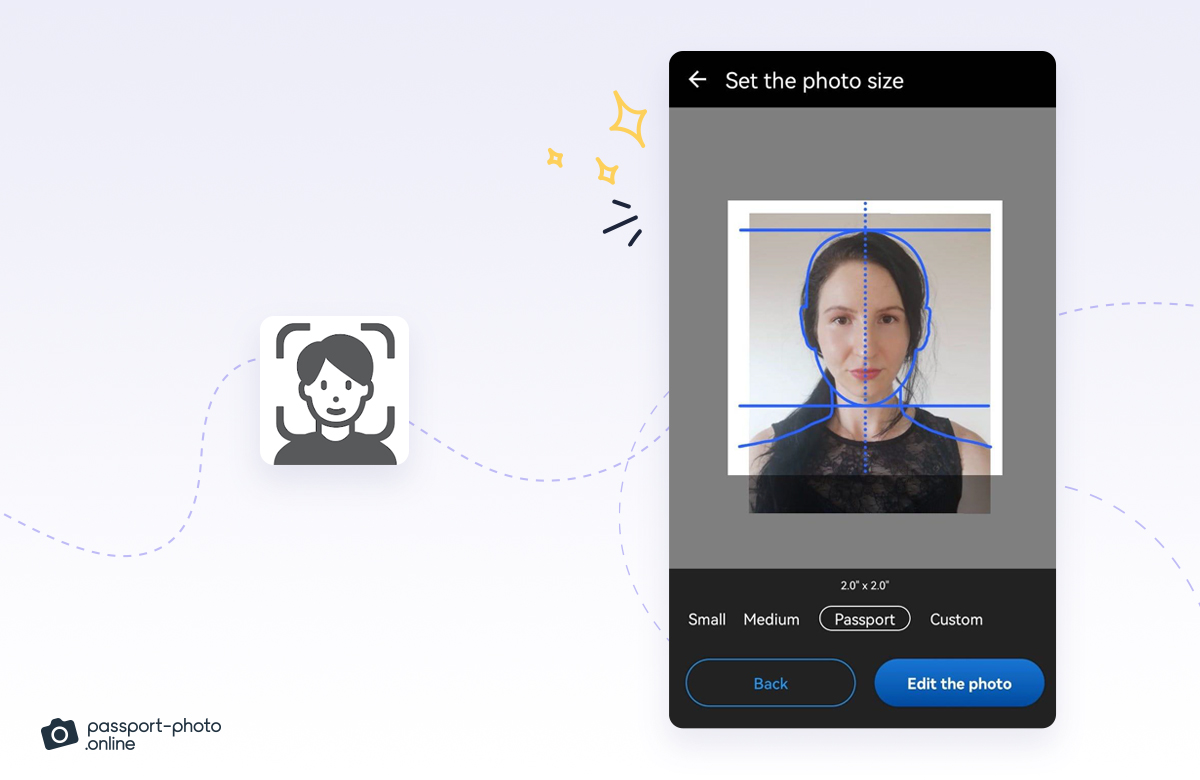 Ratings: 4.4 (10.3k reviews)
Now something for Android users who have access to high-quality passport photo printers (or want to print passport photos with the Walgreens hour photo app and pick it up at their local store).
Once you upload an image, the free passport photo generator lets you adjust its size to comply with US passport photo requirements. You can also easily change saturation or contrast and remove the background.
With its simple step-by-step process and user-friendly navigation, the editing only takes a few minutes.
Sounds too good to be true? Well, the app has pop-up and banner ads that some users may find annoying, as they can be invasive (even when you're snapping a photo). Additionally, the background removal tool in the app is far from perfect. As you can see in the image above, part of my hair was also removed in the white background—an effect that wouldn't pass the quality check in a passport photo application.
Pros:
Simple navigation
Many editing options
Background removal
Cons:
Annoying ads
No printing service available
No compliance check
No guidelines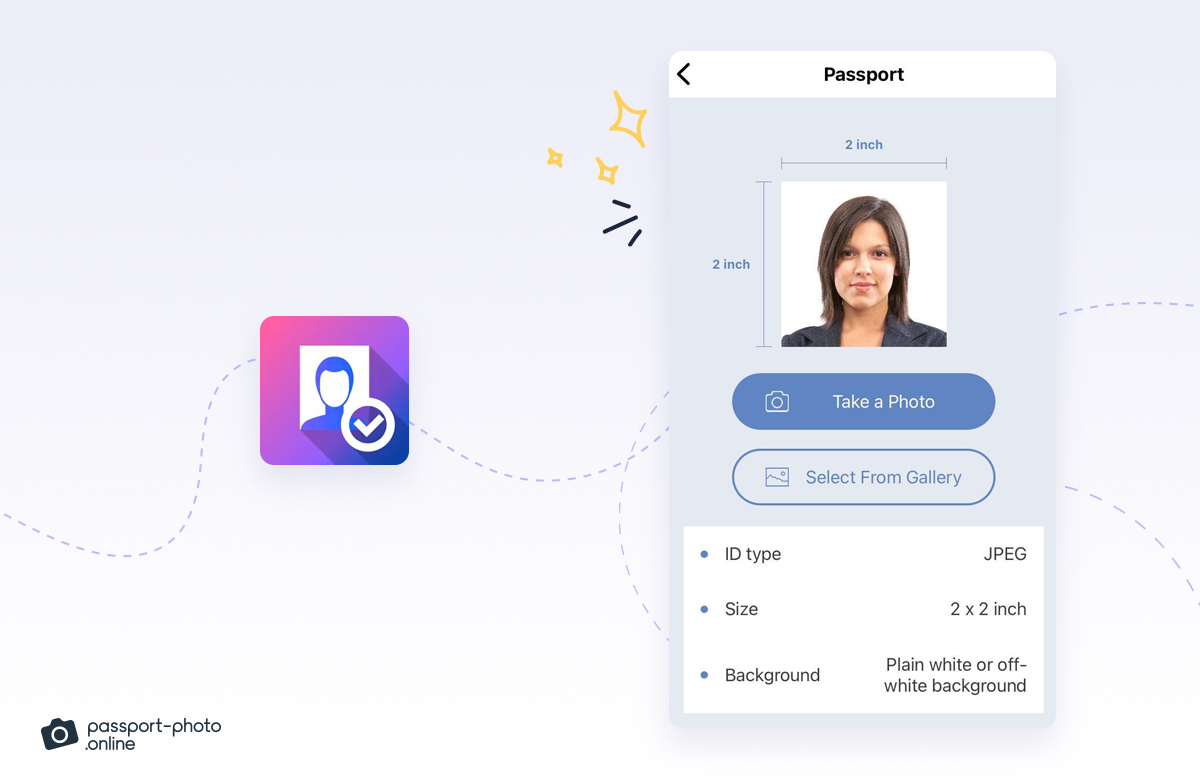 Ratings: 4.5 (425 reviews)
This free passport photo maker is visually pleasing and has an intuitive interface. We liked how all the buttons are big and visible, making them easy for older people and those with vision impairment.
Just like the previous tool, this iOS photo app also cares about your convenience. It provides you with a full list of supported document types based on your country of choice (although some are not available for print if you're looking for this service).
Converting your image into a passport photo is relatively easy, as the tool lets you crop the picture to fit the official photo sizes. Unfortunately, the app doesn't provide users with detailed tips on how to take a passport photo at home in the first place—you only get an example and suggestions on how to pick an ideal background.
Other downsides? The free version doesn't include a background removal tool, so, like with several other apps, you'll have to do it yourself.
Pros:
User-friendly interface & easy navigation
Supports many document types
Large database of countries
No ads
Cons:
No background removal (only in a premium version for $6.99)
No detailed guidelines
No compliance check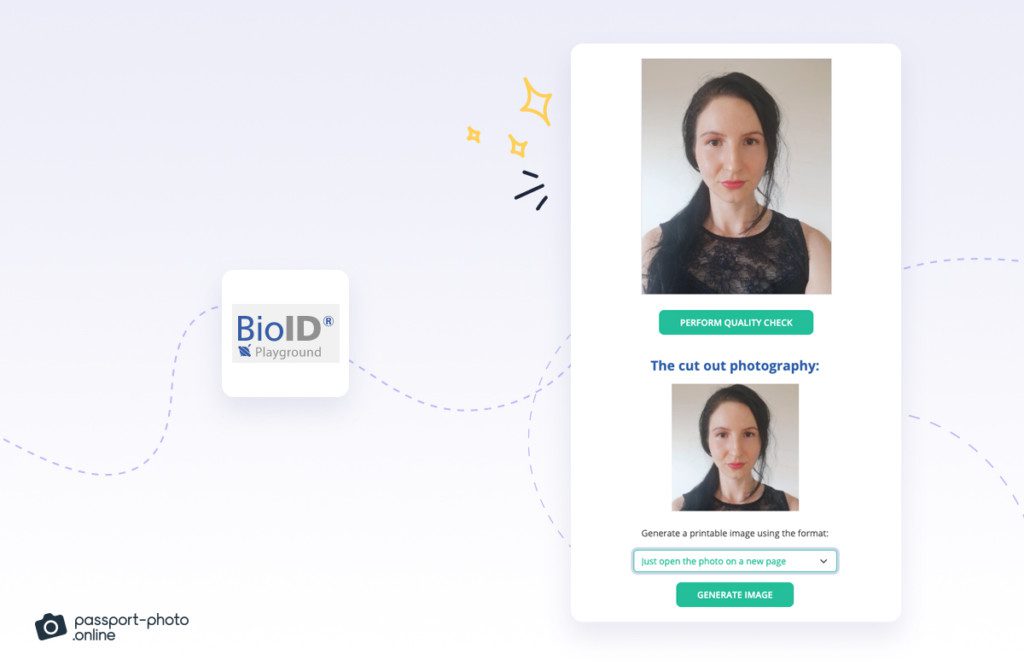 To quickly create a passport photo online, Pic4Pass is certainly an option worth exploring. Yes, this is the only photo maker from the list without any reviews, but it deserves a mention for good reason.
Pic4Pass comes with a handy feature that performs a quality check on each photo and informs users about any detected errors. It's the only app we found to offer this feature for free, so it obviously caught our attention.
But this free passport photo editor isn't flawless. For one, you need to create a free account to use their service. So, if you're concerned about your privacy, it may be an issue.
The software also doesn't include a background removal tool or detailed guidelines on how to snap the right biometric photo meeting your country's requirements. But remember that the quality check will give you insights into what you should fix (if needed).
Overall, we have to appreciate the transparency. The tool is open about what it does or doesn't do—all with no hidden costs.
Pros:
Quality check
Simple navigation
Large database of countries
Cons:
Registration required
No guidelines
Supports only IDs and passport photos
Physical printouts not available
Using free passport photo apps to take pictures: FAQ
Looking for additional information? Check out these frequently asked questions on using software to take biometric photos for passports.
Is there a free passport photo app?
Yes, there are many free passport photo apps. However, they usually come with limited features that may not guarantee your photo will be accepted.
To find the most reliable tool, look at our detailed reviews of the best passport photo apps available on the market.
How to turn a selfie into a passport photo?
How do I make a 2×2 passport photo for free?
To do that, you'll need a picture compliant with your country's requirements and a free passport photo editor. Above, you can find a list of free software that will crop your picture to 2×2" size.
How do I take my own US passport picture?
All you need to take your own US passport picture is a device with a high-quality digital camera and a passport photo editor like the ones we mentioned in this blog. 
When taking a photo, make sure you follow the guidelines. We recommend checking out the official US passport photo requirements. To learn more, you can also look at our blog with examples of rejected passport photos.
Can I take a passport photo at home?
Yes, you can! Most modern mobile phones have high-quality cameras capable of taking passport photos. Feel free to check out our 5-step guide on how to take a passport photo at home.
Do you prefer web tools? You can get your US passport photo with our online photo editor in 3 steps! Upload a photo now and see for yourself.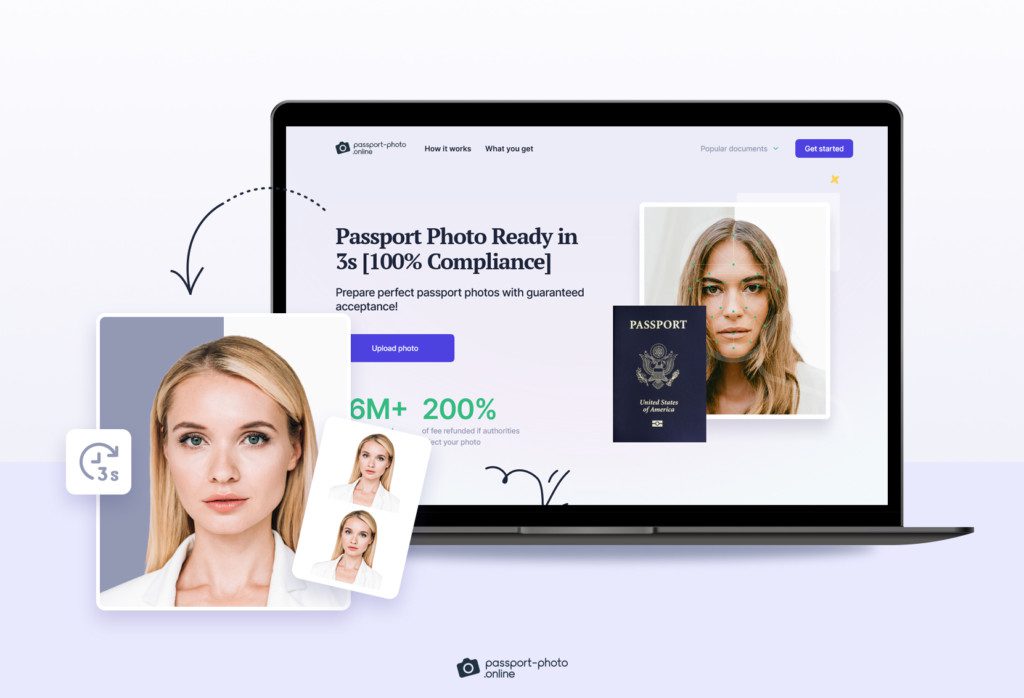 Key Takeaways
While testing the software and analyzing user reviews, we noticed one thing. Even though people search for free passport photo apps, most opt for premium services.
Why?
Because, although passport photo apps work, most of them don't guarantee your picture will be accepted. And when taking your passport photo, you want to be sure it fulfills the requirements—which usually comes at a price.
Whichever passport photo creator you decide to use, remember that you get what you pay for. And free software, although enticing, comes with limitations that may not fully meet your needs.
Here's a recap of the free passport photo apps we reviewed:
Passport Photo Online [online]
PersoFoto [online]
Passport Photo – ID Photo [iOS & Android]
ID Photo for Passports and IDs [Android]
Passport Photo & ID Maker [iOS]
BioID – Pic4Pass [online]
Enjoyed the article? Do you have any additional questions about free passport photo software? Leave us a comment—we're always happy to hear from you!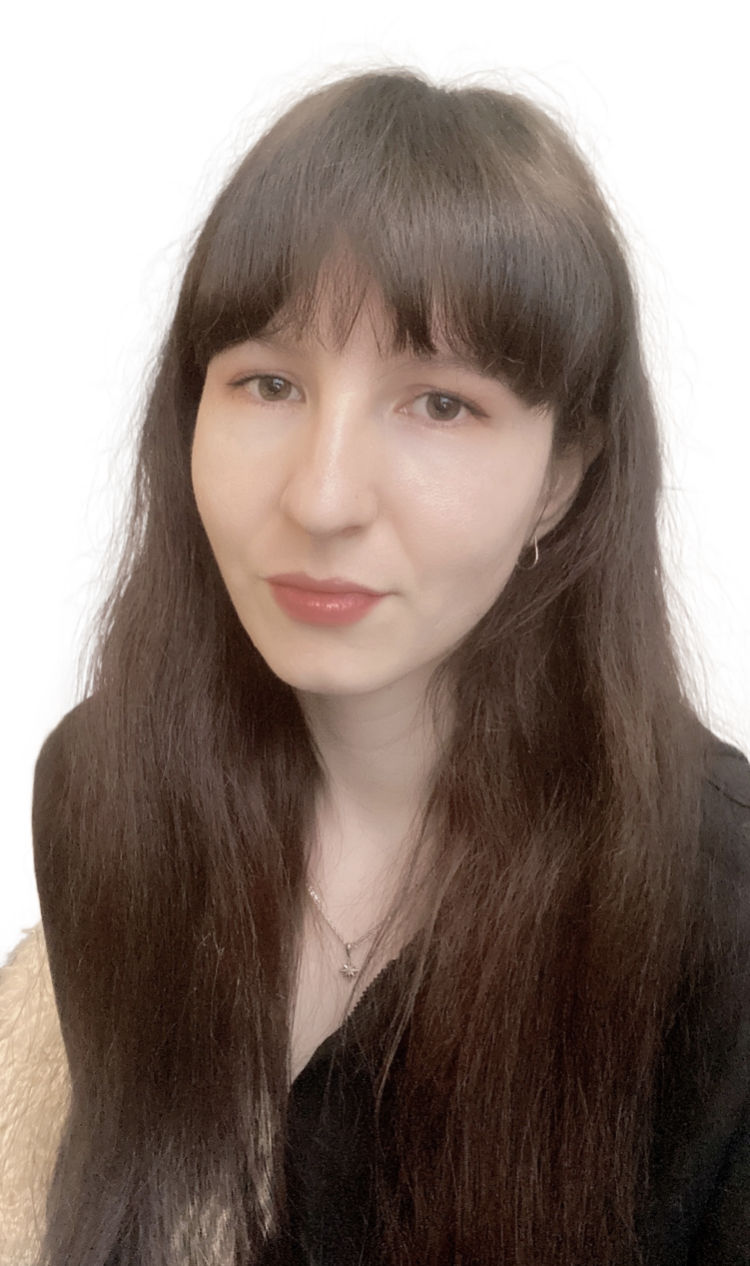 Sylwia Green specializes in biometric photography for identity documents. She leverages her content writing expertise to create articles that guide individuals through the nuances of biometric photography step by step. As an avid traveler, Sylwia recognizes the role of identity documents in enabling hassle-free travel, a theme that resonates in her writing.