No matter what document you apply for, whether it's a passport, ID, visa, citizenship certificate, employment authorization, or anything else – you will need a good photo that meets the correct requirements!
The good news is that you don't have to go to a photo department or studio anymore. There are many passport photo tools that offer the possibility to prepare passport photos online, one of them being 123PassportPhoto. Want to know how it works? Then continue reading!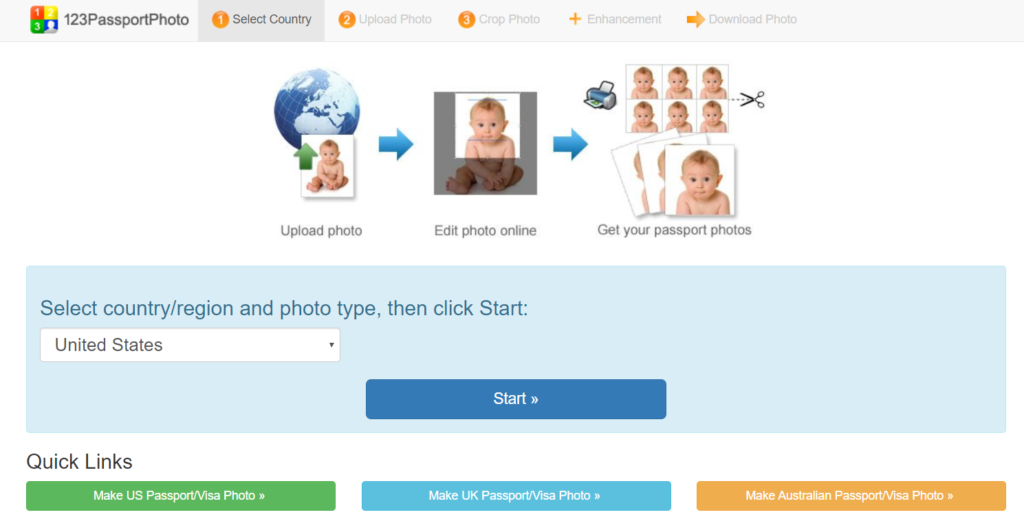 What does 123PassportPhoto look like?
The interface of this passport photo tool is simple, the most important information and The interface of this passport photo tool is simple – the most important information and steps to prepare your photo are presented on its main page. It is quite colorful – green, blue, and orange highlight information and buttons.
On the top of the page, the 5 steps you have to follow to download passport photos are made clear, along with an example photo of a woman and the resulting pictures.
Scrolling down, you will find some useful information listed. In particular, there are several reasons to use 123PassportPhoto: some general passport photo guidelines, an explanation of how to download and print the photo, steps you should follow to create passport photos, and how to get a baby passport photo.
There are no advertisements and the website is simple enough not to distract you from your main goal – preparing passport photos. The main page will lead you to some useful pages with U.S. passport photo requirements, UK passport photo guidelines, and Australian passport photo requirements.
You can also find a list of pages with tutorials to use when taking passport photos for other countries. They include requirements and lighting in the photo, as well as tips on how to position your head for the picture.
Find out more about passport photos from these articles:
Passport photo quality
The quality of the resulting passport photos and the 4×6 inch passport photo template prepared by this tool depends mostly on the uploaded photo.
The passport photo maker does not include face recognition and background editing; the only things offered are manual cropping and some enhancements that could help your photo look better. This means that the framing and lighting in the passport photo depend on the way the user chooses to crop the image and apply the enhancement option. Also, the final photos don't look very sharp.
Instant preview
123PassportPhoto offers a watermarked preview of your photos, which is probably better than nothing, but considering the fact that the adjustment options offered are pretty scant, they could at least offer their customers a decent preview.
Types of copies and their cost
123PassportPhoto allows you to place several passport photos on a template, giving you the opportunity to choose between several sizes (4R 4×6 inch template, 5R 5×7 inch template, 8.5×11 inch letter template, etc.).
You can download a single digital photo if you plan to submit your passport or visa application online. Both the 4×6 inch template and the single photo cost $695, which is more expensive than the services offered by other passport photo tools. Find an example of a ready-to-download 4×6 inch passport photo template made using 123PassportPhoto below.
Expert verification
Ideally, all passport photo apps should offer expert verification as a reliable safeguard in ensuring that the photos get accepted by the adequate authorities. Because otherwise, what's the point of using a photo app to get your passport photos in the first place?
All the other features such as cropping or adjusting brightness and contrast should act as convenient bonuses, but the real reason why someone may want to turn to a photo service is for verification from an expert. After all, drugstores, photography studios, or even photo booths are equipped with either human experts or automatic verification systems, so you always have the guarantee that your photos will be accepted.
However, this website doesn't offer any sort of photo verification, and any photo you upload will pass as a correct one. 
About the privacy of your passport photos
When using their free service, the passport photos you upload on the site will be stored and deleted periodically. If you use the paid services, your passport photos will be stored for the purposes of validating and printing them, getting deleted after the printouts are ready. The passport photo editor also collects your information and uses it for delivery purposes.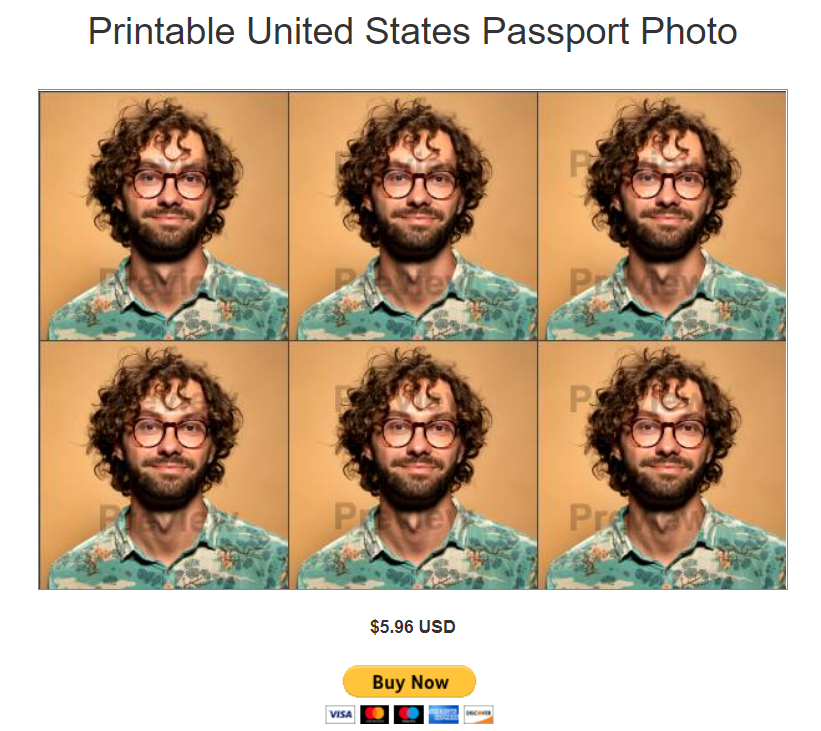 Final verdict: 4/10
123PassportPhoto is a good online photo booth if it meets your needs and you follow the official passport photo guidelines when taking your photo. Here is a short summary of its strong and weak points:
Advantages:
Easy-to-understand interface
Prepares document photos for many countries
Offers explanations on how to take a passport photo
Disadvantages:
The services are more expensive than of other passport photo editors
Does not guarantee that the photo will be accepted
No face recognition
No background removal
The user is completely responsible for proper editing
The interface may be too simple and basic compared to the style of other passport photo makers
Some enhancements make the photo too bright
Get verified passport photos online with an acceptance guarantee
As we've mentioned earlier, expert verification should be a given when it comes to passport photo tools, no questions asked.
Passport Photo Online offers that and so much more. Not only is every photo verified by a human expert, but also by an A.I. system, in order to make sure there are absolutely no errors in your passport photo and they are compliant with the U.S. passport photo requirements.
If there are any mistakes found in the photo, the customer gets notified immediately and asked to retake the photo. The only version that you pay for is the final, verified and approved version that is guaranteed to be accepted with your passport application.
You can get your expert-verified digital copies for $6.95 or digital and printed copies of your photos delivered to your address for $9.95. Both options come with a double refund guarantee in case your photos get rejected.
For U.S. passport photo tool click here.
If you want to take UK passport photos click here.
For other nations, see the selection of available documents.
Is 123PassportPhoto a convenient tool to save your money and time – wrap up
If you are looking for an online tool to crop just any photo (such as your social media profile picture for example) and have the background removed, you can opt for this service.
However, if you're in need of a reliable passport photo service to get you an expert-verified photo for your document, then 123PassportPhoto is probably not your best bet, since it doesn't offer any photo verification or guarantee.
You can try other online photo tools such as Passport Photo Online which offers all the necessary photo adjustments and a 2-step photo verification at a very similar cost.
123PassportPhoto: FAQs
Is 123PassportPhoto a convenient tool to save your money and time when taking passport photos?
123PassportPhoto is a convenient and easy-to-use tool for removing the background from your photos and cropping them, however it doesn't come with an acceptance guarantee.
Does 123PassportPhoto guarantee that your photos will be accepted by the U.S. passport office?
No, the 123PassportPhoto service does not offer an acceptance guarantee, therefore you must be absolutely convinced that the photo you're uploading is suitable to be used in the U.S. passport.
Does 123PassportPhoto offer printed copies of passport photos?
No, the service offers only digital copies of your passport photos.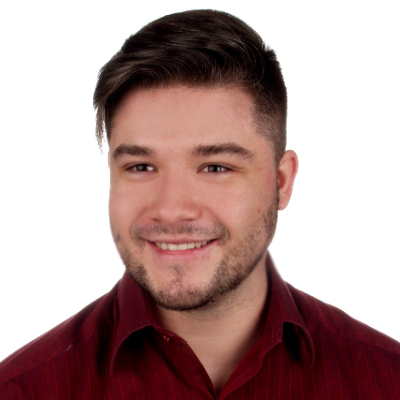 Graduated from the University of Warsaw, Michał, is a biometric photography expert with an undying thirst for adventure and a writer at Passport-Photo.Online. A self-proclaimed book and movie critic as well, he's always eager to visit to the most underrated or less popular travel destinations.