Taking your baby to a photographer can be quite a challenge often, your little one won't cooperate, the atmosphere may be stressful for your child, and the whole procedure may take longer than anticipated. On top of that, it will cost you around $15.
Why pay that price if you can take the photos yourself, at home?
US passport photos are bound to some official regulations, which is why you may think that the risk of ending up with a denied application is too high. But, truth be told, if you follow our guidelines, you will be able to take baby passport photos successfully at home.
See the 4 simple steps below, where we dive into DIY baby passport photos, helping you get a set of perfect pictures for your baby's new travel document.
What will you find in this article?
How to take a baby passport photo at home?
The below tutorial is designed specifically for taking a newborn passport photo, but you can also apply it with older children.
Before you proceed with taking the passport photo, you first need to get familiar with the official passport photo requirements provided by the US Department of State.
Step 1: learn baby passport photo requirements
For your convenience, we took the essence from baby passport photo guidelines and put it together in an easy to understand manner to help you get your perfect photo.
Your baby's passport photo:
has to be a square, measuring 2 x 2 inches after printing;
must be in color, with no blurs or other imperfections;
must have a plain white background, with no objects visible;
has to present only your child parents, toys, pacifiers, and other objects are forbidden;
must be 6 (six) months old at most.
As you probably can notice yourself, the above-listed rules are rather technical. But what about the baby and their pose?
Here are some guidelines for your child's pose in a passport photo:
make sure your baby has their eyes open;
your baby must be looking straight at the camera;
avoid any accessories whether it's a decorative band, pacifier, or toy;
snap the picture when your baby's face has a neutral expression.
Luckily for you, infant passport photo requirements are adjusted to the unpredictable nature of children and are therefore less strict when it comes to posing.
The photograph does not have to be perfect the US Department of State accepts photographs where babies have their mouths slightly open or are not looking directly into the camera.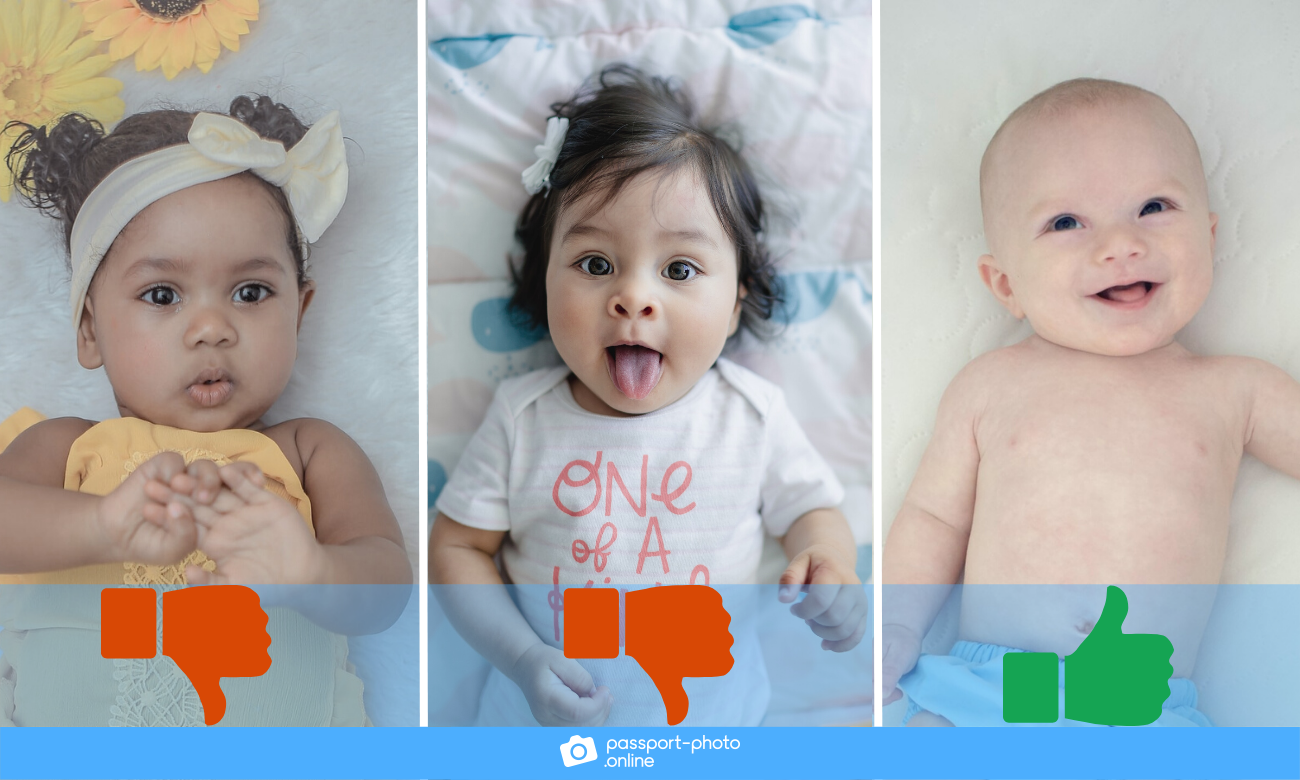 A brief recap of what is (not) correct with the above photographs:
In the first one (1) from the left, there are objects in the background and accessories on the baby's head.
In the middle picture (2), the facial expression is incorrect, as the baby has her tongue out.
The third photo (3), on the right, is a correct one – as you can see, the infant has his mouth slightly open, but it's within acceptable limits; the background is white, and there are no objects visible.
Once you get a gist of the rules, we can move on to the next step.
Looking for more tips to get that perfect passport photo? Try reading our other articles:
Step 2: prepare the surroundings
Now that you know how a proper infant passport photo should look, it is time to take your own perfect baby passport photo. Start with preparing the background.
The good news here is that you do not need a professional background. A simple blanket, bed cover, or sheet is more than enough. Just make sure it's white, or at most grayish.
There are also online tools that can remove the background for you, e.g., Passport Photo Online. If you decide to use such software, focus primarily on proper illumination of the face (background will be replaced with a white one). More about helpful tools later on in the article.
There are two (2) essential ways you can approach preparing a background for your baby's passport photo:
You can lay your baby down on a white sheet on a bed.
You can put your baby in a car seat covered with a white sheet.
Whichever option you decide to go with, make sure no unwanted objects are visible. You should be especially cautious when using a car seat, as there may be many elements to come into the picture harnesses, hooks, fastenings, etc.
If despite your best efforts there are still some unwanted objects visible in the photo, you can use Passport Photo Online – the tool we have mentioned before that can not only remove the background, but also minor objects in the foreground.
Laying your child on a bed is a more convenient option, but it has one flaw you cannot control the light. When it comes to passport photos, the best lighting is a natural one, coming from the sun. Therefore, the best position is simply in front of a window.
With a car seat, you have the option to locate it facing a window, whereas with a bed, there's not much you can do. However, if your room is nicely illuminated, e.g., you have big windows, the bed should do just fine.
If your child is older and can already walk and stand by themselves, you can use a white wall instead. And if you don't have a white wall in your house, try to pin a white sheet to any other wall and have your child stand against it.
Step 3: grab your phone and take the passport photo
Again, some good news here you do not have to own a professional DSLR camera to take a passport photo. Your smartphone will do just fine.
Truth be told, the most challenging part of taking DIY passport photos is the preparation. Once your child is at ease and the background is prepared, you just need to snap a sharp photograph.
When taking the passport photo, avoid using flash it alters the skin tones and often creates a red-eye effect. Both imperfections are unacceptable in passport pictures.
It is best to take the photo during the day when plenty of natural light is flowing into the room.
At this moment, you don't have to try hard to get the picture in exactly the right proportions and size there are tools that can help you with adjusting your photograph to passport photo standards; more about that later on.
Take multiple shots and encourage your baby to look straight at you. If your baby looks sideways, the authorities may consider it an incorrect photograph.
Step 4: adjust your new baby's passport photo to the required standards
We need to stop here for a moment.
You need to be careful when editing your freshly-taken baby passport photos. The US Department of State is stringent when it comes to the naturality of accepted photographs, therefore, you should just alter the size of your photograph.
Although it may seem tempting to add some filters to make your child look better in the photo, avoid doing so. No retouching is allowed.
The only adjustment you should make to your passport photographs is (1) cropping the picture to a square format and (2) framing the photograph so your baby's face takes up around 80% of the space.
Passport Photo Online: an all-in-one tool for baby passport photos
If you are not the type who wants to bother with passport picture regulations, or you want to make sure your child's passport photo is compliant with the US government standards, here is a solution for you – a professional passport photo maker.
Passport Photo Online performs all of the steps provided above in just 3 (three) seconds, delivering you a high-quality passport photograph that is guaranteed to get accepted by the US authorities.
Just snap the photo and upload it to this dedicated baby US passport photo tool.
There is no need to prepare a special background or spend time framing the photo correctly Passport Photo Online automatically replaces the background with a plain white one and adjusts the picture to the required standards.
If you need a photograph for nations other than the US, just browse through the list of hundreds of documents for nearly every country in the world.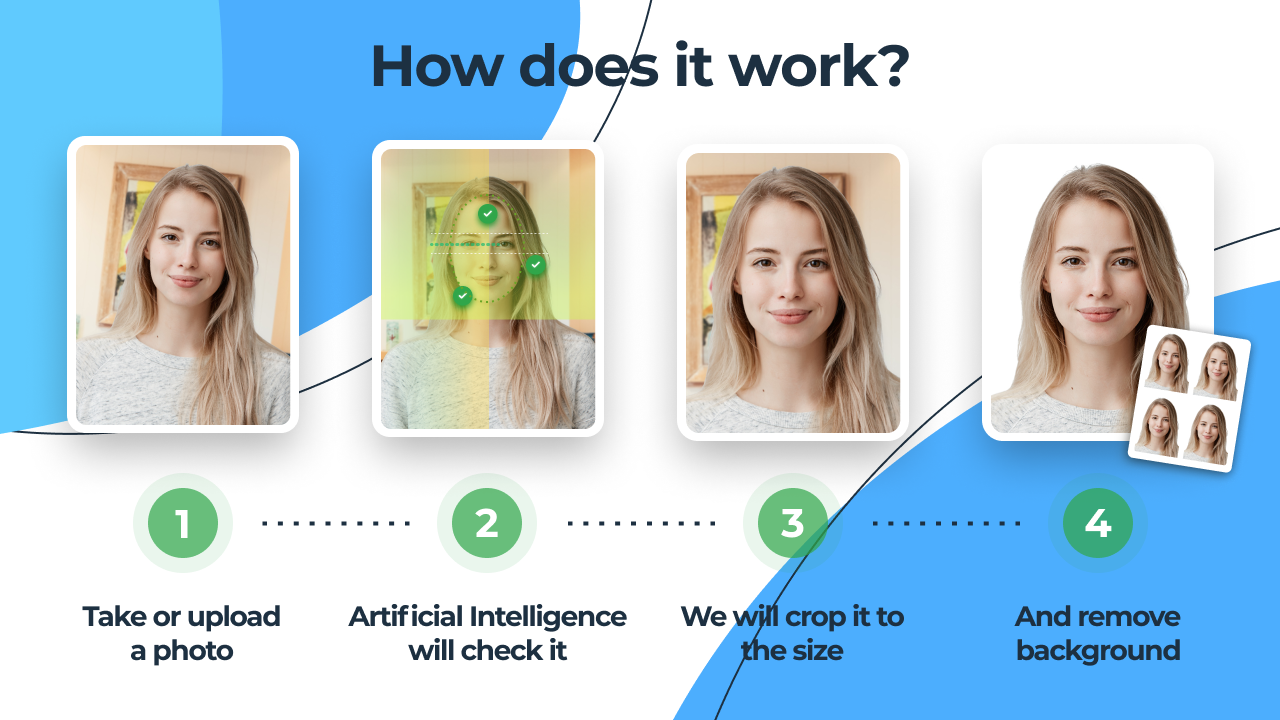 DIY baby passport photo: FAQ
See the answers to frequently asked questions regarding taking baby passport photos at home.
Can I take a baby passport photo myself?
Yes, you can take a baby passport photo yourself. Make sure to follow the US Department of State guidelines or use a specialized tool such as Passport Photo Online which will guide you through the process of taking baby passport photos.
Can my hand be in the baby's passport photo?
No, people, objects, or shadows are not allowed in a baby passport photo. That means you cannot hold your baby to take the picture nor use a pacifier to calm your child down. You can also use specialized programs, such as Passport Photo Online, which can remove both the background and minor objects, such as pacifiers, from your baby passport photo.
Can a baby wear a headband in a passport photo?
Accessories are not allowed in a baby passport photo. That includes headbands, decorative pins, hats, or similar. No objects should be visible in an infant passport photo. You can also use special programs, such as Passport Photo Online, to remove items from your baby's passport picture, such as small headbands or toys.
Can a baby smile in a passport photo?
The US Department of State is slightly less restrictive with baby passport photos than adult ones, so your baby's expression doesn't have to be perfectly neutral. A slight smile or an open mouth is acceptable. However, bursts of laughter, a wide-open mouth, or crying are not allowed.
Can you take baby passport photos at home?
Yes, you can take baby passport photos at home, and no professional equipment is needed. One of the easiest ways to take passport photos yourself is to use specialized tools, such as Passport Photo Online. The app transforms your smartphone photo into a passport picture in 3 (three) seconds, with guaranteed acceptance.
Taking baby passport photos at home: closing thoughts
No professional equipment or specialized knowledge are required to take a baby passport photo at home. All you need is a basic grasp of the official standards, a white sheet, and a smartphone the process should not take longer than half an hour.
However, if you want to stay in your comfortable home with your baby and avoid lines in public places, you can use Passport Photo Online a specialized tool that will deliver you perfect baby passport photos in 3 (three) seconds, requiring no experience or knowledge from you.
Sources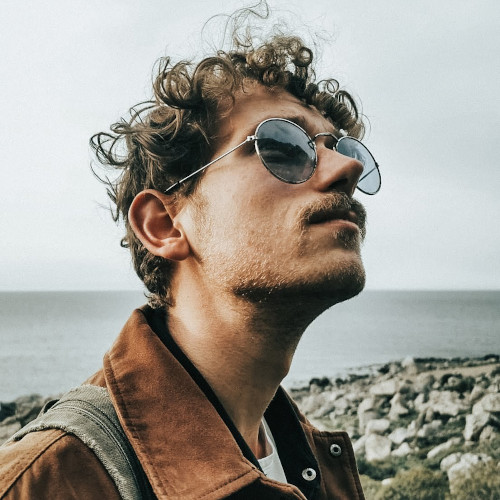 Adam is an SEO & Digital PR writer with a child's curiosity about the surrounding world. His superpower to dig out juicy facts got him citations in Forbes, Social Media Today, and 90+ other news outlets. Adam enjoys snapping pictures and won the national Huawei Next Image Award.