Against the commonly-held opinion, traveling with children is still well and alive. In 2021, 88% of American families stated that they would likely travel with their babies in the next 12 months, according to the US Family Travel Survey. That being said, parents must ensure that their little travelers have all the necessary documents.
Your baby's passport is the most important thing to take care of before going on vacation—and to apply for it, your baby needs a good passport photo for babies. We know that children are equipped with tons of energy, and they might not be the most manageable photo models. That is why we have prepared the list of passport photo applications to help you take a biometric passport photo of your baby conveniently and stress-free.
Baby passport photo apps for iOS
Owners of iPhones and other Apple devices—here are a few mobile apps that will make your passport photography adventure more effortless and comfortable.
MORE ON BABIES AND PASSPORT PHOTOS:
Passport Photo—ID Photo App
Free of charge for downloading (with in-app purchases for additional features), Passport Photo ID Photo App offers a perfect size editor for your baby's passport photos. It is easy to navigate, and there is no need to crop or resize images manually. The app also offers a background removal feature, thanks to which you can even hold your baby for their passport photo. This feature, however, comes at an additional cost.
According to users, there are some problems concerning the printing feature—it is impossible to adjust the paper size for the photos.
Pros:
automatic cropping
free download.
Cons:
paid background removal feature
printing issues reported by users.
Data security: identifiers and usage data may be used to track you across different apps and websites.
Passport Photo & ID Maker
Available for free, Passport Photo & ID Maker will help you take a biometric photo conveniently thanks to its size grids. Alternatively, you can upload a picture of your baby, and the app will crop it automatically. There is an additional charge for premium features, including paper formats. However, parents have repeatedly reported problems with the background removal option, saying it is often blurred and pixelated.
Pros:
free download
helpful photo size grids
automatic cropping
Cons:
in-app purchases
issues with background removal tool
Data security: identifiers may be used to track you across different apps and websites.
iVisa Passport Photos
Offering a free download, iVisa Passport Photos makes it easy to create a passport photo—it resizes the image and removes the background automatically. There are multiple delivery options along with printing and receiving digital images. However, it is not clear whether this option is available for passport photos. If you prefer to take a selfie with your baby, this application might be good for you—it does not allow the back camera to take photos.
iVisa Passport Photos is also available for the Android system; we will list more applications below.
Pros:
free to download
automatic editing tools
different delivery options
Cons:
the app allows you to use only the front camera;
digital photo delivery might not be available for passport photos.
Data security: the app stores contact information to track app functionality.
RELATED:
Baby passport photo apps for Android
Since the Android system powers most mobile phones (70% of all smartphones in use), plenty of apps will help parents take a perfect passport photo of their baby. Let us take a look at the 3 (three) most popular ones.
Passport Photo Maker—Visa/ID
Intuitive and extremely helpful, Passport Photo Maker VISA/ID guides its users through the passport photo process. There are many automatic features, including:
cropping
resizing
using templates for a given country and document type.
Background removal, on the other hand, requires an additional fee.
Interestingly, there is also a delay feature involved—while it might be perfect for taking your passport photo, this option could be somewhat problematic in the case of baby passport photos.
Pros:
passport photo-taking guidelines
automatic editing features
Cons:
paid background removal tool
delayed photo taking (approx. 2 seconds) as reported by customers.
Data security: photos and videos might be shared with other companies; however, users can delete their data.
Passport Size Photo Maker
Taking one perfect shot of your baby is probably not the easiest task. Passport Size Photo Maker comes to help. It offers several attempts to take a photo and allows you to upload an already existing one. The app creates images according to a specific country's requirements with its impressive database. While it properly crops, resizes, and frames the picture, it does not remove the background automatically.
Pros:
multiple free attempts to take a photo
automatic editing tools
official document requirements provided.
Cons:
No automatic background removal
Data security: no details available.
Apowersoft Background Eraser
Although not a passport photo app per se, Apowersoft Background Eraser is a fine tool for creating your baby's document photos. Available for both Android and iOS, this application's primary goal is to remove or enhance the image's background.
However, it does have features necessary to prepare a passport or ID photo. The app's automatic cropping and resizing options make image editing go smoothly. Unfortunately, the app is 30% more expensive compared to others: because of the subscription plans, it would be best to use more pictures, not only document photos. Moreover, users must pay to remove a watermark from their images.
Pros:
highly-developed background replacement tools
passport photo requirements included.
Cons:
Data security: photos and videos might be shared with other companies; however, users can delete their data.
FURTHER READING:
Passport Photo Online for your baby's passport photo
Available on both Android and iOS, Passport Photo Online is a complex photo transformation tool that combines all the essential and desired features. Taking your baby's passport photo could not be easier.
Passport Photo Online meets all the requirements for a US baby passport photo. It is enough to take a photo of your baby—or upload any photo you have on your camera roll—and let our AI system do the rest! If any errors appear, our experts work around the clock to immediately provide respective recommendations.
Thanks to the highly-developed software, the app neutralizes any setting behind the baby in the photo, providing you with the plain white background necessary for passport photos. No need to take a picture against a wall or hanging a sheet—you can even hold your baby comfortably. Just focus on proper lighting and our app will take care of the rest!
The first shot did not turn out perfectly? The baby gets sleepy, moody, or doesn't want to cooperate? Try as many photo shots from different angles to find the one that satisfies you—and meets all the requirements—and pay only for the final result.
Select a delivery option that aligns with your needs: you can receive a reviewed and verified digital copy of your baby's passport photo within 60 minutes, have printed photos delivered to your doorstep in no more than three days, or opt to print the photos yourself at a local store offering printing services, such as getting a Walmart passport photo.
The app provides a user-friendly interface with all the recommendations and guidelines, which makes it easy to use not only for parents, but also grandparents! It's also perfect for kids with disabilities.
And if the baby's passport photo that we confirmed gets rejected, you will receive 200% of what you initially paid.
Passport photo app for a baby—closing thoughts
Thanks to technology, parents can conveniently take their babies' passport photos with a smartphone. Either as an Android or iOS user, you can choose from various options suitable for your needs. When picking a baby passport photo app, make sure it offers the correct dimensions for a biometric passport photo.
If you are looking for a safe option for your baby's information, and money is not an issue, then Passport Photo Maker could be a good option.
However, if you want an app that combines compliance, safety, and convenience, choose Passport Photo Online—a tool whose main features are focused on official document requirements, passports included. Let us help you take your children's perfect passport photos without leaving your house.
The satisfaction guarantee is supported by more than 20,000 (twenty thousand) positive reviews. Check out Passport Photo Online for Android or iOS just now!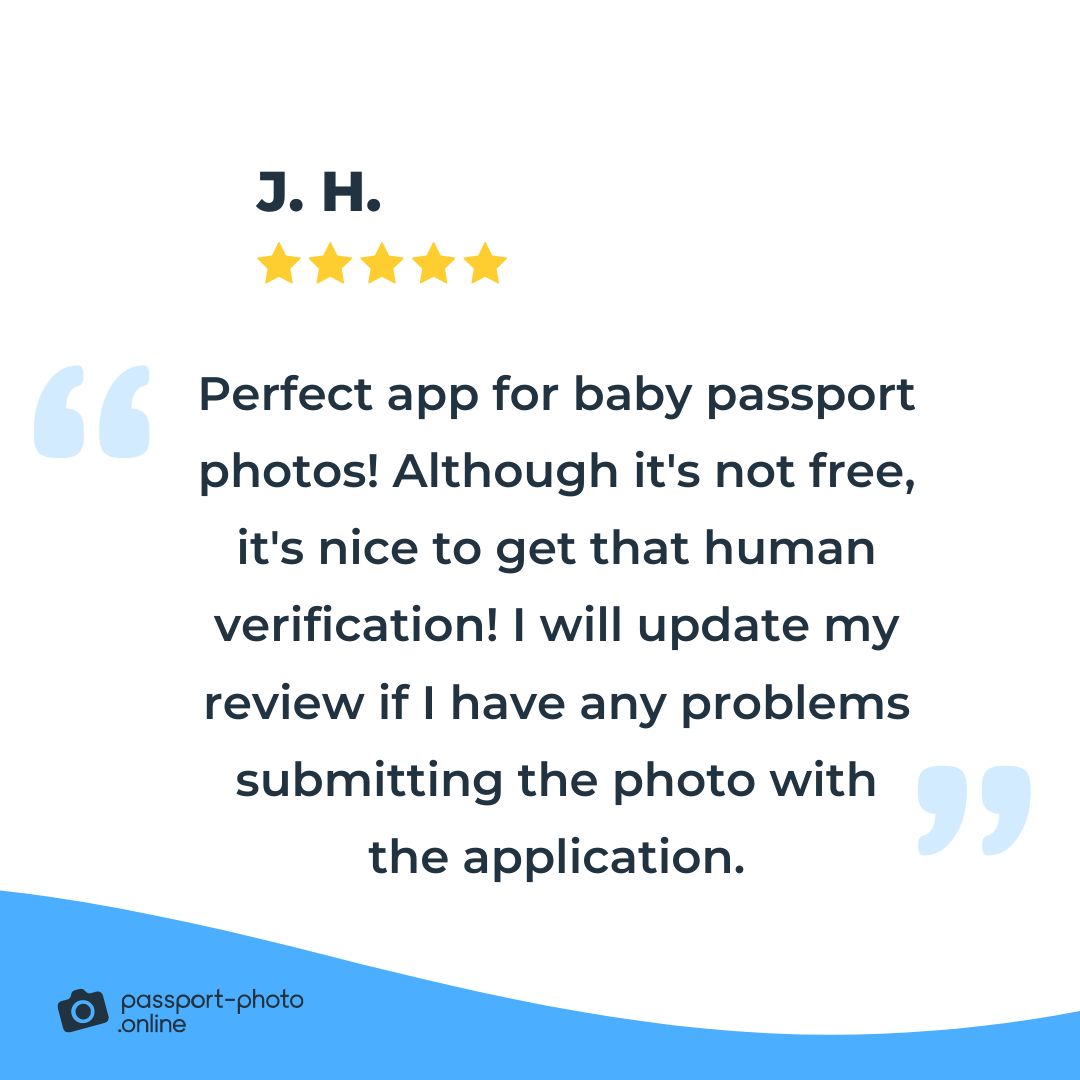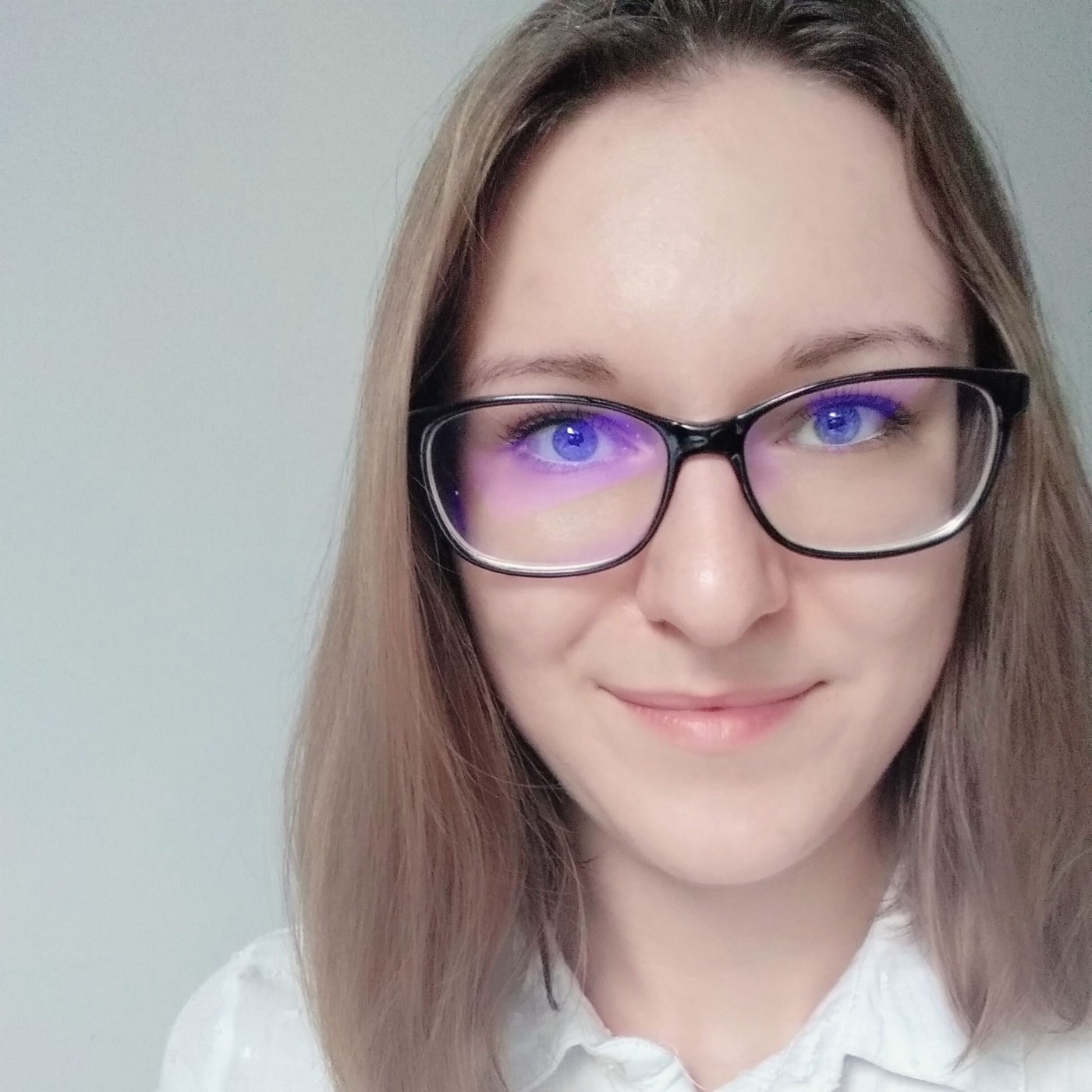 Roxana Grabowska combines her passion for language and biometric photography to craft reader-friendly content. Her work provides a clear guide to creating suitable photos for identity documents, making the process more accessible. Roxana's background in linguistics and love for travel have made her appreciate the importance of high-quality biometric photos in ensuring smooth travel experiences.