Do you ever look at people's passport photos and wonder – "How did they manage to look this good?!" I feel like it's always the case for me. I swear I had maybe one document photo from years ago that was actually flattering, and then it just went downhill from there: each photo was worse than the next one. If the thought of looking at the mean mug in your passport picture makes you cringe and wish you could get a chance to fix it, welcome to the Ugly Passport Photo club.
Not all is lost, however, and even those of us whose last passport photo has become the butt of all jokes still have a chance of looking attractive in our new passport shot. You'll be able to present a nice-looking passport picture to that customs officer, without actually feeling ashamed and running for the departure gate as quickly as possible hoping they won't remember you.
Why do we look so bad in our passport photos?
It's not a secret that passport photos don't do most of us favors (those of you with your cute-looking passport pics, please spare us the embarrassment). So, why does it happen to so many of us? I mean, the whole thing seems absolutely ludicrous – you pay all that money for the pics and the passport application itself, and take the time to go to a drugstore or photo booth just to end up looking so ugly in your photo.
There are many factors that may be to blame here. For me personally, the one thing that negatively affects the way I appear in my final passport photo is the inability to relax due to the limited amount of takes. In any photo studio, you usually get two, three, maybe four or five takes if you're lucky, and that's it, you're sent home with an ugly pic that you're stuck with for the next ten years. The thought of that alone makes me tense up and thus, look weird in my picture.
Other factors that may come into play here are: feeling tired (dark circles, puffy eyes), having a bad hair day, putting on the wrong kind of makeup, or bad lighting. I'll go over some useful tips below that may help you prepare and achieve a good passport picture.
Do you want to learn more about passport photos? Check these out:
How to take a better passport photo?
Apart from the official requirements that are essential to follow, you can also use a few tricks to create a nice photo that will serve you for a few years. So, how can you take a better photo for your passport that'll make you feel proud when traveling? Let's go over some tips.
The first thing to keep in mind is, try to take your photos on a good day if you can. Yes – a good day in terms of your well-being. If you want to look good in your picture you can't feel awful on the inside, because that will probably translate into a terrible-looking photo.
Lighting and background
Another factor to remember is natural lighting, and I mean natural. Daylight can really work wonders and make you look glowing and beautiful without trying hard. Just make sure you don't take your photos in full sun or any harsh lighting because your passport photo will get rejected if it's overexposed (underexposed as well).
Also, natural light should help keep your full face visible and should not cast shadows. The best option is to stand against a white wall that faces a window, and if you don't happen to have one at home, try using a white backdrop such as a white sheet, for example. You can learn more about lightning in passport photos here.
To smile or not to smile?
Now, when it comes to your facial expression – don't overdo it. Again, this is why it's so important to relax because tense muscles will definitely show in your picture. Back in the day you weren't even allowed to smile in your passport photograph, but that thankfully has changed.
Now you can smile in your passport pic, just don't go for a big grin that reveals your teeth. A nice, natural smile with your mouth closed will be just fine, or you can just maintain a neutral expression (resting face).
What makeup is best for your passport photo?
For all the ladies out there – no matter what they say, you know you want to wear makeup for your passport photo. Of course, you do, and it's understandable since makeup is a wonderful tool that can conceal numerous imperfections. However, again, don't go overboard.
I'd opt for some light, matte foundation, subtle blush, and mascara (preferably a brown-hued or a dark brown one). Your skin tone should look natural and definitely avoid the "cakey" look. I'd also recommend losing the fake eyelashes just for this one instance, even if you wear them on a regular basis.
Another important passport photo tip if you want to look good is to not use sparkly or shiny makeup, such as lip gloss or glittery eyeshadow as it may actually age you by creating textures on your skin that appear similar to wrinkles. Your makeup can and should be there, just make sure it looks natural and not over-the-top as if you were heading for a night out.
What hairstyle should you go for?
Now, let's move on to the hair. Logically, if you normally wear your hair a certain way every day, you'll want to do so for your passport photo as well. There's nothing wrong with taking your picture sporting your usual hairdo, just make sure there are no flyaways, which you can easily tame with some hair gel or serum if you're on the frizzy side.
Whatever you decide to do with your hair for the new passport photo, don't make it too extreme and make sure that your hair doesn't get in the way of that beautiful face! If you have bangs, they can't cover your eyes or eyebrows.
What to avoid when taking your passport photo?
Anything that's in excess should be avoided in passport photos, that is – makeup that's too heavy, an exaggerated hairstyle, or too many accessories. Jewelry and hair accessories should be avoided in passport photos, but that is not to say that you can't wear a pair of small earrings, for example. Just use your best judgment in deciding what looks absurdly overdone and what's suitable for a good passport photo.
Other things that should be avoided are headwear, such as caps, hats, or scarves, unless it is a head covering worn for religious purposes. The same rule applies to glasses or hearing devices – they can be worn in your passport picture, but you'll have to provide a legitimate reason for their everyday use (a signed note from a doctor).
What you also need to keep in mind is that no matter how skilled you are at using Photoshop, you shouldn't edit your passport photos. This should be left either to a skilled photographer who works with photo editing software on a daily basis or another expert who's knowledgeable on the topic.
Take your own passport photo
As I mentioned earlier – for me personally, the biggest obstacle in fully relaxing when taking a passport photo is the thought of being limited in the amount of shots I can take. Sure, I could probably ask the photographer to snap numerous pics of me, but this would definitely bear additional costs, and I still wouldn't be guaranteed that any of them would meet my expectations.
If you're with me on this one, or perhaps you're too shy to pose for your photo in front of a photographer, then you can take your official photo yourself or ask a friend or family member to do it for you.
Passport Photo Online
Online photo tools such as Passport Photo Online let you take your own photo in a relaxed setting from the comfort of your home, where you don't have to worry about being rushed or limited on the number of photographs you snap. You can either take a new passport photo or upload one that you believe is suitable for a passport.
The AI system will verify the picture for you anyway and let you know whether you can use it or if you need to take a new one. Either way, there are no additional fees charged for taking or uploading numerous photos, so you can really have fun with it and keep taking as many photos as you want, until you get the perfect one!
It only costs $5.95 to order your passport photos in digital format and $9.95 to get the full package with printouts sent straight to your door. What else can I say – it's convenient, stress-free, and lets you save time and money (up to 30% in comparison to other photo services). Photos taken using the Passport Photo Online App (available for iOS and Android) have an extremely high compliance rate, so much so, that in case your photos get rejected by your local passport authorities, you'll get a double refund.
RELATED READING:
Bad passport photos: FAQ
Wondering what can happen during your passport photo-taking journey? Let's move on to the most frequently asked questions and get some more insight on not-so-perfect passport photos!
Why are passport photos so ugly?
There are many reasons why a passport photo may come out 'ugly'. It could be caused by bad lighting, feeling and looking tired, wearing the wrong makeup, or just simply being too tense and unable to relax in the photography studio.
Will my photos be accepted by authorities if I take them myself?
You can definitely take document-worthy photos yourself that will be accepted by your passport agency if you have the right kind of tools. Passport Photo Online has a built-in AI system that scans each photo to make sure it meets the official passport photo requirements.
How to look good in your passport photo?
There are many ways to look good in your passport picture. Make sure you feel relaxed, which will also help you look natural. Don't smile too hard – instead, go for a nice genuine smile without showing your teeth. If using makeup, try to make it look as natural as possible, while still concealing the unwanted imperfections. I'd recommend turning to YouTube here for some tutorials if you don't feel comfortable with putting on makeup or ask a makeup-experienced friend to help you.
Can I wear makeup in my passport photo?
Yes! You can definitely wear makeup in your passport photo, just make sure it looks nice and subtle (no fake eyelashes, shimmery eye shadow, or bold lipstick). Applying too much foundation may actually make your face appear wrinkly by creating textures that will be visible in bright lighting.
Do I need a professional camera to take my own passport pic?
You absolutely don't need a professional camera to take your passport photo! If you have a smartphone with a high-resolution camera, it will definitely suffice. If you don't have one – ask a friend or family member who has either a smartphone or camera to let you borrow it (and perhaps help you take the photos while they're at it).
Why do passport photos look so bad?
Passport photos may look bad for a few reasons, such as poor lighting, tense posing, or a limited number of takes. However, a few tricks can help you take a perfect passport photo that will flawlessly reflect your beauty in real life. Take a look at our tips here.
Why is my ID picture ugly?
ID photos and passport photos have specific requirements that need to be followed; unfortunately, there isn't as much freedom to them as to photoshoots. What may make your ID picture "ugly" is an awkward expression, posing, bad lighting, or poor quality.
I look ugly in pictures. What can I do?
Pictures can be enhanced naturally, and it is not about your appearance—it's about how you prepare for your photo. Relax, loosen up your shoulders and keep a neutral facial expression. These simple tricks will ensure you get a nice passport photo.
Does bad lighting make you ugly?
Bad lighting can have a massive impact on your passport photo. Make sure it doesn't cause the picture to be over or underexposed. Also, any shadows cast on your face or behind you can alter your actual appearance. Providing good, natural light will positively affect your photo!
Blurred passport photo—what to do?
If your passport photo is not high-quality, do not try to alter it digitally on your own! The US Department of State will not accept such images. If the passport photo turns out blurred, you must take another one. Try Passport Photo Online—a passport photo tool that allows you to take as many pictures as possible until you find the perfect shot!
Why is my passport photo so dark?
One of the crucial elements of a good passport photo is the lighting. If it's poor, then your passport picture may be underexposed. Find natural light that will highlight your face without casting shadows.
Final thoughts
Let's be honest – passport photos usually don't come out the way we wish they would. We want people to look at our picture and be impressed, instead of making a suspicious face and giving us an odd look.
Here the internet comes to our rescue with photo apps that let us take our own passport photos that are professional and meet the official standards. You no longer have to make the trip to a photo booth or look for a photographer, because you can easily get your ideal passport photo from home and look like your best self in the picture!
Sources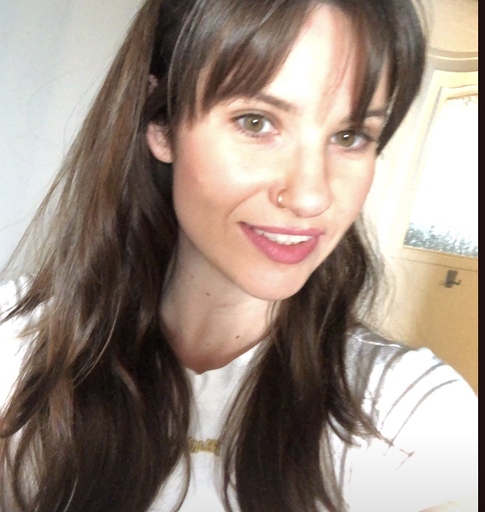 Magda is an art & travel expert who is passionate about all things late-Victorian, history, languages, casa museos, Spain, and food illustration. She is a specialist in the field of biometric photography. Magda also loves reading, creative writing, and hanging out with her three cats.