When you're taking a passport photo, you've got a lot of things to think about. You need to consider your background, the lighting, even whether you want to print a paper copy of your photo, or take the simpler option of downloading a digital copy!
One question you might be asking yourself is: "How can I prepare the best makeup for my passport photo?"
Passport Photo Online wanted to answer that question, so we've spoken to 6 awesome professional makeup artists and bloggers, with over 140,000 Instagram followers between them, who have generously agreed to share their insider expertise to give you the best advice on how to get your makeup ready for your passport photo:
Michelle Stern (US)
Colette Casher (U.K.)
Kierra Lanice (US)
Carla Bailie (U.K.)
Cristina Mayordomo (Spain)
Jackie Wyers (US)
Read on, as our makeup artist partners take you through each stage of getting your makeup ready, so you can create the perfect passport photo, first time.
In this article:
Best makeup for passport photos – general tips
Before we get into the finer details of preparing your passport photo makeup, let's take a look at some general tips that will help you plan what you want your overall style to look like:
Tip #1: Keep it timeless
If you're putting makeup on for your passport photo, you need a look that's timeless. Fashion changes on a dime in the modern world, and your passport photo needs to be able to last 10 (ten) years. If you use current trends to plan your photo, your look will go out of date very quickly.
Tip #2: Aim for what you look like on an average day
When you're applying your makeup, think about how you look every day – your goal is to look as close to your normal appearance as possible. Keeping to that will make it easier for the passport officials to recognise you. Jackie says that the best makeup for an up-close, fast flash photo enhances your natural facial features, rather than creating an overly artistic look.
The automatic facial recognition that the passport authorities use will not be affected by "natural, everyday makeup." In fact, if you normally wear that sort of makeup, it might even make you easier to recognise. The message here, then, as Carla says, is to make sure you wear no more makeup for your passport photo than you normally would.
Tip #3: Keep it simple and plain
Kierra recommends that you should avoid particularly elaborate makeup designs, for example:
glitters
dramatic lashes
graphic eyeliners
overly sculpted eyebrows
any other elaborate makeup.
Such designs may interfere with facial recognition, and could, therefore, cause problems with your passport photo.
For example, mineral makeup can cause "shine and glare," because it reflects light, making them unsuitable for passport pictures. Instead, use a matte or demi-matte foundation, along with a translucent setting powder to absorb any excess oil. Finally, blending is key, so make sure whatever base makeup you're planning on using is well blended.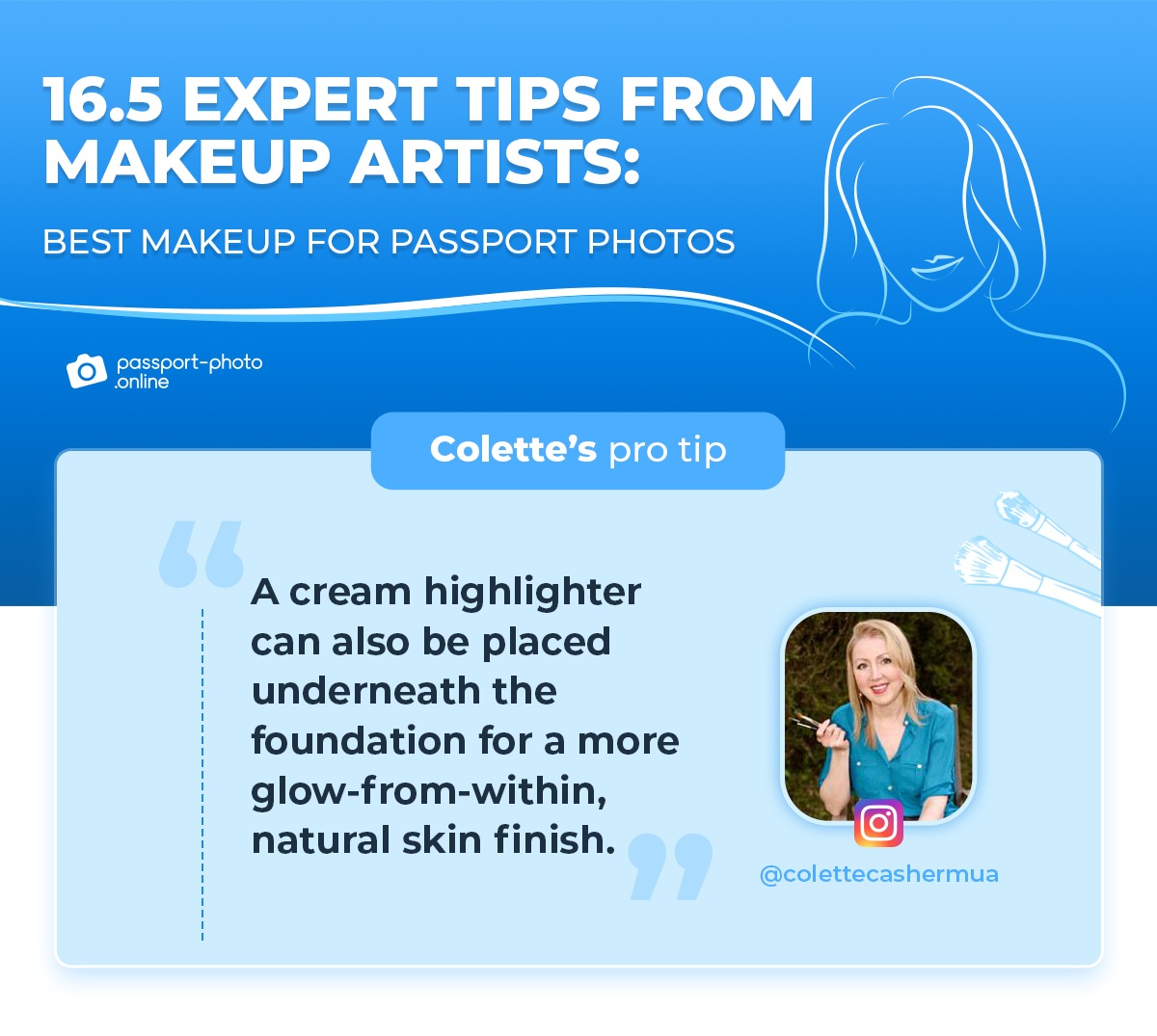 Tip #4: Make sure you've prepared yourself in advance
There are a number of steps you can take to prepare yourself for a passport photo, so you can look your best.
Make sure that, the night before your passport photo, you get plenty of sleep.
Wash and do your hair in advance of taking your passport photo, because "that hair will follow you for a decade!" (Pro Tip by Michelle)
It's also important to have a good diet, exercise, brush your teeth, and drink enough water.
Make sure to check your makeup before you take the photo in case there are any "shiny areas" that may cause unwanted reflections.
We also have more in-depth articles if you are interested in passport photos:
Best makeup for passport photos – skin tips
When planning makeup for any occasion, first you have to think about your skin. That means keeping your face moisturized, applying foundation and contouring.
Tip #5: Use makeup that doesn't create reflections
When choosing makeup for your skin, remember that this will be a flash photo. Therefore, any makeup you apply must not be shiny in any way. For example, try not to use products that contain particles of titanium and zinc oxide, including most sunscreen-based makeup. You should also avoid wet skin effect makeup or anything with a shimmer effect. With a flash, these would create too much reflection.
Cristina recommends a discreet matte foundation. When you choose your foundation, Carla advises against using SPF (Sun Protection Factor) makeup. Even when the SPF is as low as 15, there is a risk it will create a white cast, making you look pale, as well as causing reflections. Avoid particularly light tones when choosing concealers and setting powders.
An important guideline for passport photo makeup is to pick products for your complexion that will closely resemble your skin tone. Jackie adds that it is very important that your face, neck, and chest match in color if you wear foundation.
Avoid using too much highlighter, as this can also create reflections. Colette and Kierra recommend that you apply makeup to the center of your face (the T-Zone) with translucent setting powder to absorb any excess oil, as this can help reduce shine.
If you plan on using such powder, choose one that has some color in it, rather than using a white-colored one, so that it doesn't create reflections.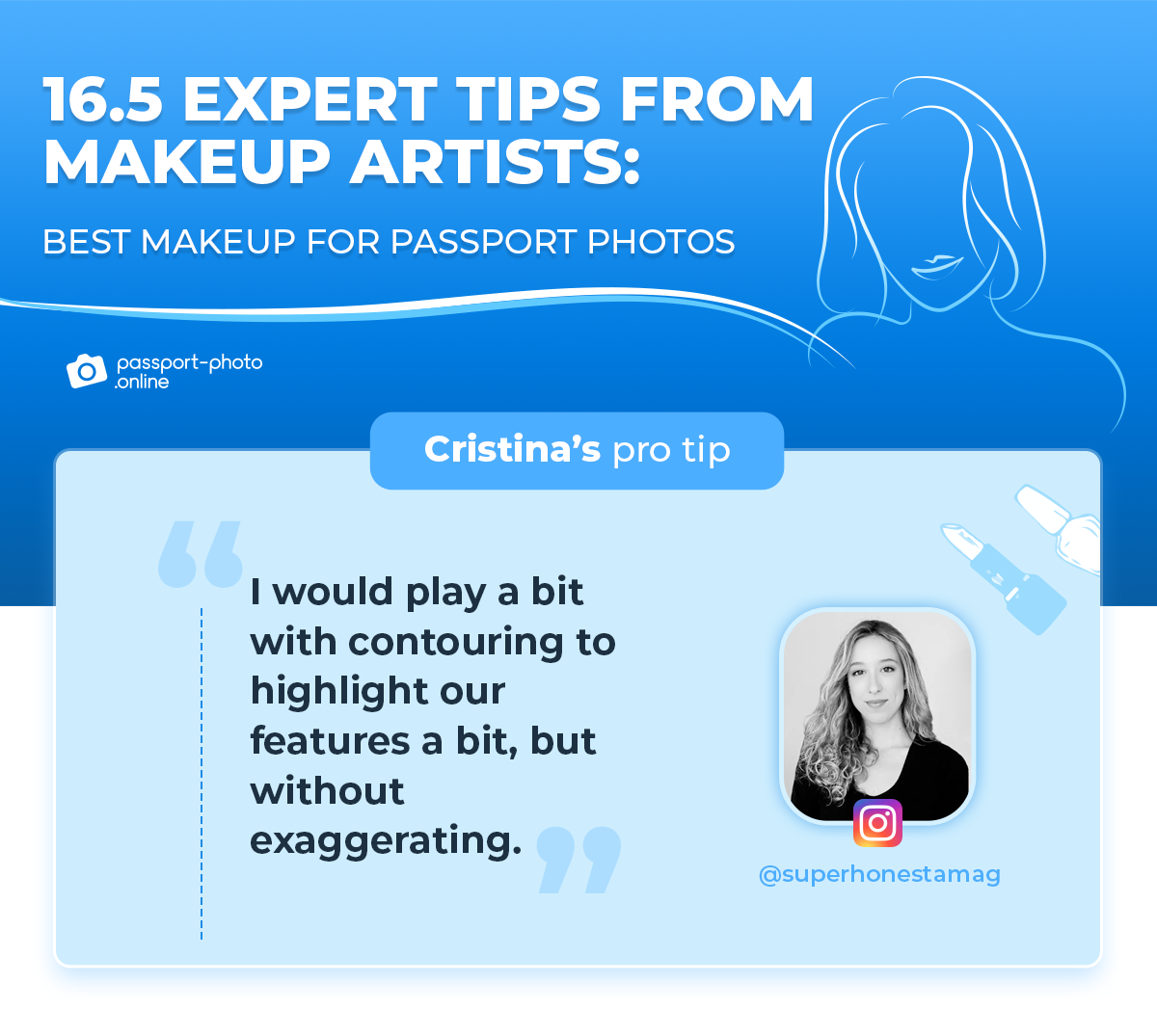 Tip #6: Use contouring to accentuate your features
Contouring is really important, as flash photography tends to flatten your features. Ideally you should aim for around 3 shades darker than your natural skin tone to bring dimension to your face.
The best strategy is to apply makeup around the hairline, under the cheekbones, and down the sides of your nose, blending it out as you go along. Don't leave it until the day of the photo to experiment with this. Practice in advance to look your best in your passport picture.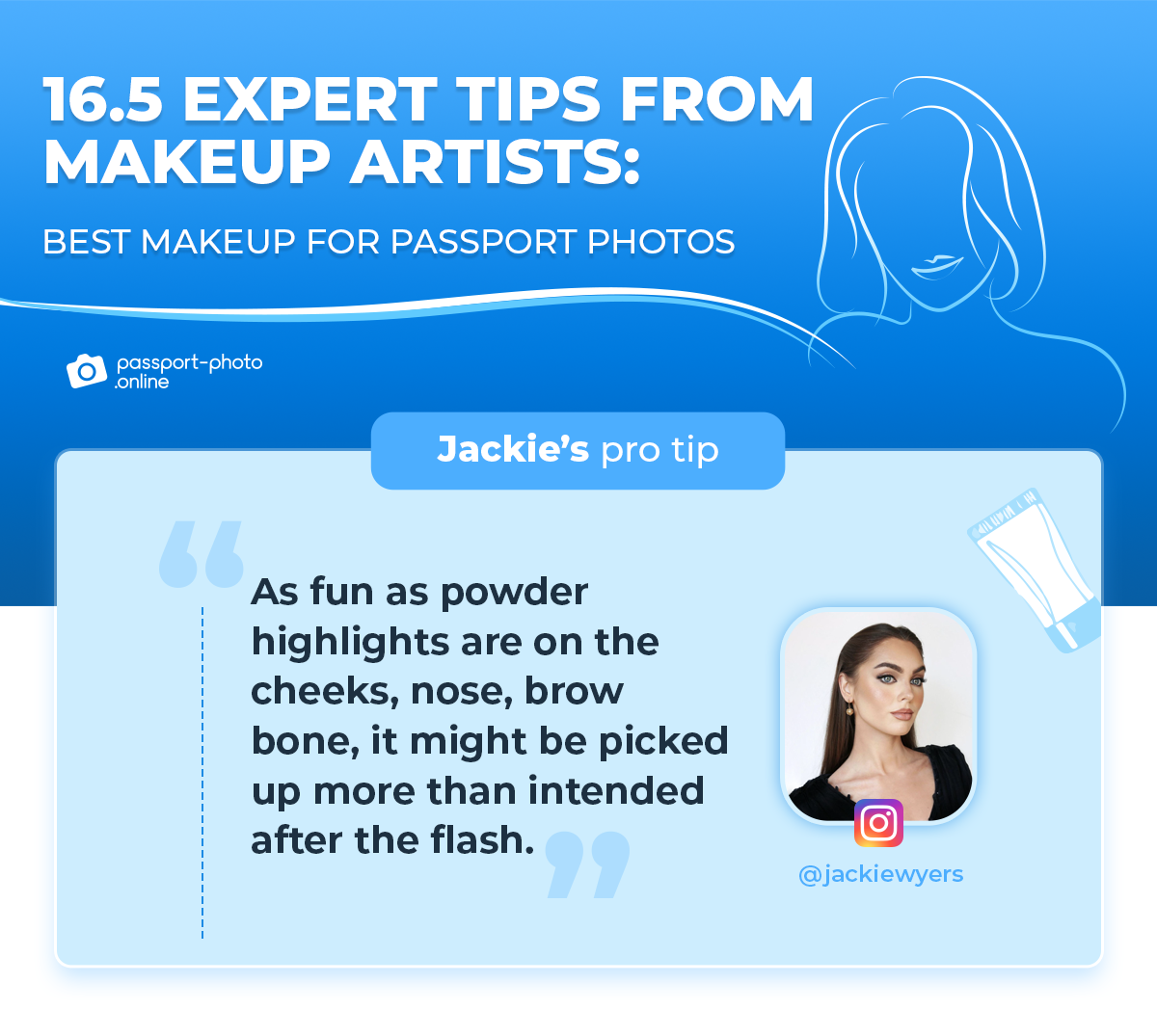 Tip #7: Prepare your skincare regime in advance
When you know you have a passport photo coming up, Colette emphasizes the importance of preparation. She recommends that you exfoliate your skin before taking the photo, following an especially thorough skincare routine for a few days in advance of the session.
This can include:
exfoliating
cleansing
toning
moisturizing.
You might even choose to treat your skin with a hydrating face mask, or a facial treatment for an added boost of moisturizer. If you are using a mask, it may be a good idea to allow some extra time in order to clear your skin in the event of any breakouts.
Tip #8: Keep your natural skin tone
Avoid applying any self-tanners before you take your passport photo, as your photo needs to look like you with your natural skin color.
It's a good idea to include blush in your makeup process, as it can give you color and add dimension to your face. You can also wear bronzer, ideally with blush. Before you take the picture, Michelle suggests you keep some blotting paper handy so that you can blot off any excess oil before you take the picture.
Best makeup for passport photos – lip tips
Next, it's time to think about lipstick. When picking out your lipstick for a passport photo, there are a couple of things that you need to remember.
Tip #9: Keep your lipstick simple
When selecting lipsticks or glosses, Kierra recommends that, instead of hi-shine lipsticks or glosses, you choose soft-matte or creamy textures. Too shiny lipstick can cause reflections in your passport photo, which may disqualify your application.
Tip #10: Look for natural lipstick colors
Avoid brightly colored lipsticks, and go for more neutral lipstick with a natural everyday look. You can use lip liner to give you a more precise application, but avoid overdrawing for a fuller lip effect.
Ideally, you should keep your lips looking natural. To make them look healthier, Jackie recommends that you add a little bit of Vaseline or balm to your lips after coloring. Not too much, though – remember you don't want your lips to look too shiny!
Best makeup for passport photos – eye tips
Your eyes are among the most important parts of your passport photo. A lot of the official requirements revolve around making sure your eyes are visible, not covered by hair or shadows. Here are our expert tips for how to make them look their best.
Tip #11: Look lively with eye drops, concealer, and a good night's sleep
The first step is to get a good night's sleep. After that, you may wish to take a Lumify eye drop in each eye, to ensure you have extra bright, white eyes.
Michelle and Jackie also suggest that to look your best, you use an undereye concealer, like Makeup Forever Matte Velvet Skin High Coverage Multi-use Concealer. This is a good idea, because the camera will pick up any darkness under your eyes, which can make you look tired and unwell. Using concealer helps you look fresher and healthier.
Tip #12: Use a neutral eye shadow
When the time comes for you to choose your eye shadow, Carla recommends neutral colors – remember, we're aiming for timeless! Colette backs up this advice, while also suggesting a light application to draw attention to your eyes in the photo.
In order to make your eyes appear bigger in the photo, put a little more of the darker shade of eyeshadow in the outer corner of your eye.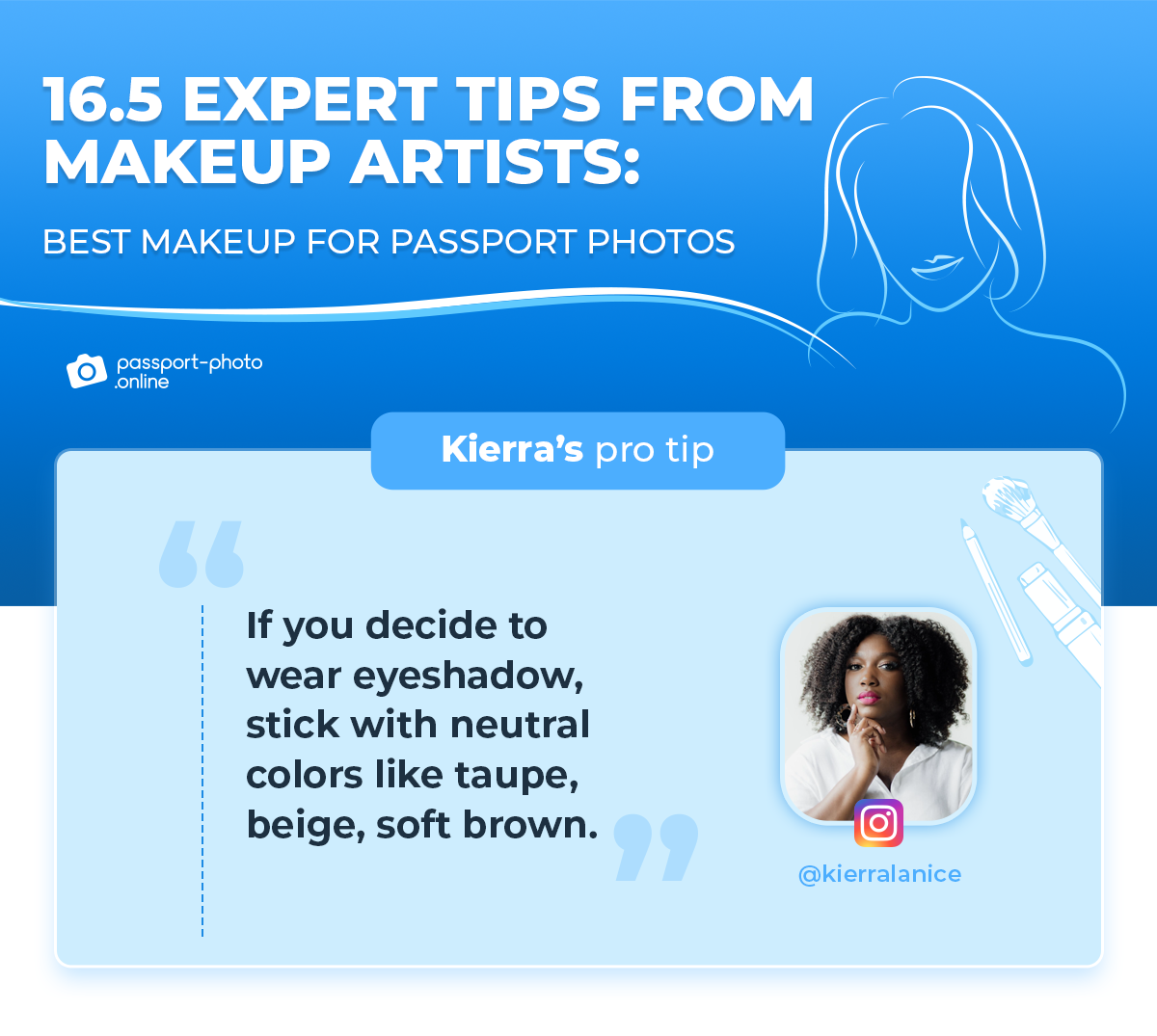 Tip #13: Keep eyeliner simple
As with eyeshadow, it is a good idea that your eyeliner is simple and neutral. Avoid dramatically winged eyeliner in particular. It's best to draw a thin line close to your upper lash line, using only a small, subtle wing at the end, to make your eyes appear larger.
For more mature skin, a good approach would be to use a dark brown pencil liner as opposed to black gel or liquid liner, which can be harsher.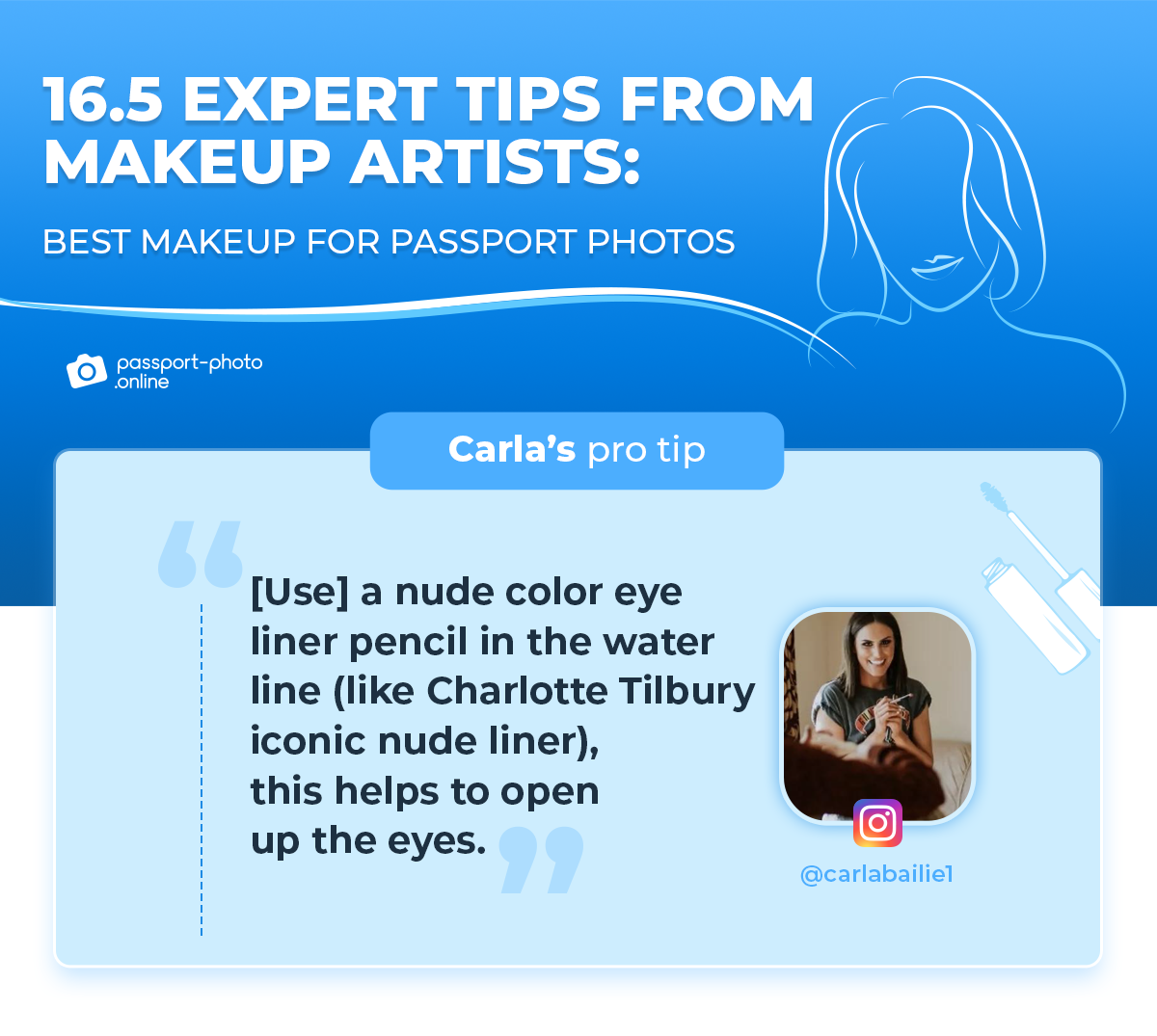 Tip #14: Use black mascara, avoid fake lashes
When doing your lashes, try using black mascara to enhance your eye color, even if you're blonde!
In general, it's best to opt for a lash lifting mascara over fake lashes. Colette suggests that if your lashes are particularly short, well applied fake lashes may work but, if in any doubt, stick with mascara.
Best makeup for passport photos – brow tips
When preparing your eyebrows for a passport photo, your process will depend on your natural eyebrows.
Tip #15: Keep your eyebrows even
Your eyebrows need to be as tidy as possible. Do plucking or waxing 4-7 days in advance to avoid any redness. If your browline is still reddened on the day, you could use ice and/or aloe vera to settle it down.
When preparing your eyebrows for a passport photo, you also need to fill them in for definition. Brows are very important for creating symmetry in your face. Therefore, it's a good idea to use a brow pencil to fill in any sparser areas in your eyebrows to balance them. You don't necessarily need to do much more than that to your eyebrows.
Tip #16: Don't overdo drawing your eyebrows
Don't overdraw your eyebrows, as this is likely to go out of fashion quickly, definitely in less than the 10 year period of validity your passport has.
Avoid using products that are "shiny", to ensure there is no reflection in the photo. Go for a matte product, or similar, such as a brow pencil or powder.
Tip #16.5: Check out our extra tips on regulation-compliant makeup
If you're looking for more information on this subject, check out this other article we've published on the subject of makeup in passport photos.
Best makeup for passport photos – conclusion
The secret to taking a good passport photo is to present yourself as you normally would. As our fantastic makeup artists have said, the best makeup strategy for a passport photo is to accentuate what is already there, so you can be easily recognized in your passport photo.
Keep your makeup choices as close as you can to your natural skin tone, and avoid any makeup that would be too "shiny" in order to prevent reflections and passing trends that will go out of fashion before your passport expires.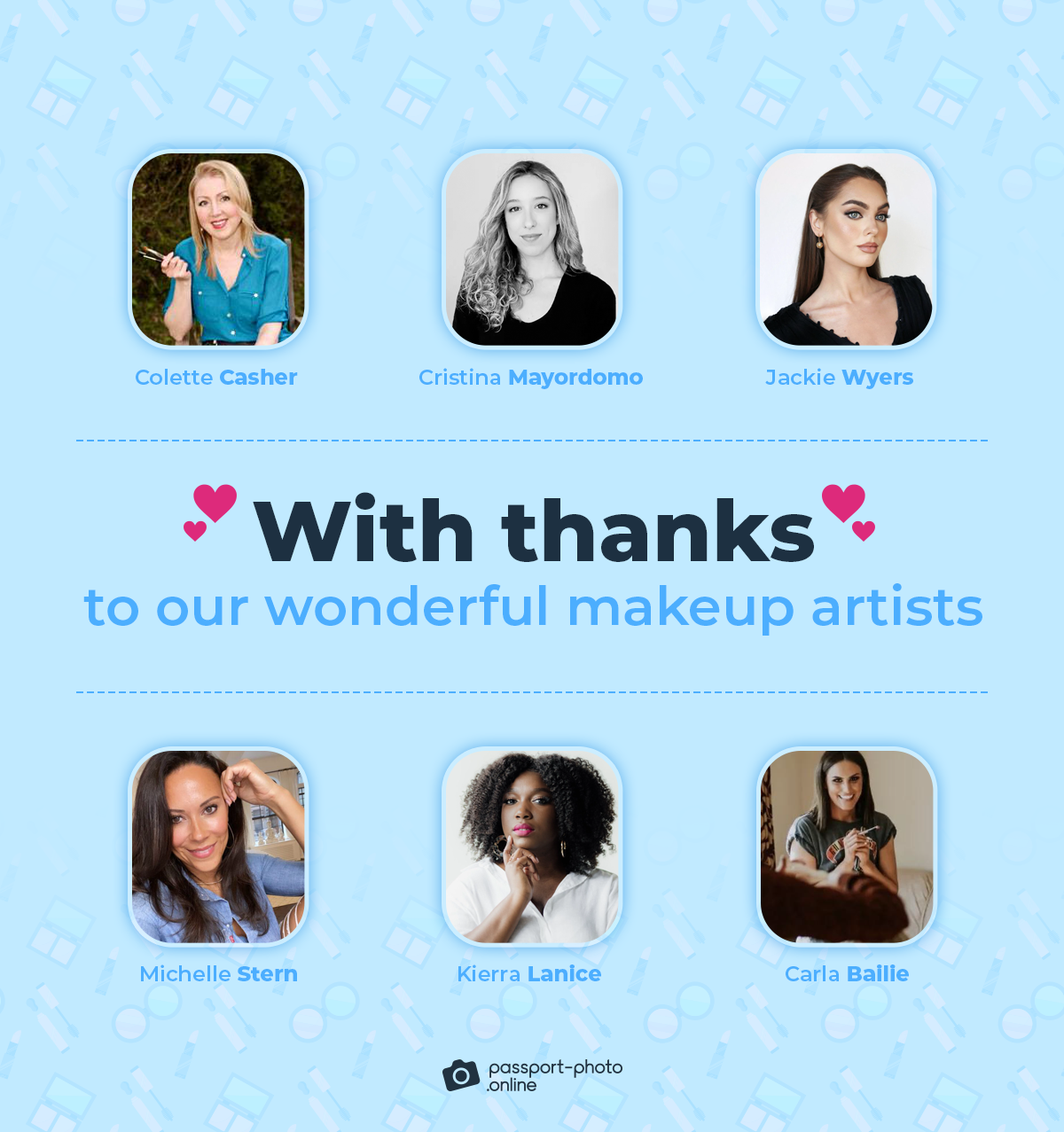 Related reading: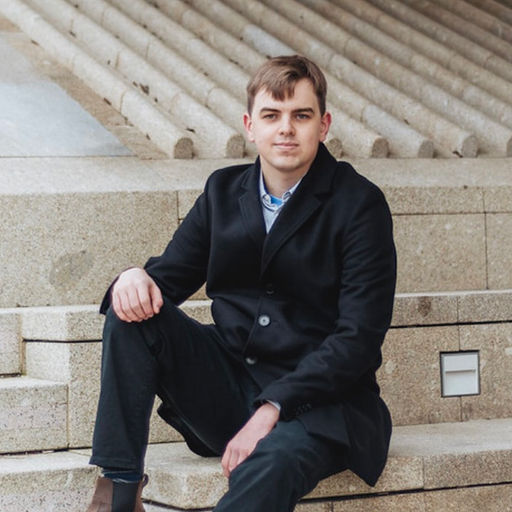 Having graduated with a History degree from the University of Birmingham, Sam has proven writing experience in biometric photography articles, marketing and events. Born in the UK, he has travelled extensively both nationally and internationally. In his spare time, he enjoys reading, cycling and skateboarding.