You want to look your best in a passport photo. And that's understandable—after all, your travel document is valid for 10 years.
But can you enhance your facial features with makeup? And if so, what's acceptable by the US Department of State?
If you're looking for more details on passport photo makeup rules, you're in the right place. Here, we will cover the regulations concerning beauty products, makeup tips, and dos and don'ts of your passport photo makeup.
Stay with us to discover:
Ensure your passport photo—and your makeup—is 100% compliant with the official requirements. Use our Passport Photo Booth App for iOS or Passport Photo Maker App for Android and get a double verification guarantee!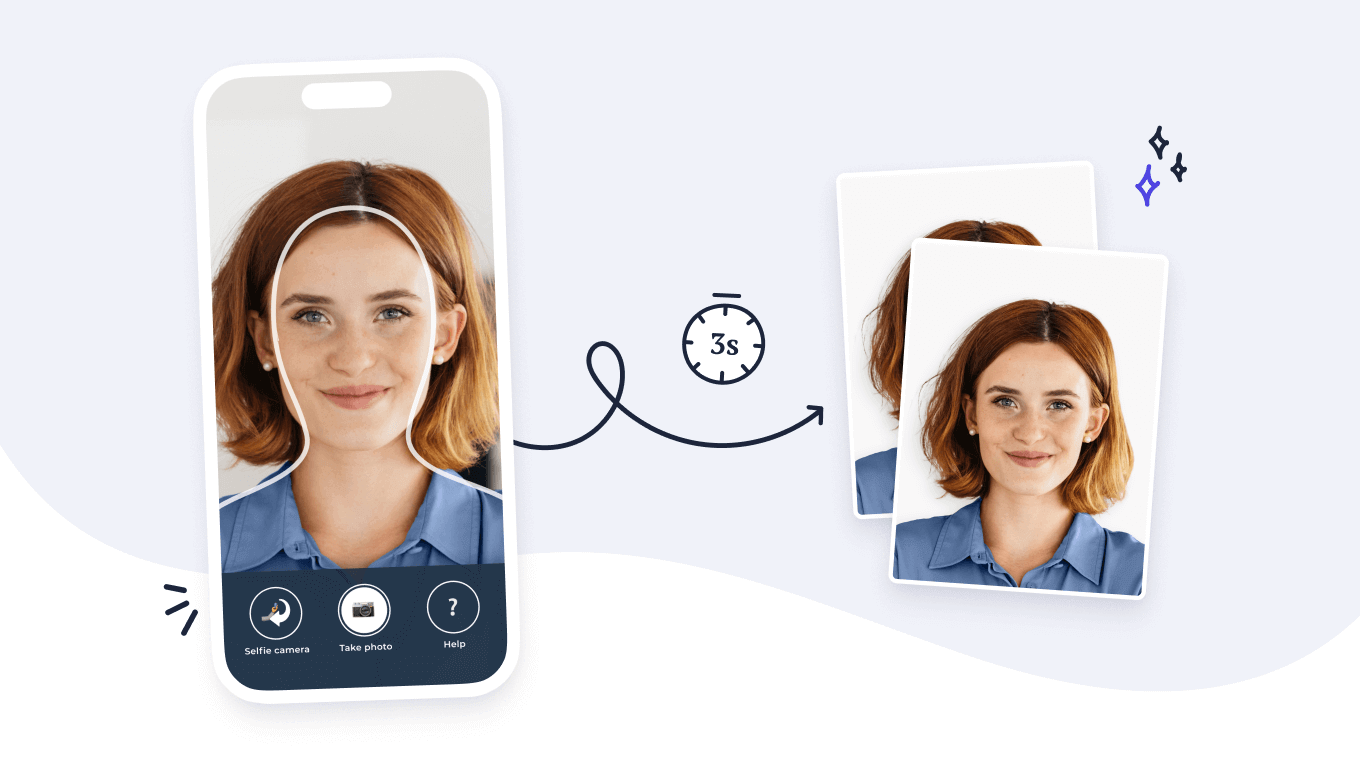 Makeup is only one part of your passport photo appearance. For other aspects, give these articles a read:
Can you wear makeup for passport photos?
The short answer is—yes, you can wear makeup for passport photos.
However—
Not all beauty products are a good choice for biometric photographs.
Even though the US State Department doesn't mention specific regulations about makeup for your passport photo, the most important thing to remember is that a biometric picture must reflect your natural, current appearance.
So what kind of makeup will be acceptable for your passport photo? Keep reading to find out!
How to do good passport makeup: tips
Although makeup is fine for passport photos, it can't be any makeup.
But worry not! Below are five tips for preparing your perfect makeup for a passport photo.
Tip 1: Don't follow trends!
And we can't stress that enough.
Nowadays, with plenty of TikTok trends running around, it's easy to find any passport photo makeup tutorial. Unfortunately, most of them will make your picture rejected.
Why's that?
Authorities use passport photos for easy identification. If you have heavy makeup in your passport photo—which you don't wear daily—that can cause problems whenever you need to show your document.
Let us show you an example:
Last year, a beauty and makeup creator on TikTok published her passport photo makeup tutorial, which instantly went viral. It's still visible in top-ranking results. However, it's not the best blueprint for your passport photo look.
Don't get us wrong—the makeup looks impressive. But it's far from the natural, everyday appearance of Georgia Barratt, the creator.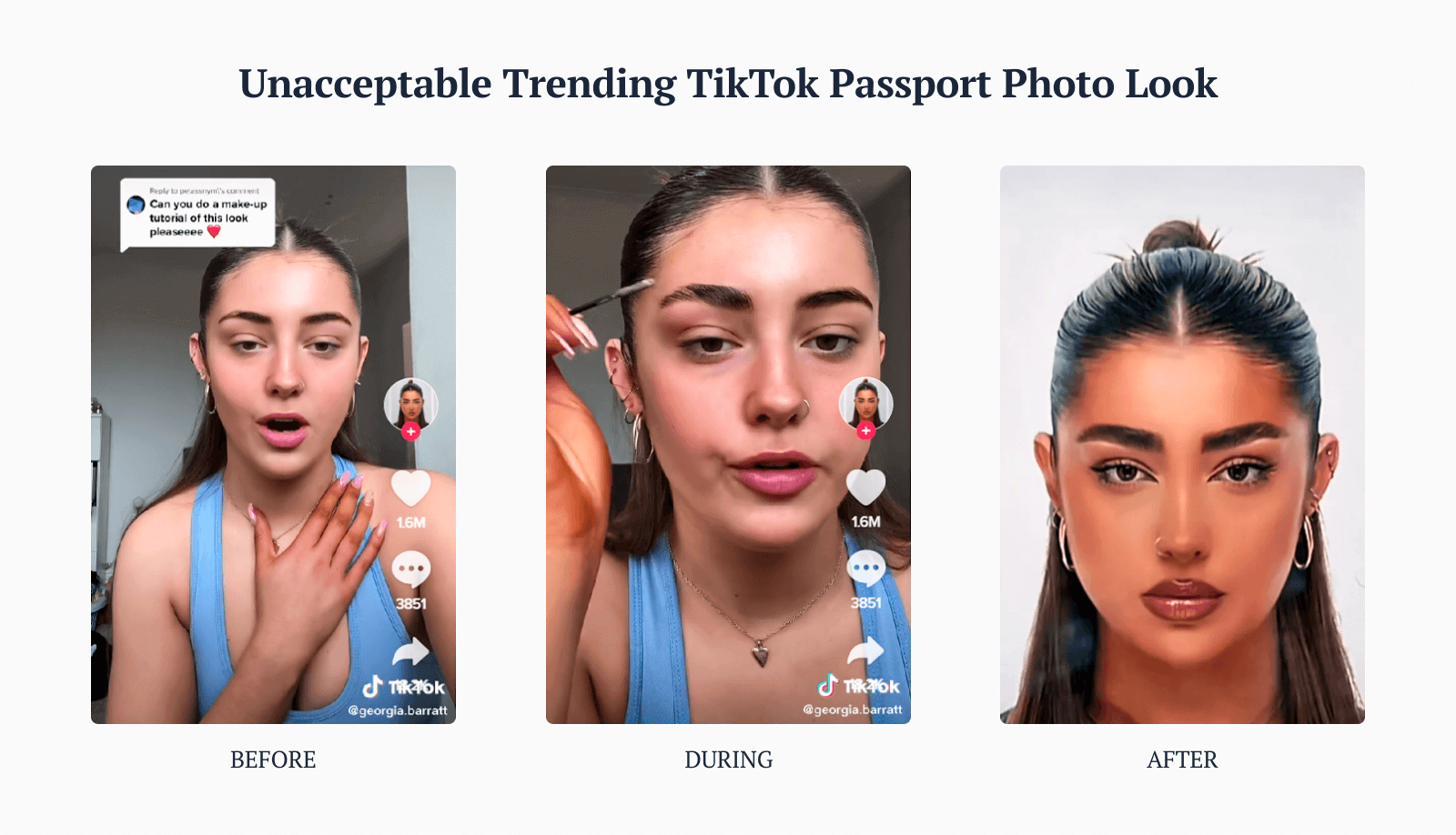 Tip 2: Go for a natural look
We'd like to connect this tip with the previous one.
That being said—
Keep your passport photo makeup natural and simple. You can still use your favorite products but ensure they don't alter your facial features or natural skin color.
For your eye makeup, avoid fake eyelashes that are much longer than your natural ones. Remember that your eyes must be fully visible in a passport picture. The same goes for eyebrows that are too thick or dark.
Tip 3: Avoid bright colors
Speaking of colors…
Eyeshadows, lipsticks, or even a powder blush is acceptable if used in moderation.
So, pick light, natural colors (like beige or light brown for your eyeshadows) rather than bright, loud, or sparkly products.
Tip 4: Drop products with SPF
This tip may sound weird at first, but hear us out.
The SPF is used in creams and foundations to create a barrier against the sun. Consequently, it causes a bit of a white cast on our skin.
If we add to that a bright light in a photographer's studio or even natural light, it will be visible on our face.
So, even on a sunny day, avoid using high SPF products for your passport photo shoot. After that, you're free (and advised!) to wear it!
Tip 5: Test your makeup beforehand
It's always good to test things out.
Why not implement this into your passport photo makeup process?
Not only will you find and match products that highlight your natural skin tone, but also you'll feel more confident with the makeup you already know.
And that's more than enough to look great in your biometric picture!
Want to check how your makeup looks in a passport photo? Try Passport Photo Online! With unlimited tries, you can test plenty of makeup varieties until you find the perfect passport photo.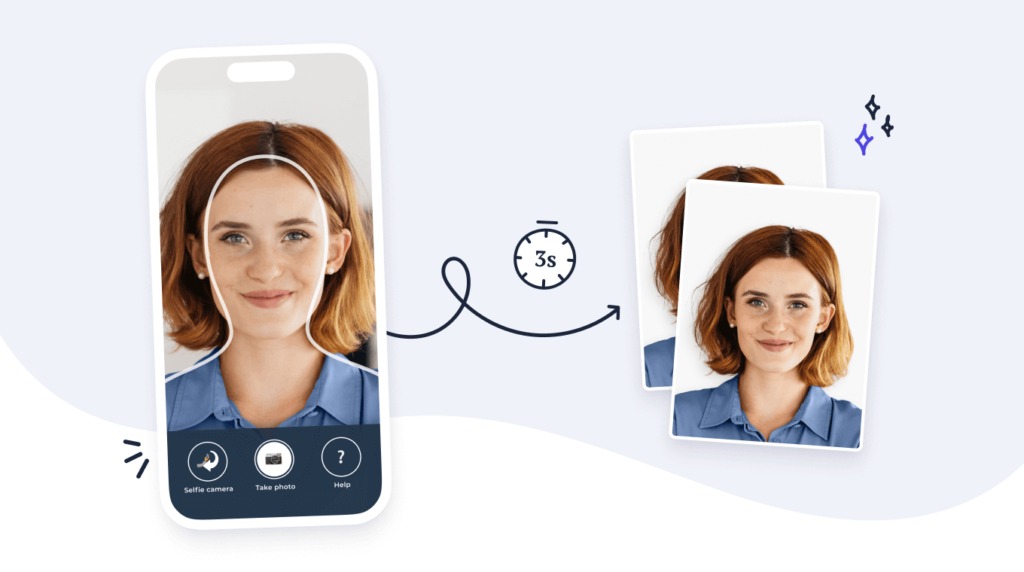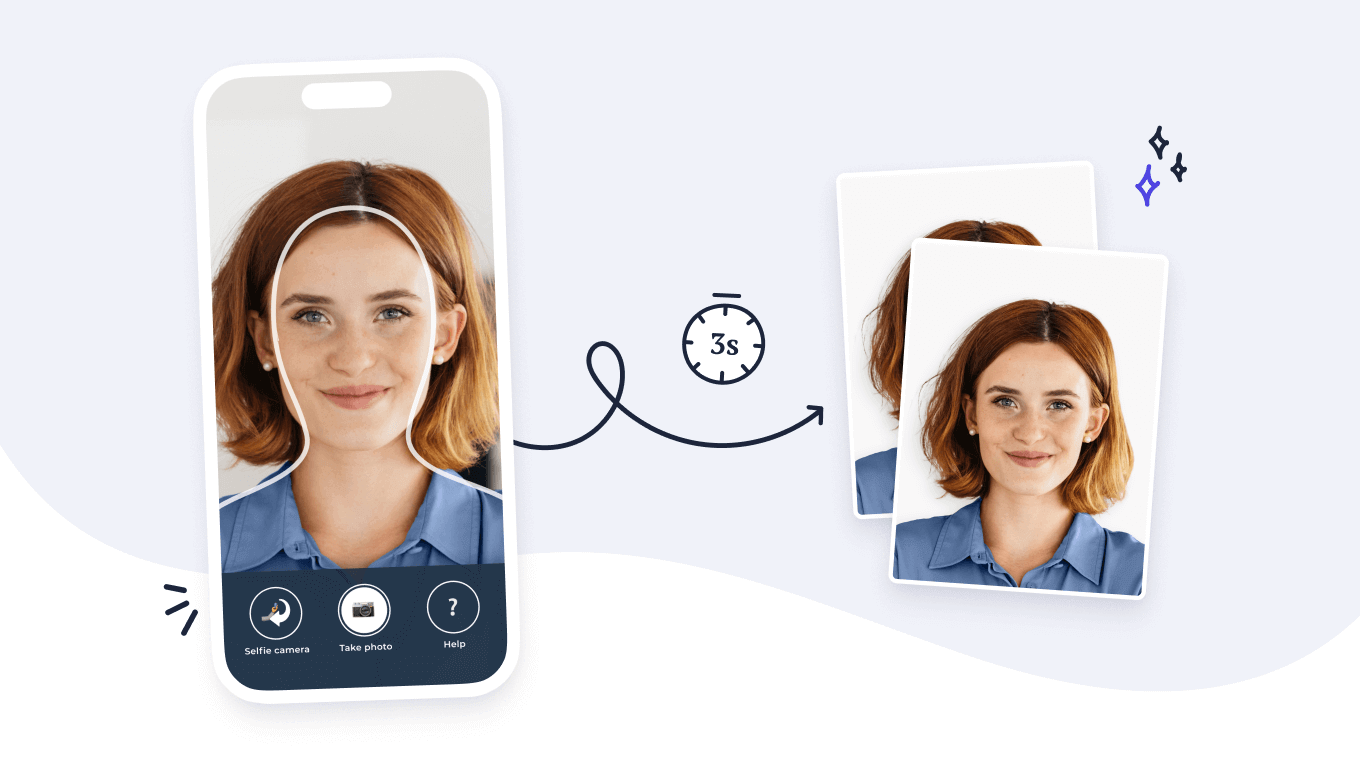 FAQs
Can you wear eyeliner in a passport photo?
Yes, you can wear eyeliner. Keep it simple, though. Avoid long, thick lines or winged eyeliner.
Can you wear eyelashes in a passport photo?
It's best to avoid fake eyelashes. However, if you want to wear ones, keep them short and ensure they don't cover your eyes.
Can you wear lipstick in a passport photo?
Yes, you can wear lipstick in your passport photo, but it can't be too bright or far from your natural lip color.
Key takeaway
Let's say it once again:
Makeup is acceptable in your US passport photos.
However, remember to keep it simple and as natural as possible. Avoid brightly-colored makeup products, resign from fake accessories like eyelashes, and ensure all your facial features are visible.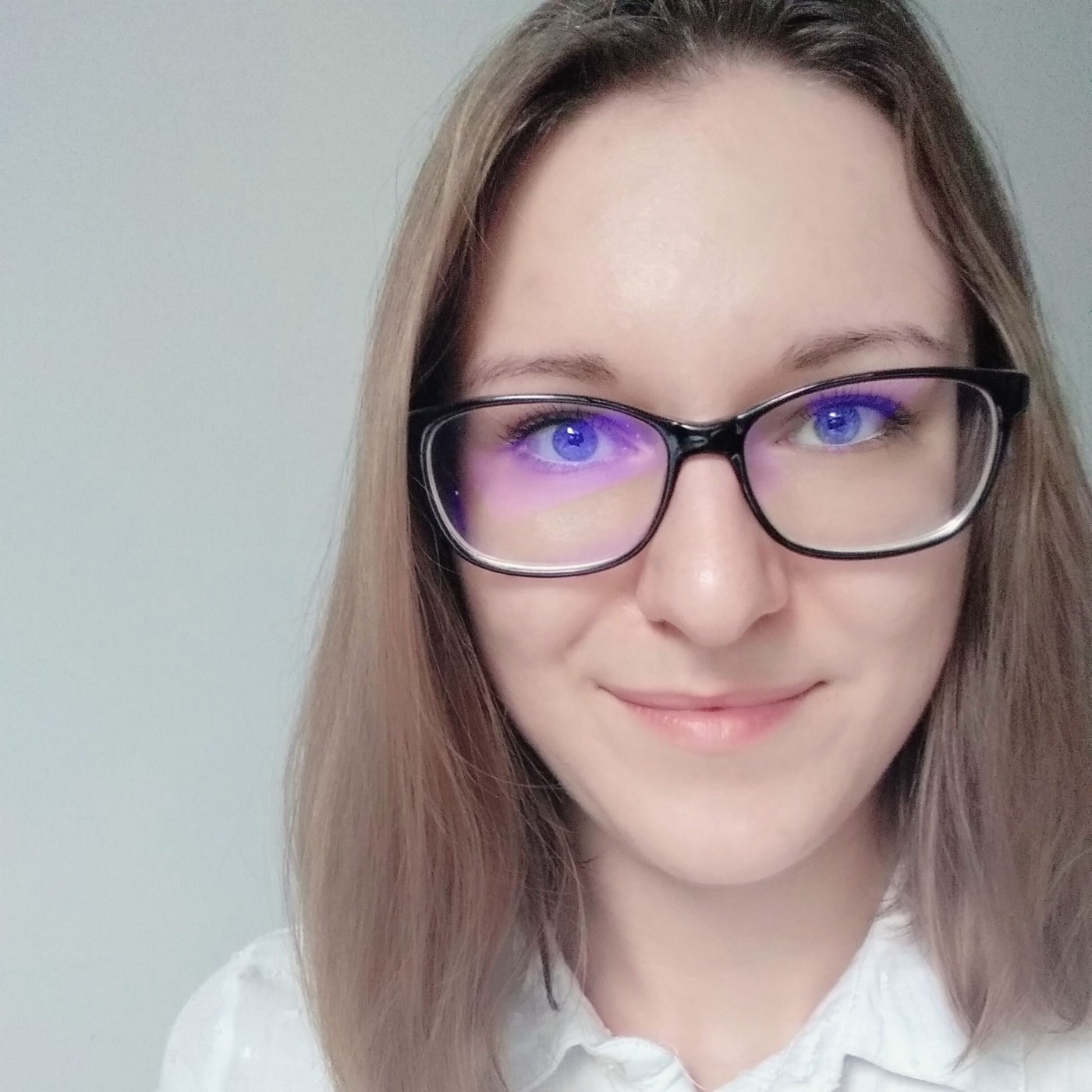 Roxana Grabowska combines her passion for language and biometric photography to craft reader-friendly content. Her work provides a clear guide to creating suitable photos for identity documents, making the process more accessible. Roxana's background in linguistics and love for travel have made her appreciate the importance of high-quality biometric photos in ensuring smooth travel experiences.