If you're reading this blog post, you're probably no stranger to the ID photo or passport photo "nightmare". People complain about their document photos looking like mugshots or those of wanted criminals. The worst thing is that no matter how much we wish to hide that failed passport photo forever, every now and then we still have to live through the shame of showing it to border officials.
However, this will no longer be a nightmare once you know the secrets to obtaining a beautiful passport photo. There are no big secrets here, what we are about to share with you are essential passport photo makeup tips which are easy to apply but can be a real game-changer. Before discovering useful tips to help you look bomb in your passport photo, let's find out about makeup rules for passport photos.
Can I wear makeup in a passport photo?
If you are still uncertain whether you are allowed to wear makeup for a passport photo, we are here to give you the concrete answer: yes, you can wear makeup in a passport photo if you wish to, and it's not against the official requirements for passport photos.
There are no particular passport photo makeup rules given by the government or official authorities to follow. However, some "unwritten" passport photo makeup rules do exist and if you break these rules, your passport photo might risk being rejected.
The no-makeup look
This is the perfect go-to makeup look when you need to take a passport photo. This makeup can brighten up your face and enhance your natural facial features.
However, this doesn't mean that you have to use as few makeup products as possible to look natural. You can use just the same amount of makeup as usual. The key of this effortless look lies in the use of a neutral color palette to help bring out your features but still look natural at the same time.
If you're wondering how to get this perfect natural look without cutting down on some of your favorite makeup products, stick around because we will reveal it soon in the paragaphs to follow!
Keep your natural skin color
Your passport photo must reflect your natural skin color, so don't tan the day before you take your passport picture – you probably won't be as tan the next time you need to show your passport to TSA officers. Moreover, don't apply foundation that is too dark or too light with respect to your real skin color when you do your passport photo makeup.
Avoid base products/sunscreen with high SPF
You've surely seen those failed makeup photos of celebrities with flashback under their eyes and on their cheeks, nose, and chin. Wonder why they ended up with such disastrous makeup even though it was done by professional makeup artists?
Actually, white cast on your face in a photo is way easier to happen than you think. And it's one of the most common mistakes in makeup. White cast is caused by makeup products that contain UV filterssuch as titanium dioxide and zinc dioxide.
If you don't want to end up with flashbacks on your face in your passport photo, use base products that have an SPF under 15 or just consider ditching SPF altogether.
Don't follow makeup trend
We can't deny that the beauty industry is one of the most dynamic ones that changes from season to season and religiously follows social media trends. While there are new makeup trends appearing constantly, a passport photo does not serve the purpose of showing your makeup skills or your fashionable makeup taste.
Instead, it's meant to identify your biometric features, so when taking your passport photo, don't opt for smoky eyes, neon eyeliner, an overdrawn lip line and so on.
Looking for more tips to get that perfect passport photo? Try reading our other articles:
Beauty tips to look better in your passport photo
The passport photo makeup rules above give you a comprehensive look about what you should follow and what you should avoid when doing makeup for your passport photo shoot. Now it's time to discover essential passport photo makeup tips to get a perfect passport photo that screams "This photo is a legend!" every time you look at it.
Match the foundation on your face and neck
Your head and upper shoulders will be visible in your passport or ID photo. It's normal if you tend to use foundation or cream that is a bit lighter/darker than your real skin tone, however, don't forget to apply foundation also on your neck so that your face and neck don't look like two separate entities.
Powder excess oil on your face
When taking a passport photo, it is much better if you have a matte-finish makeup. If you have oily skin and want to avoid unnecessary shine on your skin, try to mattify excess oil with face powder. The area of your face that usually produces a lot of oil is the "T-zone", which includes your nose and forehead.
Contouring
If you are a fan of contouring, this is good news for you! Some women classify contouring as belonging to the heavy-makeup category. That is not incorrect, however, not necessarily true!
Contouring won't appear clearly in a photo unless you contour your face with a very dark shade with respect to your skin tone.
We suggest you contour your nose and outer side of your face with a light brown contouring powder to balance out your face shape. You can use a big fluffy brush to blend out the contouring powder to create a more natural look.
Matte eyeshadow and eyeliner
You should always go for matte eye shadow to give your eyes a more defined look when doing makeup for a passport photo shoot. We advise you to play with only nude color tones such as brown beige, light brown, semi-dark brown or the like for eye makeup. Glitter eye shadow should be avoided here.
Another tip is to apply a bit of color to the outer V of your eyes – it will make your eyes look bigger. When it comes to eyeliner, it's better to draw a thin line close to your upper lash line, with a small wing at the end. Don't try to go for dramatic cat-eyes or an exaggerated wing.
Neutral lip color
The same tip goes for lip color that you should wear in your passport photo: a deeper, less-vibrant color would be a good fit. For a passport photo or ID photo you need to express a trustful image rather than a fashionable image, that's why you should choose a neutral lip color and apply it on a full lip.
However, don't use lip liner to create a fuller lip effect. Again, we want to emphasize that a passport photo is used to identify you so don't go for anything that wouldn't be an ordinary look for you.
Correct hair parting
This is probably a tip that you haven't heard of before, but it doesn't mean that it's not important. You want your face to look as symmetrical as possible in a passport photo. However, not all of us have a naturally symmetrical face and that's completely normal.
Here is a tip: go for a side part for your hair instead of parting your hair in the middle. Don't ever do a middle part when you take an ID or passport picture because it only emphasizes facial asymmetry. There are no strict passport photo rules for hairstyle so you can style it however you want, but make sure to keep it neat and in place.
Create your own passport photo with our app
Last but not least, we want to give you the last tip that could help you completely avoid the passport photo nightmare: a step-by-step guide how to make DIY passport photo.
Yes! You can definitely create your own ID photographs and control how you look in the photo! Modern technology has allowed us to prepare our own passport photos online in just a few minutes.
Simply use a dedicated passport photo maker software. All you need to do is download our app from the AppStore or the Google Play Store or use our web service at Passport Photo Online, upload a picture of yourself, and in no time you will receive a perfect passport photo that satisfies all the official requirements. This way you will be able to try different makeup looks and take unlimited photos until you find the best shot to upload to our app. Finally, you can easily get a passport photo that you are proud to show to everyone!
Passport photo makeup tips and rules: FAQ
In this section, we will go over the most commonly asked questions regarding makeup in passport photos.
Can you wear makeup in a passport photo?
Of course you can – just don't overdo it. Think of the kind of makeup you'd wear to a job interview.
You can apply a bit of foundation to hide any blemishes or imperfections, put on some mascara to bring out your eyes, and go for light blush and natural lipstick.
Avoid using any makeup products with UV filters in them as they can give a flashback/white cast effect.
Your passport photo makeup should look as natural as possible – it should emphasize your features without making you look dramatic.
Can you wear eyeliner in a passport photo?
Yes, just don't make it look too exaggerated. Go for a thin, barely-there line acros your eye lid (best to start in the middle of the lid moving outward) with a subtle wing at the end. Don't do cat-eye makeup or wear bottom eyeliner for your passport photo.
Can you wear eyelashes in a passport photo?
Fake eyelashes are strongly discouraged in passport photos. They do alter your natural look and may even obscure your eyes.
How to look good in a passport photo?
You can look good in your passport photo by simply applying natural makeup – use it to subtly bring out your features, not overshadow them.
Make sure your hair is neat and clean.
For any blemishes on your face use a cover-up stick as it won't make you look cakey, just hide the imperfections.
To all the guys out there – if you have a beard or goatee, make sure it's well-kept and tidy.
What if you have acne in your passport photo?
If you have acne, try using a cover-up stick or a bit of foundation to mask the spots before you take your passport photo. However, don't try to edit your photo or use filters on it, because it may be rejected.
What are the do's and don'ts for a passport photo?
Do go for natural makeup when taking a passport photo. Opt for matte makeup and neutral tones such as beiges and browns. You can use a cover-up stick to conceal any imperfections on your skin, wear some brown-tinted mascara, and make sure your makeup is nicely blended and there are no smudges.
Don't wear fake eyelashes, lipgloss, or bright/neon eyeshadow. Don't wear makeup that's too heavy and don't go for any over-the-top hairstyles.
Can I wear makeup for biometrics?
Yes, but remember to keep it low-key and natural – think of the type of makeup you'd wear to an interview for an office job.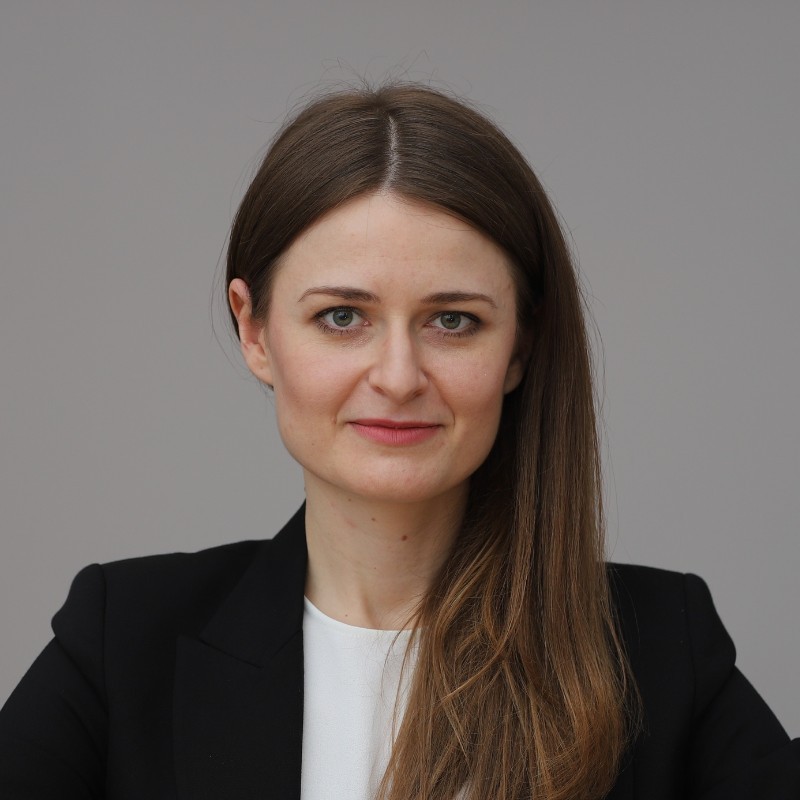 Karolina's passion for law, technology and photography led her to PhotoAiD S.A., where for the past 3 years she has been an expert in the implementation of passport photo compliance procedures in +80 countries around the world.