You probably have heard a lot, or at least once, about the ID photo or passport photo "nightmare". People complain a lot that their photos look like a mugshot and they look just like a wanted prisoner. The worst thing is that no matter how much we want to forget or to hide that failed passport photo forever, we still have to show them to others in certain circumstances.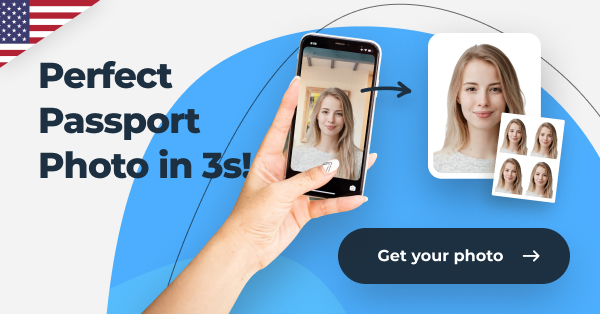 However, this will no longer be a nightmare once you know the secrets to obtain a beautiful passport photo. There are no big secrets here, what we are about to share with you are essential passport photo make-up tips which are easy to apply but can be a real game-changer. Before discovering useful tips to help you look bomb in your passport photo, let's find out about make-up rules for passport photos.
Looking for more tips to get that perfect passport photo? Try reading our other articles:
Can I wear make-up in a passport photo?
If you are still uncertain about if you are allowed to wear make-up before taking a passport photo, we are here to give you the concrete answer: Yes, you can wear make-up in a passport photo if you wish to and it's not against the official requirements of a passport photo. There are no particular passport photo make-up rules given by the government or official authorities to follow. However, "unwritten" make-up requirements for passport photos do exist and if you break these rules, your passport photo might risk being refused.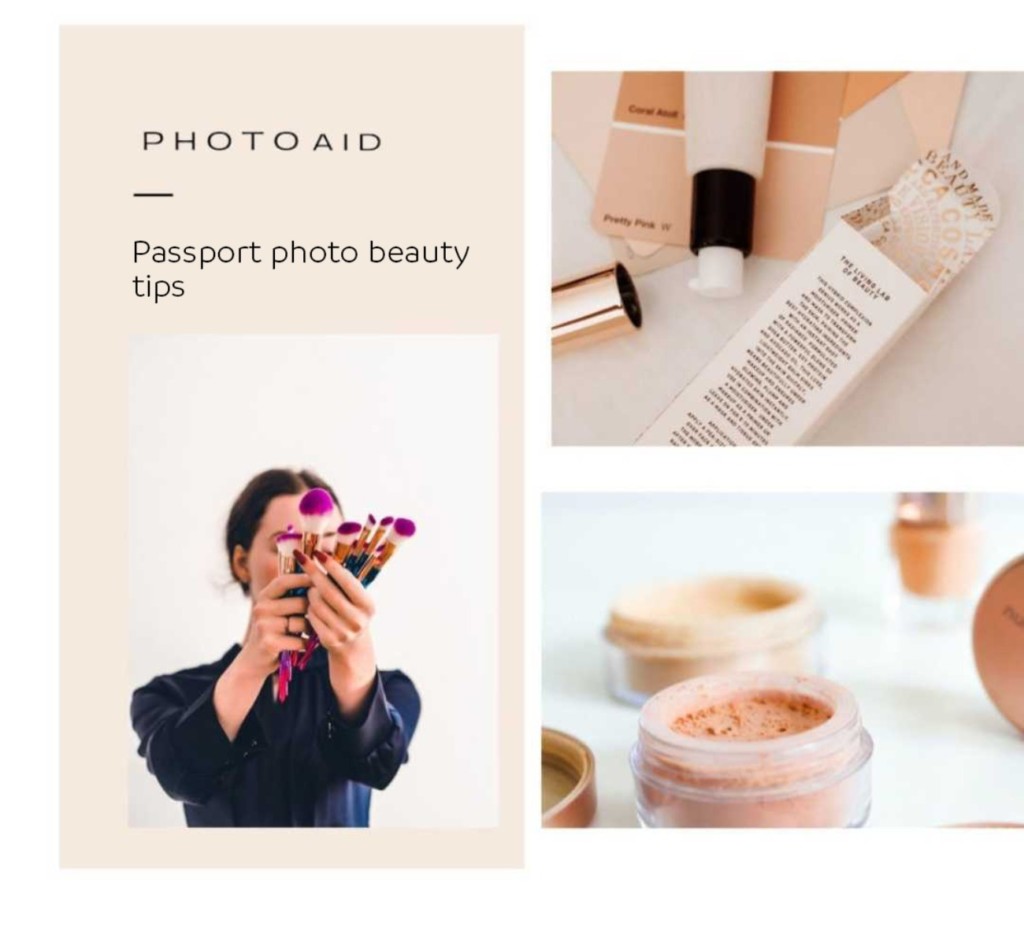 No-makeup makeup look
This is the perfect go to makeup look when you need to take a passport photo. This makeup can bright up your face and enhance your natural facial features. However, this doesn't mean that you have to use as few make-up products as possible to look natural. You can use just the same amount of makeup as usual. The key of this no-makeup make up look lies in the use of a neutral color palette that helps you look prettier but still natural at the same time. Now you are wondering how to get this perfect natural look without cutting out some of your favorite makeup products? We will reveal it soon in the passport photo makeup tips section!
Keep natural skin color
Your passport photo must reflect your natural skin color so please… don't self tan your skin the day before you take your passport picture because you probably won't be as tan when you need to show your passport to officers in certain situations. Moreover, don't apply foundation that is too dark or too light with respect to your real skin color when you do your passport photo makeup.
Avoid base products/ sunscreen with high SPF
Have you seen a lot of photos of celebrities in which they have flashbacks on their face? You wonder why they have such disastrous makeup even though it was done by professional makeup artists? Actually white cast on your face in a photo is way easier to happen than you think. And it's one of the most common mistakes in makeup. White cast is caused by makeup products that contain SPF such as sunscreen, primer, foundation, and facial powder. If you don't want to end up with flashbacks on your face in your passport photo, use base products that have SPF under 15 or even without SFP.
Don't follow make-up trend
We can't deny that the beauty industry is one of the most innovative ones that change due to month, season and year. There are always new makeup trends appearing. A passport photo does not serve the purpose of showing your makeup skills or your fashionable makeup taste but to identify your biometric features so don't follow makeup trends such as smoky eyes, neon eyeliner, overdrawn lip line and so on.
Beauty tips to look better in your passport photo
The passport photo makeup rules above give you a comprehensive look about what you should follow and what you should avoid when doing makeup for your passport photo shoot. Now it's time to discover essential passport photo makeup tips to get a perfect passport photo that screams out "This photo is a legend!" every time you look at it.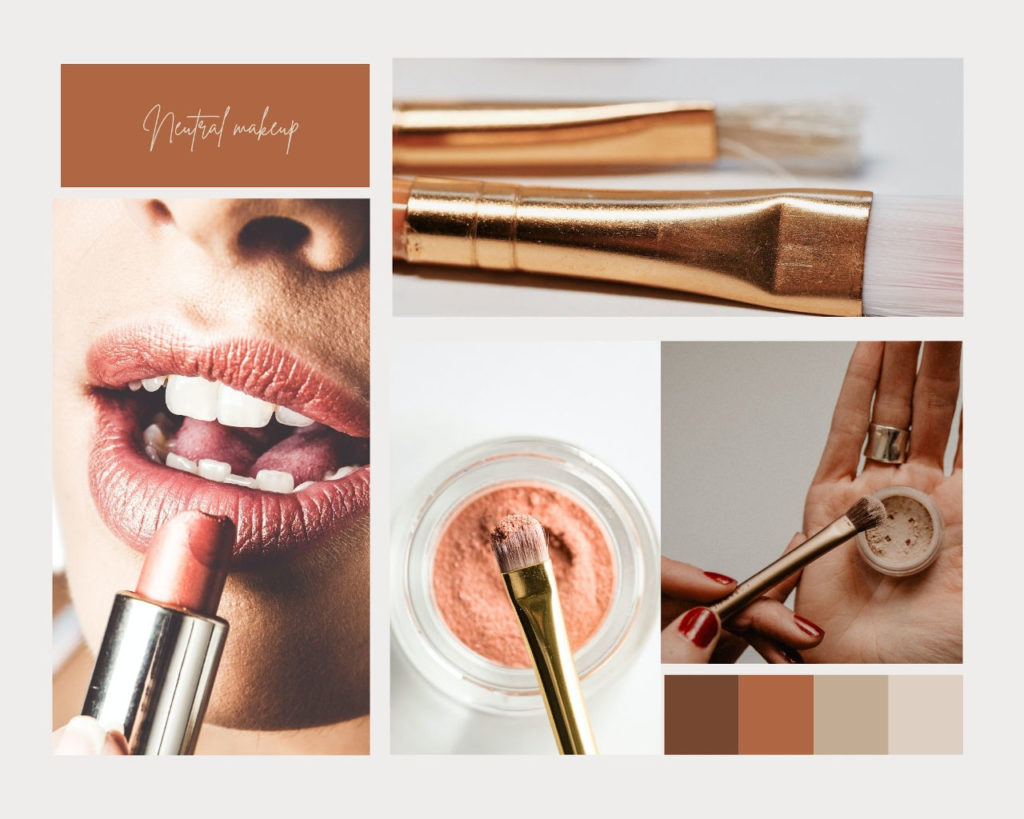 Match foundation on your face and neck
In a passport photo or ID photo your head and upper shoulder will be photographed. It's normal if you tend to use foundation or cream that is a bit lighter/darker than your real skin tone, however, don't forget to apply foundation also on your neck so that your face and neck don't look like two separate entities.
Powder excess oil on your face
When you take a passport photo it is much better if you have matte finish makeup. If you have oily skin and want to avoid unnecessary shiny effects on your skin, try to mattify excess oil with face powder. The facial part that usually produces a lot of oil is the T zone including the forehead, areas around nasolabial folds and inner corner of your eyes.
Contouring
If you are a fan of contouring this is good news for you! Some people might think contouring belongs only to a heavy makeup look. That is not incorrect however not necessarily true! Contouring won't appear clearly in a photo unless you contour your face with a very dark shade with respect to your skin color. We suggest you contour your nose and outer side of your face with a light brown contouring powder to balance out your face shape. You can use a big fluffy brush to blend out the contouring powder to create a more natural look.
Matt eyeshadow and eyeliner
You should always go for matte eye shadow to give your eyes a more defined look when doing makeup for a passport photo shoot. We advise you to play with only nude color tones such as brown beige, light brown, semi-dark brown or the like for eye makeup. Glitter eye shadow shouldn't be used here. Another tip is to apply a bit of color to the outer V of your eyes, it will make your eyes look bigger. When it comes to eyeliner, it's better to draw a thin eyeliner close to your upper lash line and a small wing at the end. Don't draw cat eyeliner or exaggerate the wing!
Neutral lip color
The same tip goes for lip color that you should wear on a passport photo: a deeper, less-vibrant color would be a good fit. For a passport photo or ID photo you need to express a trustful image rather than a fashionable image, that's why you should choose a neutral lip color and apply it on a full lip. However, don't use a lip liner to create a fuller lip effect. Again, we want to emphasize that a passport photo is used to identify you so don't go for anything that wouldn't be ordinary.
Correct hair parting
This is probably a tip that you haven't heard before, but it doesn't mean that it's not important. We want our face to look as symmetrical as possible on a passport photo. However, not all of us have a natural symmetrical face and that's completely normal. Here is a tip: do a side part for your hair instead of a middle part. Don't ever do a middle part when you take an ID or passport picture because it only emphasizes facial asymmetry. There are no strict passport photo rules for hairstyle so you can style it how you want but make sure to keep it neat and in place.
Create your own passport photo with our app
Last but not least, we want to give you the last tip that could help you completely avoid the passport photo nightmare: a step-by-step guide how to make DIY passport photo.
Yes! You can definitely create your own ID photographs and control how you look in the photo! Modern technology has allowed us to make our own passport photos online in just a few minutes.
Simply use a dedicated passport photo maker software. All you need to do is download our app from AppStore or Google Play Store or use our web service at Passport Photo Online, upload a picture of yourself on the app and in no time you will receive a perfect passport photo that satisfies all the official requirements. This way you are able to try different makeup looks and take unlimited photos till you find the best shot to upload on our app. Finally, you can easily get a passport photo that you are proud to show to everyone!