There are over 700,000 people with British nationality residing in the U.S.
If you are one of them, and are looking to get a British passport photo done, you have a few options at your disposal. Some U.S. pharmacies, post offices, and professional photo studios claim to offer British passport photos, but can any of them actually take passport pictures according to British regulations?
Passport Photo Online, the AI-based app for passport photos, decided to do the research and provide you with our findings. So grab a cuppa, sit back, and keep reading to find out how to get the correct photos for your British passport renewal.  
Get UK passport photos: places
Even though Walmart, CVS, Walgreens, or other big-box retailers may have teams of people specializing in taking passport photos, they primarily focus on U.S. passports photos.
UK passport photos are also subject to a different set of requirements, from the size to the supplementary data required with the photos. For example, passport-size photos in the UK are measured in millimeters (45 x 35 mm), whereas U.S. passport photos are measured in inches (2 x 2").
Also, there is little to no flexibility when it comes to inaccuracies in passport photos. These pictures must be the right size and have the correct proportions, with no room for error.
Additionally, with the introduction of online British passport renewals, British passport photos must now include ID photo codes (IDPCs). However, some photo centers might lack the tools, knowledge, or experience to get you a compliant British passport photo (and code) that is now required to properly complete your application.
Find out more about passports from these articles:
Do popular U.S. photo centers take British passport photos?
Officially, popular retail photo centers and pharmacies specialize in the taking and printing of only 2 x 2 inch U.S. passport photographs – which are not suitable for British passports.
However, some locations can provide British passport photos with the assistance of a third party printing template. Additionally, some stores have photo booths that allow customers to snap their own passport photos.
In some cases, these self-service photo booths allow users to modify passport photo size by selecting the "European" or "British" passport photo 45 x 35 mm formats.
To make sure your nearest photo center can take British passport photos, we advise reaching out to them personally. Just ask about the specific British passport photo sizes (45 x 35 mm or 1.77" x 1.38") and if the photo center is capable of providing such pictures.
Do photo booths in the U.S. take British passport photos?
The answer is yes and no. Since photo boothsare manufactured by different companies, some machines are configured to process British passport photos, and others are not.
Many only take 2 x 2" photos for U.S. passports. Nevertheless, some machines allow manual modification of passport picture size, and can therefore be adjusted to accommodate British passport photo size requirements of 45 x 35 mm (1.77 inches x 1.38 inches).
If you know the brand of the photo booth located in your area, you should be able to verify its services by visiting the producer's website. You may also verify the possibility of taking British passport photos by checking the photo booth yourself.
Can you take a British passport photo at a U.S. Post Office?
Probably not. Many U.S. Post Office locations offer passport photo services in addition to being passport acceptance offices. However, the U.S. Post Office is dedicated solely to U.S. passports: both in terms of handling the application and taking the pictures.
Photography studios may be able to snap a British passport photo
Professional passport photo studios can be found in cities and towns across the United States. Such studios are usually run by professional photographers who specialize in taking various photos, including passport pictures. 
It is at one of these studios one is most likely to find a photographer with the right tools, knowledge, and skill to take a British passport photo.
The main downside of this approach is the difficulty associated with finding a professional studio capable of taking a British passport photo, as it may be challenging in less populated areas. Also, individuals will most likely have to book an appointment in advance.
Get a British passport photo online
Software capable of transforming ordinary pictures into passport photographs allows users to instantly resize pictures to British passport photo dimensions. Additionally, most of these programs offer cropping tools and background removal technology, thereby turning any snap into a potential passport photo.
By selecting a reliable passport photo tool, users maximize the chances their passport application gets approved, as the passport photos are guaranteed to meet all official criteria. Additionally, a reliable tool minimizes the time required to take the passport photo as some tools can provide you with a biometric picture in just a few seconds.
Passport Photo Online to get a British passport photo
Use Passport Photo Online to get a professionally-reviewed British passport photo in just 1 minute. This app is one of the most advanced passport photo tools available, with over 1 million downloads on Google Play and an average Trustpilot rating of 4.5⭐.
It doesn't matter whether you upload your own photographs to our British passport photo tool or use one of our dedicated apps to snap your photos (available on Andoroid and iOS), all of our photos also come with the supplementary photo codes mandated by the British authorities
Additionally, once your picture has been uploaded, we'll crop it to the required size, remove and replace the background, and verify your new passport photo is compliant with British standards. All of this guarantees that your photos will be accepted by British passport agents (or double your money back).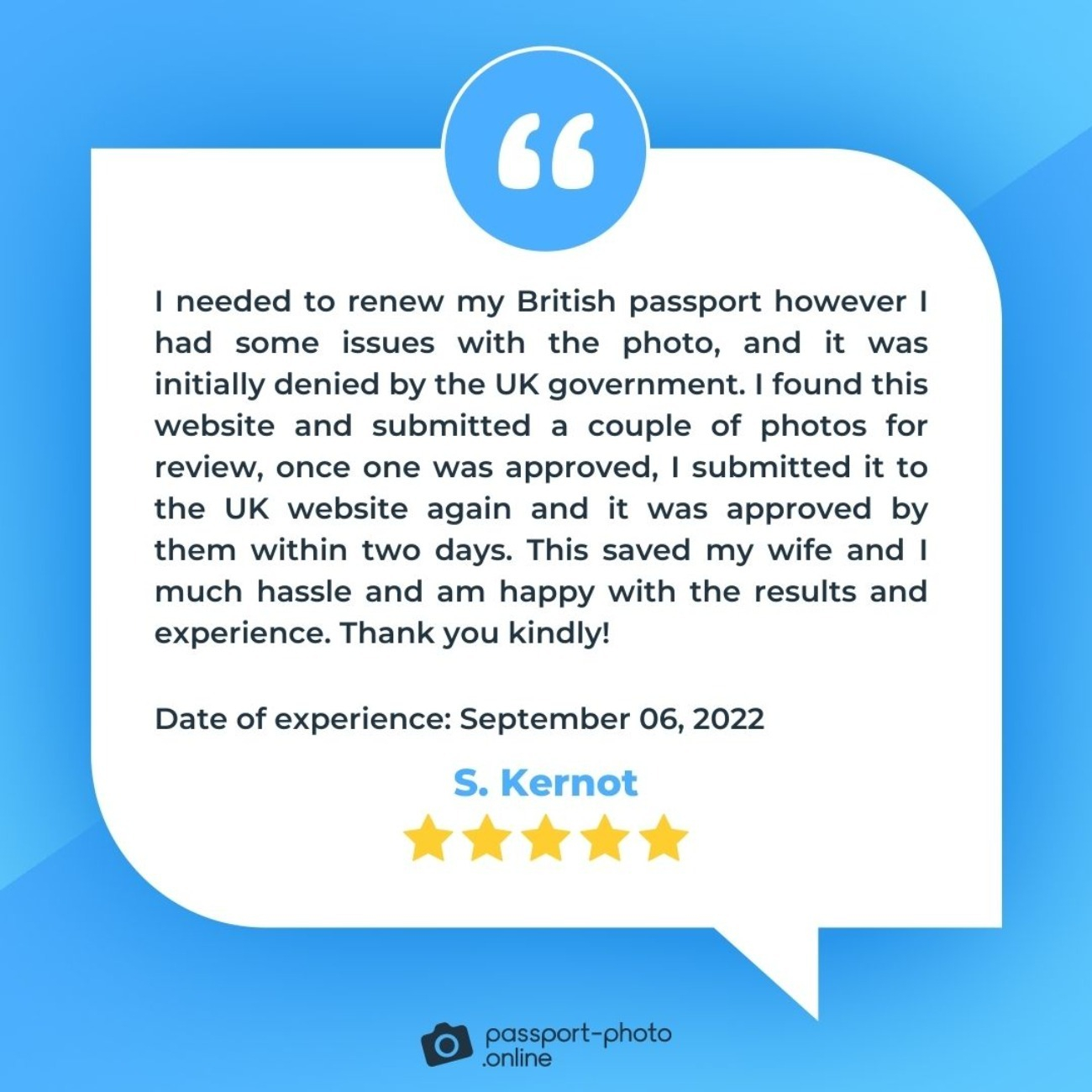 FAQ
To conclude, we'll answer a few questions about getting UK passport sized-photographs in the U.S.
Can I take a UK passport photo on my phone?
Yes, the British government allows digital passport photos taken with a phone. However, to make sure your picture meets the UK standards for passport photos, it is best to use a dedicated tool, such as Passport Photo Online.
Can I take a British passport photo at Walgreens?
Officially, Walgreens offers only U.S. passport photos services. However, some individual stores might be able to take a U.K. passport photo in accordance with British standards.
Are U.S. and UK passport photos the same size?
No, the requirements for passport photos are different in the U.S. (2×2") and the UK (1.37×1.77"). For this reason, you need to take a passport photo that is specifically suited for British regulations. The standard U.S. passport photo will be rejected in a British passport application.
Where can I get a UK passport photo taken in the U.S.?
Some photo booths and retail stores that offer photo services, such as Walmart, have the option of taking a UK-sized passport photo. There are also online tools available that specialize in taking British passport photos, such as Passport Photo Online.
How much is UK passport photo size in inches?
The photos for a British passport have to measure 35 x 45 mm, which is 1.37 x 1.77 inches.
Can I get a UK digital passport photo in the U.S.?
Not many services offer this option. While stores like Walmart or Walgreens take UK passport photos, they only provide physical photos. To get digital photos perfectly in line with the HM Passport Office requirements, use Passport Photo Online.
Can I take a UK passport photo using an iPhone?
Yes! You can take your own passport photos with Passport Photo Online and have them checked according to UK Government requirements.
Is there a UK passport photo online tool?
Yes, Passport Photo Online can help you turn a regular photo into a British passport picture. We'll even provide you with the ID photo code that's necessary for online British passport renewals.
Where can I find an IDPC-compliant photographer near me?
Passport Photo Online's mobile apps provide users with ID photo codes (IDPC)'s that can be used for online British passport renewals. As such, you don't need to look far for an IDPC-compliant photographer – it's probably in your pocket.
How to get a UK passport photo code in the U.S.?
Every British passport photo snapped with Passport Photo Online comes with its own unique photo code. This ID photo code (IDPC) can be used to submit biometric photos for online British passport renewals. 
Closing thoughts
If you want to be sure your new British passport photo gets accepted during passport application, we advise you to use a professional photography studio with a specialization in British passport photographs; one that provides ID photo codes necessary for online renewals and comes with a money-back guarantee if the photos are rejected. 
Alternatively, you can use an online application such as Passport Photo Online, which offers peace of mind through expert verification, a 100% compliance or double your money-back guarantee, and the convenience of being accessible from your home, office, or anywhere else for that matter.
Sources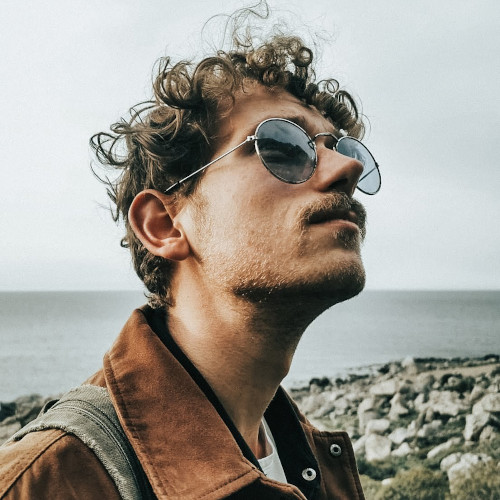 Adam is an SEO & Digital PR writer with a child's curiosity about the surrounding world. His superpower to dig out juicy facts got him citations in Forbes, Social Media Today, and 90+ other news outlets. Adam enjoys snapping pictures and won the national Huawei Next Image Award.