According to the latest BBC figures, there are over 670,000 people with British nationality residing in the US.
With British passport photos differing from their US counterparts, many expats may be wondering, "Can US pharmacy chains and independent photo studios take passport pictures according to British regulations?"
Don't get stuck with a faulty British passport photo or opt for a service that doesn't offer the necessary passport photo codes for online renewals.
With this comprehensive guide, you'll discover all there is to know about getting UK passport photos in the US, including:
Need a British passport photo ASAP? Get UK document photos that are guaranteed to be accepted by His Majesty's Passport Office—delivered within 3 days to anywhere in the US.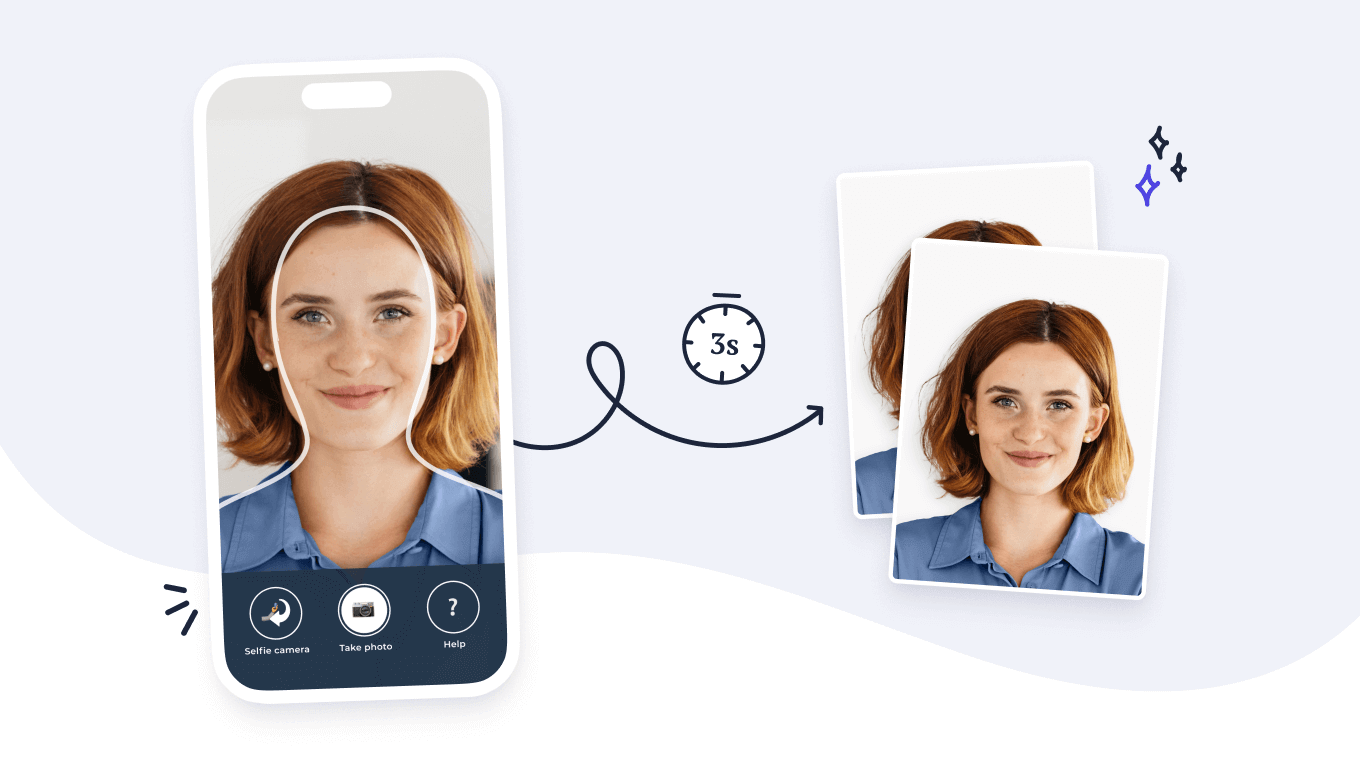 Gain additional insight about British passport photos with these related articles:
Where can I get a UK-size passport photo in person?
Some brand-name photo centers, independent photo studios, and passport photo booths offer in-person British passport photos.
Let's examine all three options in detail.
Major brands

Even though Walmart, CVS, Walgreens, or other big-box retailers may have teams of people specializing in taking passport photos, they primarily focus on US passport photos.
Look at the following table for British passport photo availability by brand name photo centers and United States Postal Service (USPS) locations.
UK Passport Photos in the US (Major Retail Brands)
| Brand | British passport photo availability | Digital passport photo with ID photo code availability | Price |
| --- | --- | --- | --- |
| Walgreens | ✅ Physical prints | ❌ | $16.99 |
| CVS | ✅ Physical prints at some locations | ❌ | $16.99 |
| Walmart | ❌ | N/A | N/A |
| USPS | ❌ | N/A | N/A |
Since UK passport photos are subject to different requirements than their US counterparts, it is best to call their photo centers directly and inquire whether they provide British passport photo sizes (45×35 mm or 1.77"x1.38").
Additionally, UK passport photos must include ID photo codes (IDPCs) to be eligible for online renewals.
As evidenced in the chart above, none of the major brands supply these codes, so you must look elsewhere for passport photos to submit your UK passport renewal online.
Independent photography studios

Professional passport photo studios are usually a good bet for in-person passport photos. Hence, searching "uk passport photos near me" on your preferred search engine is a good idea to see which businesses pop up.
Once you've found a potential business, ring your selected studio to see if they provide digital passport photos and employ IDPC-compliant photographers (if you opt for online renewal)—then you're all set.
This approach's main downside is finding a professional studio capable of taking a British passport photo, as it may be challenging in less populated areas.
Also, with individuals having to do some digging in advance and the likelihood of studios requiring an appointment booking, it's essential to consider the time aspect of using photo studios.
Photo booths

Many photo booths in the US only take 2×2" photos for US passports.
Nevertheless, some machines allow manual modification of passport picture size, and can therefore be adjusted to accommodate British passport photo size requirements of 45 x 35 mm (1.77 inches x 1.38 inches).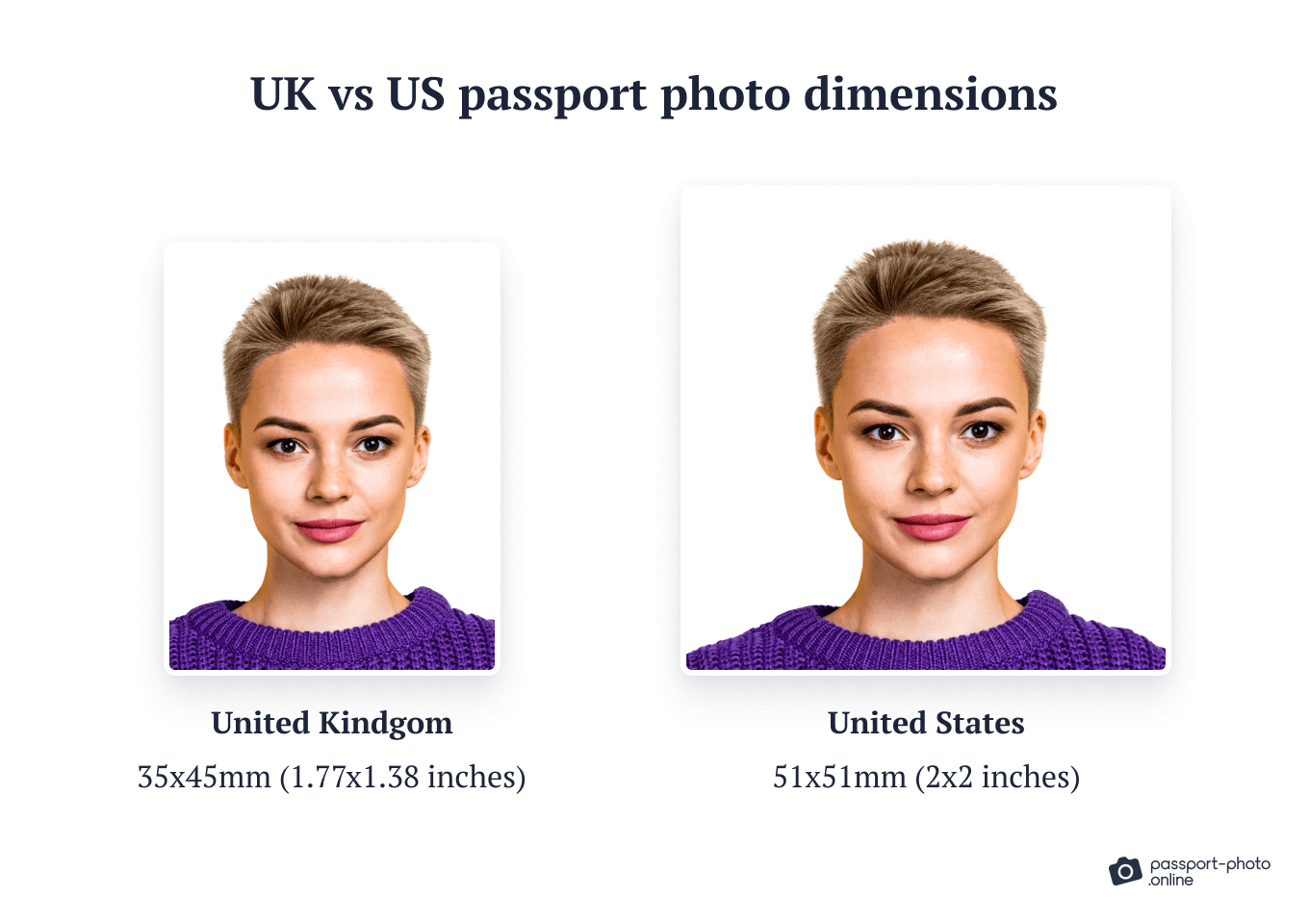 Best of all, modern photo booths can send digital passport photos to your email—with valid IDPCs to boot.
Important! If you decide to adjust the settings manually, study all UK passport photo requirements before taking your photo.
Can I get a UK passport-size photo online?
Yes, you can.
Many passport photography apps exist, including our Passport Photo Booth App for iOS and Passport Photo Maker App for Android, which can provide a compliant British passport photo in minutes—ID photo codes necessary for online submission included.
Use our highly-rated software (4.5⭐ on TrustPilot) to instantly transform your image to meet British passport photo guidelines. Alternatively, you can use your mobile's camera and our application to snap your new British passport photo on the spot.
All photos processed by Passport Photo Online are verified by our biometric photo experts and guaranteed to adhere to all aspects of His Majesty's Passport Office regulations. No need to worry about the dimensions, background, or cropping—everything is taken care of.
You get 100% compliance or double your money back—that's the Passport Photo Online guarantee.
FAQs
Need more information about getting UK passport photos in the US? Read through the following frequently asked questions related to the topic.
What type of photo is required for a British passport?
British passport photos must be 45 by 35 millimeters (1.77×1.38 inches). 
Printed and digital photos are acceptable; however, digital passport photos must have a minimum resolution of 600×750 pixels and an accompanying ID photo code.
For a complete list of requirements, familiarize yourself with the gov.uk website.
Does CVS do British passport photos?
Some CVS locations have been reported to provide customers with printed British passport photos.
If you require a CVS passport photo, it is advisable to contact your chosen store in advance, as not all locations offer this service.
Please note that digital passport photos with IDPCs are not currently available at CVS's photo centers.
Can I use my iPhone to take a UK passport photo?
Yes, you can. Snap the perfect British passport photo with our Passport Photo Booth App for iOS. Compliance with all regulations is guaranteed, and an IDPC is provided with each image. So, you can rest easy knowing HM Passport Office agents will accept your passport photo. 
Get a digital British passport photo with accompanying IDPC in minutes thanks to Passport Photo Online's incredible software. Upload a photo that reflects your current appearance and try it out today!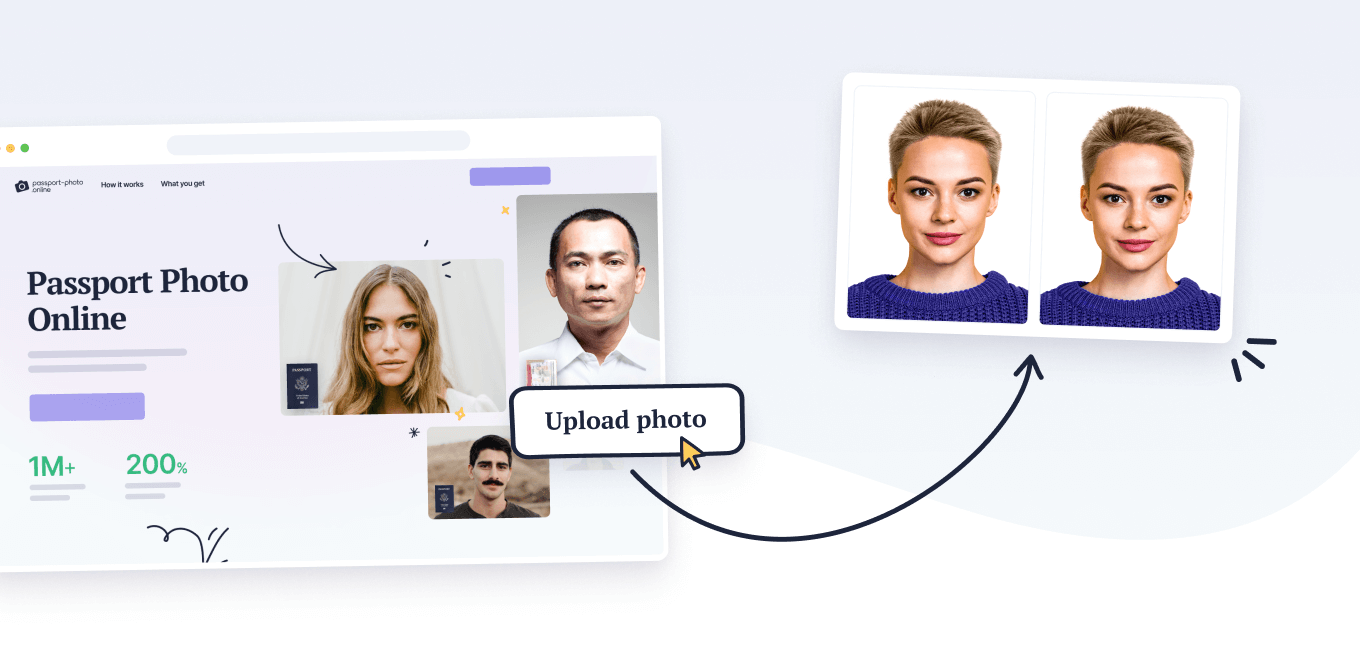 Getting British passport photos in the US—final thoughts
Both CVS and Walgreens offer various photo services at many locations nationwide, including the provision of British passport photo prints. It would be wise to ensure service availability by contacting your preferred pharmacy ahead of time.
For instance, you might inquire about the Walgreens passport photos service to be certain it aligns with your specific needs.
For digital passport photos with accompanying IDPCs, professional photo studios or photo booths might be able to provide you with said services.
But wouldn't you rather invest your time and money on a sure bet?
With Passport Photo Online, you get expert verification, an IDPC, and a 100% compliance or double your money-back guarantee—all while being accessible from your home, office, or anywhere else for that matter.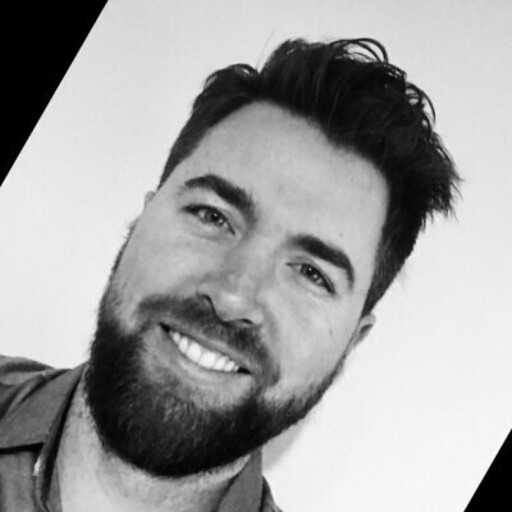 Simon Wojtyczka brings a unique perspective to biometric photography with his expertise in Applied Linguistics & TESOL. His content provides valuable insights into the world of biometric photography, helping individuals understand its significance. Simon's global experiences have made him appreciate the convenience that biometric photos bring to international travel. Outside of work, Simon's interests lie in discovering new places and swimming.