Do you already have a digital copy of your new passport photo? Would you like to learn the best way to print passport photos? If you're asking yourself: "Is a laser or inkjet printer good for printing a passport photo?" we have all the answers in this blog post.
You'll find out which type of printer will be a better option to print passport photos, a laser or an inkjet one. We will present a list of advantages and disadvantages to decide what kind of photo printers you should invest in.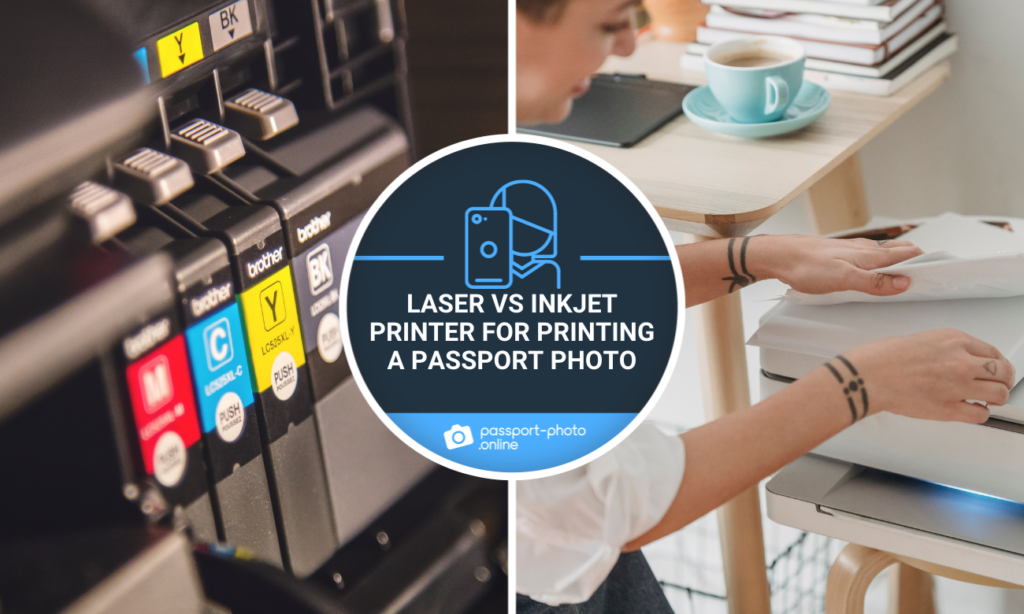 Passport photos on an inkjet printer—advantages & disadvantages
Inkjet printers produce passport photos by spraying ink onto a sheet of paper, and are found in both small and large businesses and homes thanks to the following convenient advantages:
good passport photo quality on photo coated paper, e.g. glossy photo paper;
capability of printing professional-looking, high-resolution passport photos;
suitable for the reproduction of images;
they use pigment-based inks, which are more fade-resistant;
low initial cost, often below $100;
great tonal variety and blending of colors.
That being said, inkjet printers are not without flaws. If you're about to start passport photo printing, you first need to consider their cons.
They work slower than laser printers (16 pages per minute as opposed to up to 100 pages per minute).
Replacing ink cartridges can be more expensive (according to Consumer Reports, they can go as low as $12 and as high as $75, depending on your needs).
Cost of repairs (it sometimes is a better idea to buy a new printer altogether than replace a broken printhead that often costs more than $100).
A common need for maintenance due to ink clogging (if the printer's not used regularly, e.g, at least once every few days).
Lifespan of roughly just 3 (three) years.
Passport photos on a laser printer—advantages & disadvantages
To print a photo, laser printers work with a toner, as opposed to inkjet printers using ink, which is a powder that melts on paper. This is only one of many differences between inkjet and laser printers.
According to Blues Explosion, many laser printers are great for printing high-quality passport photos, achieving high ratings, and gathering considerable praise.
The advantages of printing your passport photos using laser printers include:
a single $100 toner will ensure printing thousands of pages before it runs out;
longer lifespan of roughly 5 (five) years;
high print volume;
significantly quieter than inkjet printers;
Raster Image Processor technology (present in most laser printers, enables the handling of, for example, different file types and sizes);
eco-friendly.
However, before you buy a laser printer and print passport photos for the upcoming application, there are 6 (six) cons you should consider:
The initial cost of laser printers can be high(the prices often start at $200).
Toners in laser printers contain hazardous compounds that can cause health issues.
Laser printers don't offer such depth of colors as inkjet printers.
These printers are large and more suited for an office environment than your home (there are still smaller, portable laser printers).
They come out glossiest when printing in black and white (your passport photo prints need to be in color).
Laser printers can't handle the same variety of paper as inkjet printers (plain office paper, for instance, is discouraged).
More blog posts you may like:
Print Passport Photos on 4×6 Inch Paper
Passport Photo Paper Thickness – All You Need to Know
Passport Photo Online—printable passport photos in 3 seconds
If you already have a device that will be your passport photo printer, you can get a perfect passport picture thanks to Passport Photo Online.
It is an app that turns your phone into a 24/7 professional photo studio. You can acquire a free passport photo template and a passport photo with guaranteed acceptance for just $6.99 in barely 3 (three) seconds. All you have to do is take a picture using your phone or a digital camera and upload it to the app or website. No need to leave your house or set up a professional photo studio. You will receive a passport picture that is up to U.S. passport photo standards.
Is a laser or inkjet printer good for printing a passport photo?—conclusion
If you're wondering which passport picture printer type is best, it is the inkjet printer that offers superior passport photo quality, is a more affordable option in the short run due to lower inkjet printer prices, works well with glossy or matte paper, and isn't as bulky as laser printers.
That being said, you can still print passport size photos on a laser printer. You just need to consider such things as the size of the printer, initial price of the printer, or potential health problems because of compounds found in the toners.
Is a laser or inkjet printer good for printing a passport photo: FAQ
Here you will find the most common questions on the subject, as well as quick answers to sate your curiosity.
Is a laser printer better than an inkjet for printing a passport photo?
The answer is no, inkjet printers are known as better passport picture printers. They offer better print quality, and even though printing photos using inkjet printers is slower and louder, they come at a lower initial cost. They work well with photo quality paper, produce great high-resolution pictures, and offer greater tonal variety.
What are the differences between printing passport photos using laser and inkjet printers?
Differences between using laser and inkjet printers to print passport photos include:
the length and noise of the process (laser printers print a passport photo more quickly and quietly);
the quality (inkjet printers produce a better-looking final product);
the technique of printing (inkjet printers using ink and laser printers utilizing toners, often containing compounds that are hazardous for a human);
the variety of papers the printing device works well with (laser printers are known to struggle with a paper weight of 170 GSM and higher).