Since the invention of the modern smartphone, it is no longer necessary to go to a professional photo studio to have your passport photo taken. You can use your telephone plus one of many online tools to get the job done quickly, easily and cheaply.
You already have a phone that you like, now you need to select the right photo app. But there are a lot of apps to choose from! Which passport photo app is the best?
In this article, I have ranked the Top Twelve passport photo websites, from one to 12. Learn how to get cheap passport photos made quickly and conveniently. Let's take it from the top.
Odd Prints
Make Passport Photo
PasPic
At the bottom of this article, you'll find a helpful recap chart which sums up the website tools and lists the different criteria. Enjoy!
1. Passport Photo Online: the best value for money and time
If you want to save time and energy, and get a photo that you actually like for a change, then look no further than Passport Photo Online.
For €6.99 you get a photograph that is cropped, sized, positioned and adjusted so that it meets all the requirements of a passport photo, ID card picture, driver's licence or visa photo. They correct the color, contrast, exposure and saturation for you. And all of this takes less than 3 seconds—talk about fast!
It's all automatic, which means you hardly have to do a thing. It's extremely simple and user-friendly. Choose from among over 60 languages. Included in the price is a background removal and replacement feature, which turns your background into a plain and uniform background, in whichever color is required for your photo.
You can also preview your picture before buying it, so that you know exactly what you're getting—this isn't always the case with the other websites listed below. Having hard copies printed and shipped costs an extra €2. And they not only guarantee acceptance of your photos, they will refund double your money back if the government does not accept your pictures!
Fast, easy, convenient and not too expensive, Passport Photo Online makes great passport photos, and is easily the best all-around online passport photo generator.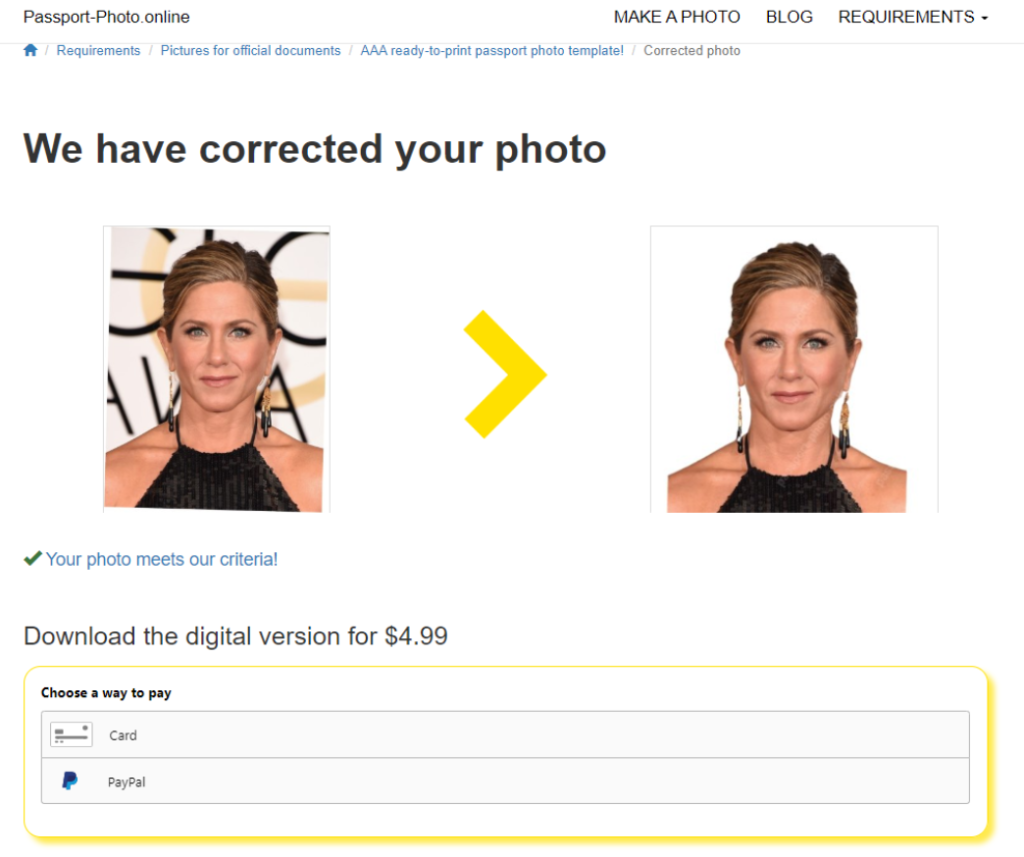 2. Visafoto: professionally edited, guaranteed acceptance
Visafoto is probably the second-best online passport photo editor after Passport Photo Online. Their one big flaw is that the time it takes to edit and approve your photos can be pretty long. But for less than 5 euros, you get a brand new passport photo (or visa photos) with a uniform white background.
It's easy to use: just upload your photo, and the rest is modified by a professional. They scale and crop the image to the right dimensions, replace the background, and correct tilted heads.
What is good is that you can download your photos directly after paying, and you will receive the printed ones soon afterwards. Their acceptance rate is 99.5%, which is also really good. And they will refund your money if your passport and visa photos are not accepted.
However, you don't get a preview of your picture before buying it, and the automatic cropping tool isn't perfect.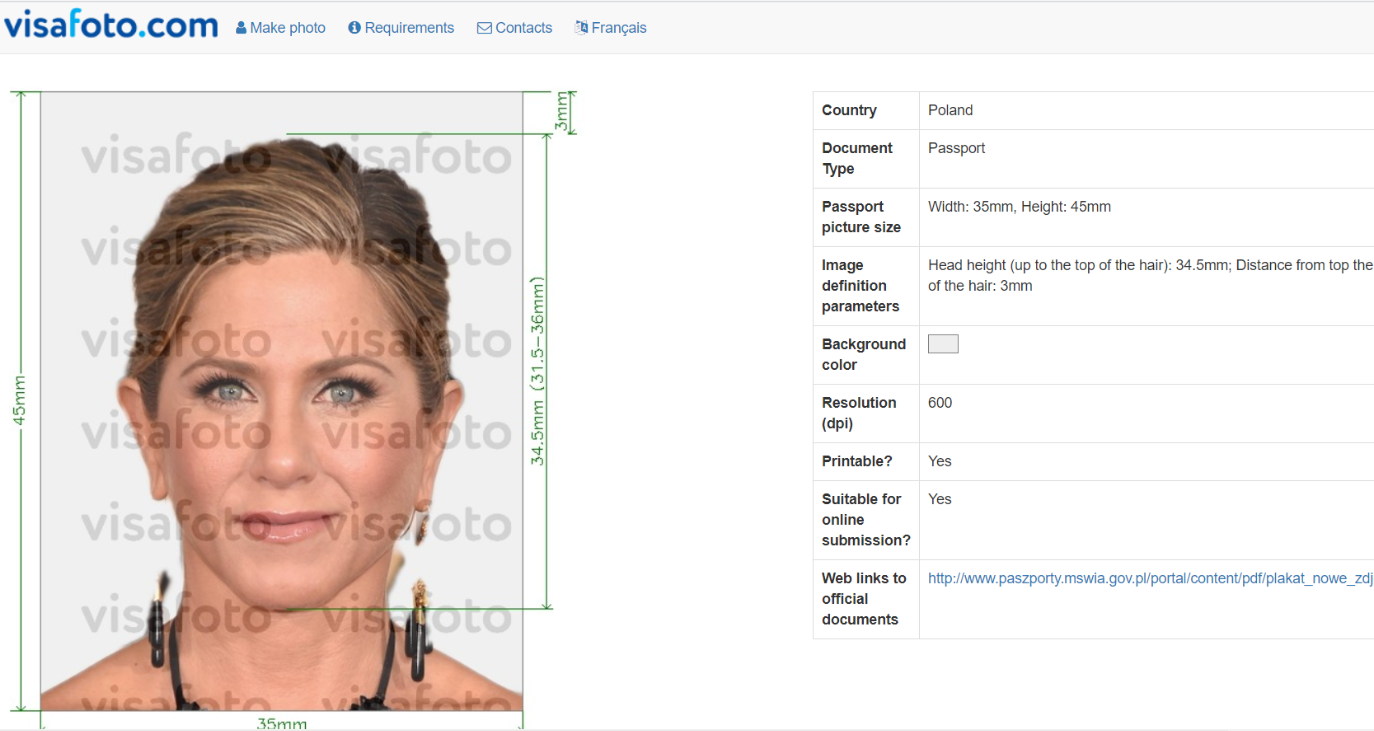 3. Odd Prints: affordable, good-quality photos with expensive delivery
Odd Prints offers more than just traditional ID photos; you can print whatever size you want! Once you have uploaded your photo, you can either select one of the standard passport dimensions that the website already offers, or you can input whatever oddball dimension you need.
They say that they can change the background to white, but beware that it is actually only the frame of the photo and not the whole background.
You can download a digital image for free, which is great, and prints cost only €0,78 which is also great because they print passport photos on high-quality paper. However, you have to pay €5,95 for delivery, so in the end the photo costs over €6.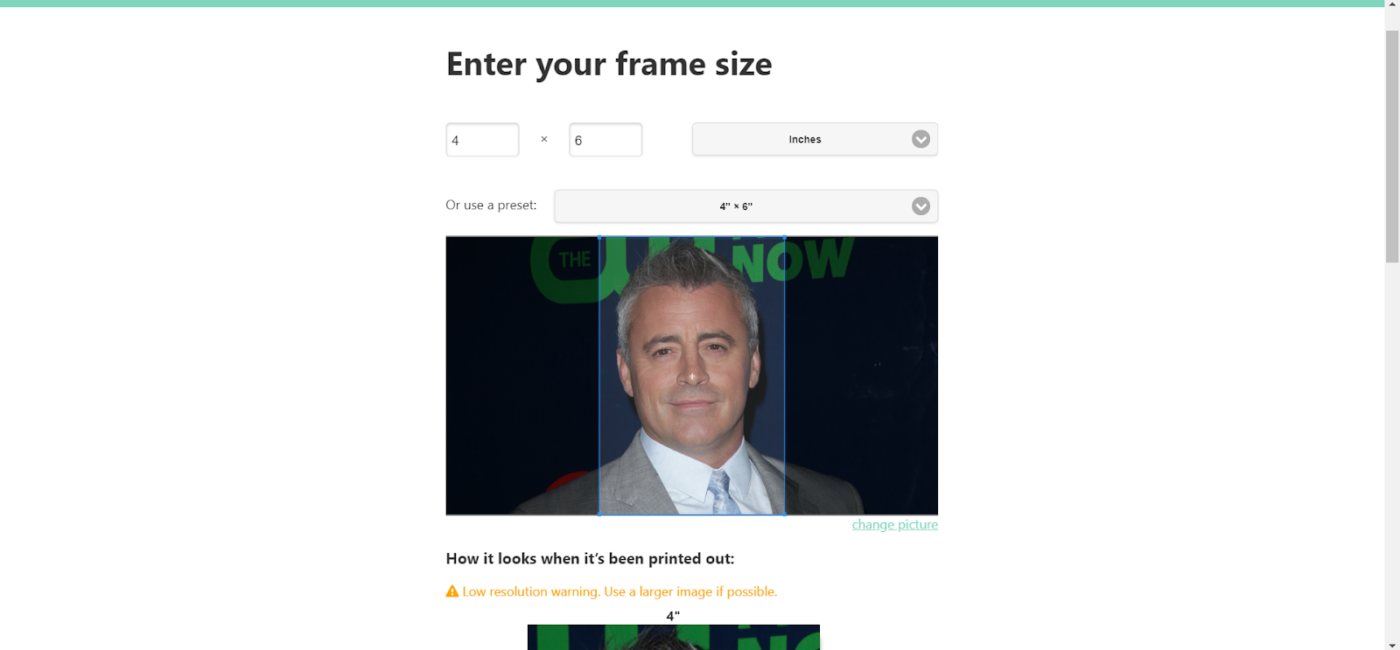 4. Persofoto: convenient but expensive
Persofoto has a good idea: for a flat rate of about €8, you create your own passport photo and have six passport pictures printed and shipped to you. If you pay extra, you can get express delivery.
The photos are printed on premium-quality paper and already cut. The service includes a compliance check and professional image retouching. Acceptance is guaranteed, and their acceptance rate is over 99.9%.
On the website, cropping is done manually by you. You can get a preview, but only by downloading the photos (for free).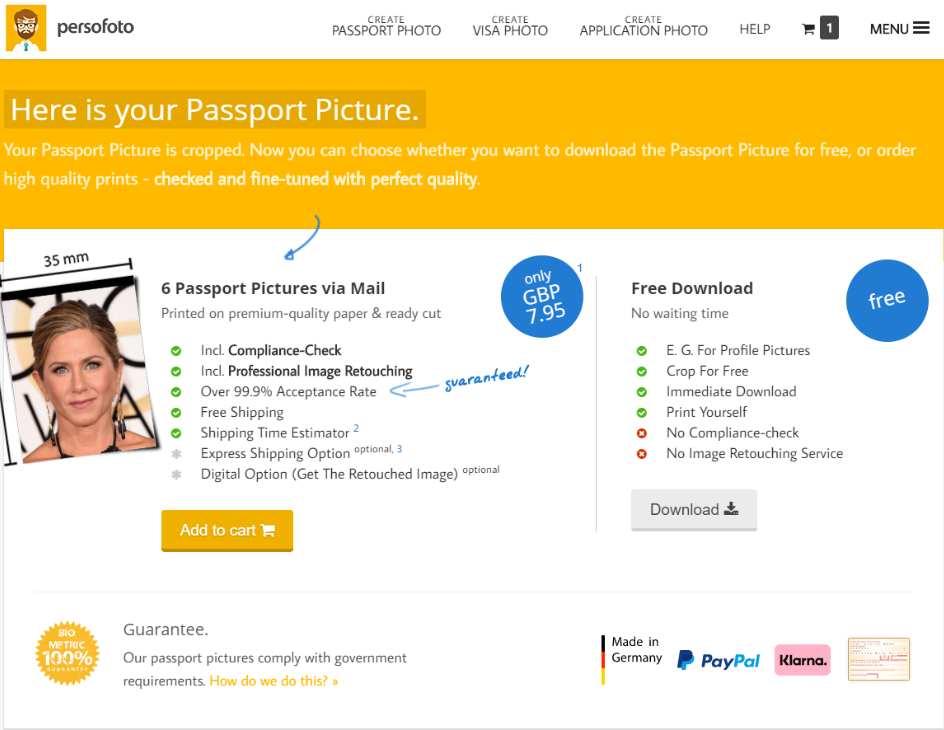 5. My Passport Photo: guarantee not included
Unlike other websites, My Passport Photo asks you how many prints you want, from one photo for €3,86 to 12 photographs for €11,61.
They offer various photo types printed on glossy paper. The website is not the most intuitive; it asks for a lot of information before proceeding to payment.
For an added cost of €3,86 you can have an expert photo editor ensure that your photo is 100% compliant; otherwise, you have no guarantee your photo will be accepted by the authorities. The delivery fee is €2,89. You have to wait between 7 and 14 days before getting your prints.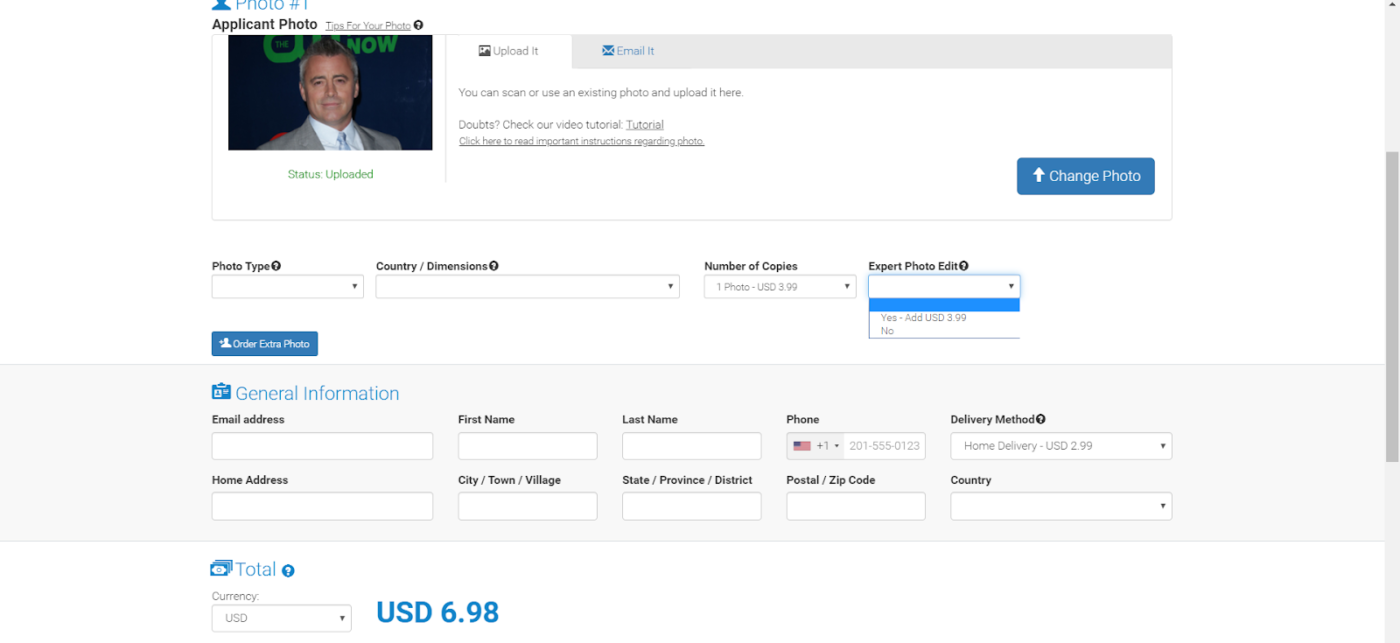 6. Make Passport Photo: probably will be good in the future
With Make Passport Photo, you can't have printed photos delivered to your home. They are still developing a new option (for €5) with background correction, a compliance check, and a guaranteed 99.9% acceptance rate, with printing and delivery at no additional cost.
But for now, you can only download your picture for free. You have to manually adjust and crop. In short, it isn't developed enough for now, but their paid version, coming out soon, has good potential.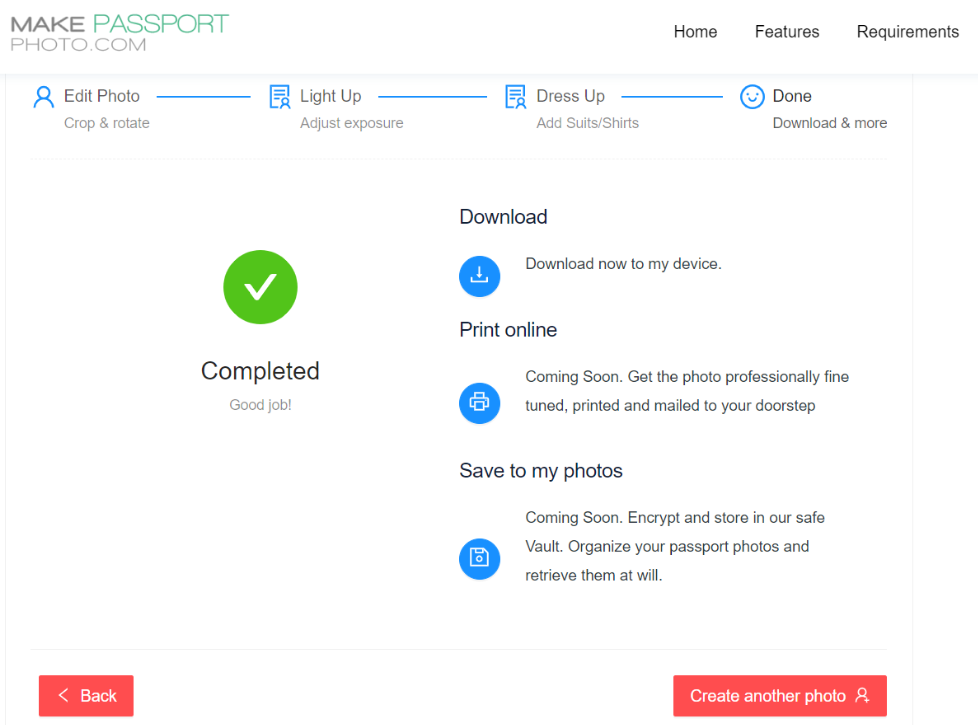 7. 123PassportPhoto: pay and print it yourself
123 Passport Photo is pretty easy to use. Their website offers various photo dimensions depending on the country and document selected.
The photo cropping tool is manually operated, so it's up to you to crop your own pictures. There is one upper line and one lower line to help you crop your head. Then you can choose from among five different enhancements to improve your photo. And just like that, your photo is generated!
The good thing about this website is that you get to choose one filter that improves your photo. You will get your money refunded if the photo is not accepted by the government.
You can buy the digital photo for €4,60. However, they cannot ship a print to you; you have to get it printed yourself. So, is it really necessary to pay for something that other websites offer for free?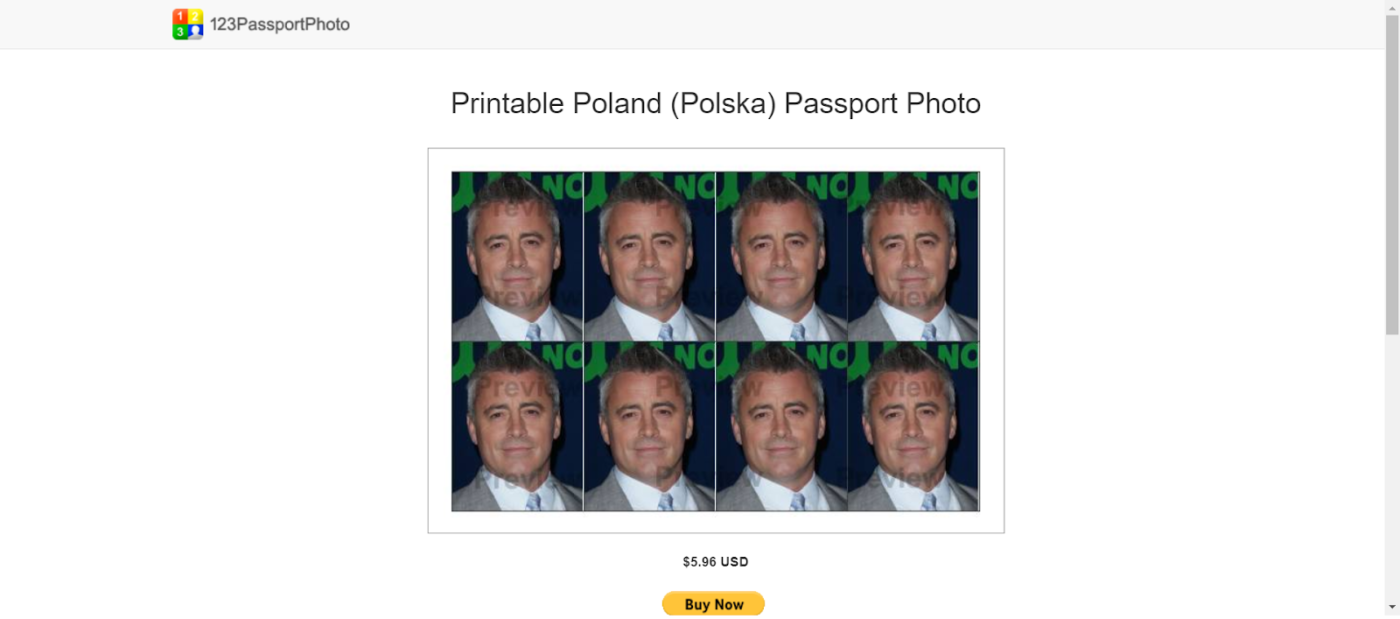 8. IDPhotoDIY: pay and print it yourself
ID Photo DIY is an intuitive and easy-to-use passport photo generator. It offers various types of photos (passports and visas, etc.) once you have selected your country.
One great thing is that this website has links to a video from the U.S Department of State which helps you take the perfect picture. Other than that, the website is quite similar to 123 Passport Photo: it is built the same way, and it also offers the same filters.
The price is the same as well: €4,60 ($5,96). And, also like123 Passport Photo, it's only digital. You cannot have your photos shipped to your home; you have to go to the drugstore or copy shop and have them printed yourself.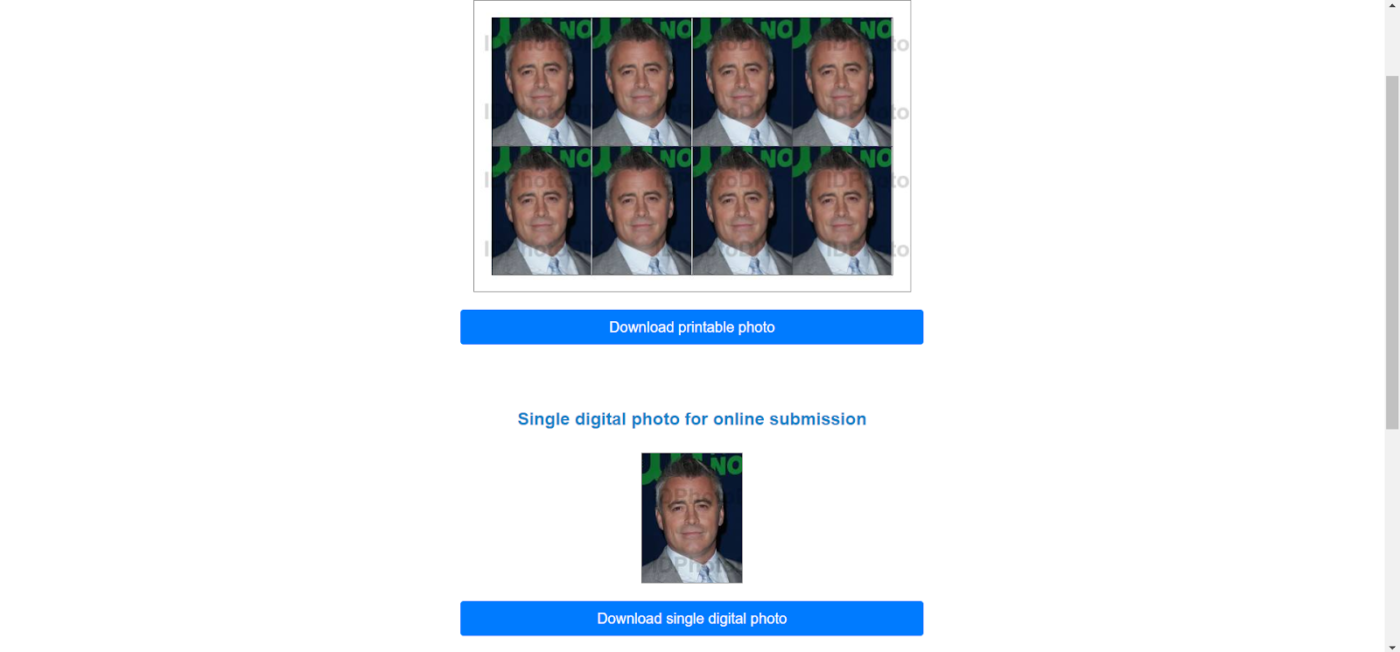 9. eGreenCardPhoto: perfect for your Green Card
Egreen card photo website gives some useful photography tips before asking you to take your own photo.
There's no background correction, so they advise you to take a photo standing in front of a plain white wall. Once you have uploaded your photo, the cropping is done manually by the user. You can download your edited photo for free.
The biggest negative thing about this website is that it is only useful for US residents needing a photo for a Green Card; for other services, you have to go to their corporate overlords, ePassportPhoto. And that's where the fun really begins.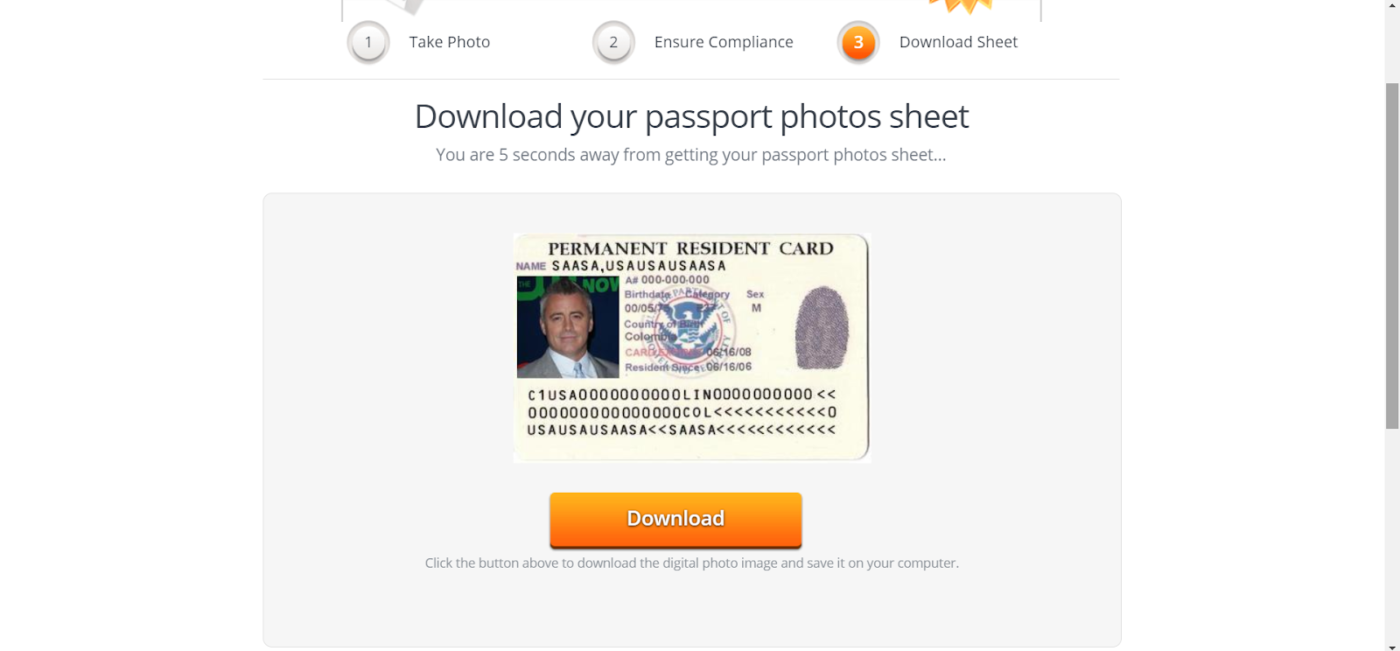 10. ePassportPhoto: the verdict
Epassportphoto guarantees a 99.5% acceptance rate, and 100% money back if the photo is not accepted. So far, so good.
Prices start at €0.99 to purchase one photograph, with free shipping for that one photo. Sounds great, right? But the thing is, it turns out you have to order at least TWO photos—and they charge you for shipping the second photo! The price jumps to almost €10 immediately, for only two pictures. Plus, you'll find yourself waiting 5-10 business days for your prints, and you can't download your picture in digital format in the meantime.
Only available in English. Not the best service for me, to say the least.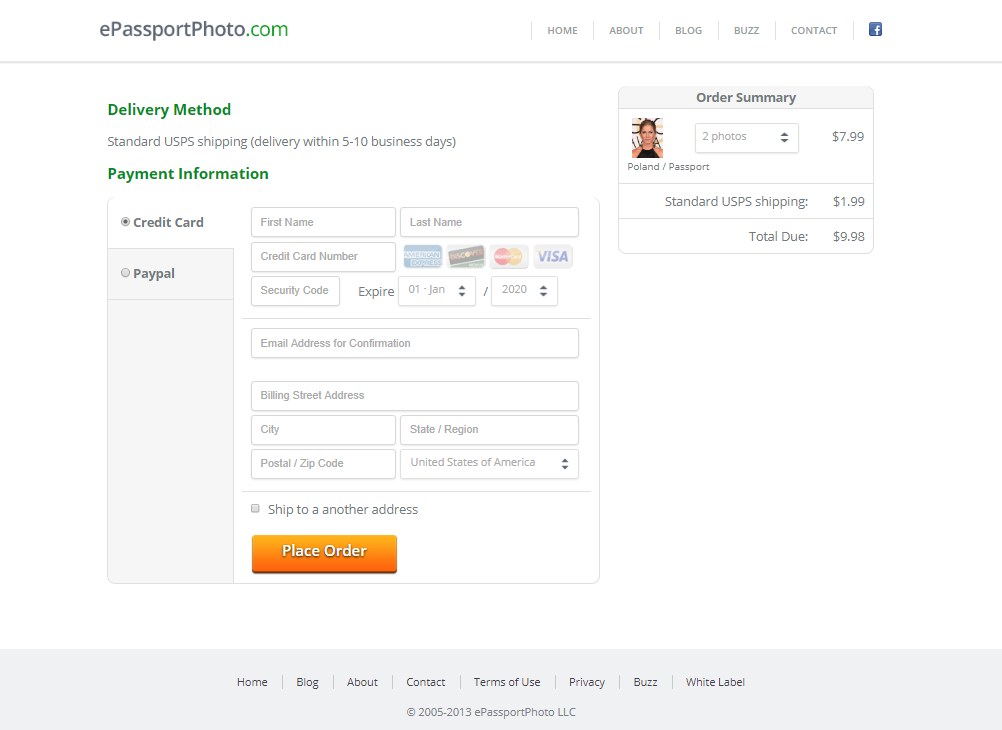 RELATED READING:
11. PassportPhotoNow: without a real preview
Passport photo Now is super easy to use. And once you've chosen your photo, you can then add comments and special instructions to it—a service that few other websites offer.
For 2 photos you'll pay €9,27, plus delivery. On the home page they say that delivery is free, but the cheapest delivery option is actually €1,72. Express delivery can go up to €79! There are lots of additional €7 services you can opt for, such as a digital version of your photo on a CD—but who uses CDs nowadays?
Another big negative is that they do not offer a real preview of the photo. This is a pretty important feature to be missing.
In brief, lots of useless features just to pay a huge amount in the end. Lots of other websites offer the same service without the high prices.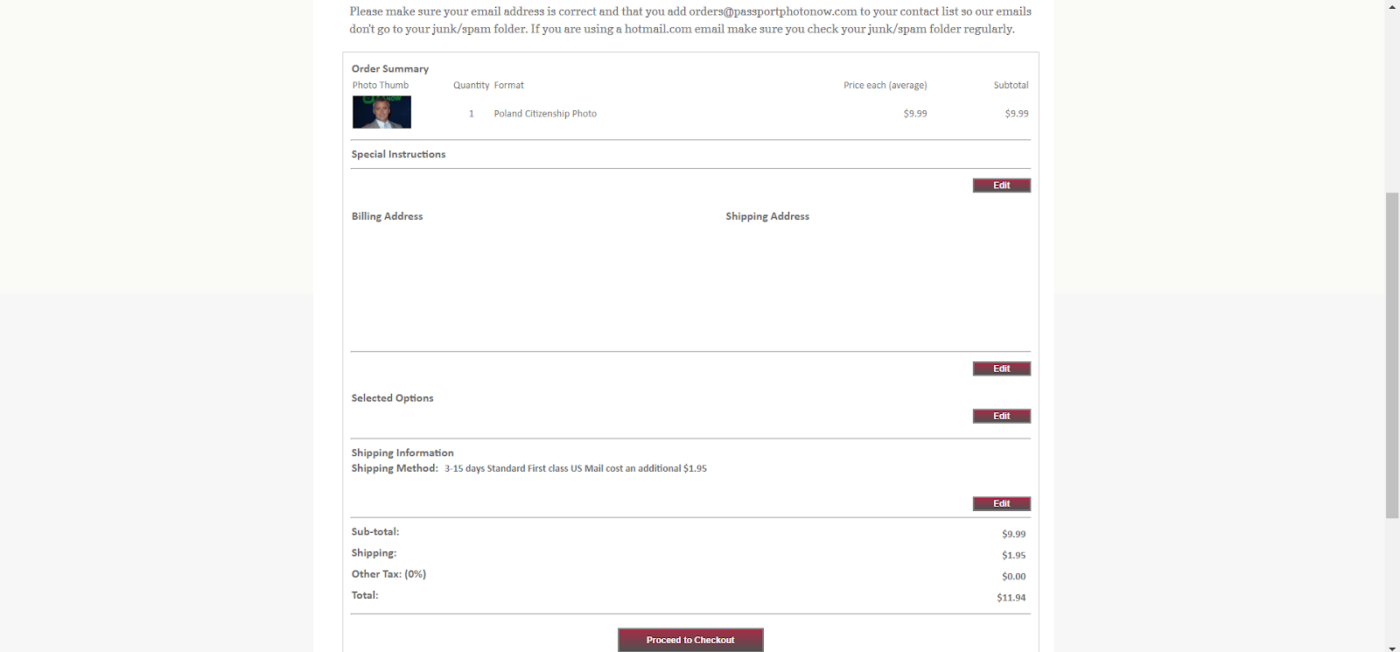 12. Paspic photo: what a pain
Paspic seems nice at first: your passport photo is printed on high-quality photo paper, posted to you for free in Europe in 2 working days, and 99.5% of their photos are accepted by the passport agency on first submission. They also provide you with a link to your digital passport photo.
But before all this, they explain how to take the perfect picture. You'll need this information because you can't upload an existing picture unless it's really, really good.
With each new picture you submit, you have to validate their awful captcha, a process that is tedious and annoying. Afterwards, you have to answer some questions, which is weird because a professional should be there to check for you.
I submitted a photo where the crop was bad (cutting off the top of my head), and once in the basket, I could see that the price hadn't changed (€6). Which was good, but the status showed as "compliant." I can assure you that my photo was NOT compliant, and I was irritated.
Apparently though, the photos are manually checked by members of the Paspic team to ensure they are compliant and of high standard before being posted.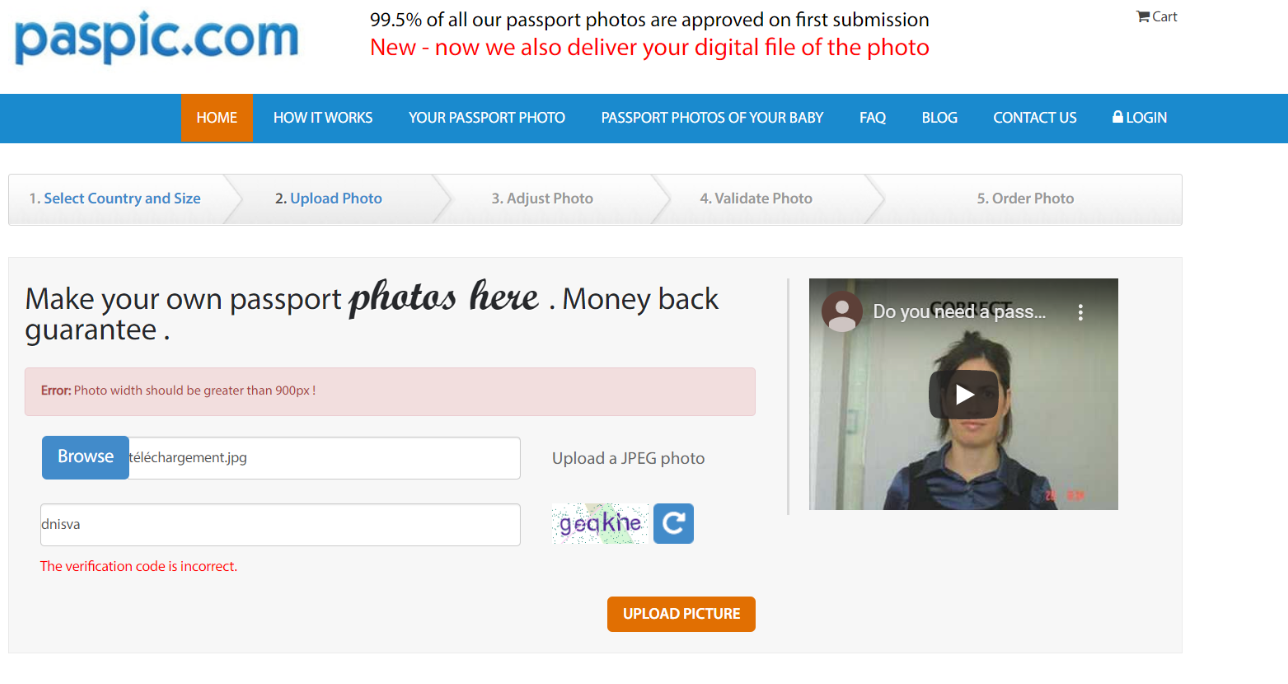 In other words, they explain how to take a picture the right way, but they won't help to modify it. No, thanks.
Below, you'll find the table summarizing the 12 website reviews. Make sure to check at the end if you prefer to try the mobile app version!
| | | | | | | | | | | | | |
| --- | --- | --- | --- | --- | --- | --- | --- | --- | --- | --- | --- | --- |
| | Passport Photo Online | Visa Foto | Odd Prints | Persofoto | My Passport Photos | Make Passport Photo | 123 passport photo | ID Photo DIY | Egreen Card Photo | Epassport Photo | Passport Photo Now | Paspic |
| ease of use (is it intuitive) | ✔️ | ✔️ | ✔️ | ✔️ | ✔️ | ✔️ | ✔️ | ✔️ | ✔️ | ✔️ | ✔️ | ✔️ |
| cropping tool (automatic / manual) | automatic | automatic | automatic | manual | automatic | manual | manual | manual | manual | automatic | automatic | automatic |
| background correction | ✔️ | ✔️ | ❌ | ❌ | ❌ | ❌ | ❌ | ❌ | ❌ | ❌ | ❌ | ❌ |
| privacy | ✔️ | ✔️ | ✔️ | ✔️ | ✔️ | ✔️ | ✔️ | ✔️ | ✔️ | ✔️ | ✔️ | ✔️ |
| no annoying ads | ✔️ | ✔️ | ✔️ | ✔️ | ✔️ | ❌ | ✔️ | ✔️ | ✔️ | ✔️ | ✔️ | ✔️ |
| instant preview (what will be send to you | ✔️ | ✔️ | ✔️ | ✔️ | ✔️ | ❌ | ✔️ | ✔️ | ✔️ | ✔️ | ❌ | ❌ |
| warranty of satisfaction / acceptance | ✔️ | ✔️ | ❌ | ❌ | ❌ | ❌ | ❌ | ❌ | ❌ | ❌ | ❌ | ✔️ |
| delivery | ✔️ | ✔️ | ✔️ | ✔️ | ✔️ | ❌ | ❌ | ❌ | ❌ | ✔️ | ✔️ | ✔️ |
| Paper printout delivery | ✔️ | ❌ | ✔️ | ❌ | ✔️ | ❌ | ❌ | ❌ | ❌ | ❌ | ❌ | ✔️ |
How about mobile apps?
I tried the four best-ranked mobile apps in the Play Store to find out if they are worth getting. You'll find a recap chart at the end, summarizing my reviews.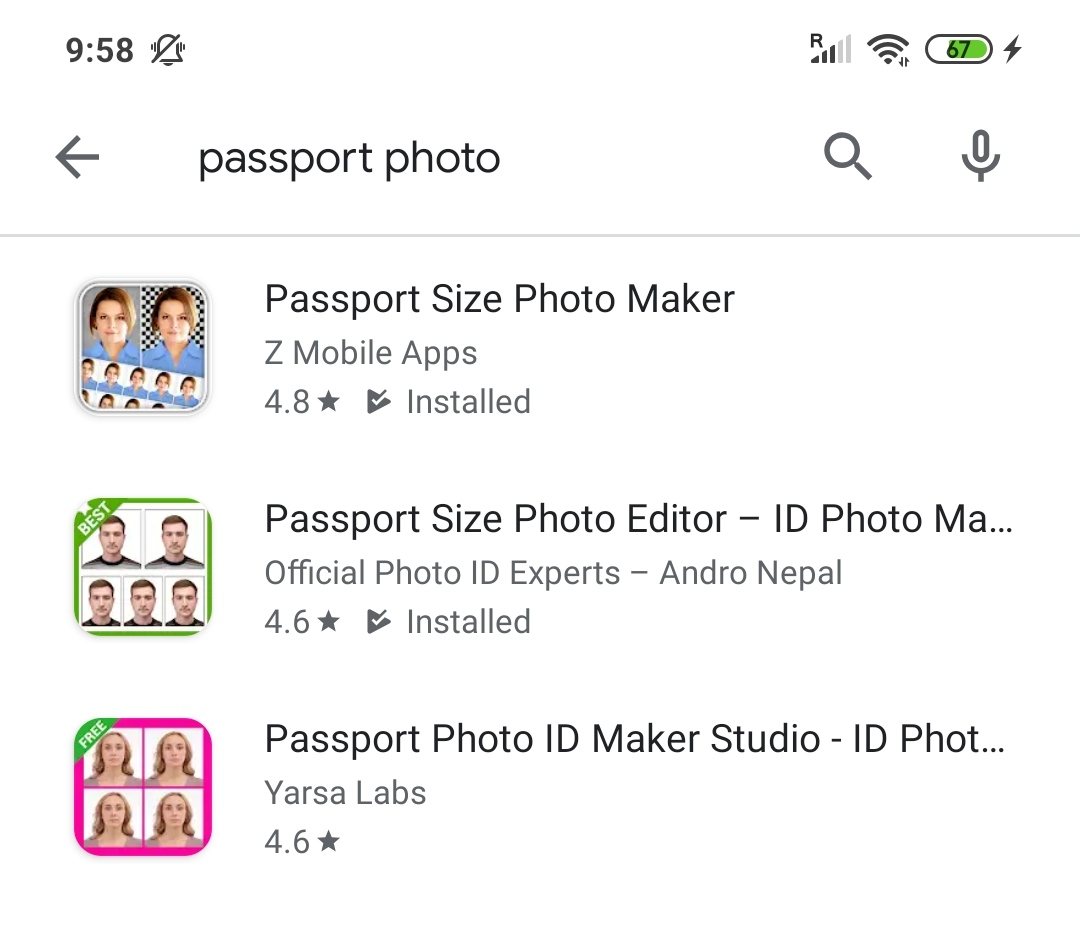 1. Passport Photo Online: my honest review
The app is ranked 4.4/5 (as of 13/07/2020). For me, this one is the most intuitive, time-saving app of the four. You can upload an existing photo or take a new picture; either way, it will be analyzed and processed quickly.
The results are terrific, even for the free version. The quality and sharpness are second to none. Everything is automatic and fast. Your perfect passport pictures are ready to print in less than two minutes on the app. And they are 200% guaranteed to meet the official requirements!
While waiting for your photo to be processed, you have to watch an ad—but this is a small price to pay. I recommend Passport Photo Online very highly. Trust me.
And if you don't believe me, you might want to read the review of Passport Photo Online published on Italian website that reviews mobile apps.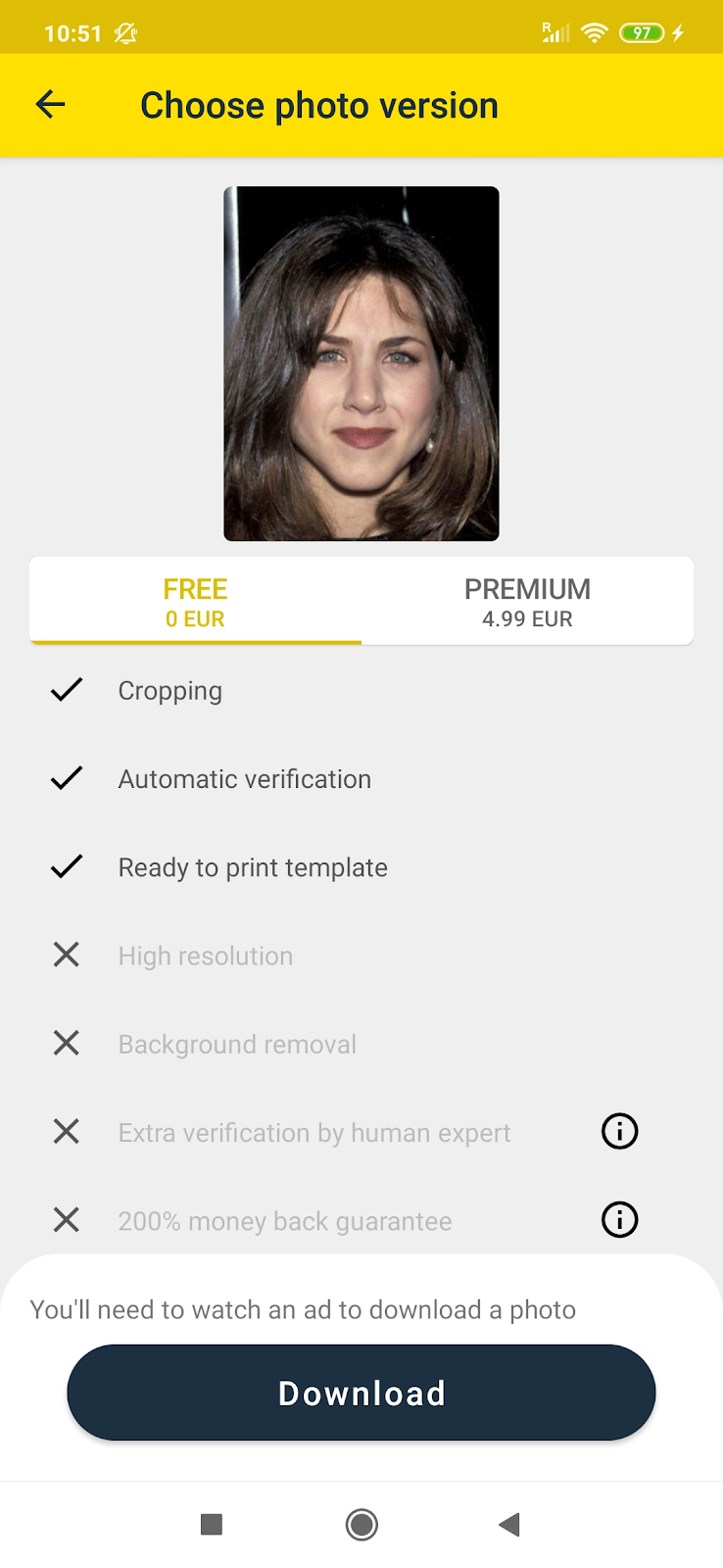 2. Passport Size Photo Editor: take ID photos with your smartphone
Passport Size Photo Editor is rated a shockingly high 4.6/5. This app doesn't appear to be made to modify existing pictures. You download this app to take a new passport picture, full stop!
It was impossible for me to use a photo already saved in my gallery. Of the over 400 pictures on my phone, not even one was suitable for the app.
After I finally got my shot, I was pleased to see that I could change the background by coloring it. But to be honest, this option is a joke. It's like a child coloring with crayons; there's nothing professional about it. You can see for yourself with the screenshot just below.
In conclusion, Passport Size Photo Editor only enables you to take a new picture, with its background filter to help you calibrate the size and position of your head.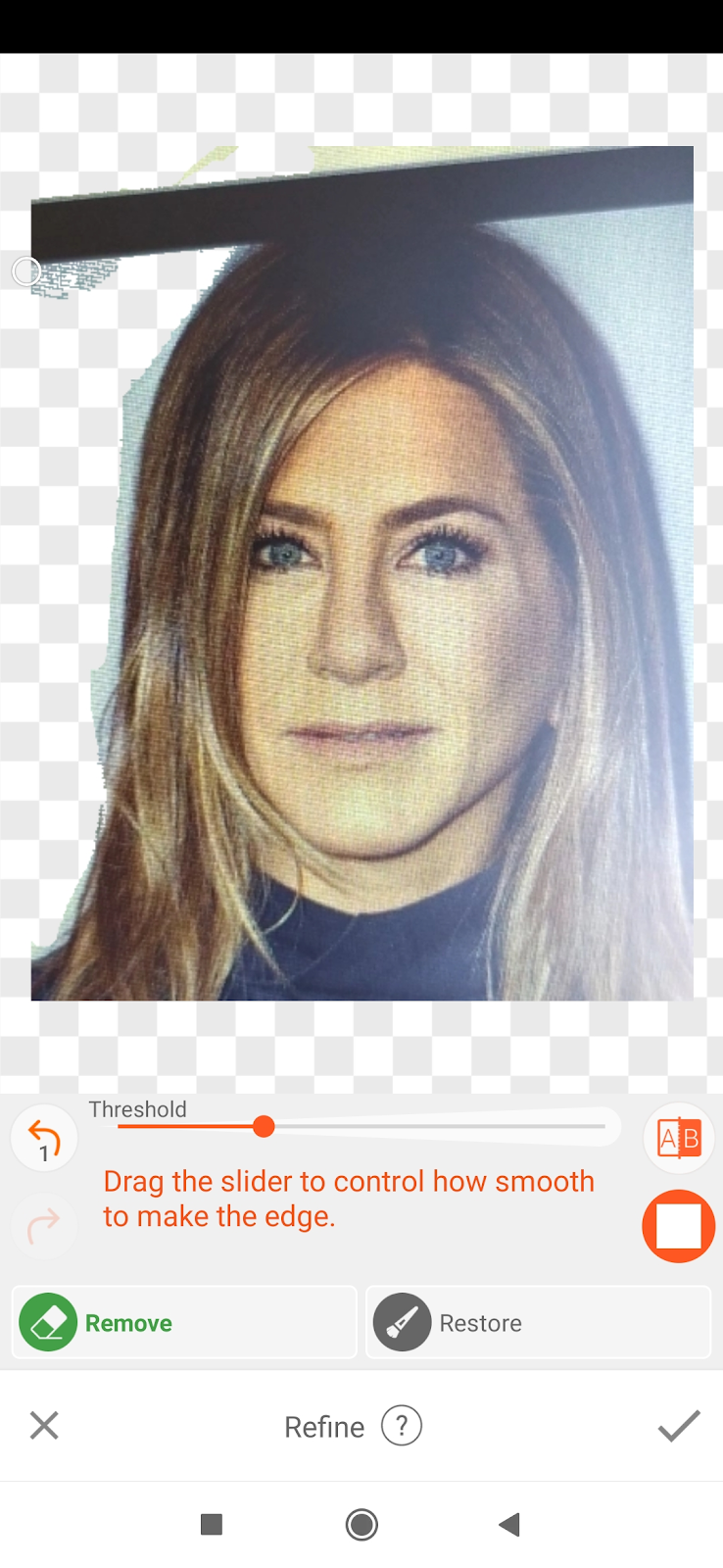 3. Passport Photo ID Maker Studio
Passport Photo ID Maker Studio is, like its twin, also rated a shockingly high 4.6/5. It's not surprising that this one and Passport Size Photo Editor both have the same evaluation, as they are very similar… which is not a good thing.
They both make it impossible to choose an existing photo from your gallery. They both offer the same tools to help you make your own picture, including the crayon-style background editor. (Their premium service to make a uniform background might be better.)
But unlike the previous app, this one is covered with noisy and annoying ads. I'd stay away if I were you.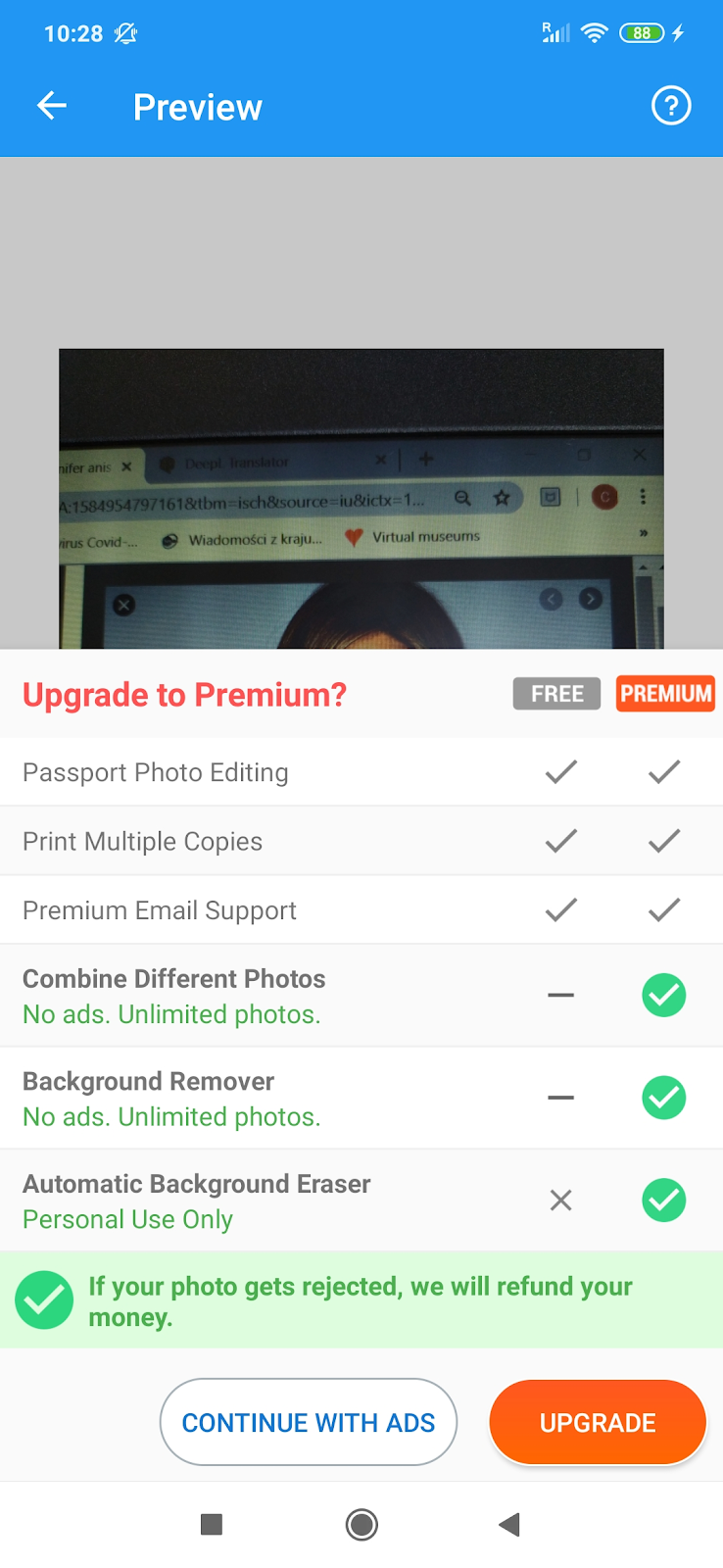 4. Passport Size Photo: many improvements needed
I was disappointed with the results produced by Passport Size Photo Maker. It was the first app in the Play Store (on 23/03/2020) with a rating of 4.8/5 stars, but I honestly wouldn't rate it that high.
It is not intuitive at all. You have to crop your images manually. The quality of the picture is pixelated. You can't zoom properly, the colors look grim, and the cursor to modify your photo is slow and hard to use.
I tried both taking a new picture with my smartphone, and using a photo from my gallery. I can tell you that it's better to take a new shot, as it is very difficult to modify any pictures already taken.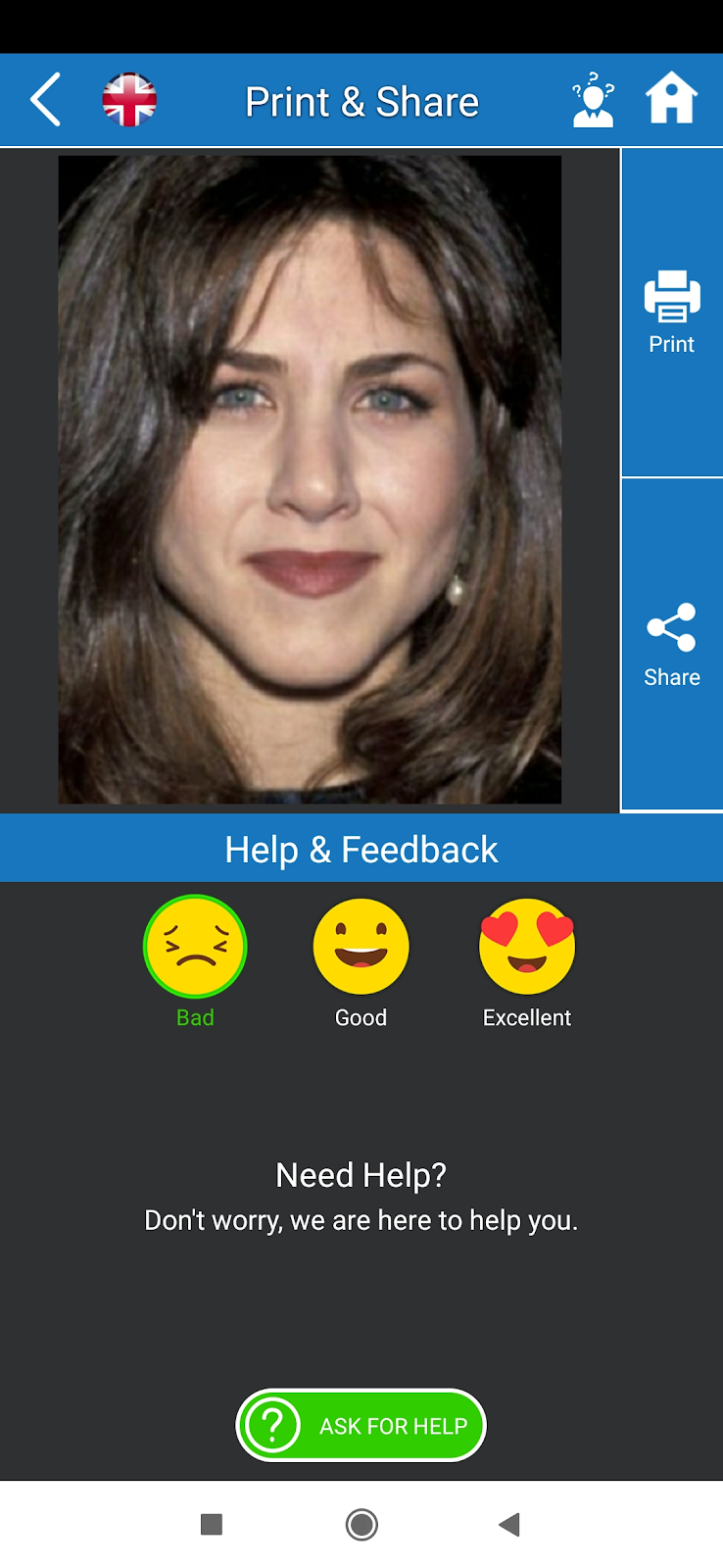 Here is the recap chart for mobile apps. Thanks for reading!
| | | | | |
| --- | --- | --- | --- | --- |
| | Passport Photo Online | Passport Size Photo Editor | Passport Photo ID Maker Studio | Passport photo |
| ease of use (is it intuitive) | ✔️ | ✔️ | ❌ | ❌ |
| cropping tool (automatic / manual) | automatic | manual | manual | manual |
| background correction | ✔️ | ❌ | ❌ | ❌ |
| privacy | ✔️ | ✔️ | ✔️ | ✔️ |
| no annoying ads | ❌ | ❌ | ❌ | ❌ |
| instant preview | ✔️ | ✔️ | ✔️ | ✔️ |
| warranty of satisfaction / acceptance | ✔️ | ❌ | ❌ | ❌ |
| delivery | ✔️ | ❌ | ❌ | ❌ |
Looking for more tips to get that perfect passport photo? Try reading our other articles:
Online passport photo apps: FAQ
Now let's take a look at some common questions from our readers regarding online passport photo apps. Maybe the answer to your specific question is below.
Is Passport Photo Online legit?
Yes, Passport Photo Online is legit. ScamAdvisor gives PPO a trust rating of "high," and a 100% Trust Score. PPO is also rated very highly by its customers: over 3,000 reviews on Trustpilot, with an average rating of 4.5 stars out of 5 ("perfect").
What's the best online passport photo service?
It all depends on what you're looking for. If you're mainly interested in obtaining a cropped photo with the background removed, your best bet will be Passport Photo Online or Visa Foto. If you need a paper printout of your picture, you can try Passport Photo Online, Odd Prints, or My Passport Photos. However, if you're looking for a passport photo app that combines the above features and more, such as AI-based (and human expert) photo verification, double refund, guarantee of acceptance, and an instant preview of your image, go for Passport Photo Online.
How to verify a passport photo online?
An easy way to verify your passport photo online is by using our app available for iOS and Android devices. Your photo will get automatically scanned by our AI system, and on top of that – by a human expert. You will be immediately notified by email whether your photo is good to go or if you should retake it at no cost.
Passport Photo Online on Trustpilot
With over 4,000 reviews on Trustpilot, Passport Photo Online is very highly rated. 84% give it the full five stars for an overall average of 4.5 stars ("excellent").
Sources: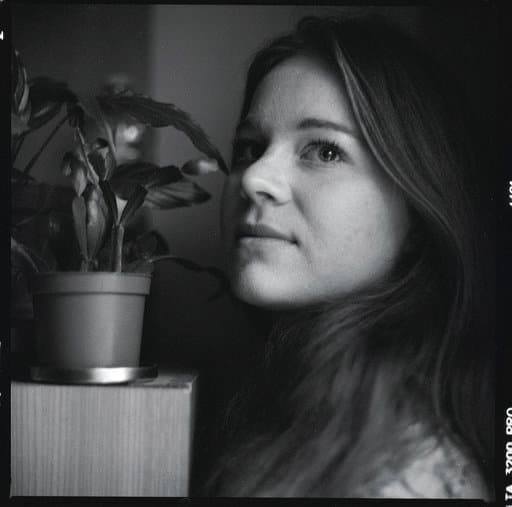 Karolina Turowska, a biometric photography expert and travel enthusiast at Passport-Photo.Online. When it comes to writing, she loves bringing dry facts to life. When it comes to traveling, she just loves bikes.