No matter what document you need to apply for—whether it's a visa, passport, green card or many others—you will need good ID photos that meet exact photo requirements. These requirements include such details as the size of the picture, the quality of the printing, the pose of the subject and the position of their head. There's a lot to know!
You may be wondering how you are expected to know all of these details. Maybe it would be easier just to get a professional photographer to have the job done right.
Fortunately, you do not need to be an expert photographer to take a suitable and acceptable passport or visa photo. There are services available online which make the process easy. It is also possible to prepare your ID photos using an app on your smartphone.
Once your photos are prepared, all you have to do is get them printed at one of the print shops or pharmacies that handle photography. If you don't want to go to the drugstore for printing, for a little bit extra you can have them printed by the website and delivered to your mailbox.
Where do you start? The first thing you do is try to find a "passport photo tool" or "online photo booth." There are many of these photo tools available on the internet. Two of the most popular are VisaFoto and Passport Photo Online. Both of these photo booths help prepare great pictures, but there are some differences.
You don't need to try both of them to form an opinion—we've already done it for you. This article will introduce you to important information regarding these two passport photo makers, and will help you choose the one that suits you the best. Continue reading to discover them!
VisaPhoto vs Passport Photo Online: interfaces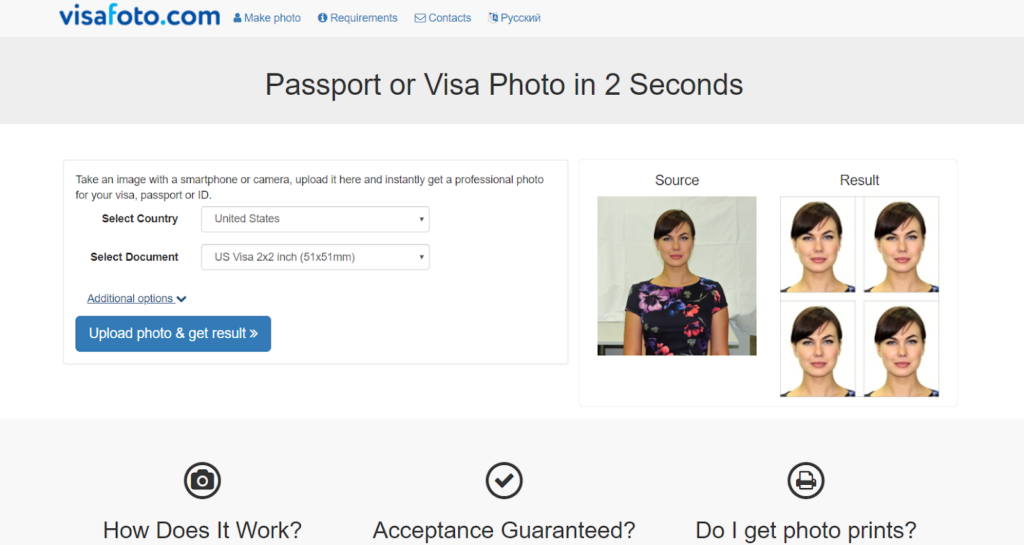 Both of these two passport photo editors have simple interfaces that do not distract the user from their main purpose of preparing document photos. They are both very user-friendly, with the most important features placed right on the homepage: the country, the type of the document, the requirements, and the contact info. Note that neither one of these passport photo makers displays ads on their homepage.
On both homepages, you can proceed to the page of a specific document, such as, for example, a US passport. Both sites offer additional information regarding the photo and list the US passport photo requirements.
Passport Photo Online has the more attractive and elegant interface for the users. VisaFoto's interface is extremely simple, but this does not take away from the quality of the end result. Both are quick to conform your pictures to the passport photo guidelines, but Passport Photo Online's waiting time is only 3 seconds!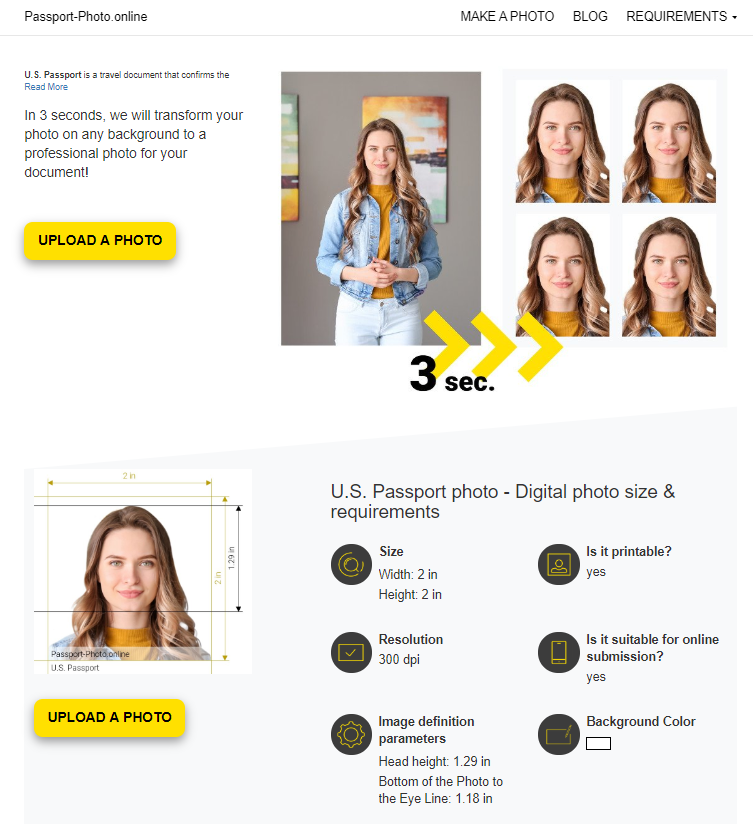 Another crucial difference is that VisaFoto does not have a passport photo app to download to your smartphone. Passport Photo Online offers a great app for both Android and iPhone. The app makes it convenient to use your phone camera to take the photo; just upload your picture directly to the app instead of transferring it to your laptop or computer.
Find out more about passport photos from these articles:
VisaPhoto vs Passport Photo Online: paid services
Both of these two passport photo tools have paid services, but Passport Photo Online also offers the possibility to download a free passport photo template. The paid services have many advantages, but you should choose what best fits your needs.
Passport Photo Online free option
Passport Photo Online allows you to upload a photo on a white background and get a FREE printable 4×6 inches passport photo template, which you can then have printed for less than 35 cents. Simply go to Walmart, Walgreens, Costco, or any pharmacy that has a photo department. A 4×6 postcard print costs as little as 35 cents at all of these photo store locations. Using this trick can save you a lot of money!
VisaFoto does not offer a free service. Both companies allow changing the background if you choose their paid option.
Paid passport photo services
VisaFoto prepares either a single digital passport photo or a four-photo template which you can then download by paying a little over $4.70. This is cheaper than Passport Photo Online. The passport photos prepared by VisaFoto are edited automatically; this means that it is up to you to know the US passport photo requirements, because no one will double-check your photos for you.
(If you want to check whether you have all the necessary documents required for a US passport application, click here).
Passport Photo Online, however, has a paid service that includes human verification, background editing, and guaranteed acceptance for only $6.95. This means that your photos will be checked by an expert, and they are guaranteed to be accepted by the authorities or you will get 200% of your money back.
Also, for only two dollars more Passport Photo Online will print the photos onto high-quality photographic paper for you and deliver them to your mailbox. You can save yourself a trip to the drugstore photo department.
In conclusion, as far as results, quality and price are concerned, Passport Photo Online offers a free service and some other options that are more convenient, but they cost a bit more than VisaFoto.
Passport Photo Online vs VisaPhoto: photos
Both of these passport photo makers allow you to prepare other types of document photos for many countries.
In addition to offering passport and visa photos, we also specialize in creating ID photos for various needs.These include citizenship applications, employment authorization, driving licenses, and firearms permits. We can even assist with pictures for an ISIC card or student ID.
For those looking to enhance their professional presence online, we provide high-quality LinkedIn photos, perfect for rounding out your CV and online profiles.
You can also choose to prepare a universal size, such as 2×2 inches photo, 3×4 cm, 3.5×4.5 cm or 5×5 cm.
Passport Photo Online also allows you to prepare passport photo templates for specific stores where you can print them, whether it's Walmart, Walgreens, Costco, or many others.
Or you can get just the digital photograph, suitable for online submission and electronic use. Upload the JPG digital image to the website of your choice.
VisaPhoto or Passport Photo Online: FAQs
Who is VisaFoto?
VisaFoto is an online photo store that enables you to turn your snapshot into a passport size photo quickly and easily at a cost of only $4.70. The company has good reviews from their customers.
Is there a free alternative to VisaFoto?
One free alternative is Passport Photo Online, but it is important to capture your image in front of a white background or an off-white wall because the background removal and replacement costs extra.
Can you use VisaFoto for the Diversity Visa Lottery application?
Yes, the US State Department has the same requirements for both the US passport photos and the photos needed for the Diversity Visa Lottery (Green Card Lottery).
Is VisaFoto safe and secure?
Yes, they are legit and safe and reliable. They are not a scam website.
Can an American use VisaFoto to apply for a Chinese visa to visit China?
Yes. China is a popular destination, but Americans must get a visa to visit China. VisaFoto and Passport Photo Online both offer Chinese visa photos.
Final thoughts
So, which one should you choose, VisaFoto or Passport Photo Online? Taking into consideration all the information presented above, we would advise you to pick what is most convenient for you depending on your needs.
If money is your most important factor and you can take your photo in front of a white background (or even an off-white wall), then Passport Photo Online will get the job done for free.
But if you need your background replaced with a plain white background, then you will need to upgrade to a paid service. For background removal and replacement, VisaFoto is a couple of dollars cheaper than Passport Photo Online.
And if you also want to receive a warranty that your passport photo will be accepted, then use the paid service on Passport Photo Online. The extra $2.25 covers human verification and human revision plus a 200% money-back guarantee.
You can also order the printouts directly from Passport Photo Online if you don't want to leave your home.
And perhaps most importantly, Passport Photo Online has an app for your phone you can download to create document photos directly from your smartphone! If you don't have another computer such as a laptop, desktop or tablet, then this is the option for you.
Sources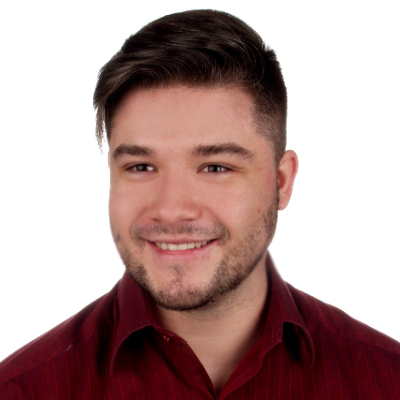 Graduated from the University of Warsaw, Michał, is a biometric photography expert with an undying thirst for adventure and a writer at Passport-Photo.Online. A self-proclaimed book and movie critic as well, he's always eager to visit to the most underrated or less popular travel destinations.