When it comes to applying for a new passport, there are plenty of different criteria to meet in order for it to be accepted. A huge chunk of them has to do with the passport photograph, and most likely it is also that part of the application you have some doubts about. Many applicants are concerned about facial hair, especially long and thick beards.
Looking for more tips to get that perfect passport photo? Try reading our other articles:
Will my passport photo be rejected if I wear a beard?
Luckily, as strict as the criteria for passport images might be, according to U.S. standards, your facial hair will not be a problem. What it means is that whether you wear a beard, a mustache, or even a goatee, it is in accordance with the official regulations, and therefore you are allowed to have it in your passport photo. The presence or the lack of facial hair does not affect your identifiability, as it does not change the biometrics of your face. This means that it does not pose a difficulty for the officers to identify you, no matter whether you have a decade-long beard, or simply a mustache.
A similar approach is seen in European countries, such as Germany, France, United Kingdom or Poland, whose passport regulations also allow having facial hair. However, to be entirely sure, it is advisable to check the exact regulations of your home country, as these may vary.
It is important to note that despite the fact facial hair is allowed in passport photos, many of the above-mentioned countries advise keeping it within your picture only if it is a part of your regular look. However, this is merely a suggestion of the authorities, not an official requirement.
Should I get a new passport if I have recently shaved my beard off?
No, there is no such need. As we can read in the U.S. regulations, there is no obligation to get a new passport photo once we have modified our facial hair. You can, therefore, easily grow a beard, or have it shaved off, and there will not be a need to change the image in your passport.
The same rule applies to your hairstyle, getting prescription glasses, and minor weight changes. Beware, however, that you are not allowed to wear glasses in the passport photo itself.
Overall, the intuitive rule is that if your appearance hasn't changed drastically, there is no need for taking a new passport photo.
There are, however, some circumstances under which you are obliged to update your passport picture. These include facial tattoos – whether you have recently got a new one, or removed it from your face. In both cases, you need to get a new passport. The same goes for significant weight alterations, cosmetic or reconstructive surgeries around the face, and changes in gender identity.
Are you thinking of updating your passport? Try Passport Photo Online
Regardless of whether you have a grizzled, bushy beard or no beard at all, there are now tools available online to allow you to get the right-on-the-spot picture for your passport, I.D. card, or just to update your LinkedIn profile. Avoid spending substantial amounts of time looking for a skilled photographer in your area, and check out Passport Photo Online – an intuitive and user-friendly app, that will help you get the perfect passport image in a matter of seconds – and all with the convenience of staying home.
Passport Photo Online is an AI-backed software that transforms your homemade picture into a top-notch passport photograph, with a guaranteed acceptance by the authorities. It's all possible thanks to the advanced algorithms that are well aware of what the official requirements are, and are capable of adjusting your picture accordingly, so there is a 100% fit. What's great about this app is that it allows you to upload countless pictures and you only pay once you're satisfied with the final result. You can take as many retakes as you want, all to find the perfect shot for you. You can later receive the images in digital or print form, all up to your likings.
And be sure not to miss the fact that this app is so certain about its accuracy, that in case of any mistakes, there is a money refund for you.
Bearded or not, you are good to go
In case you are an always-in-a-hurry kind of person who wants to get a quick and on-the-spot answer, let me give it to you. Yes, you are perfectly fine to pose with your beard for passport photos. As it turns out, the strict government requirements sometimes turn out to be quite humane, and there is no need to update your passport image every time you alter your appearance. But it's worth knowing that if you do want to take the new shot, there are convenient tools available to you, right within your reach!
RELATED READING:
Beard In Passport Photo: Frequently Asked Questions
Do I need to shave my beard for a passport photo?
No – according to the official requirements of most countries, you do not need to shave your beard for a passport photo. It is however always advisable to check the specific criteria of your country.
I had a passport photo with a beard, then shaved. What should I do?
You do not need to apply for a new passport if you shaved your beard. Regulations allow for minor alterations in the appearance, such as facial and regular hair, slight weight changes, getting prescription glasses.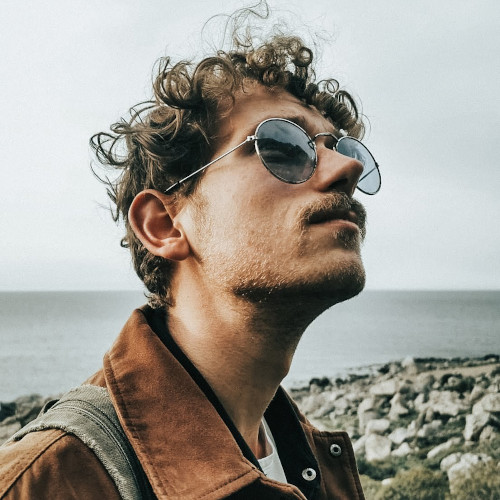 Graduated from the Cracow University of Economics, Adam is an experienced writer at Passport-Photo.Online. Passionate about finding out how things work, Adam's interests include human behavior, photography, and travelling. His insights, advice, and commentary have been featured in Forbes, Social Media Today.