So you applied for a passport with a slight delay, and now you're afraid it's not going to arrive on time? We got your back! You can now keep track of your passport application status using a mobile device or online service! So how does it work? Similarly to tracking a parcel, your U.S. passport application status can be checked online, using a few personal details.
Interested in finding out more about passports? Check out:
Tracking U.S. passport application
The online passport tracking feature was developed a few years ago. The U.S. Department of State was prompted to introduce this option due to the numerous calls from passport applicants. The system allows users to check their U.S. passport status, after at least 7 (seven) – 14 (fourteen) days following the submission of an application. Tracking is available after min 7 (seven) working days after the submission.
In order to check the application status (via your desktop browser or using a mobile phone), applicants are required to provide some personal details. The mandatory details that must be entered when applying online are:
last name including suffixes and hyphens (ex. Smith III, or Smith-Jones)
date of birth
last four digits of your Social Security number
Automatic email updates are also available, for those who want to be informed daily about the process. You will need to provide an email address while the application is pending in the Online Passport Status system.
You can also obtain information on the status of your U.S. passport by contacting the National Passport Information Center at 1-877-487-2778 or 1-888-874-7793, and speaking to a customer service representative. This service is available from Monday to Friday, 8 AM to 10 PM (excluding federal holidays). Similarly to online tracking, this tracking option is available 7-14 (seven to fourteen) days after submitting the application.
What does each passport status mean?
There are (4) four stages to a passport application, and each has a different meaning. The (4) four stages are:
Not Found
In Process
Approved
Mailed
Passport status: Not Found
When a U.S. passport application status is displayed as 'Not Found', it is usually because fewer than 14 (fourteen) days have passed since the submission of the application. This indicates that the new passport application is still in transit, and that the first status updates will be available once 14 (fourteen) business days have passed.
Passport status: In Process
The next status stage is 'In Process'. This means that your application is being reviewed by the agent and that the passport processing times depend on the service chosen. For those who applied without the expedited option, the process normally takes 4-6 (four-six) weeks. With the expedited service that is paid for additionally, the waiting time is usually reduced to around 3 (three) weeks.
Passport status: Approved
When the passport application status is shown as 'aApproved', it means that the reviewing of the application has been completed and passport printing has begun. Now it is time to wait for the delivery of your passport.
Passport Status: Mailed
This is the most-awaited step of the U.S. passport application process. It indicates that the passport has been sent to the address provided in the application. Supporting documents such as birth certificates, or ID cards will be sent via separate mail.
Possible delays in delivery
If passport tracking indicates that a passport was sent out more than 10 (ten) business days ago and still hasn't been delivered, then the National Passport Information Center should be contacted immediately. The applicant will then be advised by a customer service representative to fill out a special form known as a DS-86. This is a document that is used to report that the passport has not been delivered. The form must be completed 90 (ninety) days from the date the passport was mailed out. After the 90-day period, the applicant would be required to re-apply and pay all the fees.
Expediting a U.S. passport
Those individuals who are pressed for time have the option of expedited passport service. This means that the passport process will be faster, and instead of waiting up to 6 (six) weeks, applicants will wait up to 3 (three) weeks. This is only available when an extra fee is paid. This process can be sped up even more if a passport is urgently needed by paying next-day home delivery once the passport is ready to be mailed out.
Renewing passport by mail
Renewing a U.S. passport via mail is simple, as only the DS-82 form has to be filled out. DS-82 is used for the renewal of passports for those who prefer to submit their application as a hard copy rather than online. When renewing or applying for a passport by mail, your old passport along with a new passport photo have to be mailed at the post office. For passport renewals, it is also crucial to remember that papers cannot be handed to a passport acceptance facility, – rather they must be mailed to the Department of State.
When you can't renew your passport by mail
There are situations where renewal by mail is not possible. This is normally the case when:
The passport is stolen, lost or damaged.
The passport was issued more than 15 years ago.
The passport was issued when the individual was 16 years of age or younger.
In such a case, the applicant is required to fill out a DS-11 form which can be found at the post office or passport acceptance agency. Furthermore, DS-11 requires the full process to be done again – all documents for the passport such as citizenship proof or passport photos need to be presented. Signature under oath is also required.
Get approved photos for your new passport online
Taking passport photos is now available online by using the Passport Photo Online tool. This passport photo application allows individuals to take their passport photos at home using a mobile device or an iPad. The advanced passport photo tool comes with photo editing features that follow passport photo guidelines. Cropping, background replacement, or the removal of 'red-eye' and shadows are just some of the options available in the application.
You can take the photos for your passport in a relaxed setting, at your own house or even when visiting friends or family. The app lets you retake the shots as many times as you wish free of charge, so if you're picky when it comes to choosing the right passport pic, give this tool a try!
How to check U.S. passport status – final thoughts
With so many formalities being done online nowadays, it is only logical that passport tracking should be available on the Internet as well. You'll need to provide your last name, date of birth, as well as the last (4) four digits of your Social Security number. When looking up your U.S. passport application status, make sure you wait anywhere from 7 to 14 (seven to fourteen) days after having submitted your passport application. You can also opt for automatic status updates by email from the Online Passport Status system.
How to check U.S. passport status: FAQ
Where can I check the U.S. passport status?
Passport application status updates are available on the State Department's website. You can also call the National Passport Information Center at 1-877-487-2778 or 1-888-874-7793.
What does it mean when a passport application is 'Not Found'?
Your U.S. passport status shows up as 'Not Found' most likely because not enough time has passed since the submission of your application. Status updates are usually available 7-14 (seven to fourteen) days after you submit your passport application.
My passport tracking shows that my passport was sent out 10 days ago, but I still haven't received it. What should I do?
In this case, you should contact the Passport Information Center and you'll probably be advised to fill out, sign, and submit form DS-86 to report that you haven't received your passport. This form must be submitted within 90 (ninety) days of your application submission.
RELATED READING: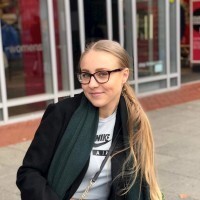 Holding the degree in International Business Management from a prestigious Manchester Metropolitan University, Victoria gained impressive knowledge in marketing, management, and HR. Wiktoria has completed voluntary work at Angoville as a coach of young adults. Her plans are associated with self-development, a glamorous career, travels.