Are you about to apply for a passport and wonder if the photo you took 7 (seven) months ago is still valid?
In this blog post, we will explain how long a passport photo is good for and if there is a limit to the age of the image you're submitting with your passport application.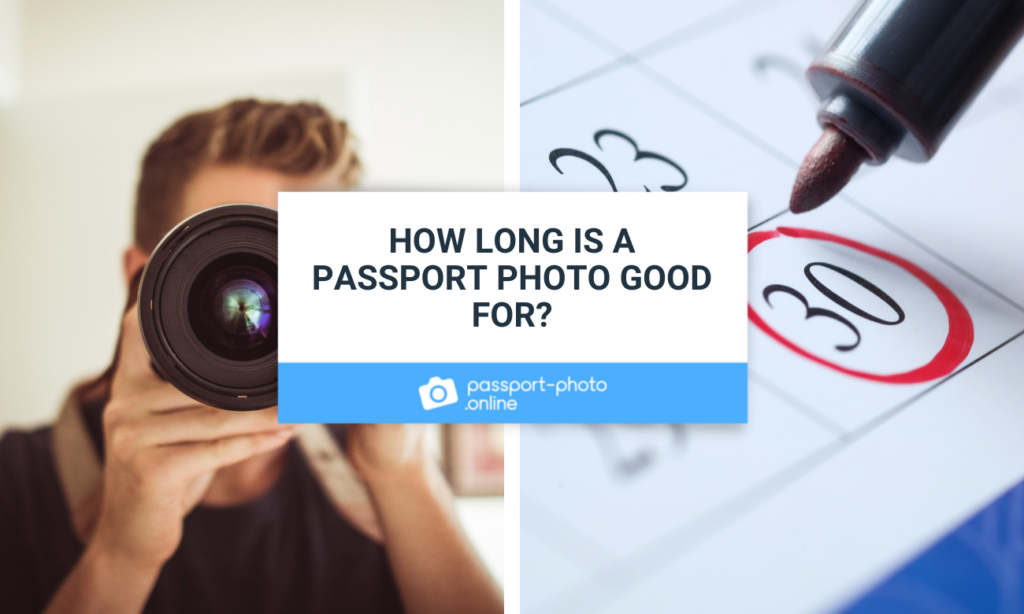 How long is your passport photo good for—requirements
Passport photos you plan to submit at the passport office need to be compliant with a set of rules that dictate what a U.S. passport photo image should look like and how old it can be. Indeed, passport pictures you send through mail or present at the scheduled meeting must not be older than 6 (six) months. It is one of the most crucial passport photo requirements you need to keep in mind when applying for a U.S. passport book or card.
This policy applies to both adult passport applicants and child applicants, thus creating no exceptions to the age requirement of the picture.
If you hand in a passport picture that reflects your current appearance, but you took it over 6 (six) months ago, the application will stall until you provide a recent photo. It is up to the clerk at the passport acceptance facility to decide whether the passport photo you submitted is valid.
If your photo turns out to be invalid, you will be asked to correct the information or bring a new passport photo.
OTHER BLOG POSTS THAT MAY CATCH YOUR EYE:
Can You Reuse Passport Photos?
How long is my passport photo good for—minors
The same rules, regarding the submitted U.S. passport photo age, apply to minors. Applying for their first passport, or renewing it, will require the parent of the child to bring a passport photo of the minor that was taken within the last 6 (six) months.
Make sure the passport picture you submit is:
no older than 6 (six) months,
showcases a child's current appearance,
and follows the rest of the official U.S. passport photo requirements.
If so, the passport application will go through without delay.
Passport Photo Online: replace your old passport photo
If your passport photo is over 6 (six) months old and you need a new one, Passport Photo Online is precisely what you're looking for.
You can get a free passport photo template to print your passport picture at a nearby store or, for a price of just $6.99, you will be able to turn a photo into a valid passport photo without leaving your home. The app comes with a satisfaction guarantee, so you can upload as many pictures as you want and pay only when you're finally content with the new passport picture.
Download our app, upload your photo, and in just 3 (three) seconds, you will receive a passport photo with guaranteed acceptance or a 200% refund.
How long is a passport photo good for – summary
The general rule is that a passport photo for a passport application is good for 6 (six) months. This single requirement applies to both adults and minors.
However, the picture in the passport book will be good and acceptable during checkups when traveling, as long as it is a faithful depiction of your current appearance.
How long is a passport photo good for: FAQ
Here you will find the most common questions about the length of your passport photos' validity and quick answers you may find helpful.
Can you use the same passport photo when getting a new passport within 6 months?
The answer is yes. If the photo you wish to submit is still no older than 6 (six) months and isn't damaged in any way, it will be accepted at the passport offices.
Can I apply for a passport using a passport photo older than 6 months?
No, the official U.S. passport photo requirements state that you must apply for a passport with a passport picture that was taken within the last 6 (six) months and no older.