A lot has been said about how difficult it is to submit a proper passport application, and most of it is simply a marketing trick. However, if the official Department of State website posts information stating that an incorrect passport photo is indeed the no.1 reason for application refusal, and over a quarter-million submissions land in a bin due to invalid pictures, then you realize it's actually quite worth learning more about taking the correct passport photograph.
In this brief passport photo face guide, you will find all the essential information about passport photo requirements. Additionally, there will be some useful tips on how to apply them, to be certain the authorities accept your pictures. Without further ado, let's get down to it.
The proper composition of a passport photo
At this point, you might feel a bit anxious about taking the passport photograph yourself, especially given the statistics above. However, the task is more trivial than it seems, and all you have to do is to follow just a few, actually quite intuitive rules given by the officials. If you succeed to do so, you will find yourself with a perfect passport picture ready to be submitted. Learn what the guidelines for passport photo composition are to make sure your photo meets the criteria.
What is the passport photo size?
First, let's break down some of the technical aspects, which are the most demanding part of taking your own passport photo. The size of your image needs to be exactly what the requirements are, and additionally, you need to take care of proper proportions and cropping.
In the official U.S passport photo guidelines, you will find the following criteria regarding the size:
2×2 photo (51 x 51 mm);
the head must be between 1 -1 3/8 inches (25 – 35 mm) from the bottom of the chin to the top of the head.
What it means is that your picture not only has to be a square in a 2 x 2 inch format, but also you need to appropriately position your head within it. The rules just regulate what cropping is optimal for passport photos.
On top of that, the picture should also:
be of high resolution, with no blurs, grains, or pixelations;
printed on glossy or matte photo quality paper;
should not be digitally changed.
As for the latter part, it is rather simple to meet the criteria–after all, that's the default way of printing photographs, and things get a bit more complex with the former requirements. However, there is a quick and reliable solution for that–you can find more information about it further in the text.
Do you want to learn more about passport photos? Check these out:
What facial expression am I allowed to have?
By now, your head might be up and around, thinking about the required dimensions. Beware, however, that a frowned forehead of a thinker is not allowed in passport photographs. Instead, relax, both yourself and your facial muscles, and maintain a neutral facial expression.
If you're about to have your passport photo taken, just follow these few easy steps:
sit down or stand in a straight position;
face the camera directly, with your head centered, and keep your eyes open;
keep your face straight and do not tilt it backward or sideways;
look at the camera and maintain a neutral expression–this is the most favorable one.
You are also allowed to have a subtle, natural smile in your passport photograph. However, if you decide to go for a more cheerful face, beware not to overdo it–any unusual expressions will be rejected.
A bonus tip: don't wear glasses, jewelry, or other accessories. It is best to wear normal street attire. To learn more, see what the passport photo dress code is.
Is a picture with shadows still acceptable?
Let me answer the question quickly: no. Before you proceed with posing for the passport photograph, make sure to select a proper location for your picture. According to the official U.S passport photo guidelines, you should strive for a plain white background. However, it doesn't have to be perfectly white–a whitish or light gray should also do the trick.
Regardless of the color of your background, there are a few rules that need to be met:
the background should be uniform, with no irregularities;
there cannot be any objects behind you;
shadows are not allowed.
Therefore, if you are in the process of taking your passport photo, it is best to locate a white wall facing a window. If you don't have one, you can also use a white blanket or any other piece of material–as stated in the official guidelines.
As mentioned above, shadows are not allowed. Neither in the background nor your face. Avoid using strong, direct light sources, as these will cast visible shadows. Some sources say that small shadows of your ears are acceptable, however, there is no such information in official guidelines, so it's better to prevent that as well. It's best to use natural daylight, but you can also use professional studio lamps. Regardless of your light source, make sure the illumination is uniform and subtle. Read more: Are Passport Photo Shadows Acceptable?
Can I pose for a passport picture with facial injuries?
At this point, we arrive at a sort of crossroads. In most circumstances, your photograph will be rejected if submitted with a temporary facial injury, such as a bruise or a small scar. Therefore, if you are in a position where you can wait until your injury heals, it is strongly advisable to postpone the passport photo session.
There are, however, some situations in which you cannot wait, and there is an urgent need to update the passport. If you find yourself in one, then yes–you are allowed to have your passport with a bruise, scar, or even a bandage. Of course, this comes with some strings attached and there are some restrictions.
If you want to apply with a facial injury, beware that you need to justify it–for example, by urgent travel, and ideally with a signed doctor's statement. You will have to deliver proper documents which prove your situation. Each case is examined individually, so at this point, it is up to the officer to either accept your application or not–based on the circumstances. In case of success, you will have your passport issued to you, but only for temporary use. To use the limited validity passport, you have to possess a case note to show that 'the photo has been accepted to facilitate urgent travel'–such a note will be given to you by the authorities.
A passport issued to you for an emergency is only valid during that emergency. What it means is that you are required to apply for a new passport at your own cost after the trip. If you decide to continuously legitimate yourself with that passport, you may encounter difficulties on the border.
There is yet another circumstance besides urgent travel that might allow you to have a passport photograph with some sort of visible injuries or bandages on. As stated in the official U.S passport requirements, you might have a head covering for religious or medical reasons if it doesn't hide your face. Therefore, if you find yourself in such a situation, you will need to ask your doctor for a medical certificate of your condition and a justification that the bandages–or other medical elements–are part of the treatment. Especially if it is a long-term necessity.
Regardless of the circumstances, your entire face must be visible. Therefore, the bandages cannot go across your face, as this makes it impossible for the officers to identify you. If you are hesitant and would like to receive more information, it is best to consult the proper personnel-for example at a passport office.
How to take your passport photo easily?
Earlier on in the article, you were promised an easy and reliable tool to secure the proper cropping of your own photo for a passport. It is the most technical aspect of the entire process, therefore it is best to support yourself with tools that are designed to generate passport photos according to the official regulations.
The app that offers the best quality-to-price ratio is Passport Photo Online. Many, including Forbes, have noted and appreciated its clever solutions and user-friendliness.
Passport Photo Online allows you to upload your previously taken photograph into the system, so the program can scan it using Artificial Intelligence algorithms. The software goes through the main passport photo requirements, such as background, size, and dimensions, and adjusts your picture accordingly-for example, by converting your background into a plain white one. As a result, you receive a perfect passport photo. And all of that is done in a matter of seconds, from the comfort of your own home.
It seems like Passport Photo Online knows you might have a hard time choosing the perfect photograph, so it simply lets you upload as many as you want. You pay only for the final result, once all aspects of your future passport photograph satisfy you.
And on top of that, you receive a bonus in the form of a guarantee of acceptance. Passport Photo Online has an almost 100% success rate, so in case of the extremely unlikely event your picture gets rejected by the authorities, you are eligible for a double money refund.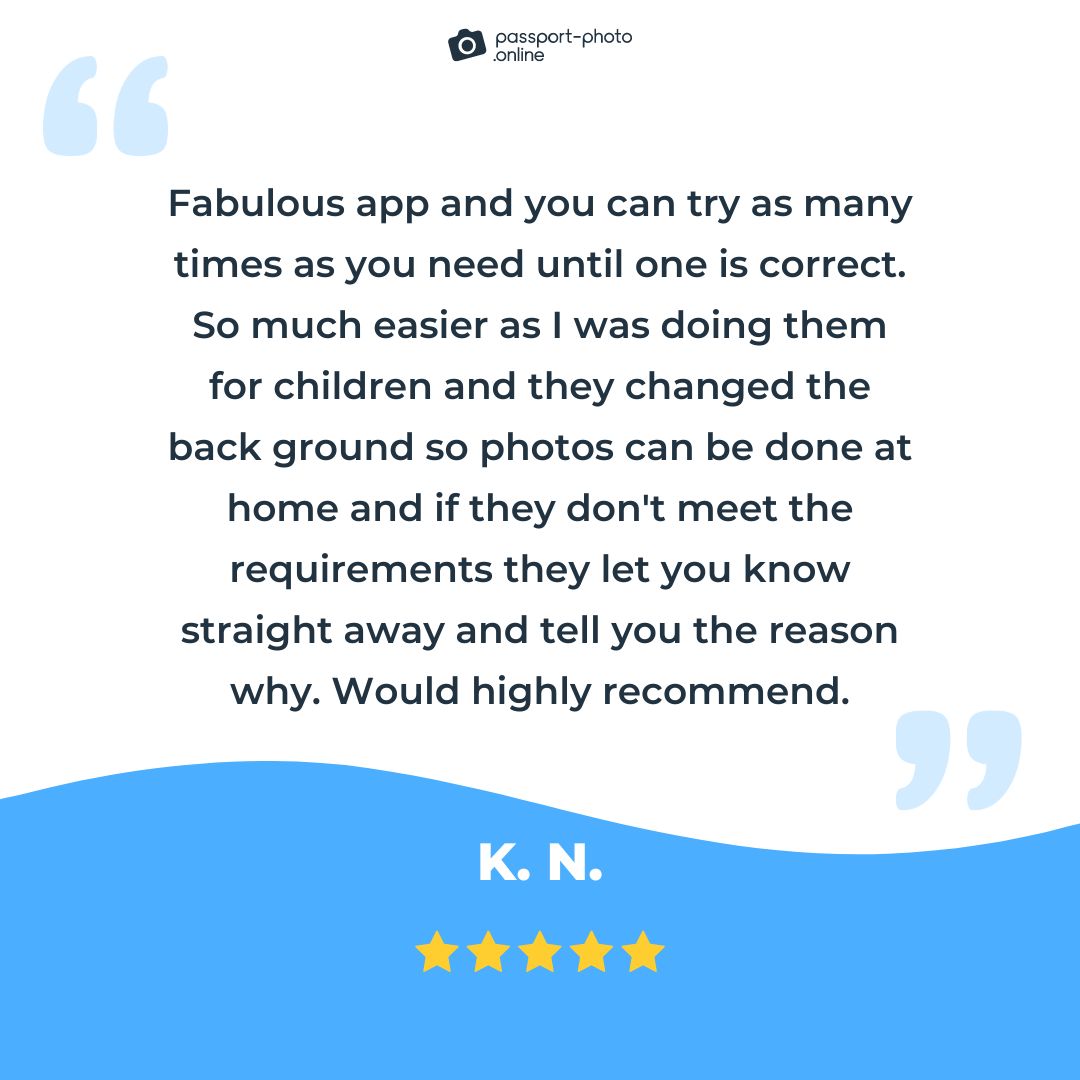 Passport photo face guide–FAQs
To conclude, we'll answer a few questions about passport photo face requirements.
Do you have to show your ears in a passport photo?
No, according to the official U.S passport photo guidelines, there is no requirement to have your ears visible. They can be covered both by your hair or if applicable by medical or religious headwear.
Can you show teeth in a passport photo?
Yes, you may show your teeth in the passport photo, but only in a natural and gentle smile. If your expression is overdone, or unusual, the officers might reject your photo application.
Can you have hair on your face in a passport photo?
No, the official requirements state that all details of the face need to be visible, forehead included.
Do I need to shave my face for a passport photo?
No, if you regularly wear a beard, there is no need to shave it to take a new photo for your passport.
Can I wear earrings in a passport photo?
Yes, you can wear jewelry or facial piercings, however, they need to be small and not create shadows or glares.
Can I wear a headband in a passport photo?
No, accessories on the head are not allowed in US passport photos.
Is a passport photo face only?
No, a US passport photo needs to include the face, the neck, and the shoulders.
Can I take a passport photo with a bruise on my face?
Generally, no, passport offices will not accept a photo that shows a temporary injury. However, it can be acceptable for urgent replacements or emergency passports.
Can I take my passport photo with a bandaid on my face?
Any bandages or patches can only be accepted if accompanied by a signed statement from a doctor.
Can a passport photo be accepted if the face is too big?
No, the size of the face must be exactly in the range indicated by the requirements.
What is passport photo face size?
The official guidelines state that the head must measure between 1 and 1 3/8 inches from the chin to the top of the head.
Can I take a passport photo with my face down?
No, applicants must face the camera directly, without tilting their head in any direction.
In a passport photo, which facial expressions are acceptable?
US passport photo requirements state that only a neutral facial expression or a natural smile are acceptable in passport pictures.
Passport photo face guide – summary
The simpler, the better–if there was one golden rule to follow while taking passport photographs, this would be it. The best piece of advice is to simply not complicate things and keep both the attire, mimics, and surrounding simple.
And in case you are in an unusual situation, requiring a limited validity passport, it is most recommended to consult an officer at a Passport Acceptance Facility or National Agency, as they will provide you with the best passport photo information. Regardless of the circumstances, there are now intuitive and reliable tools available online, which let you have your passport photo done in a matter of seconds.
Sources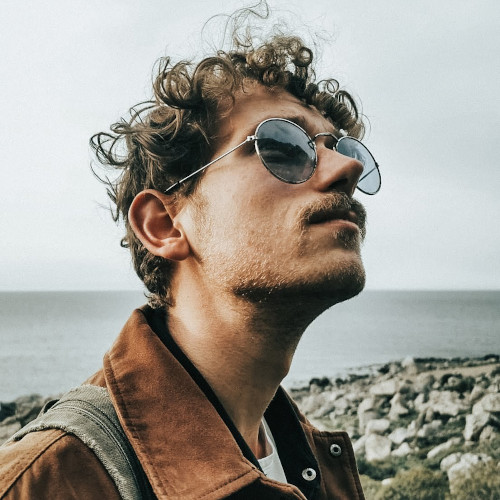 Adam is an SEO & Digital PR writer with a child's curiosity about the surrounding world. His superpower to dig out juicy facts got him citations in Forbes, Social Media Today, and 90+ other news outlets. Adam enjoys snapping pictures and won the national Huawei Next Image Award.