Going abroad for many reasons—travel, studying, emergency—includes creating a lot of checklists: baggage, places to visit, meals to try… However, do not forget about the most important thing to cross the border—a valid US passport book.
No matter if it's your first-time application, your passport is near the expiration date or suddenly it's lost, you must apply for a new one before traveling internationally. But, what documents do you need to get a passport?
Here in this post, we will help you with another checklist, so that your passport application process can run as smoothly as possible.
What is needed for a passport: documents for adults
For first-time passport applications, US citizens must fill in a DS-11 form. Applicants can find it on the State Department's website, but also at passport acceptance facilities and passport agencies across the country.
With modern technology, applicants are now able to complete the form online. However, this still has to be printed and signed at the passport acceptance agency, with an agent present as a witness.
If an applicant decides to fill in the form manually, then a black ink pen must be used. The form will ask about individuals' personal information, such as:
social security number
address
parental information or birth information.
Along with a completed form DS-11, every applicant must also provide the following documents:
Applicants can prove their American citizenship by such documents, as:
a recent passport book (10-year valid);
a birth certificate issued in the US;
Certificate of Citizenship.
Regarding the photo identification, among the documents classified as photo IDs, authorities will accept one of the following:
A US passport book/card;
A driver's license;
A valid foreign passport.
Please remember that both citizenship and photo ID evidence must be printed out. Digital versions of the above documents will not be accepted during passport appointments.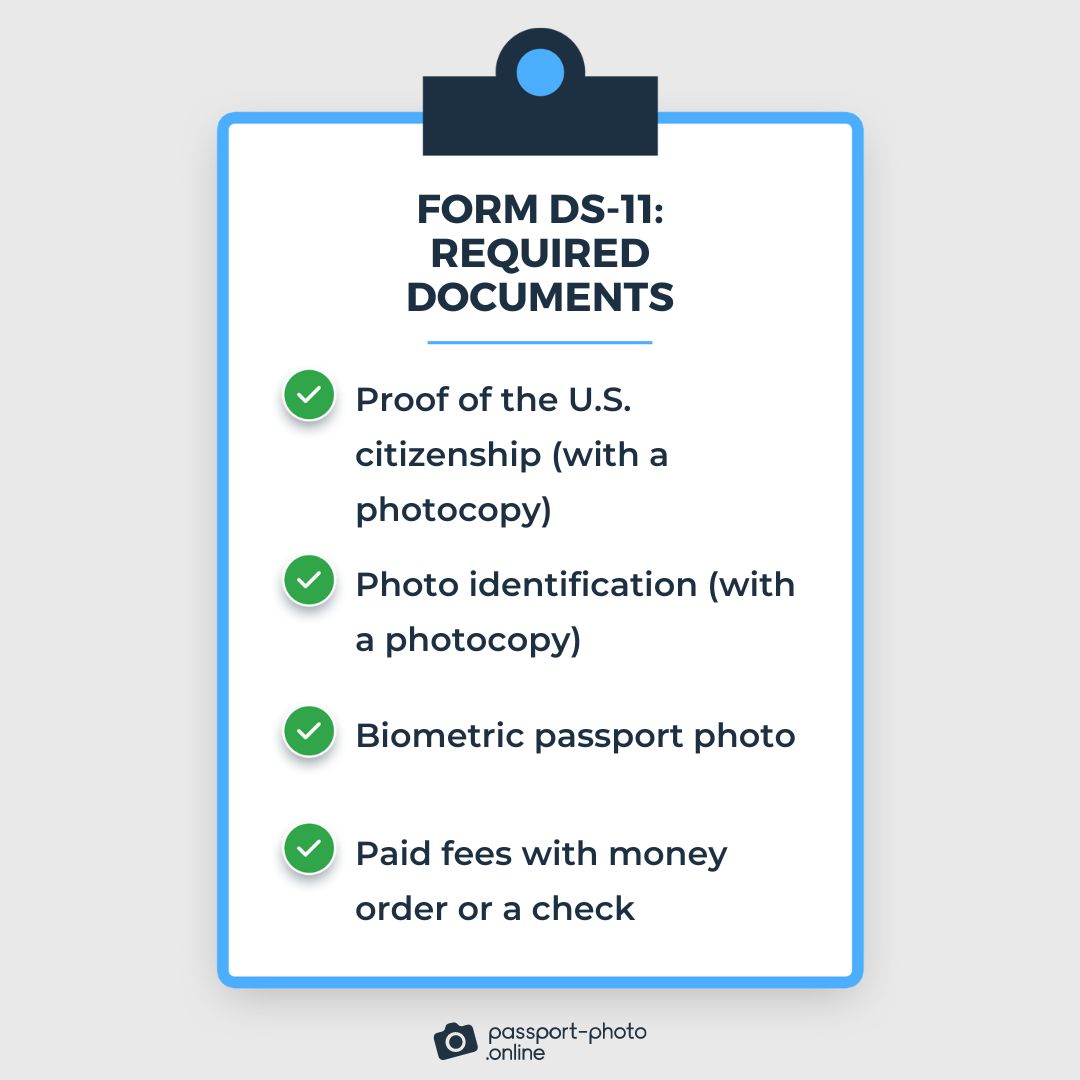 If the applicant cannot submit one of the proofs of citizenship or photo ID mentioned before, authorities allow them to provide secondary documents. These documents include any forms or records that have been issued within the US territory, such as:
baptism certificate
school records
hospital birth certificate
US Census record.
Find out more about passports from these articles:
Documents required for passport renewal
US citizens can renew their passports either in person or via mail. However, for both of these options, they must prepare certain documents for their applications to be accepted. See exactly what documents are needed for a passport renewal.
Note: Since August 2022, US citizens have also the opportunity to renew their passports online. Those who prefer to process their passport renewal via the internet, or simply do not have the opportunity to do it any other way should check the official government pilot program.
Documents for passport: babies and minors
Please remember that every US citizen, regardless of age, must carry a valid passport for international travels. That being said, parents should also take care of their children's passport applications if they plan any trips abroad. While the form used to apply for a baby's passport is well-known to adults—form DS-11—there are also other requirements that parents must meet. Check what documents you need for your child's passport application.
Passport photo guidelines
With every passport application comes an essential element: a compliant passport photo. If it is not done in accordance with passport photo guidelines, then the application is likely to be rejected, even if other supporting documents are correct. Let us help you avoid this problem with our innovative tool—Passport Photo Online.
Collect all the necessary documents at home, including your passport picture. Thanks to Passport Photo Online, you can take, crop, and resize your images as many times as you want. Prepare a photo against any background—our advanced AI technology will take care of it as well!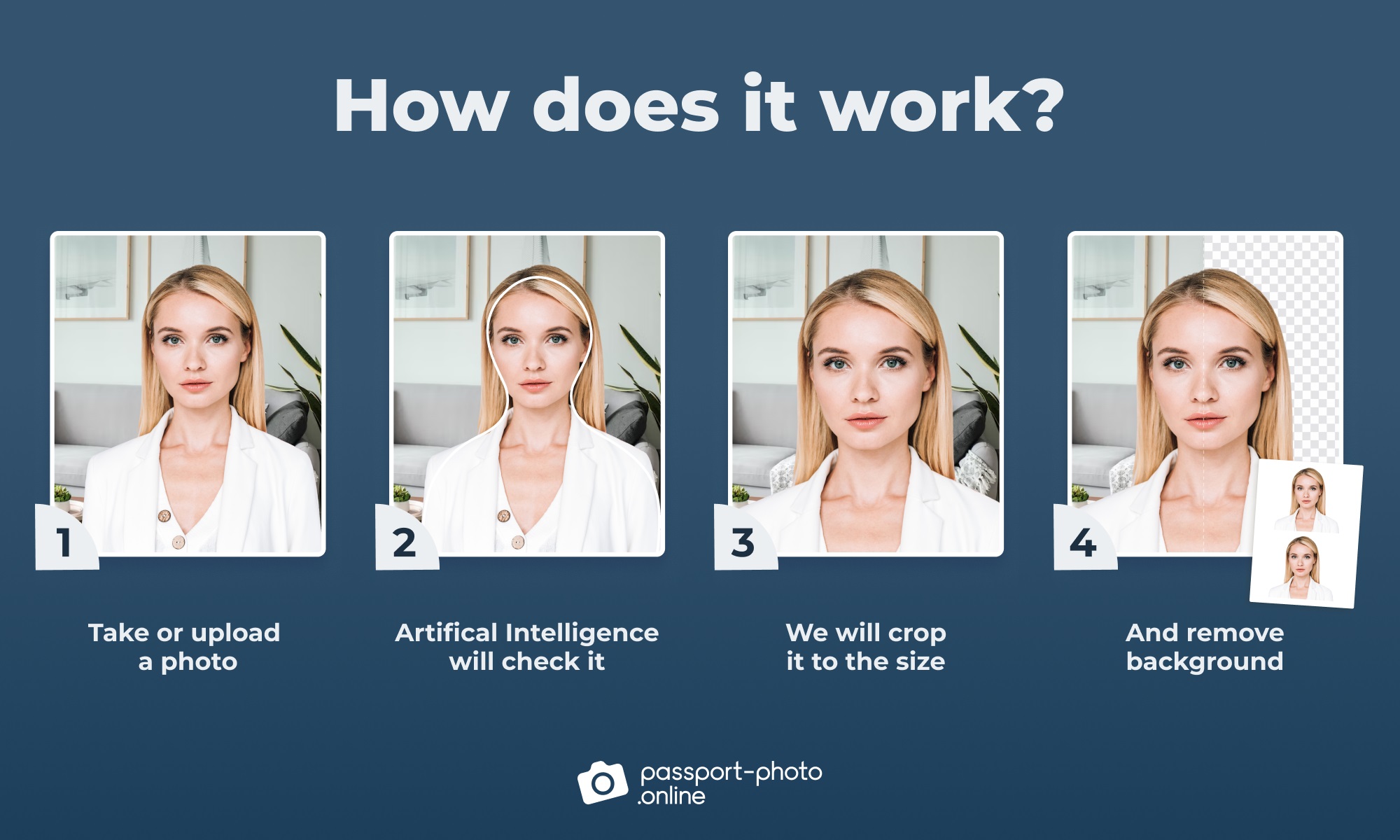 Passport Photo Online provides intuitive functions, and even children could use our app. Speaking of children, it is perfect for taking baby passport photos, as well!
Don't forget about Passport Photo Online after your passport application; maybe you will need a driver's license photo, or a visa photo? Our tool can help you with these and many other types of ID photos!Visit our website or download our mobile application on Android or iOS. 100% compliance guaranteed or 200% money back!
FAQ
Below you will find the answers to the most frequently asked questions about documents needed for a passport application.
Do I need my Social Security Card to get a passport?
Applicants are required to put their Social Security Card number in the passport application form. While having a physical SSC during the passport appointment is not necessary, authorities may ask to see it as a secondary identification evidence.
What forms of identification do you need for a passport?
Only photo identification forms will be accepted by authorities during a passport appointment. Such forms include: a US passport, driver's license, or a government-issued state ID.
What do I need to submit with my passport application?
Every applicant is required to bring the evidence of their US citizenship and a photo identification. The passport form must be supported by a biometric passport photo and paid according to relevant fees. In certain circumstances, applicants may need to provide additional supporting documents.
Final thoughts
Documents that are needed to get a US passport include the passport form, proof of citizenship, a photo ID and a biometric passport photo. In special circumstances, applicants might be asked to provide other, supporting documents.
While the passport paperwork can be time-consuming, let us save you some time and energy on your passport photo-taking. Try Passport Photo Online and create your passport pictures comfortably at home. 100% compliance guaranteed or 200% money back!
Sources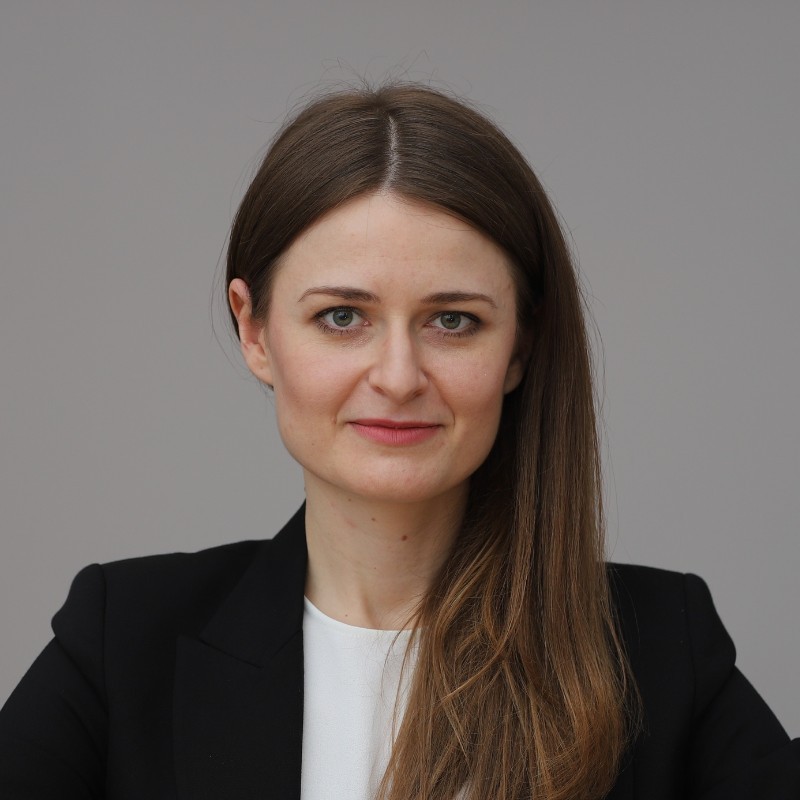 Karolina's passion for law, technology and photography led her to PhotoAiD S.A., where for the past 3 years she has been an expert in the implementation of passport photo compliance procedures in +80 countries around the world.