It is time to renew your passport. To do so, Americans must follow the standard procedures such as, for example, filling out the renewal application—Form DS-82,—or submitting 1 (one) passport photograph based on the standards determined by the United States (U.S.) official authorities; meaning applicants must take new passport photos before starting the process of renewing their travel document.
It usually costs about $15 to take U.S. passport photos. However, many applicants try to find new alternatives to save time and money. Is it possible to use a digital camera, upload the image to a passport photo tool from a mobile device or computer, convert the photo to passport size online for free, and still comply with official passport photo requirements?
In this article, you will learn the best way to get your own passport image, as well as the different options available to convert a jpeg photo to passport size and download it. Let's get to it!
We will guide you through: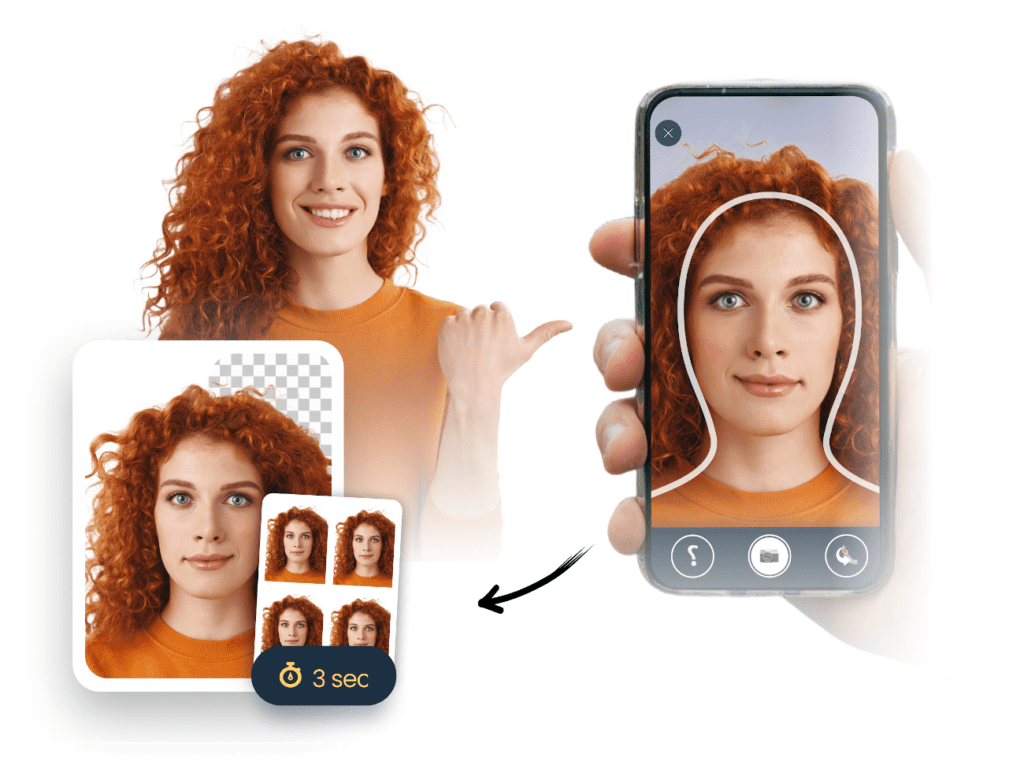 Passport style photo
A correct U.S. passport picture must meet the passport photo requirements. The color of the background, size of the photo and quality are subject to official rules. Any mistakes can result in the rejection of a U.S. passport application. Be aware that invalid passport pictures are the number one reason why a U.S. passport application may be rejected, states the U.S. Department of State.
The reason why the U.S. government is so strict with these rules is that this photo is not just any photo. It is a biometric photo, and as such, it must perfectly reflect the facial features of the applicant.
Headshots are not passport-style photos. A passport photo will serve as identification when it comes to state procedures or security checks when entering foreign territories.
Some examples of the rules that passport applicants must comply with when taking passport photos are:
Adopt a neutral facial expression and look directly at the camera, which must be positioned at your eye level.
You are not allowed to wear clothes that make it difficult to see 100% of your face, such as glasses, hats, or large accessories such as earrings, necklaces, etc. However, the use of any of these will be allowed when the applicant requests to wear them for medical or religious reasons.
The truth is that these are standard requirements, so they are generally applicable to any type of biometric photo regardless of the country. However, each government establishes specific requirements for each of its documents.
Looking for more information and tips to get that perfect passport photo? Try reading our other articles:
U.S. passport photo requirements
Below, you will learn the different requirements for a U.S. passport photo.
Passport photo – white background
A U.S. passport photo should have a uniform , plain white background. Therefore, ensure there are no other objects behind you when you are having your passport photo taken.
This is something to keep in mind especially when it comes to a baby's passport photo, as it would not be the first time that a toy or pacifier appears in the background of an image.
U.S. passport photo size
Print passport photos in the correct passport photo size, which is 2 x 2 inches (51 x 51 mm).
Passport photo quality
Only high-quality passport pictures will be accepted. Please make sure that the final photo is printed on high-quality photo paper and does not contain:
blurs
smudges
red-eye effect
any other defects.
U.S. passport photo format
To submit a U.S. passport application, applicants must visit a passport application center in person, so you can imagine that the passport picture must be in paper form.
However, the Online Passport Renewal service is also available from 12th October 2022, meaning it is now possible to submit an application online, and a digital passport-size photo will be accepted.
How to pose for a passport picture?
Before you take the photo for your passport application, keep in mind certain rules about how to pose:
Look directly into the camera;
Keep your head straight, in a centered position;
Your eyes should be wide open and your mouth closed;
Adopt a neutral facial expression, save your nice smile for another occasion;
Stand at a suitable distance, not too close and not too far away;
Also note that the picture needs to include the top of your shoulders;
Leave a margin of about 2-3 millimeters between the top edge of the photo and your head.
How to convert a photo to U.S. passport size online
Apart from the classic photo booth, pharmacy photo center, or professional photo studio, today U.S. citizens can convert a normal photo to passport size online and create passport size photos from home.
Convert a photo to passport size with photo editing programs (Photoshop, Gimp)
Programs such as Photoshop or Gimp help users edit photos to their liking. Find out the pros of using any of these photo editing programs:
users can edit images from the comfort of their home;
it is a free way to convert a photo to passport size (2×2 inches) and set it to the proper resolution (300dpi);
being able to take as much time as you wish to take a photo or edit it later on;
opportunity to create a ready-to-print template and get different passport pictures on the same print.
However, a few cons make it advisable to reconsider using photo editing programs:
if the user is not very experienced with the tool or is not a professional graphic designer, learning how to use a photo editing program will be required first of all;
it is forbidden to edit a picture. A passport photo will be rejected if there's any editing done on the lighting, facial features, etc.;
the editing process relies entirely on the user's skills, as Photoshop or Gimp don't include features such as a background eraser, verification test, or compliance check.
photos won't have a guarantee of acceptance;
Passport Photo Converter
Instead of using a photo editing program, it may be advisable to use a passport photo app to convert a picture to passport size.
A passport photo converter does the job automatically; it may have key features such as a background remover or compliance check, and some even include a guarantee of acceptance.
Users can learn how to use a passport photo converter in less than 1 (one) minute. Below is a short list of how you can benefit from a passport photo application to convert a photo into passport size:
Choose the right passport photo application. Find a passport photo app review above;
Read the instructions and make sure you know how to use the app;
Upload a photo from your phone's gallery or use the camera option to take a picture right away;
Wait less than 1 (one) minute. The app will convert the photo to passport size. Some apps even remove the background, correct errors, lighting, etc.;
Download the converted passport-size photo.
The problem is that there are many of these tools out there, so a review can help you learn the advantages and disadvantages of each passport photo program, whether they include a guarantee of acceptance, free download, or an AI system.
Passport Photo Online – U.S. passport photo converter
Tired of long waiting times, mediocre customer service, poor photo quality, lack of directions from staff, overpriced passport pictures, or chain stores frequently declining to take passport photos of children?

If you want to get your passport photos online, consider using Passport Photo Online. Why? It's simple: not only has it been recommended by Forbes, National Geographic, or Glamour but it has each and every one of the functions that a passport photo maker could ever have.
This passport photo tool provides you with U.S. passport photos that meet all the required criteria. Just upload a picture with your smartphone and let the passport photo editor convert your image to passport photo size, remove the background, or check for potential errors.
Take a look at what the tool is capable of below:
a passport photo cropping tool: take the photo and wait till it's converted to the correct passport photo size.
background removal: your photo background will be erased and transformed into a uniform, plain white background. This way, you can take a passport photo of your kids wherever you want.
AI system enabled: your photo will be verified both by an AI system and a human expert to evaluate the image and check for minor errors, in which case you will be informed and asked to retake the photo.
100% acceptance guarantee: create passport photos online and make sure images are valid. Passport Photo Online provides clients with a guarantee of acceptance – in case a passport photo is rejected, you'll get 200% of the money you paid. It really is that simple!
home delivery service: no need to use a photo printer. Use your phone or a digital camera to take the photo, upload it to the app and ask Passport Photo Online to send them in paper form straight to your home. This is the perfect service for those who have no time to waste. It takes just 1 minute to generate your photo and place your order. You'll receive the order in 2-3 working days.
How to convert a photo to passport size –wrap up
In short, if you intend to convert a photo to passport format, avoid using editing programs such as Photoshop if you are not an experienced user, as your photo is more likely to be rejected than accepted.
One of the safest options is to use an online passport photo converter; however, there are many, so you will have to choose well. Our recommendation is to use Passport Photo Online, as it has some of the most advanced features such as an AI system, background removal, acceptance guarantee, or home delivery service. You can either use the website browser or download it from Google Play or Apple App Store.
Convert photo to passport size: FAQ
Below are the most frequently asked questions on how to convert photos to passport size.
Do U.S. passport photos have the same size as other passport photos?
No, U.S. passport photos don't have the same size as other passport photos. The image size for a U.S. passport photo must be 2 × 2 inches (51 x 51 mm).
How can I create passport photos online?
Using the right online passport photo app, you can create passport photos online in accordance with the official government requirements.
How to turn a selfie into a passport photo?
It is not possible to convert a selfie into a passport photo, since the physical appearance of the applicant must be kept natural and not be altered by the mirror effect of the front camera. You can, however, ask someone to take the photo for you. Once the image is ready, upload it to a passport photo size editor like Passport Photo Online and wait 3 seconds until the AI system checks its validity.
How to create a passport size photo?
The first thing you should do to create your own passport-size photo is to read the requirements set by the official authorities. Once you have familiarized yourself with the regulations, stand with your back to a uniform, plain white background, in front of a window to ensure that the lighting is even and adequate. Ask someone to take a few pictures of you and choose the one you like best.
The photographer should hold the camera at eye level and stand at an appropriate distance so that there is a small margin (around 2-3 mm) above your head and so that the top of your shoulders are visible. Upload the image to the Passport Photo Online editor and download your free passport photo template.
How to edit a picture to passport size?
To edit a picture to passport size all you need to do is to use a passport photo size converter. A tool like Passport Photo Online can adjust the size in accordance with the U.S. authorities' guidelines. Just upload the picture to the app and wait a few seconds, so you can download your passport size picture in the right size.
Sources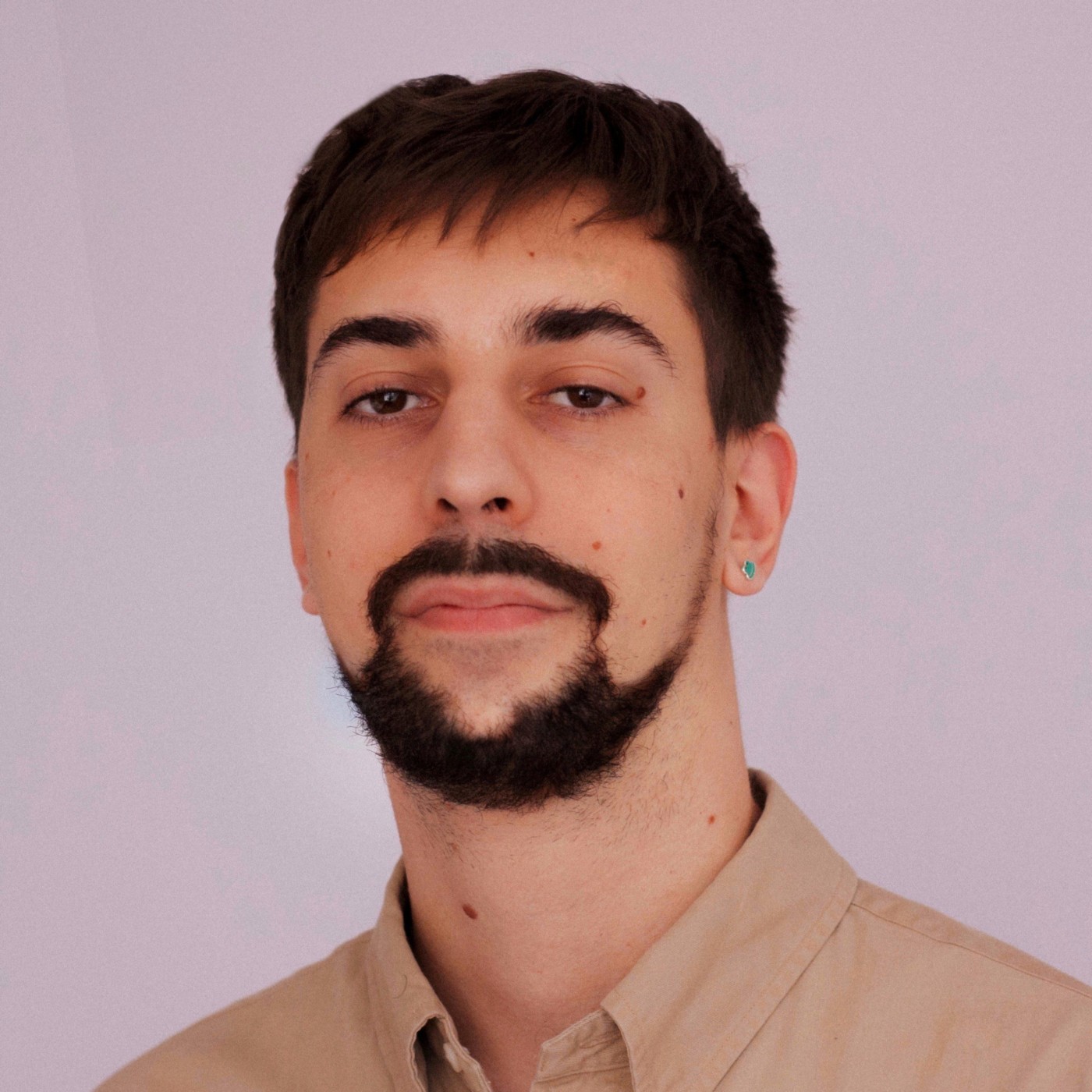 Born in Málaga, Alejandro Martín holds a Master's in Multilingual and Intercultural Communication. His love for travel mainly stems from his attraction to different gastronomic cultures and cooking. His other passions are Afro-American music and skateboarding. Alejandro is an author of passport photography articles.