Do you tend to become a master of procrastination when it comes to taking a new passport photo or visa photo? Nobody likes the process of going to the photographer or into the passport photo booth. With the photographer, you often need an appointment, and in the photo booth, you only have a few attempts, and in the end, the quality can be bad, or the photo may not be one you are satisfied with. Nevertheless, we dress up nicely and make our hair look a bit better than usual, right? And for what? For a photo without a smile, which we often don't even like and, above all, which costs a lot of time and money. But what many people don't know is that you can save yourself all this hassle.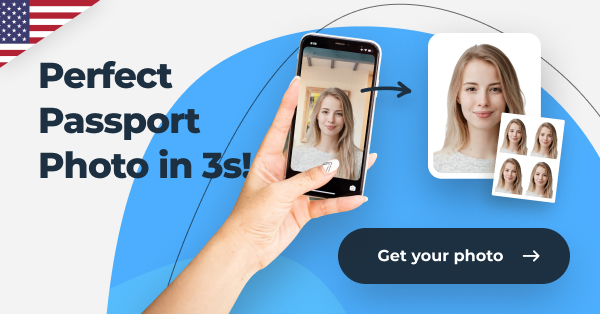 Because, nowadays, you have the opportunity to use a so-called free passport photo app or passport photo software.
From now on, you no longer need to search for "where to get passport photos near me," "id photos near me," or "cheapest passport photo" on Google, because now you can take and print the passport, I.D., or visa photo that you need, from home. It only takes a few minutes and will save you a lot of time and money.
Looking for more tips to get that perfect passport photo? Try reading our other articles:
Take your passport photo online easily with passport photo apps
Stay at home and take a photo for your passport, I.D. or other documents at any place and any time! Passport Photo Online is a mobile app and web service that will get you a high-quality photo that is suitable for a passport application within just a few minutes! Not only is it a convenient solution, but it is also a 100% safe option in the Covid-19 pandemic. Download this passport photo app now from the Google Play Store or App Store, and see what this pocket-sized photo studio can do for you.
This online U.S. passport photo maker uses Artificial Intelligence technology to check whether your photo is compliant with the official requirements for a biometric passport photo. The most common problems people may come across while preparing their passport photos tend to center around the photo size and uniform background.
Passport Photo Online's passport photo app has a tool that resizes the image to the appropriate size and removes the background. This way, you can take your photo in the park, at home. or even at a grocery store. A simple selfie can be transformed into a professional passport photo within just a few seconds. You will be able to see a preview of the photo before you purchase it. If you don't like the way you look in the photo, you can retake it as many times as you want!
You can purchase the photo in a digital version, printed version, and as a printable passport photo template. The digital version can be downloaded straight away from the website/mobile app and used in the application form if your government permits applying for or renewing documents online. However, if you need the photos to be printed – no worries! You can either order the printed photos to be delivered to your address with the Passport Photo Online Premium option, or use the printable passport photo template.
The latter option is simply a file that contains 2 (two) passport size photos and can be printed at any photo printing kiosk. The photo template file should be printed as a 4 × 6 inch (10 × 15 cm) photo, which is a standard postcard size photo. On such a printout you will have 2 passport size photos on high-quality photo paper that will only need to be cut out. This is a perfect solution for when you are in a hurry or if you want to save some money. You can do it on the spot at any instant photo kiosk and you will pay very little (usually no more than $0.30).
Save time and money and, more importantly, stay safe with Passport Photo Online – this passport photo app is a photo cropper, background remover and passport photo checker, all in one!
MUST-SEE TIPS FOR TAKING PASSPORT PHOTOS: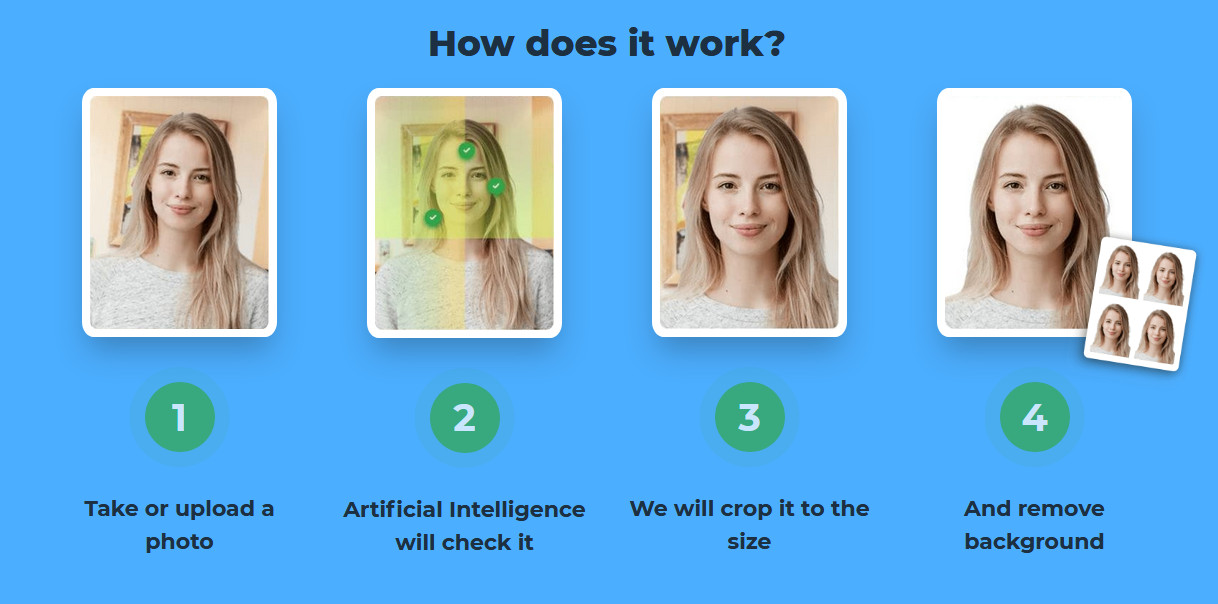 Top 3 free passport photo tools
There are already a number of online passport services on the market, but some of them differ significantly in terms of quality. We have looked at all of them and put together the three best free passport photo tools for you. We will show you now how they differ and how they stand out.
BioID
BioID is a good free passport photo printing software that is very useful for printing passport photos, identity card photos or visa photos.You can either upload a photo you already have or take one with your smartphone or digital camera. Using the website or the analog free passport photo app Pic4Pass is very intuitive and easy. Once you have taken your passport photo, you can start right away. First you have to choose the right country for yourself. Then the photo is cropped and subjected to a quality check. We especially like the photo quality check, which is the main reason that we consider BioID to be one of the best free passport photo apps and tools out there. For example, it tells you if the photo you want to use as a visa or passport image is overexposed or too blurry. Unfortunately, it isn't possible to edit the image directly in the tool and, to use this passport photo generator, you have to create an account.
makepassportphoto.com
At makepassportphoto.com, you can create free passport photos online in just three steps. The usability of this free passport photo tool is great. First, you have to upload a photo that you want to use as your passport photo. In the next step you can edit it. Makepassportphoto.com is not only a passport photo cropping tool, but you can use their passport photo generator to modify various aspects of your image: you can crop the passport photo, change the brightness, saturation or contrast, and even change your outfit. We think the last function, called "Pick a Dress", is really cool. In the last step, you can download the passport photo and print it. So far, we have only been talking about passport photos, but you can also use the free passport photo tool for I.D. photos, driver's licenses and other document types from various countries. All of these features are free, but there is no compliance check included, and you will have to live with some advertising. Nevertheless we think the free features in the tool can be highly recommended.
persofoto
Persofoto knows how to build a user-friendly website. It is vivid, clear and well explained. On persofoto the creation of I.D. photos or passport photos is effortless.
This passport photo creator also works for almost every country in the world and many different kinds of documents. For example, if you want to create a U.S. visa photo, you can easily upload, crop and download it. This tool is faster than any other free passport photo software.
However, a compliance check and other add-ons are subject to a fee and, in our opinion, it is pretty expensive. All in all, it is still highly recommended and can be seen as a great free passport photo cropping tool.
Now that we've introduced what we think are the best free passport photo tools available, you'll want to know how we rank them among each other. Drumroll please…Here is the result: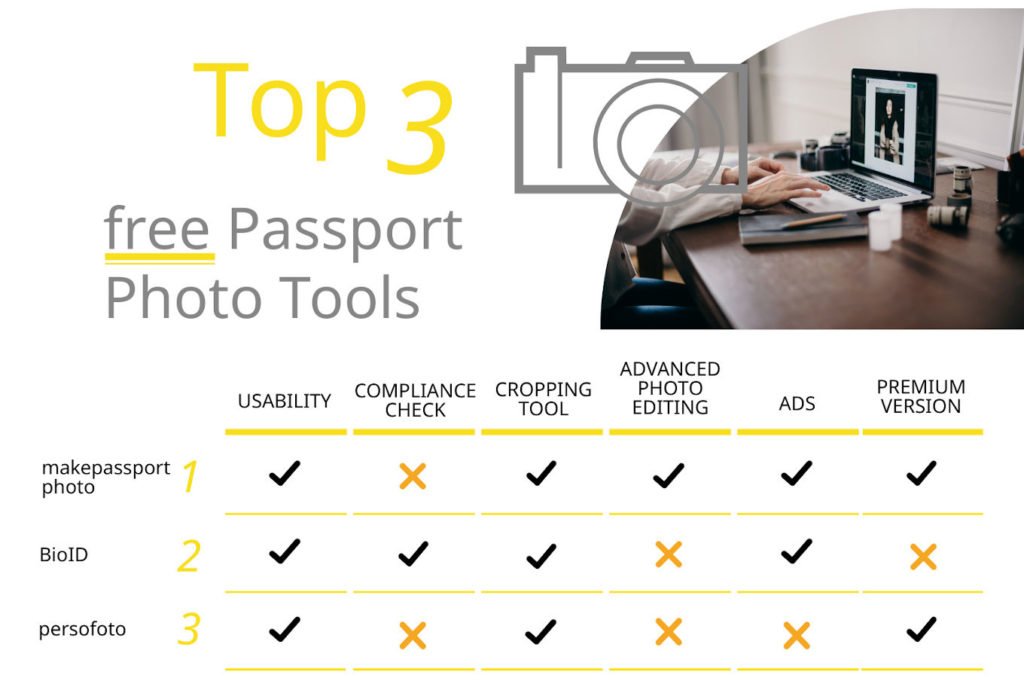 All in one – all the advantages of passport photos apps in one
As you can see, all these free passport photo tools have their advantages and disadAs you can see, all of these free passport photo tools have their advantages and disadvantages.
Their most significant advantage is, nevertheless, – and I think we can all agree on this – that your passport image or visa photo is generated online, meaning you don't have to go to a professional photographer. Still, you have to make sure that you have the right lighting conditions, the right background and so on.
But wouldn't it be great if someone else could do this job for you? If that appeals to you, then we have just the thing: at Passport Photo Online our experts do this work for you. Your photo will be reviewed and we will provide you with a corrected version. You don't have to worry about how to crop a passport photo correctly. We crop it, fill the background and edit it to meet the requirements of your government agency.
Unlike a traditional photographer, Passport Photo Online works 24 hours a day, 7 days a week. The download costs $6.95, but you can see a preview of your photo in advance, it is uncomplicated and you will still save a lot of money, time and energy. Start your digital passport photo generator experience now!
There are many advantages to using Passport Photo Online, and not just those mentioned above. It is essentially a passport photo booth that fits in your pocket. But it is not just passport photos that you can use our services for, you can get an id photo or visa photos by using our tool. Whether you are trying to get a photo for official documents or for your own personal use, our service is the most accessible and most convenient option for you
When you use our app or online service you can choose from many different types of official documents and we will edit your photo according to the requirements of that official document. This is why our service is the one we recommend most of all, because it gives you everything you need when taking passport photos, all without ever leaving home.

Frequently Asked Questions
Do passport photo apps work?
Yes they do, as long as you use the right one. For instance, if you download the Passport Photo Online app from the Google Play Store you will have an app that works perfectly, as this app not only helps you crop pictures to the necessary requirements but it changes your background into the right one, more often than not this is a white background. With editing tools like this in your pocket you don't need anything else.
Can you use a mobile phone camera to take a passport photo?
Yes you can, and in fact in most cases this is recommended, as it not only saves you time and money, but allows you the convenience of getting the best shot for your passport picture. Just remember to follow the rules that are set out for the passport you are applying for, such as keeping your eyes open and having no family members in the background of your passport picture.
How do I edit a photo to passport size?
The easiest and most convenient way to do this is to download a passport photo app that comes with its own editing tools, such as Passport Photo Online. All you need to do is select one of your saved photos on your mobile phone and upload it to the app, select the passport you are applying for, and the app will crop it to the right size for you.
How do passport photo apps work?
In the case of our passport photo app, Passport Photo Online, it uses an advanced artificial intelligence system, the same one used by government agencies to verify passport pictures. This system scans passport pictures, and pictures for other documents, and determines if it meets the current requirements set by the governmental agency. If it does or doesn't you will be informed, so you'll know whether you need to take the picture again or not.
Can I take a digital passport photo on my iPhone?
You sure can, our app is available in the AppStore and is ready for you to download straight to your mobile phone, so you can upload your photo and get a passport picture or id photo within seconds.
What is the best passport photo app for Android?
Without seeming too impartial, the best app for taking passport photos, with a phone that uses an android system, is our own one at Passport Photo Online. It comes with all of the features you need to get the perfect id photo or passport picture, and does so at a lower cost than the others. So not only will you get an ideal photo, but you will save money.
Is there a free passport photo app?
Most, if not all, passport photo apps are free to download. But the use of them might not be free, or with the free option the service will have limited functionality and you won't get your id photo or passport photo done in the correct way. But you know what they say, the best things in life are never free. With Passport Photo Online taking photos to see how they look once edited is free, so by all means you could call this a free app, but to use it as an id photo, passport photo or visa photo, will require a fee, to enable you to download it, but you only pay for the photo you want to keep.
How do you convert a photo to passport-size for free?
While there are many online tools that let you turn your photos to passport-size, we have tested three of them: PersoFoto, BioID, and makepassportphoto. All of these online photo tools let you convert your photo to passport-size for free, however, they may come with some disadvantages such as having to create an account or not being able to edit your photo. If you're looking for an expert-verified passport-size photo with an acceptance guarantee, we strongly recommend using Passport Photo Online since it's one of the easiest and most intuitive online passport photo tools out there. Passport Photo Online's AI system will convert your photo to a passport-size photograph in 3 (three) seconds and scan it for any errors, letting you know whether your photo is compliant with the official rules or whether you should take another one.
How do you create a passport-size photo for free?
A very easy way to create a passport-size photo for free is by using online photo tools, for example PersoFoto or BioID. You can also try to resize your photo to passport-size yourself, however, you'll need a program such as Adobe Photoshop or a Canva account, for example. If you need a passport-size photo with a compliance check though, your best bet is to use Passport Photo Online – your photo will be cropped, resized to the correct dimensions, and verified to meet any given government's standards for biometric photos, thus making sure that your passport photo gets accepted by passport authorities.
How do you resize a photo to passport-size for free?
Resizing a photo to passport-size is pretty easy nowadays. You can either do it yourself using graphic design software or tools such as Canva. However, these options don't come with a compliance check and verification. There are free online tools such as PersoFoto, BioID, or makepassportphoto that will resize your picture to passport-size. We strongly advise you to use an AI-based online passport photo tool such as Passport Photo Online if you're looking not only to resize your photo, but to make sure it's compliant with the official government passport photo guidelines. Passport Photo Online is a professional passport photo app that will adjust your image to the correct dimensions and scan it for any errors, giving you a 100% compliance guarantee or a double refund.