As a German citizen living in the United States, you can present your passport application at the German foreign office that has jurisdiction in your area. It's important to clarify right away that a biometric passport cannot be renewed if expired.
It's also no longer possible to mail in your application, you will have to apply in person at the German Embassy or Consulate general. With these details out of the way, let's go through all the aspects of German passport renewal in the US.
Renewing a German passport in the US – supporting documents
Before setting up an appointment at the nearest German Consulate or Embassy, German citizens need to make sure they have all the necessary documents. According to the German Ministry of Foreign Affairs, you have to provide:
a completed application form (available on any German foreign office website);
2 (two) identical 35 x 45 mm biometric passport photographs;
birth certificate in long-form (US or German);
your previous passport;
residence permit (valid visa, Green Card, US passport);
marriage certificate, divorce certificate, or spouse death certificate (if married, divorced, or widowed);
German naturalization certificate (if applicable);
US naturalization certificate (if applicable);
proof of residence (US driver's license, utility bill);
deregistration from last place of residency (for the first application in the US)
form of payment for the fees.
Each of these documents has to be handed in with a photocopy. The German Embassy does not specify if they need a certified copy.
Renewing a German passport in the US – additional documents for children
When applying for a children's passport, the Embassy requires both parents to be present and a few more documents to be provided:
US or German birth certificate stating both parents' names;
both parents' passports;
valid residence permit of the parents;
the parents' marriage certificate;
proof of acknowledgment of paternity (if the parents are not married);
if a parent cannot be present – a Statement of Consent, certified by a Notary Public.
Passport nearing its expiry date? Get ahead of the game and up to speed by reading:
Steps to renew a German passport in the US
You will have to show up at the German Embassy in order to apply for a passport. So, the first thing you need to do is locate the German foreign office that has jurisdiction in the area you live.
The Embassy of the Federal Republic of Germany is located in Washington D.C. In addition, there are 8 (eight) Consulates in the following cities:
Atlanta
Boston
Chicago
Houston
Los Angeles
Miami
New York
San Francisco.
Once you find the right consular office, you can schedule an appointment through the Online Appointment System.
On the agreed-upon date, bring all the supporting documentation and copies to the German consulate to apply for a passport. German authorities will take your fingerprints during the procedure, however, they state that they only save them for a short time after which they are removed.
The clerk will arrange all the documents in order and ask for any additional signatures. After handing everything in, you will have to pay the passport fees. If you pay with credit card, the payment will be made in euros. You can also choose to pay in US dollars, in cash, or by money order. Euros in cash are not accepted.
The amount of the fees is only indicated in euros:
passport for citizens above 24: €81 ($87.59);
passport for citizens below 24: €58.50 ($63.26);
additional passport pages: €22 ($23.78);
temporary passport: €39 ($42.17);
passport for children under 12: €26 ($28.12).
Note that the euros to dollars conversion is updated to April 15, 2022.
Since all passport applications are processed by the central office in Berlin, the processing time for a new German passport is between 4 (four) and 6 (six) weeks. The expedited service costs an additional €32 ($34.60).
Passport Photo Online
If you need a photo to apply for a new passport, turn to Passport Photo Online. You only need a smartphone or digital camera to take professional pictures fit for any official document.
The app comes with an AI system that will examine your picture to the last detail and seek out any mistakes. The background will change automatically, no need to prepare it.
This way, you have a 100% guarantee of compliance with the official German passport photo requirements. Take your time and snap all the photos you need – you only pay for the final product.
Download the pics right away or have them shipped to your address, either way, you'll save up to 43% on your passport photos.
Get ready for your application with Passport Photo Online and travel with your family and friends wherever you want.
How to renew a German passport in the US: FAQ
To end this article, we will answer a few common questions about German passport renewal in the US.
Can I renew my German passport before it expires?
Yes, you can only renew your current German passport while it's still valid.
Can I renew a German passport online?
No, you need to go to the German Consulate for your passport request or renewal.
German passport renewal in the US – closing thoughts
Renewing German passports in the US requires many different documents, both originals and copies. The process itself is quite straightforward and you only need to make sure that everything is in order. Apply at your local Consulate and you'll have a new passport in less than 6 (six) weeks.
Prepare perfect passport pictures with the help of Passport Photo Online, right at home and without any special equipment.
Sources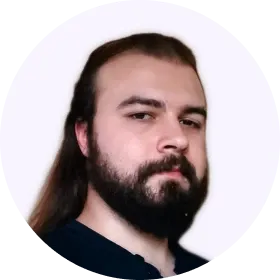 Riccardo Ollmert is a multilingual writer and travel expert. He studied Languages, Literature and Publishing Industry at La Sapienza University of Rome. His passions include traveling and learning new skills.