Time flies, and with the arrival of a new digital era, we are seeing major changes in the way we perform everyday tasks such as obtaining a passport photo. The world of photography is growing by leaps and bounds, trying to constantly update and benefit from new changes.
Whether you like it or not, traditional businesses such as photo studios or photo booths are being dethroned by new ideas in the market. We can say that the online photo booth is not only a good proposal, but it is already a reality. Many entrepreneurs are betting on a renewed, updated and modern proposal, available to everyone in a second.
The truth is that obtaining a passport photo used to be a tedious task for many of us, as it meant a significant burden of time. In fact, it is even a bigger inconvenience for many citizens, who do not have a photo booth nearby where they can take their photos. Thanks to online photo booths and their new proposal, getting our passport photos has become an easy, comfortable and feasible task that can be done in minutes from your couch.
It is true that not all passport photo software have the necessary features to provide their customers with an optimal and reliable service. It is important to note that what claims to be a "passport photo software" may merely be a photo cropping tool, so we need to be careful. The acceptance of our photo will depend a lot on the software we use, since it is obvious to think that, for example, an artificial intelligence system will give us much more security when generating our passport photo.
That is why we have decided to review the different passport photo software available on the net. Or at least those with more notoriety and weight on the market. We will now proceed to point out the main advantages and disadvantages of each one of them, as well as tell you about our personal experience and final verdict.
123PassportPhoto
Created in 2008, 123PassportPhoto, which claims to have generated more than one million photos since its inception, is an online photo service offering its customers the possibility to generate passport photos quickly and easily.
The 123PassportPhoto interface is easy and intuitive. Moreover, we can enjoy a fast process – our photo is processed in less than 5 seconds – without the presence of ads.
The service privacy policy is all I ever wished for. You upload a photo, get your prints and, after 30 minutes the photos are automatically deleted by its system. Personally, it's something I find amazing. I wouldn't want my photo to be stored in their database, as is the case with most online photo tools.
The price for the prints – including 8 photos – and a digital version ready for online submission is 6.98 EUR. Definitely a more than fair price considering that the editing was pretty good. After paying, you will get information on how to print your photos.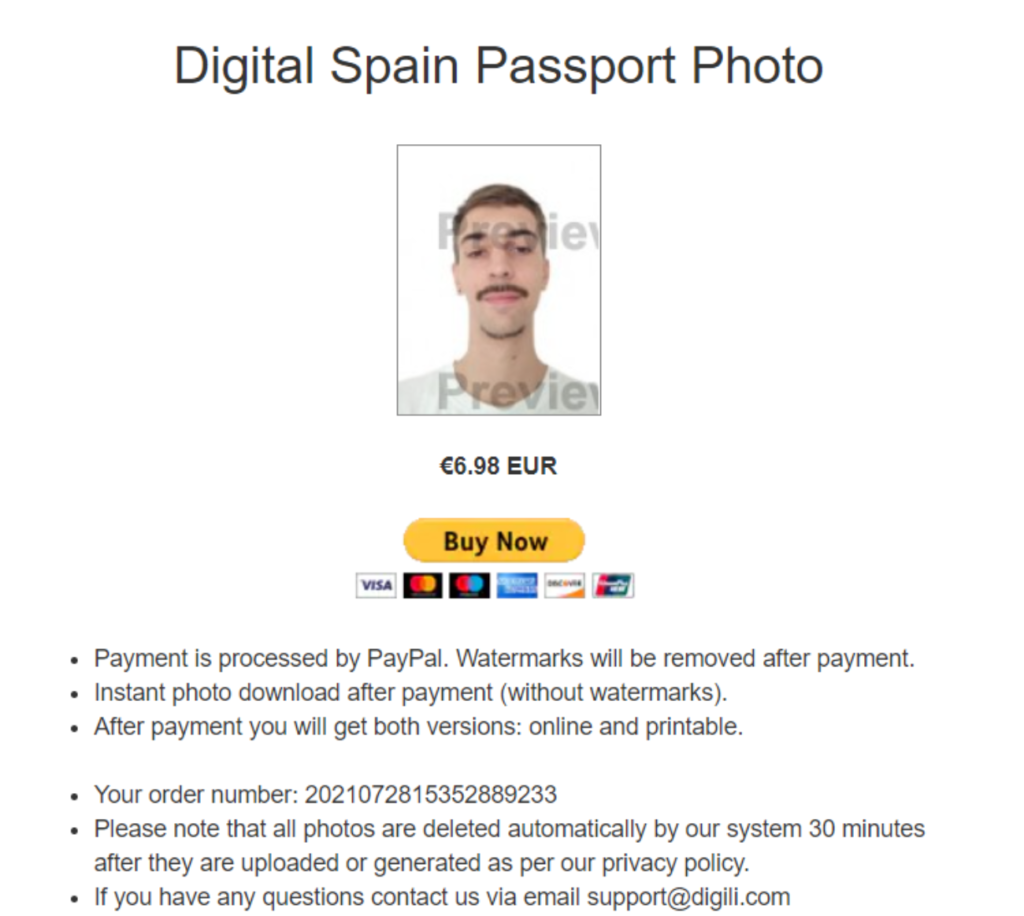 On the other hand, we miss specific instructions and guidelines on how to take a specific passport photo. This site only offers some general information on how to take a passport photo, taking for granted that biometric photos differ in size. Another thing that puts me off is the absence of an artificial intelligence system or any other function that assures us that our photo will be accepted.
Also, it would be convenient to add more variety in terms of photo options. Although it offers passport photos for many countries, the alternatives are scarce. This is one of the reasons why I would opt for an online photo booth that offers, in addition to passport photos, ID photos, photos for a driver's license or other official documents in each of the different countries.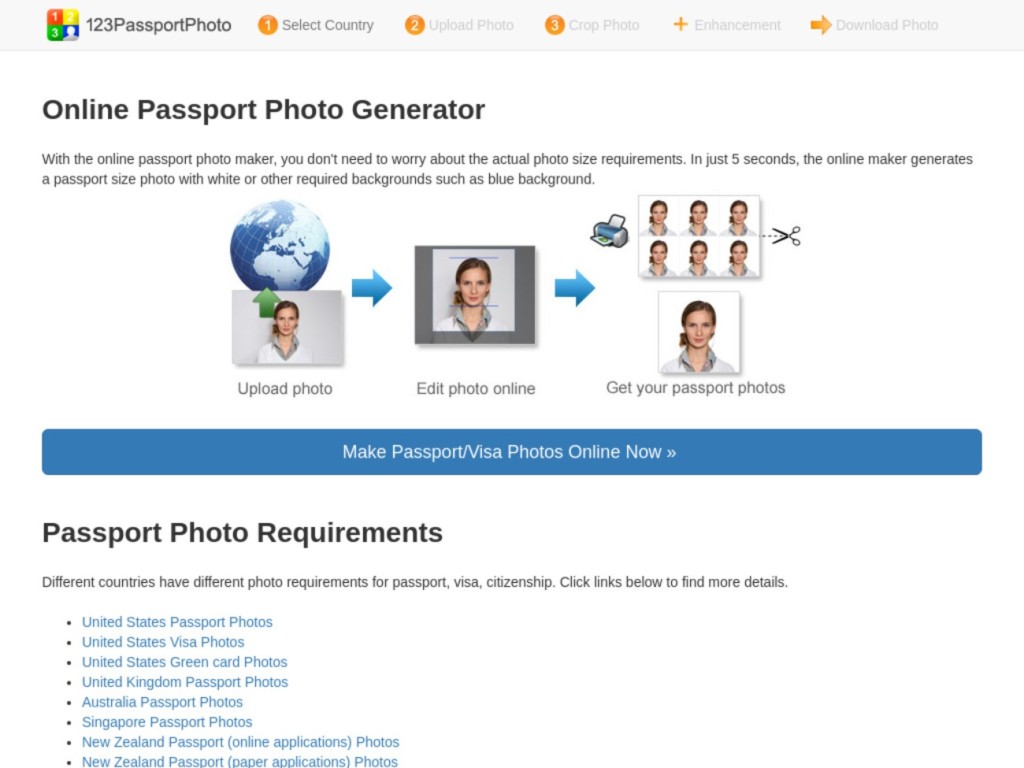 The truth is that the site also seems to be a bit old, as the design seems a bit outdated. I think their logo is proof of that, don't you think?
Find out more about passport photos from these articles:
Visafoto
Without a doubt, Visafoto is one of the favourite options for many people out there. Why? You will hardly find an online photo booth where you can get your ready-to-print template for just 5 EUR and still include an acceptance guarantee. Really hard to compete with these guys…
Visafoto offers a pass rate of 99.7% by official authorities and commits to refund your money in case the photos are not accepted, so I would be calm as it seems trustworthy.
Furthermore, you can find many more photo options available here. When you take a look at Spanish documents, we can find everything from ID photos to gun license photos! Whatever you need, it's easy to find at Visafoto.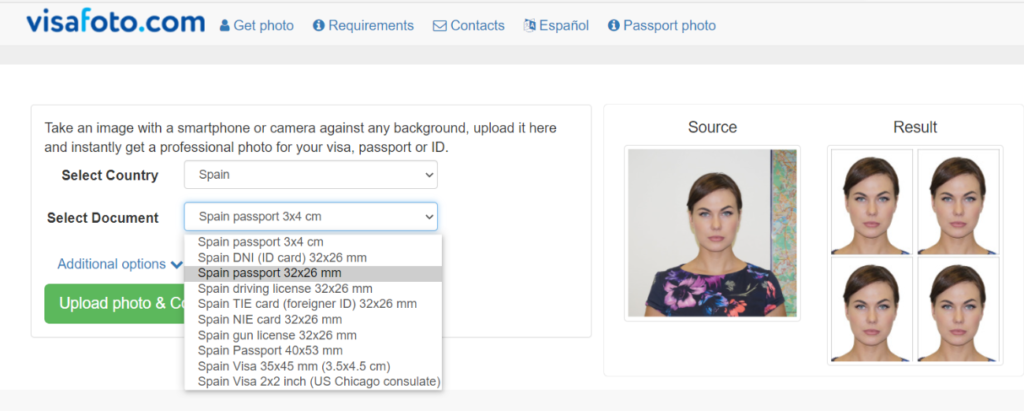 The service is indeed somewhat slower, as it takes a little longer to process our photo. But hey guys, it's a matter of seconds, the difference is insignificant. If we had to make a duel 123PassportPhoto vs Visafoto, I would certainly choose Visafoto because the advantages already mentioned are more convincing.
However, Visafoto also shows some weaknesses. The tool offers some nice features such as cropping the image to the appropriate dimensions, or arrangement of the background and the tilted head. However, it leaves us with some doubts about its performance. After taking a photo in a completely upright position, looking straight at the camera, I uploaded my photo and this was the final result: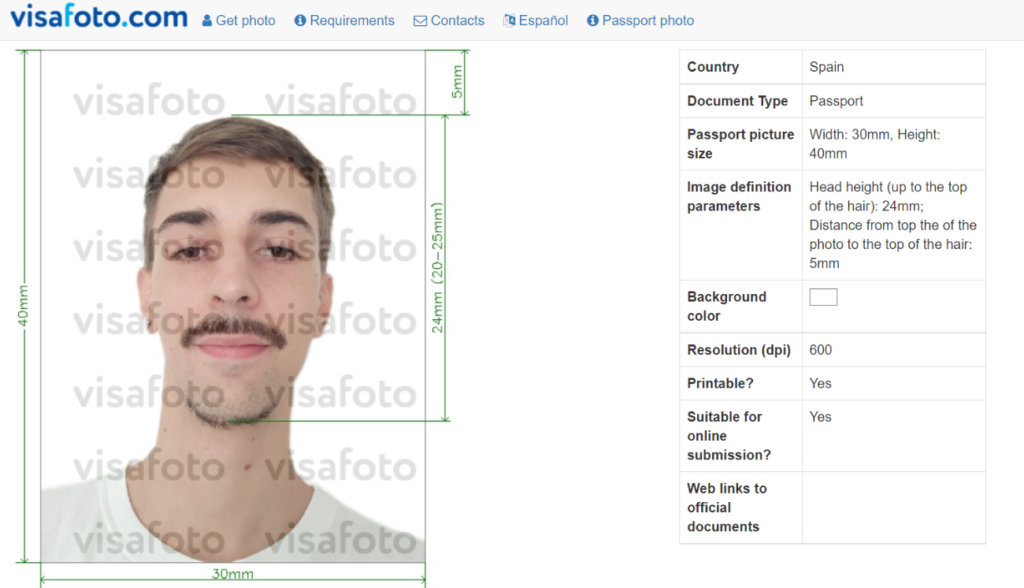 A bit crooked, isn't it? Once we finish the process and proceed to pay, we see how Visafoto warns us of the following: "The price includes a manual correction of the resulting photo if our software has not done it perfectly". Ok, perhaps they could correct the flaw.
Another downside is that it only allows us to pay by credit or debit card, exposing the customer to unnecessary risk, even more so in these times, when most websites do offer a secure payment option, such as Paypal. Yes, call me old-fashioned, but introducing my credit card number on the internet is something I would avoid doing, so Visafoto is also discarded as my favourite. Despite this, I must admit that I find it to be one of the best online photo booths on the market.
Passport Photo Creator
Ok, read this section if you live in the US and have a device with an iOS operating system. Why lie – we got off to a bad start. I had to ask a friend to test this app for me, so I learned how this app works indirectly. Still, I think I've seen enough to disapprove of this app.
Passport Photo Creator works in a very particular way. You upload your photo and within at least an hour you can go to any Walgreens to pick up your photo. Exactly, yet another limitation. We need a Walgreens close to home.
That said, the app features Biometric technology, real-time review and compliance checks ensuring photos are accepted. Also, you pay once you pick up your photo, not before. That's good! Many problems will definitely be avoided with this measure.
However, when taking a look at the latest reviews in the AppStore, people comment that this service may not be available still as their orders got canceled or the staff are no longer accepting passport photos ordered through this app. Weird… Anyway! We will continue reviewing this popular app.
We are pleased to see that the app has an extensive photo guide with the most common mistakes when taking a biometric photo, information regarding how we should pose, what to avoid, or tips to keep in mind. It will undoubtedly be helpful for many people.
The app also has functions that I find quite useful when taking a picture, such as a timer, or a brightness adjuster. Nevertheless, I miss having the possibility of uploading a photo from my mobile phone's gallery.
Definitely another thing I missed was a background corrector as most of the photo booths available online have one. In turn, you must take your photo standing with your back against a white background or close to white wall. I thought that since they charged $14.99 for a set of 2 photos, they would certainly offer a tool to transform the photo background.
Instead, the app merely informs the customer whether their photo meets the requirements set by the authorities or not, in which case it informs that you should change it. But, sorry to say, even that gets it wrong. After testing the app, it was shown that it is unable to detect certain mistakes like a covered eye, smile, open mouth etc.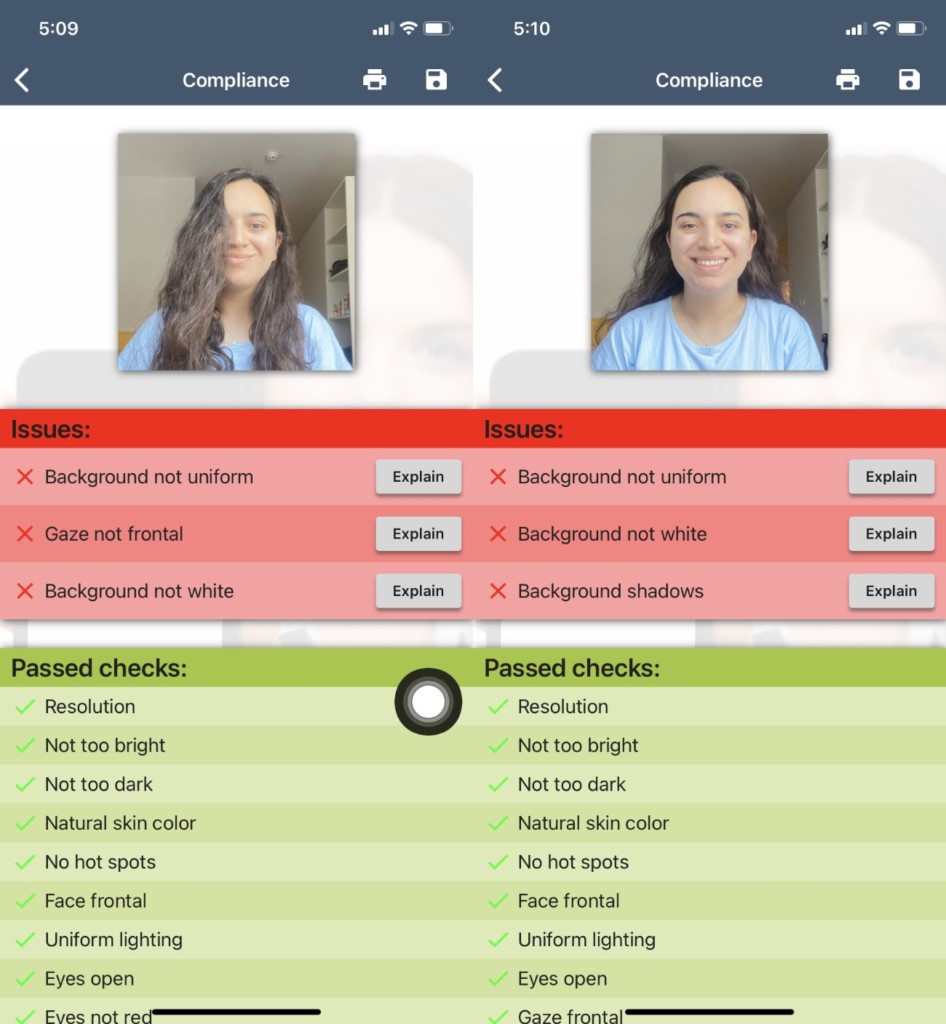 Enough! I am sorry to say that I would certainly advise our readers to choose a different photo booth. After all, a few of you can use it…
IDPhotoDIY
The truth is that I'm a little confused. What should I say about IDPhotoDIY? Or what should I say about 123PassportPhoto? Both websites look identical! The interface is quite similar, the web design is DEFINITELY similar… (Try to take a photo at both sites if you think I'm losing my mind). I mean, what else can I say?
Yep, mysteriously, despite my suspicions that both were created by the same people, I can mention a difference. IDPhotoDIY includes a few tips before uploading/taking your photo, where you may learn the essentials to take the perfect photo, such as using good lighting, dress codes, posing requirements, etc.
This guide, accompanied by photos with examples, serves as assistance for those who decide to get their photo through IDPhotoDIY, as we must keep in mind that the tool lacks an AI or compliance check system.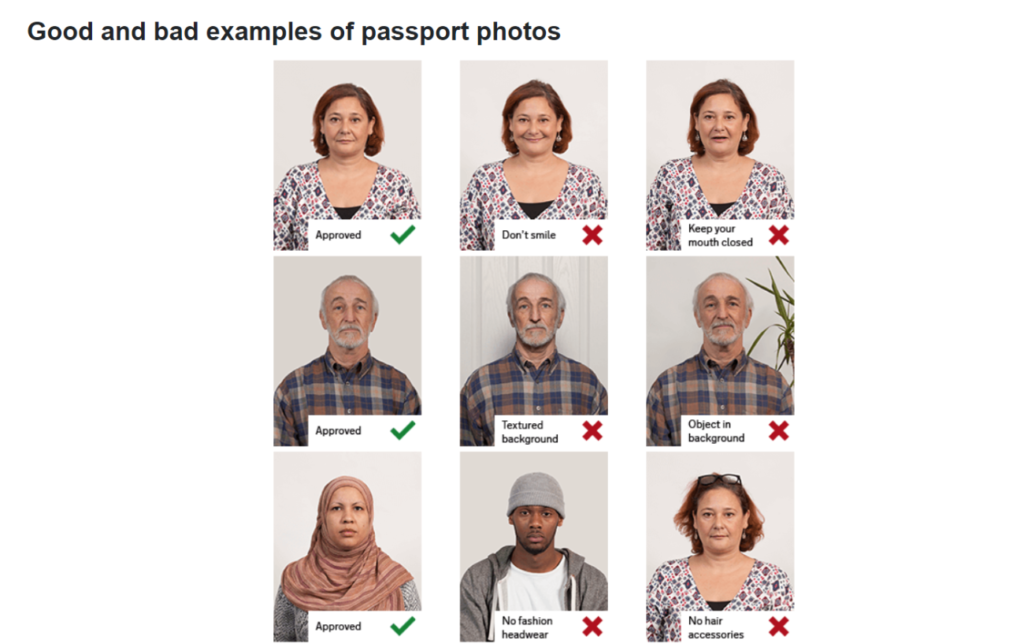 Remember to use a white wall as a background – this app lacks a photo background eraser tool, as well as an AI system, so the risk of getting your photo rejected is way higher.
Make Passport Photo
This passport photo software combines a nice and smart page design with a user-friendly interface and easy-to-use tools. In addition, it gives me special confidence to know that they have been featured in relevant media such as Lifehacker, hvg, or ePHOTOzine, among others.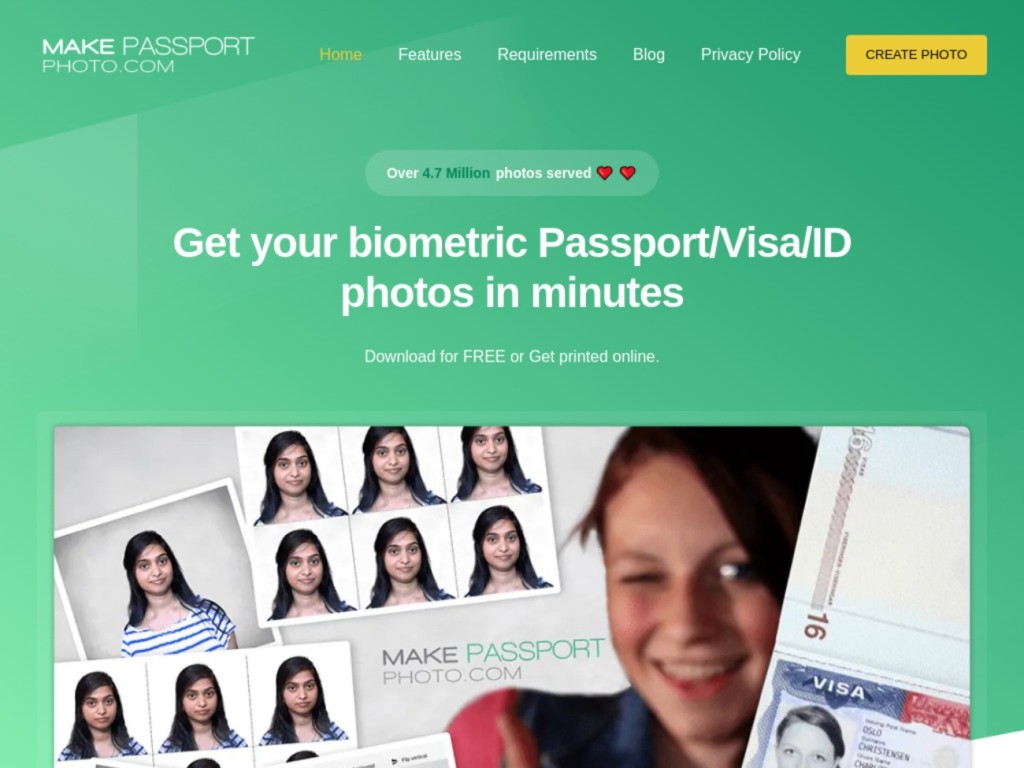 Make Passport Photo looks exactly like what many of you have been looking for. Exclusively available onsite, this tool features a top AI system available or a photo background eraser. According to the site, 99.9% of passport photos generated by them are accepted by the corresponding authorities. If you would like to get a photo printed on HQ paper and receive it at home, this site is certainly a great option. Are you in a hurry? Relax, the express shipping option may fit you better.
Regardless of its great set of functions ensuring that a passport photo is accepted, Make Passport Photo provides its user with official photo requirements for any country as well as a FAQ section. I also found their blog site including relevant information on e.g., how to take a photo; though I must say that it's quite outdated – the last post was uploaded more than a year ago.
So, needless to say, I gave it a try. After uploading my first photo, the tool warned me that my photo had been taken from a very close distance, which was the reason why it was denied. Sure! Let's try to upload a new, less zoomed-in photo. Oops! The result could have been better…
Note: I even tried to upload a couple more photos, but the same exact thing happened.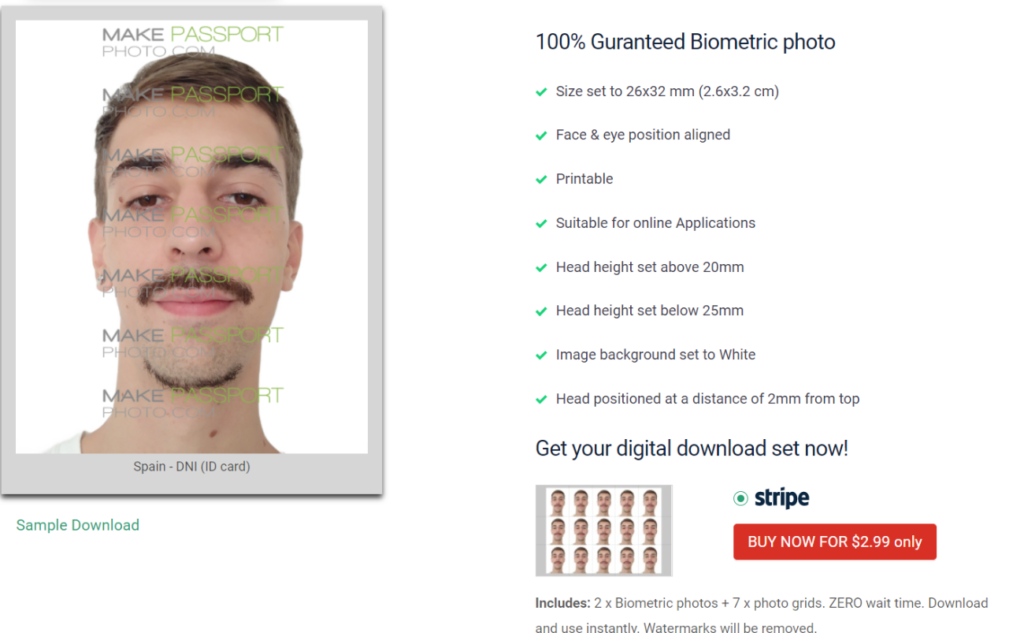 According to Spanish ID photo guidelines, the submitted photo must also include the top of the shoulders, so the following photo may be rejected as a result. I thought this was going to be my software of choice from now on, but the truth is that I ended up dissatisfied, with the feeling that Make Passport Photo could have achieved a better result based on the excellent features it claims to have.
Moreover, I consider the price to be a bit excessive. I would certainly pay that kind of money for passport-style photos, but only if I were absolutely sure that my photos would be of high quality and accepted. $14.99 for some photos (the quantity varies depending on the country) in physical format or $2.99 for just one photo in digital format seems a more than fair price in the US, but we can certainly find cheaper options in other parts of the world.
IDPhoto4You
When using IDPhoto4You I got the feeling that I was back in my teens. This website has a rather retro aesthetic, a tremendously simple interface and an air of the beginning of the millennium. I accessed the site and honestly, I didn't have much to appreciate. IDPhoto4You is simple and straight to the point. Want a passport photo? Here it is. The tool includes little more than a photo cropping tool, i.e., brightness and contrast adjustment.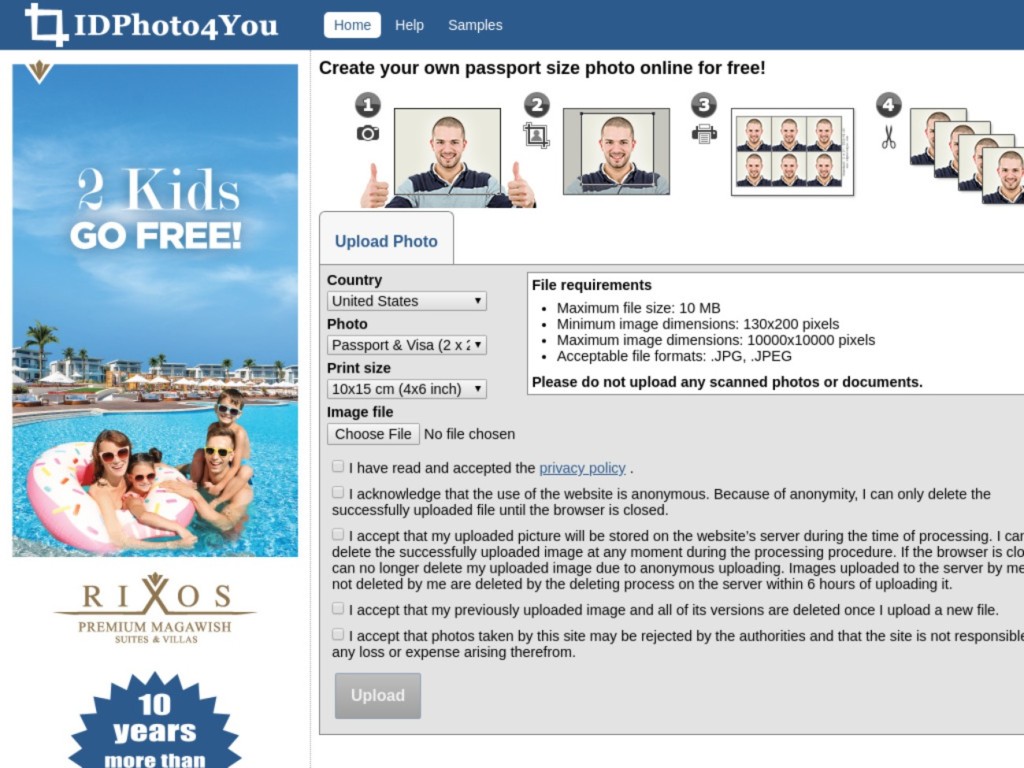 It was especially curious to use this tool, as it gave me the feeling of doing everything by myself. The process is completely manual. So much so that it even lacks face detection, so you should determine the suitable crop frame for your picture manually.
The truth is that I have little good to say about IDPhoto4You. The site is full of annoying ads and, as you can imagine, it lacks important features in photo software such as a background eraser, AI system, compliance check, etc. Well, if there's one good thing about this tool, it's that it's free. And you know… anything that is free is appreciated.
In fact, if you don't want to spend money, I would recommend this tool because, unlike most photo softwares, you can download your IdPhoto4you passport photo without a watermark.
OnlinePassportPhoto
Let's go with the OnlinePassportPhoto review! Despite its 90s aesthetics and disheveled look, OnlinePassportPhoto is really a software to consider. It includes background removal, tilted head and skin colors adjuster, etc. The AI system is unavailable, although they claim to redo your photos for free in case they are denied by official authorities.
If we use OnlinePassportPhoto, we can order online and have the photos mailed to our address (only available in the US) or pick them up at a nearby Walgreens, CVS or Walmart within a day. But I am outside the US, so a photo sheet would be provided for easy printing. The price seems fair enough to me, 6 photos for $8.95, 12 photos for $10.95 and an extra $3 to receive the photos at home is undoubtedly great.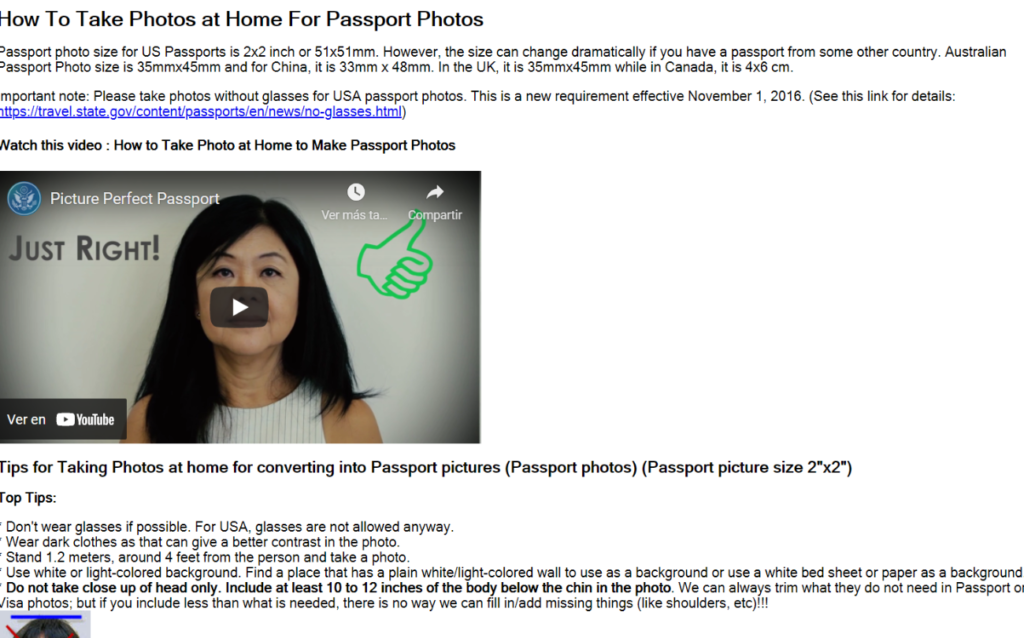 Furthermore, I personally find its long and detailed instructions list regarding how to take a photo to be of great help. The information is truthful and precise enough, in contrast with that I found on many sites. They explain everything step by step and mention even the tiniest details to consider when taking a photo.
Apart from that, OnlinePassportPhoto provides you with a requirements checklist for each of the available documents as well as the link source to the official government website. This unquestionably makes it a reliable software, with nothing to hide from its customers.
I get the feeling that Online Passport Photo works hard to offer a personalized service to its clients, depending on the document requested, unlike other softwares that base their photo taking process on the same general criteria, regardless of the existence of specific requirements for different biometric photos.
Unfortunately, I proceeded to place my order when I found a very, very big inconvenience: I was asked to pay before seeing the final result. The truth is that I don't really understand this method, though they guarantee that they will generate new photos in case they're not appropriate. Anyway, OnlinePassportPhoto seems great, though I will keep looking for a better one.
Create photo ID
From the creators of IDPhoto4you, now comes to your screens… Create photo ID! This tool has a rather shabby layout and ads all over the place. It includes some very basic functions, let's say quite similar, namely: rotation, zoom and crop.
As soon as I got on the website, I went straight to the point, realizing that it lacked an FAQ section, photo guidelines or even information about the company itself. In fact, there is only an option to take passport photos, so my chances of getting a photo for my driver's license or visa were completely out of the question. So there I went!
After selecting the desired settings, I loaded my photo and followed the corresponding instruction to frame the photo. "When the rendering is right for you, press crop," it then said. A real-time preview of the photo was presented and, honestly, I must say that the quality of the photo left a lot to be desired.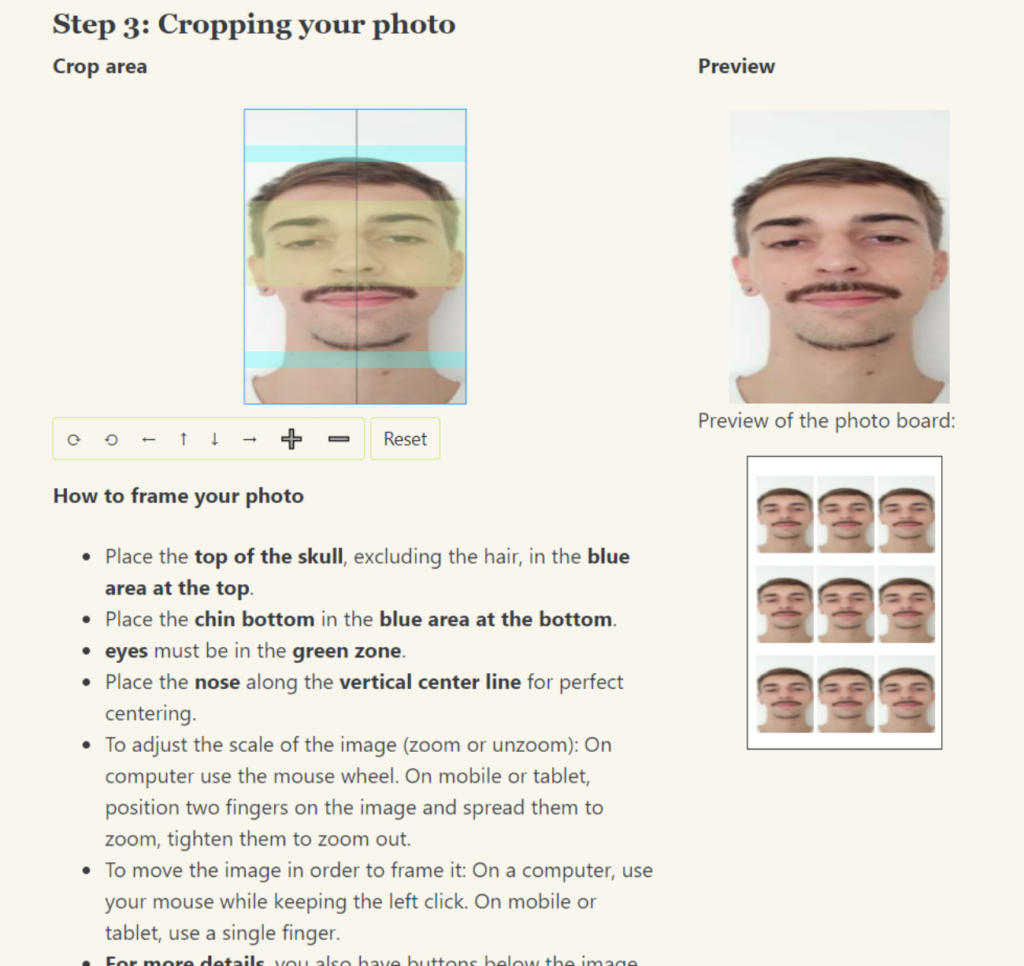 As I said before, it's a free service available to anyone, so I have to be fair to them. I really appreciate the existence of sites like this, which are necessary on the internet. Still, I am sorry to say that this is the worst software I have tried so far. In case you want to get your photos for free, I would advise you to use another tool.
ePassportPhoto
Created in 2005, ePassportPhoto is an example of how to do things right. Featured in The Times, MSN, The Consumerist, Popular Science, Yahoo, The New York Times, or USA Today, among others, I found this software to have an impeccable, modern design and an attractive appearance right from the very first moment I accessed its website.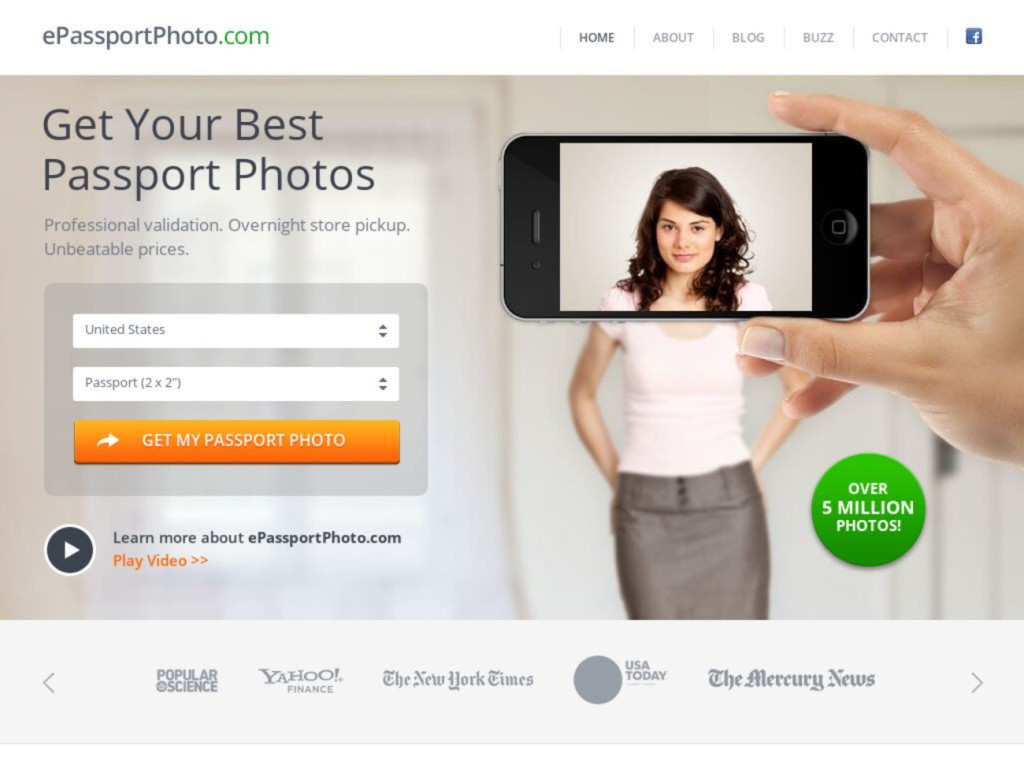 This site offers good enough features – like professional validation or overnight store pickup – to be among my top 3 passport photo softwares. Overnight store pickup means that you can attend the nearest store to collect your passport photos in a day!
What I also like is that customers are offered three alternatives when taking a passport photo at ePassportPhoto: same-day pickup (only available in the US) at any CVS, Walmart or Walgreens, mail home (free shipping in the US), or its free service.
In fact, I highly recommend ePassportPhoto to anyone who wants to get their photo for free. Just keep in mind that the service will not include the draft background, so we must take care to choose a uniform white wall as the background. On the other hand, if we decide to use the paid service, the price is 8 photos for $11.99. Definitely a price in line with or even better than its rivals.
ePassportPhoto also provides us with general instructions as well as specific instructions on how to take the corresponding photo. As said earlier, links to official authorities particularly make me think that the site is trustworthy and that I can be completely confident that my photo will be accepted.
After testing their services, I can say that the result is very good and therefore advisable, although I found it disappointing that there is no way to obtain a passport photo in digital size. So I would recommend you make sure in the first place if you are applying for an official document online or in person.
Finally, I expected more variety in documents. Most of the options available are passport photos, although it is true that they have photos for a visa or US green card. Perhaps because the size is the same?
Passport Photo Online
With over 1,000,000 users and 7 years of experience, Passport Photo Online – featured in Forbes, National Geographic or Glamour – is one of my favorite options on the market. The website is stylish and the interface is quite intuitive. They also have an app available both at Google Play and AppStore, which I have had the pleasure of testing and I can assure you that it works properly.
The instructions when taking the photo are clear and very helpful. Whether we use their website or their app, we find a tool capable of providing digital photos within a few seconds or printouts shipped to your home. Anyway, for me at least it is a pleasure to get the photo from this app.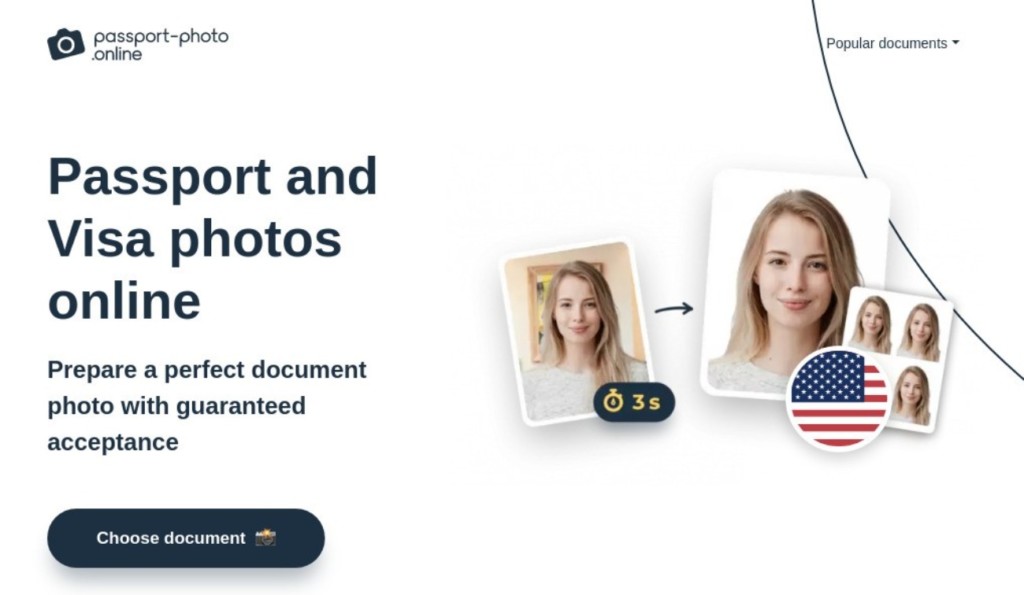 The process is simple, just take or upload a photo and its AI system will start checking it. Then, your photo will be cropped to the right size and adjusted to the required guidelines. To finish with, the background is removed. Once it is ready, we can click on a window saying "detailed photo criteria", where you can check if your photo fulfills the instructions. I really loved this and I wish all passport photo softwares would include it. Otherwise, I am a little scared to use them.

Nevertheless, if we got the wrong picture, there is no need to worry, Passport Photo Online includes an additional verification by an expert. As you can see, Passport Photo Online definitely has some great features. You can take a look above to check the final result.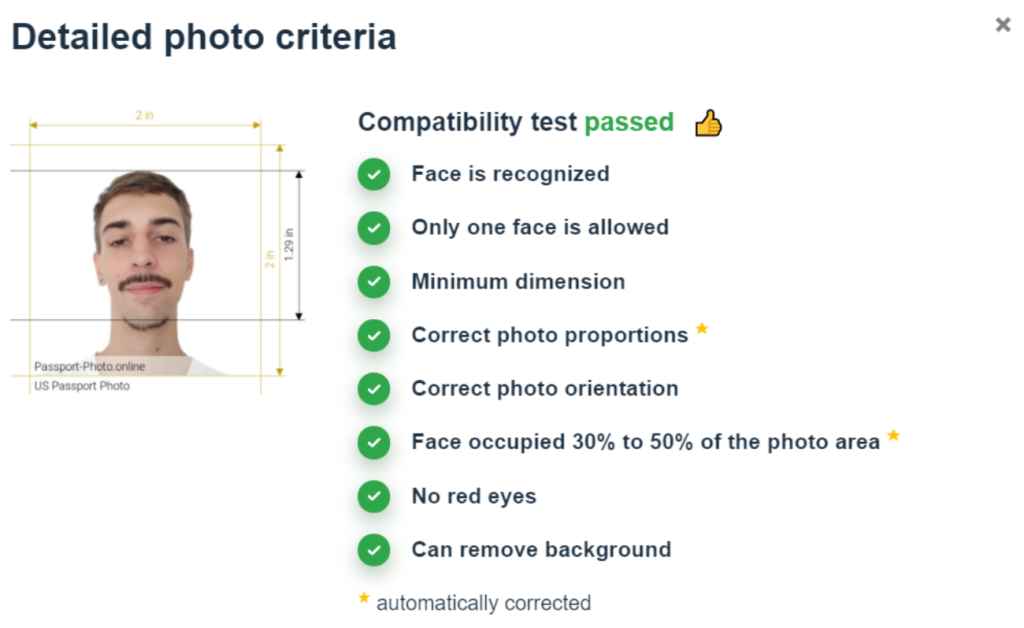 One thing I love about Passport Photo Online is that they provide a lot of instructions, photography tips and common mistakes to avoid. Also, it puts my mind at ease to know that not only will I get my money back if my photo is not accepted, but I will get double my money back! That was certainly an easy way to fall in love. In addition, they have lots of documents available. I think these guys included every single document on earth.
On the other hand, I would like them to offer a free service. The price for downloading the ready-to-print template is $6.95, while the price for receiving the photos in physical format at home together with a digital version of the photo is $9.55.
However, it indeed comes with a lot fewer photos (this depends on the document we choose). For example, for a US passport photo, we will receive only 2 photos at home. From my point of view, they are very few, but it is true that, even though it comes with fewer photos, it is the cheapest service I have found so far. And on second thought… Why do I need so many photos? Then they become obsolete and are of no use to us.
Depending on how you analyze it, the truth is that this service is expensive as far as the number of photos-price ratio is concerned.
Best passport photo software – sum Up
This article has come to an end and we have to make a decision. Which is the best passport photo software? In a way, this is a question you will have to answer for yourselves. You have already seen the attributes of each of the photo tools, so the answer I give below is, after all, subjective and the result of my personal preference. Each user is looking for specific features, downplays the absence of some of the features highlighted here, or is looking exclusively for the service to be free.
As a result, I strongly recommend that those of you who have gone directly to the conclusion to get your question answered quickly, take a few seconds to read the comments available for each of the tools.
In my opinion, there are several factors to consider. The truth is that it is difficult for me to have a definitive answer to this question. Why? Because it is impossible to make a direct comparison between some of the tools.
If what you need is a passport photo software that gives you the possibility to get your photos for free, I would definitely recommend ePassportPhoto. This passport photo software has everything a user can dream of, of course without paying. The tool is easy to use, provides functions and concrete instructions to take our passport photo according to the requirements established by the corresponding authorities.
Note however that you are unable to get a digital version of the photo ready to upload online, in which case you could use other software. For example, IDPhoto4You may be a great option.
If you are willing to pay for top service, either to get your ready-to-print template or to have your photos delivered to your home, my favorite option is Passport Photo Online. The quality of the photos is awesome, the price is definitely good, the features are hard to beat and you get double the money back in case your photo is rejected.
Not only that, but Passport Photo Online has a wonderful app that we can use to take our photos more comfortably and hundreds of documents are available, so it will be very easy to find exactly what the user is looking for.
Sources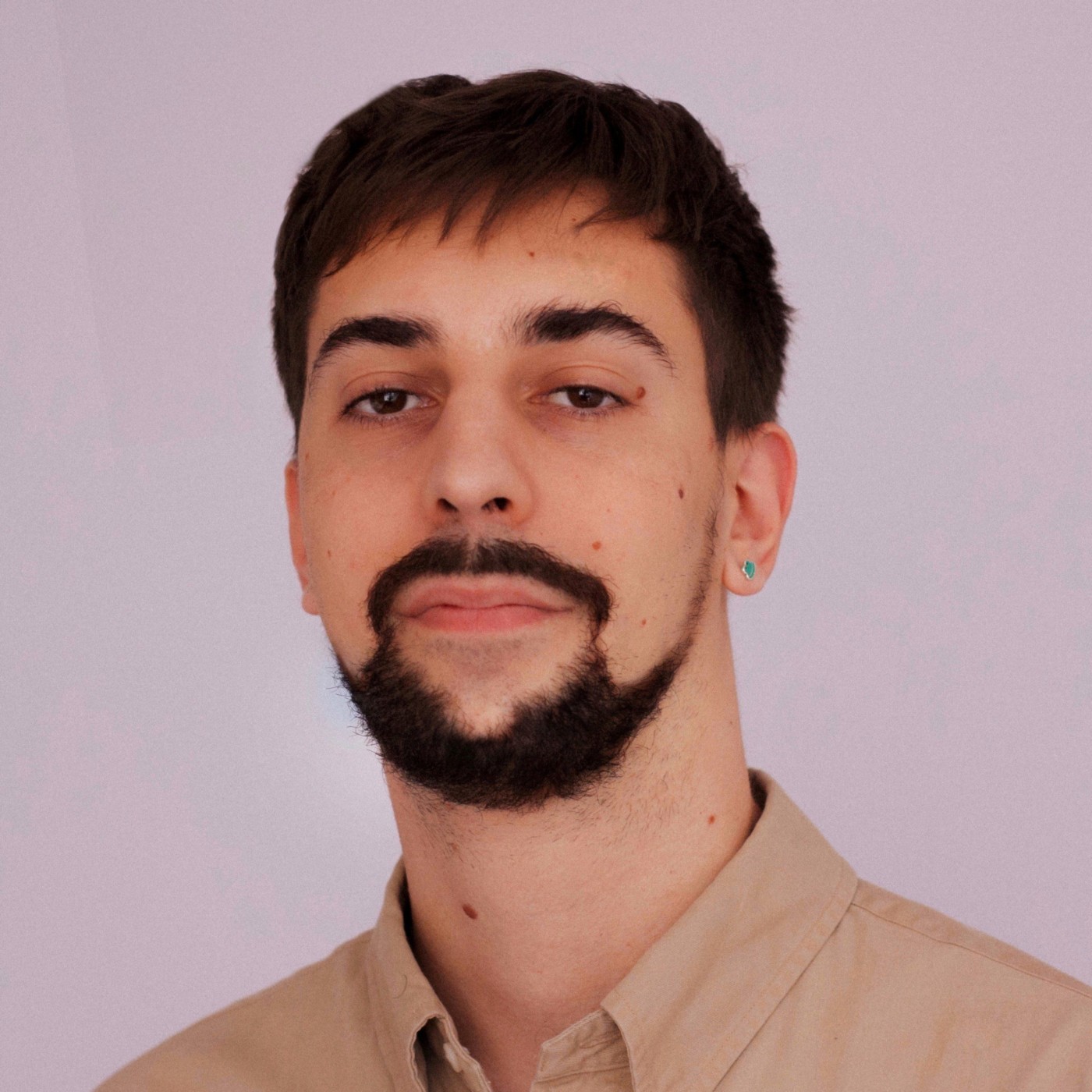 Alejandro Martín Gallardo, has a deep understanding of biometric photography. He uses his storytelling and copywriting skills to create content that breaks down the process of taking biometric photos for identity documents into digestible bits. Alejandro's love for travel has made him realize the value of accurate biometric photos in facilitating smooth journeys.